Abstract
This paper conducts an empirical analysis of the factors affecting U.S. public concern about the threat of climate change between January 2002 and December 2010. Utilizing Stimson's method of constructing aggregate opinion measures, data from 74 separate surveys over a 9-year period are used to construct quarterly measures of public concern over global climate change. We examine five factors that should account for changes in levels of concern: 1) extreme weather events, 2) public access to accurate scientific information, 3) media coverage, 4) elite cues, and 5) movement/countermovement advocacy. A time-series analysis indicates that elite cues and structural economic factors have the largest effect on the level of public concern about climate change. While media coverage exerts an important influence, this coverage is itself largely a function of elite cues and economic factors. Weather extremes have no effect on aggregate public opinion. Promulgation of scientific information to the public on climate change has a minimal effect. The implication would seem to be that information-based science advocacy has had only a minor effect on public concern, while political mobilization by elites and advocacy groups is critical in influencing climate change concern.
Access options
Buy single article
Instant access to the full article PDF.
USD 39.95
Price excludes VAT (USA)
Tax calculation will be finalised during checkout.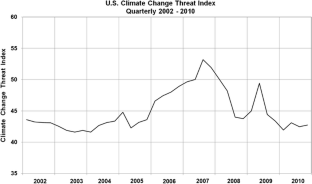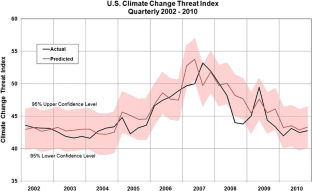 References
Achen C (2001) Why lagged dependent variables can suppress the explanatory power of other independent variables. Paper presented at the Annual meeting of the Political Methodology Section of the American Political Science Association, 2000

Agnone J (2007) Amplifying public opinion: the policy impact of the U.S. environmental movement. Soc Forces 85(4):1593–1620

Andrews K, Caren N (2010) Making the news: movement organizations, media attention, and the public agenda. Am Sociol Rev 75(6):841–866

Atkinson M, Baumgartner F, Coggins K, Stimson J (2011) Mood and agendas: developing policy-specific conceptions of mood. Paper presented at the Annual Meetings of the Midwest Political Science Association, Chicago IL. March 31, 2011

Bauer M, Allum N, Miller S (2007) What can we learn from 25-years of PUS research? Liberating and expanding the agenda. Public Underst Sci 16:79–95

Best S (1999) The sampling problem in measuring policy mood: an alternative solution. J Polit 61(3):721–740

Bolsen T, Cook F (2008) The polls-trends: public opinion on energy policy: 1974–2006. Public Opin Quart 72(2):364–388

Bord RJ, O'Connor RE, Fisher (2000) A. In what sense does the public need to understand global climate change? Public Underst Sci 9:199–212

Borick C, Rabe B (2010) A reason to believe; examining the factors that determine individual views on global warming. Soc Sci Q 91(3):777–800

Brewer PR, Pease A (2008) Federal climate politics in the United States: polarization and paralysis. In: Compston H, Bailey I (eds) Turning down the heat: the politics of climate policy in affluent democracies. Palgrave Macmillan, New York, pp 85–103

Brick P, McGreggor Cawley R (2008) Producing political climate change; the hidden life of U.S. environmentalism. Environ Polit 17(2):200–218

Darmofal D (2009) Elite cues and citizen disagreement with expert opinion. Polit Res Quart 58(3):381–395

Dumitrescu D, Mughan A (2010) Mass media and democratic politics. In: Leicht KT, Craig Jenkins J (eds) The handbook of politics: state and civil society in global perspective. Springer Publishers, New York, pp 477–491

Enns PK, Kellstedt P (2008) Policy mood and political sophistication: why everybody moves mood. British J Polit Sci 38:433–454

Erikson, Mackuen RM, Stimson J (2002) The Macro Polity, Cambridge.

Gamson W, Wolfsfeld G (1993) Movements and media as interacting systems. Ann Am Acad Polit Soc Sci 528:114–125

Gamson WA, Croteau D, Hoynes W, Sasson T (1992) Media images and the social construction of reality. Annu Rev Sociol 18:373–393

Gelpi C, Feaver P, Reifler J (2009) Paying the human costs of war: American public opinion and casualties in military conflicts. Princeton University Press, Princeton

Gleason K, Lawrimore J, Levinson D, Karl T, Karoly D (2008) A revised U.S. climate extremes index. J Clim 21:2124–2137

Greenberg J, Knight G, Westersund E (2011) Spinning climate change: corporate and NGO public relations strategies in Canada and the United States. Int Commun Gaz 73(1–2):65–82

Habermas J (1989) The public sphere: an encyclopedia article. In: Bronner E, Kellner D (eds) Critical theory and society. Routledge, New York, pp 102–107

Hamilton L (2010) Education, politics and opinions about climate change evidence for interaction effects. Clim Chang 104(2):379–422

Hindman DB (2009) Mass media flow and differential distribution of politically disputed beliefs: the belief gap hypothesis. Journal Mass Commun Quart 86(4):790–808

Kahn ME, Kotchen MJ (2010) Environmental concern and the business cycle: the chilling effect of recession. NBER Working Paper No. 16241, issued July 2010.

Keele L, Kelly N (2005) Dynamic models for dynamic theories: the ins and outs of lagged dependent variables. Political Analysis 14(2):186–205

Kellstedt PM (2003) The mass media and the dynamics of American racial attitudes. Cambridge

Kellstedt, Zahran PS, Vedlitz A (2008) Personal efficacy, the information environment, and attitudes toward global warming and climate change in the United States. Risk Anal 28(1):113–126

Koopmans R (2004) Movements and media: selection processes and evolutionary dynamics in the public sphere. Theory Soc 33:367–391

Krosnick J, Holbrook A, Lowe L, Visser P (2008) The origins and consequences of democratic citizens' policy agendas: a study of popular concern about global warming, Climatic Change Spring

Lenz G (2009) Learning and opinion change, not priming; reconsidering the priming hypothesis. Am J Polit Sci 53(4):821–837

Lowry W (2008) Disentangling energy policy from environmental policy. Soc Sci Q 89(5):1195–1211

Luke T (2005) The death of environmentalism or the advent of public ecology? Organ Environ 18:489–494

MacKuen M (1981) Social communication and the mass policy agenda. In: Mackuen MB, Coombs SL (eds) More than news; media power in public affairs. Sage, Beverly hills, pp 19–144

Malka A, Krosnick J, Langer G (2009) The association of knowledge with concern about global warming; trusted information sources shape public thinking. Risk Anal 29(5):633–647

Marquart-Pyatt SR, Shwom T, Dietz R, Dunlap S, Kaplowitz AMcCright, Zahran S (2011) Understanding public opinion on climate change: a call for research. Environment 53(4):38–42

Mazur A (1998) Global environmental change in the news: 1987-90 vs. 1992–1996. Int Sociol 13:457–472

Mazur A (2009) American generation of environmental warnings: avian influenza and global warming. Human Ecol Rev 16(1):17–26

Mazur A, Lee J (1993) Sounding the global alarm: environmental issues in the U.S. national news. Soc Stud Sci 23:681–720

McCombs M (2004) Setting the agenda: the mass media and public opinion. Polity, Malden

McCright A, Dunlap R (2011) The politicization of climate change and polarization in the American public's views of global warming, 2001–2010. Sociol Q 52(2):155–194

McDonald S (2009) Changing climate, changing minds; applying the literature on media effects, public opinion, and the issue-attention cycle to increase public understanding of climate change. Int J Sustain Commun 4:45–63

Oreskes N, Conway E (2010) Merchants of doubt. Bloomsbury Press, New York

Orr D (2005) Death and resurrection: the future of environmentalism. Conserv Biol 19:992–995

Pfau M, Haigh M, Sims J, Wigley S (2007) The influence of corporate front-group stealth campaigns. Commun Res 34(1):73–99

Pidgeon N, Fischoff B (2011) The role of social and decision sciences in communicating uncertain climate risks. Nat Clim Change 1:35–41

Pooley E (2010) The climate war: true believers, power brokers, and the fight to save the earth. Hyperion Press, NewYork

Reynolds T, Bostrom A, Read D, Granger Morgan M (2010) Now what do people know about global climate change? survey sudies of educated laypeople. Risk Anal 80(10):1520–1538

Sampei Y, Aoyagi-Usui M (2008) Mass-media coverage, its influence on public awareness of climate-change issues, and implications for Japan's national campaign to reduce greenhouse gas emissions. Glob Environ Chang 19:203–212

Shipan C, Lowry W (2001) Environmental policy and party divergence in congress. Polit Res Quart 54(2):245–263

Smith G (2010) Politicians and the news media; how elite attacks influence perceptions of media bias. Int J Press/Polit 15:319–343

Spence A, Poortinga W, Butler C, Pidgeon N (2011) Perceptions of climate change and willingness to save energy related to flood experience. Nat Clim Change 1:46–49

Sterman J (2011) Communicating climate change risks in a skeptical world. Clim Chang 108:811–826

Stimson JA (1999) Public opinion in America; moods, cycles and swings, 2nd edn. Westview Press, Boulder Co

Stimson JA (2004) Tides of consent: how public opinion shapes American politics. Cambridge University Press, NY

Strömbäch J, Kiousis S (2011) Political public relations: principles and applications. Routledge Press, New York

Wanta W, Hu Yu (1994) Time-lag differences in the agenda setting process; an examination of five news media. Int J Public Opin Res 6:225–240

Watt JH, Mazza M, Snyder L (1993) Agenda-setting effects of television news coverage and the effects decay curve. Commun Res 20:408–435

Weber E (2011) Climate change hits home. Nat Clim Change 1:25–26

Weber E, Stern P (2011) Public understanding of climate change in the United States. Am Psychol 66(4):315–328

Yin J (1999) Elite Opinion and Media Diffusion: Exploring Environmental Attitudes. Harvard Int J Press/Polit 4(3):62–86

Zaller JR (1992) The nature and origins of mass opinion. University Press, New York: Cambridge

Zhao X (2009) Media use and global warming perceptions: a snapshot of the reinforcing spirals. Commun Res 36:698–723

Zhao X, Leiserowitz A, Maibach E, Roser-Renouf C (2011) Attention to science/environment news positively predicts and attention to political news negatively predicts global warming risk perceptions and policy support. J Commun. (in press)
Electronic supplementary material
Below is the link to the electronic supplementary material.
About this article
Cite this article
Brulle, R.J., Carmichael, J. & Jenkins, J.C. Shifting public opinion on climate change: an empirical assessment of factors influencing concern over climate change in the U.S., 2002–2010. Climatic Change 114, 169–188 (2012). https://doi.org/10.1007/s10584-012-0403-y
Received:

Accepted:

Published:

Issue Date:

DOI: https://doi.org/10.1007/s10584-012-0403-y
Keywords
Climate Change

Public Opinion

Media Coverage

Public Concern

Address Climate Change