Abstract
The morphodynamic response of large tidal inlet/basin systems to future relative sea level rise (RSLR), incorporating both Eustatic sea level rise and local land subsidence effects, is qualitatively investigated using the state-of-the-art Delft3D numerical model and the Realistic analogue modelling philosophy. The modelling approach is implemented on a highly schematised morphology representing a typical large inlet/basin system located on the Dutch Wadden Sea (Ameland Inlet) over a 110-year study period. Three different RSLR Scenarios are considered: (a) No RSLR, (b) IPCC lower sea level rise (SLR) projection (0.2 m SLR by 2100 compared to 1990) and land subsidence, and (c) IPCC higher SLR projection (0.7 m SLR by 2100 compared to 1990) and land subsidence. Model results indicate that, for the 110-year study duration, the existing flood dominance of the system will increase with increasing rates of RSLR causing the ebb-tidal delta to erode and the basin to accrete. The rates of erosion/accretion are positively correlated with the rate of RSLR. Under the No RSLR condition, the tidal flats continue to develop while under the high RSLR scenario tidal flats eventually drown, implying that under this condition the system may degenerate into a tidal lagoon within the next 110 years. The tidal flats are stable under the low RSLR scenario implying that, at least for the next 100 years, this may be the critical RSLR condition for the maintenance of the system. Essentially the results of this study indicate that, as the Eustatic SLR is likely to be greater than the apparently critical rise of 0.2 m (by 2100 compared to 1990), the tidal flats in these systems will at least diminish. In the worst, but not unlikely, scenario that the Eustatic SLR is as high as the IPCC higher projections (0.7 m by 2100), the tidal flats may completely disappear. In either case, the associated environmental and socio-economic impacts will be massive. Therefore, more research focusing on the quantification of the physical and socio-economic impacts of RSLR on these systems is urgently needed to enable the development of effective and timely adaptation strategies.
This is a preview of subscription content, log in to check access.
Access options
Buy single article
Instant access to the full article PDF.
US$ 39.95
Price includes VAT for USA
Subscribe to journal
Immediate online access to all issues from 2019. Subscription will auto renew annually.
US$ 199
This is the net price. Taxes to be calculated in checkout.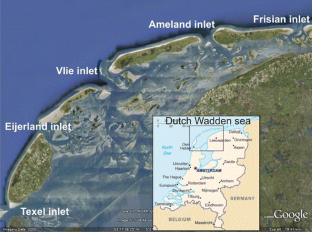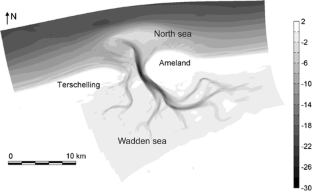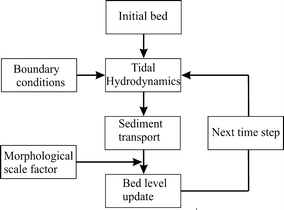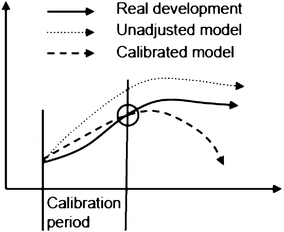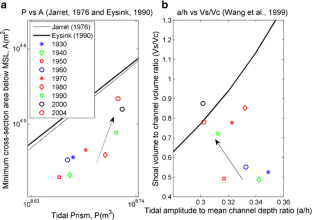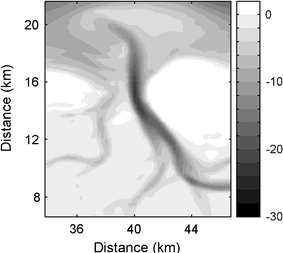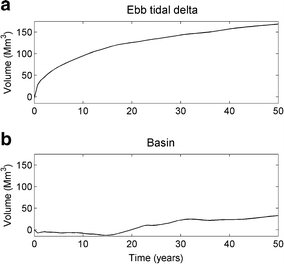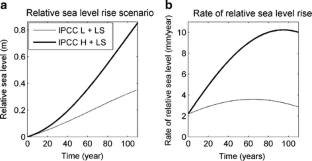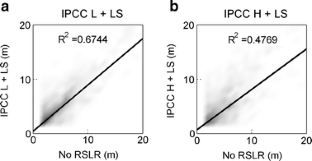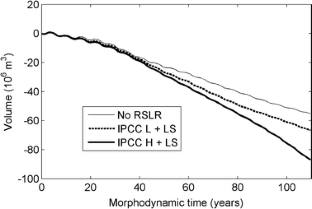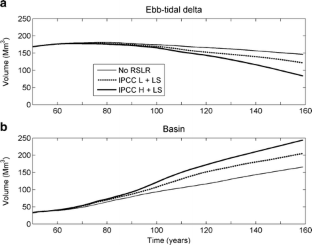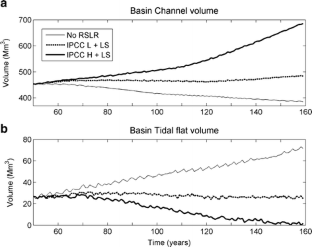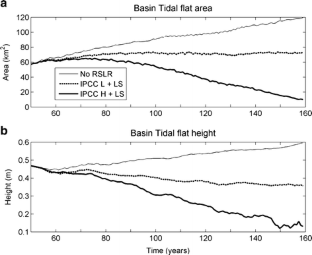 References
Beets DJ, Van der Speck JF (2000) The Holocene evolution of the barrier and the back-barrier basins of Belgium and the Netherlands as a function of late Weichselian morphology, relative sea-level rise and sediment supply. Neth J Geosci 79:3–16

Beukema JJ, Essink K, Michaelis H (1996) The geographic scale of synchronized fluctuation patterns in zoobenthos populations as a key to underlying factors: climatic or man-induced. ICES J Mar Sci 53:964–971

Bindoff NL, Willebrand J, Artale V, Cazenave A, Gregory J, Gulev S, Hanawa K, Le Quéré C, Levitus S, Nojiri Y, Shum CK, Talley LD, Unnikrishnan A (2007) Observations: oceanic climate change and sea level. In: Solomon S, Qin D, Manning M, Chen Z, Marquis M, Averyt KB, Tignor M, Miller HL (eds) Climate Change 2007: The Physical Science Basis. Contribution of Working Group I to the Fourth Assessment Report of the Intergovernmental Panel on Climate Change. Cambridge University Press, Cambridge and New York, pp 409–416

Bruun P, Gerritsen F (1960) Stability of coastal inlets. North Holland Publishing Co., Amsterdam

Cheung KF, Gerritsen F, Cleveringa J (2007) Morphodynamics and sand bypassing at Ameland Inlet, The Netherlands. J Coast Res 23(1):106–118

Coe AL, Church KD (2003) The sedimentary record of sea-level change. Cambridge University Press, pp 58–61

Cowell PJ, Stive MJF, Niedoroda AW, Swift DJP, De Vriend HJ, Buijsman MC, Nicholls RJ, Roy PS, Kaminsky GM, Cleveringa J, Reed CW, De Boer PL (2003) The coastal-tract (part 2): applications of aggregated modelling to lower-order coastal change. J Coast Res 19(4):812–827

Dastgheib A, Roelvink JA, Wang ZB (2008) Long-term process-based morphological modelling of the Marsdiep Tidal Basin. Mar Geol 256:90–100

De Fockert A (2008) Impact of relative sealevel rise on the Amelander Inlet Morphology, MSc thesis, Technical University of Delft

De Jong F, Bakker JF, van Berkel CJM, Dankers NMJA, Dahl K, Gätje C, Marencic H, Potel P (1999) Wadden Sea Quality Status Report. Wadden Sea Ecosystem No. 9. Common Wadden Sea Secretariat, Trilateral Monitoring and Assessment Group, Quality Status Report Group. Wilhelmshaven, Germany

Dissanayake DMPK, Roelvink JA, Van der Wegen M (2008) Effect of sea level rise on inlet morphology, 7th International Conference on Coastal and Port Engineering in Developing Countries Dubai, United Arab Emirates

Dissanayake DMPK, Ranasinghe R, Roelvink JA (2009b) Effect of sea level rise in inlet evolution: a numerical modelling approach, Journal of Coastal Research, SI 56, Proc. of the 10th International Coastal Symposium, Lisbon, Portugal, pp 942–946

Dissanayake DMPK, Roelvink JA, Ranasinghe JA (2009a) Process-based approach on tidal inlet evolution—Part II, Proc. International Conference in Ocean Engineering, Chennai, India

Dissanayake DMPK, Roelvink JA, Van der Wegen M (2009c) Modelled channel pattern in schematised tidal inlet. Coast Eng 56:1069–1083

Dronkers J (1986) Tidal Asymmetry and estuary morphology. Neth J Sea Res 20(2/3):117–131

Dronkers J (1998) Morphodynamics of the Dutch Delta. In: Dronkers J, Scheffers M (eds) Physics of estuaries and coastal seas. Balkema, Rotterdam

Duc AH (2008) Salt intrusion, tides and mixing in multi-channel estuaries, PhD Thesis, UNESCO-IHE Institute for Water Education, Delft, The Netherlands

Ehlers J (1988) The morphodynamics of the Wadden Sea. Balkema, Rotterdam

Eysink WD (1990) Morphologic response of tidal basins to changes. Coast Eng 1948–1961

Fenster M, Dolan R (1996) Assessing the impact of tidal inlets on adjacent barrier island shorelines. J Coast Res 12:294–310

Friedrichs CT, Aubrey DG, Speer PE (1990) Impacts of relative sea-level rise on evolution of shallow estuaries, coastal and estuarine studies, vol. 38. In: Cheng RT (ed) Residual currents and long-term transport. Springer, New York

Galappatti R (1983) A depth integrated model for suspended transport. Report 83–7, Communications on Hydraulics, Department of Civil engineering, Delft University of Technology

Gao S, Jia JJ (2003) Sediment and carbon accumulation in a small tidal basin: Yuchu, Shandong Peninsula, China. J Reg Environ Change 4(1):63–69

Gerritsen H, Berentsen CWJ (1998) A modelling study of tidally induced equilibrium sand balances in the North Sea during the Holocene. Cont Shelf Res 18:151–200

Houghton GT, Ding Y, Griggs DJ, Noguer M, Van der Linden PJ, Dai X, Maskell K, Johnson CA (2001) Climate Change Scientific Basis, Contribution of Working Group I to the third Assessment report of the Intergovernmental Panel of Climate Change (IPCC). Cambridge University Press, UK, pp 74–77

Jarret JT (1976) Tidal prism-inlet relationships. Gen. Invest. Tidal inlets Rep. 3, 32 pp, US Army Coastal Engineering and Research Centre. Fort Belvoir, Va

Leendertse JJ (1987) A three-dimensional alternating direction implicit model with iterative fourth order dissipative non-linear advection terms. WD-333-NETH, Rijkswaterstaat, The Netherands

Lesser GR, Roelvink JA, Van Kester JATM, Stelling GS (2004) Development and validation of a three-dimensional morphological model. Coast Eng 51:883–915

Lorenz EN (1972) Predictability: does the flap of a butterfly's wings in Brazil set off a tornado in Texas? American Asso. for the Advancement of Science Annual Meeting Prog., 139

Louters T, Gerritsen F (1994) The Riddle of sands; A tidal system's answer to a rising sea level. Report 94.040. RIKZ, The Hague

Louters T, Gerritsen F (1995) The Riddle of sands; Technical report, National Institute for Coastal and Marine Management, Rijkswaterstaat, The Hague, ISBN90-369-0084-0

Marquenie JM, De Vlas J (2005) The impact of subsidence and sea level rise in the Wadden Sea: prediction and field verification. Springer, Berlin Heidelberg, pp 355–363

Oertel GF, Kraft JC, Kearney MS, Woo HJ (1992) A rational theory for barrier-lagoon development. In: Quaternary Coasts of the United States: Marine and Lacustrine Systems. SEPM Spec. Publ., 48:77–87

Ortiz CAC (1994) Sea level rise and its impact on Bangladesh. Ocean Coast Manag 23:249–270

Pedrozo-Acuna A, Simmonds DJ, Otta AK, Chadwick AJ (2006) On the cross-shore profile change of gravel beaches. Coast Eng 53:335–347

Rahmstorf S, Cazanave A, Church J, Hansen J, Keeling R, Parker D, Somerville R (2007) Recent climate observations compared to projections. Science 316:709

Ridderinkhof H (1988) Tidal and residual flows in the Western Dutch Wadden Sea I: numerical model results. Neth J Sea Res 22(1):1–21

Rijzewijk LC (1981) Overzichtskaarten Zeegaten van de Waddenzea 1796–1985, Verzameling 86.H208

Roelvink JA (2006) Coastal morphodynamic evolution techniques. Coast Eng 53:277–287

Roelvink JA, Reniers AJHM (2011) A Guide to modelling coastal morphology, advances in coastal and Ocean engineering, world scientific, 261–263

Roelvink JA, Walstra DJ (2004) Keeping it simple by using complex models. Adv Hydrosci Eng V1:1–11

Roelvink JA, Van der Kaaij T, Ruessink BG (2001) Calibration and verification of large-scale 2D/3D flow models, Phase 1, Delft Hydraulics report, Z3029.11

Roelvink D, Reniers A, Van Dongeren A, De Vries JVT, McCall R, Lescinski J (2009) Modelling storm impacts on beaches, dunes and barrier islands. Coast Eng 56:1133–1156

Ruessink BG, Walstra DJR, Southgate HN (2003) Calibration and verification of a parametric wave model on barred beaches. Coast Eng 48:139–149

Ruggiero P, Walstra DJR, Gelfenbaum G, Van Ormondt M (2009) Seasonal-scale nearshore morphological evolution: field observations and numerical modelling. Coast Eng 56:1153–1172

Sha LP (1989) Variation in ebb-delta morphologies along the West and East Frisian Islands, the Netherlands and Germany. Mar Geol 89:11–28

Speer PE, Aubrey DG (1985) A study of non-linear propagation in shallow inlet/estuarine systems. Part II, theory. Estuar Coast Shelf Sci 21:207–224

Steetzel H (1995) Voorspelling ontwikkeling kustlijn en buiten-delta's waddenkust over de periode 1990–2040. WL Report No. H1887 prepared for Rijkswaterstaat, The Hague, The Netherlands (in Dutch)

Stelling GS (1984) On the construction of computational methods for shallow water flow problem. Rijkswaterstaat Communications vol. 35. Governing printing Office, The Hague, The Netherlands

Stelling GS, Leendertse JJ (1991) Approximation of convective processes by cyclic AOI methods. Proceeding of the 2nd ASCE Conference on Estuarine and Coastal Modelling, Tampa. ASCE, New York, pp 771–782

Stive MJF, Roelvink JA, De Vriend HJ (1990) Large-scale coastal evolution concept. Proc. 22nd Int. Conf. on Coastal Engineering, ASCE, New York

Sutherland J, Peet AH, Soulsby RL (2004) Evaluating the performance of morphological models. Coast Eng 51:917–939

Van der Meij JL, Minnema B (1999) Modelling on the effect of a sea-level rise and land subsidence on the evolution of the ground water density in the subsoil of the northern part of the Netherlands. J Hydrol 226:152–166

Van Dongeren AR, De Vriend HJ (1994) A model of morphological behaviour of tidal basins. Coast Eng 22:287–310

Van Goor MA, Zitman TJ, Wang ZB, Stive MJF (2003) Impact of sea-level rise on the morphological equilibrium state. Mar Geol 202:211–227

Van Rijn LC (1993) Principles of sediment transport in rivers, estuaries and coastal seas. AQUA Publications, the Netherlands

Van Rijn LC, Walstra DJR, Grasmeijer B, Sutherland J, Pan S, Sierra JP (2003) The predictability of cross-shore evolution of sandy beaches at the scale of storm and seasons using process-based profile models. Coast Eng 47:295–327

Vendel AL, Lopes SG, Santos C, Spach HL (2003) Fish assemblages in a tidal flat. Braz Arch Boil Technol 46(2)

Walton TL, Adams WD (1976) Capacity of inlet outer bars to store sand. In: Proc. 15th Coastal Engineering Conf., Honolulu, ASCE, New York, Vol. II, 1919–1937

Wang ZB, Jeuken C, De Vriend HJ (1999) Tidal asymmetry and residual sediment transport in estuaries. A literature study and applications to the Western Scheldt, WL|Delft Hydraulics report Z2749, Delft, the Netherlands

Zhang K, Douglas BC, Leatherman SP (2004) Global warming and coastal erosion. Clim Change 64:41–58
Acknowledgements
The work presented in this paper was carried out under the project 'Sustainable development of North Sea and Coast' (DC-05.20) of the Delft Cluster research project dealing with sustainable use and development of low-lying deltaic areas in general and the translation of specialist knowledge to end users in particular.
About this article
Cite this article
Dissanayake, D.M.P.K., Ranasinghe, R. & Roelvink, J.A. The morphological response of large tidal inlet/basin systems to relative sea level rise. Climatic Change 113, 253–276 (2012). https://doi.org/10.1007/s10584-012-0402-z
Received:

Accepted:

Published:

Issue Date:
Keywords
Tidal Flat

Land Subsidence

Tidal Basin

Brier Skill Score

Vertical Land Movement