Abstract
Extreme events have gained considerable scientific attention recently due to their potentially catastrophic impacts. Heat waves are thought to be more pronounced now in most parts of the world, and especially in South Asia, but doubts remain. The aim of this study is to calculate the frequency and intensity of heat waves in South Asia, focusing on Pakistan and identifying the regions within Pakistan that are most vulnerable to heat waves. Analyses have been performed both at provincial and country levels from 1961 to 2009. The provincial level analysis shows positive trends for heat waves of magnitudes ≥40°C and ≥45°C for 5 and 7 consecutive days. Events of magnitude ≥40°C and ≥45°C for 10 consecutive days also increased in frequency in Punjab, Sindh, and Balochistan. These regions are therefore considered to be the regions most vulnerable to heat wave events in Pakistan. The Balochistan region shows a consistently increasing trend throughout the study period, which may lead to more frequent drought in the future. The country level analysis indicates an increase in the frequency of 5 and 7 consecutive days heat waves at all defined temperature thresholds. The 10-days heat waves spells show a slight increase at ≥40°C and no significant change at ≥45°C. The Gilgit Baltistan and Azad Jammu & Kashmir areas reported no events at ≥45°C for 5, 7 and 10 continuous days. It is anticipated that with a long term rise in temperatures around the globe, heat waves will become more frequent and intense in all parts of the world, including Pakistan.
Access options
Buy single article
Instant access to the full article PDF.
US$ 39.95
Tax calculation will be finalised during checkout.
Subscribe to journal
Immediate online access to all issues from 2019. Subscription will auto renew annually.
US$ 119
Tax calculation will be finalised during checkout.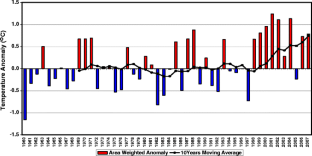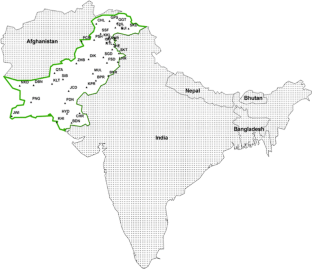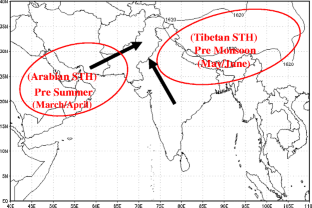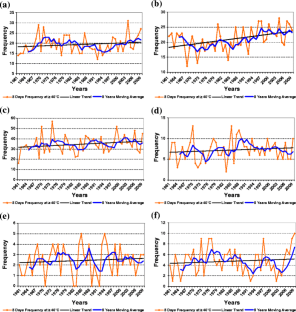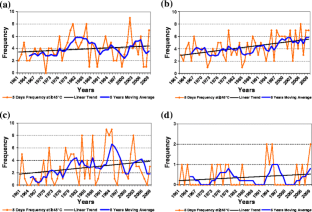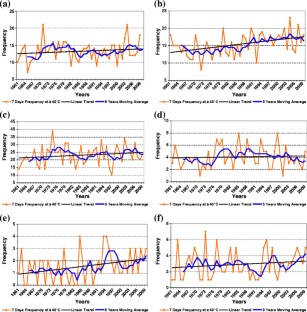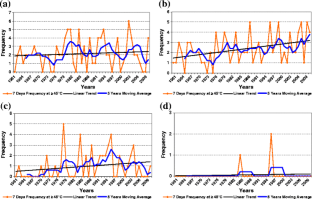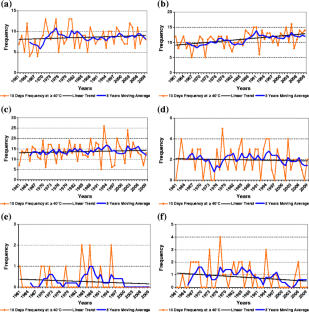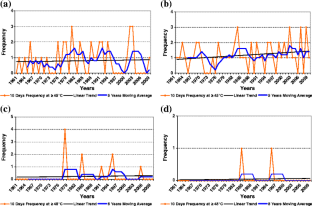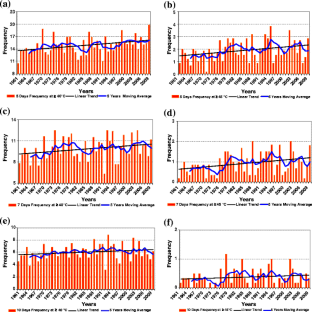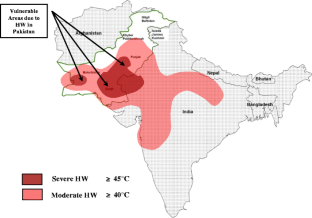 References
Chaudhary QZ, Mahmood A, Rasul G, Afzaal M (2009) Climate change indicators of Pakistan, Technical Report No. PMD-22, 1–43

Clark RT, Brown SJ, Murphy JM (2006) Modeling Northern hemisphere summer heat extreme changes and their uncertainties using a physics ensemble of climate sensitivity experiments. J Clim 19:4418–4435

Cristo R, Mazzarella A, Viola R (2007) An analysis of heat index over Naples (Southern Italy) in the context of European heat wave 2003. Nat Hazard 40:373–379

Della-Marta PM, Beniston M (2008) Summer heat waves in Western Europe, their past change and future projections. Springer, pp 235–250

Della-Marta PM, Luterbacher J, VonWeissenfluh H, Xoplaki E, Brunet M, Wanner H (2007) Summer heat waves over Western Europe 1880–2003, their relationship to large-scale forcings and predictability. Clim Dyn 29:251–275

Deshmukhe G, Ramamoorthy K, Gupta RS (2000) Impact of heat waves over India. Curr Sci 79(2):153–162

Dousset B, Gourmelon F, Laaidi K, Zeghnoun A, Giraudet E, Bretin P, Vandentorren S (2009) Satellite monitoring of summertime heat waves in the Paris Metropolitan Area. The Seventh Climate Conference on Urban Climate (29th June–3rd July) (2009), Yokohama Japan

Huang W, Kan H, Kovats S (2010) The impact of the 2003 heat wave on mortality in Shanghai, China. Sci Total Environ 408(11):2418–2420

IPCC, Asia in Climate Change (2007) Impacts, adaptation and vulnerability. Contribution of working group II to the fourth assessment report of the intergovernmental panel on climate change, Cambridge: Cambridge University Press, 469–506

Luber G (2008) Climate change and extreme heat events. Am J Prev Med 35(5):429–435

Mahmood A, Khan TMA, Faisal N (2004) Correlation between Multivariate ENSO Index (MEI) and Pakistan's Summer Rainfall. Pak J Meteorol 1(2):53–64

Maida Z, Rasul G (2009) Rise in summer heat index over Pakistan. Pak J Meteorol 6(12):85–96

McGregor GR, Nieuwolt S (1998) Tropical climatology, 2nd edn. Wiley, Ltd., UK, pp 76–80

Meehl G, Tebaldi C (2004) More intense, more frequent, and longer lasting heat waves in the 21st century. Science 305:994–997

Mohanty P, Panda U (2003) Heatwave in Orissa: A study based on heat indices and synoptic features – heatwave conditions in Orissa. Regional Research Laboratory, Institute of Mathematics and Applications, Bubaneshwar, 15 pp

Poumadère M, Mays C, Mer SL, Blong R (2005) The 2003 heat wave in France: dangerous climate change here and now. Risk Anal 25:1483–1494

'Rashid A (2004) Impact of El-Nino on summer monsoon rainfall of Pakistan. Pak J Meteorol 1(2):35–43

Rasul G, Dahe Q, Chaudhry QZ (2008) Global warming and melting glaciers along southern slopes of HKH ranges. Pak J Meteorol 5(9):63–76

Rebetez M, Dupont O, Giroud M (2008) An analysis of the July 2006 heat wave extent in Europe compared to the record year of 2003. Theor Appl Climatol. doi:10.1007/s00704-007-0370-9

Robin JM, Cheung SL, Le Roy S, Van Oyen H, Griffiths C, Michel J-P, Herrmann FR (2008) Death toll exceeded 70,000 in Europe during summer of 2003. Comptes Rendus Biol 331(2):171–178

Schär C, Vidale P, Luthi D, Frei C, Haberli C, Liniger M, Appenzeller M (2004) The role of increasing temperature variability in European summer heat waves. Nature 427:332–336

Tamrazian A, Ladochy S, Willis J, Patzert WC (2008) Heat waves in Southern California: are they becoming more frequent and longer lasting? APCG Year Book 70:59–69
About this article
Cite this article
Zahid, M., Rasul, G. Changing trends of thermal extremes in Pakistan. Climatic Change 113, 883–896 (2012). https://doi.org/10.1007/s10584-011-0390-4
Received:

Accepted:

Published:

Issue Date:
Keywords
Heat Wave

ENSO Event

Heat Wave Event

Summer Heat Wave

Severe Heat Wave