Abstract
In this work we evaluate the implications of climate change for future fluvial flood risk in Europe, considering climate developments under the SRES A2 (high emission) and B2 (low emission) scenario. We define flood risk as the product of flood probability (or hazard), exposure of capital and population, and vulnerability to the effect of flooding. From the European flood hazard simulations of Dankers and Feyen (J Geophys Res 114:D16108. doi:10.1029/2008JD011523, 2009) discharges with return periods of 2, 5, 10, 20, 50, 100, 250 and 500 years were extracted and converted into flood inundation extents and depths using a planar approximation approach. Flood inundation extents and depths were transformed into direct monetary damage using country specific flood depth-damage functions and land use information. Population exposure was assessed by overlaying the flood inundation information with data on population density. By linearly interpolating damages and population exposed between the different return periods, we constructed damage and population exposure probability functions under present and future climate. From the latter expected annual damages (EAD) and expected annual population exposed (EAP) were calculated. To account for flood protection the damage and population exposure probability functions were truncated at design return periods based on the country GDP/capita. Results indicate that flood damages are projected to rise across much of Western Europe. Decreases in flood damage are consistently projected for north-eastern parts of Europe. For EU27 as a whole, current EAD of approximately €6.4 billion is projected to amount to €14–21.5 billion (in constant prices of 2006) by the end of this century, depending on the scenario. The number of people affected by flooding is projected to rise by approximately 250,000 to 400,000. Notwithstanding these numbers are subject to uncertainty, they provide an indication of potential future developments in flood risk in a changing climate.
Access options
Buy single article
Instant access to the full article PDF.
USD 39.95
Price excludes VAT (USA)
Tax calculation will be finalised during checkout.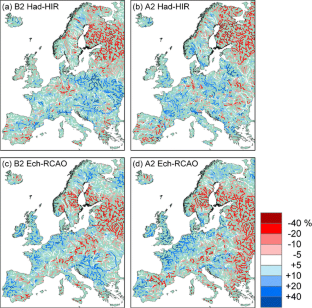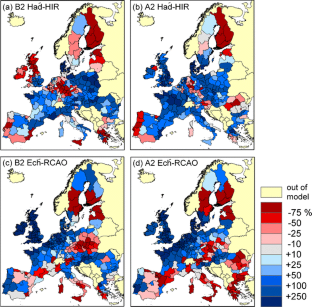 Similar content being viewed by others
References
ABI (2005) Financial risks of climate change. Association of British Insurers (http://www.abi.org.uk/climatechange)

Alcamo J, Flörke M, Märker M (2007) Future long-term changes in global water resources driven by socio-economic and climatic changes. Hydrol Sci J 52(2):247–275

Barredo JI (2009) Normalised flood losses in Europe: 1970–2006. Nat Hazard Earth Syst Sci 9(1):97–104

Bates PD (2004) Remote sensing and flood inundation modelling. Hydrolog Process 18:2593–2597

Bates PD, De Roo APJ (2000) A simple raster-based model for flood inundation simulation. J Hydrol 236:54–77

Bell VA, Kay AL, Jones RG, Moore RJ (2007) Use of a grid-based hydrological model and regional climate model outputs to assess changing flood risk. Int J Climatol 27(12):1657–1671

Booij MJ (2005) Impact of climate change on river flooding assessed with different spatial model resolutions. J Hydrol 303:176–198

Bosello F, Nicholls R, Richards J, Roson R, Tol RSJ (2010) Economic impacts of climate change in Europe: sea-level rise. Clim Chang (this issue)

Charlton R, Fealy R, Moore S, Sweeney J, Murphy C (2006) Assessing the impact of climate change on water supply and flood hazard in Ireland using statistical downscaling and hydrological modelling techniques. Clim Chang 74:475–491

Christensen OB, Christensen JH (2003) Severe summertime flooding in Europe. Nature 421:805–806

Christensen JH, Christensen OB, Lopez P, Van Meijgaard E, Botzet M (1996) The HIRHAM4 regional atmospheric climate model. DMI scientific report 96–4. Danish Meteorological Institute, Copenhagen

Christensen JH, Carter TR, Rummukainen M, Amanatidis G (2007) Evaluating the performance and utility of regional climate models: the PRUDENCE project. Clim Chang 81:1–6

Christensen OB, Goodess CM, Ciscar JC (2010) Methodological framework of the PESETA project on the impacts of climate change in Europe. Clim Chang (this issue)

Dankers R, Feyen L (2008) Climate change impact on flood hazard in Europe: an assessment based on high resolution climate simulations. J Geophys Res 113:D19105. doi:10.1029/2007JD009719

Dankers R, Feyen L (2009) Flood hazard in Europe in an ensemble of regional climate scenarios. J Geophys Res 114:D16108. doi:10.1029/2008JD011523

Dankers R, Christensen OB, Feyen L, Kalas M, De Roo A (2007) Evaluation of very high-resolution climate model data for simulating flood hazards in the Upper Danube Basin. J Hydrol 347:319–331

DEFRA (2001) National appraisal of assets at risk from flooding and coastal erosion, including the potential impact of climate change. UK Department of Environment, Food and Rural Affairs (http://www.defra.gov.uk/environ/fcd/default.htm)

European Environment Agency (2000) The European topic centre on terrestrial environment: corine land cover raster database 2000–100 m

Evans EP, Ashley R, Hall JW, Penning-Rowsell EC, Saul A, Sayers PB, Thorne CR, Watkinson A (2004) Foresight flood and coastal defence project, scientific summary: volume I, future risks and their drivers. Office of Science and Technology, London, p 366

Feyen L, Vrugt JA, Nualláin BÓ, van der Knijff J, De Roo A (2007) Parameter optimisation and uncertainty assessment for large-scale streamflow simulation with the LISFLOOD model. J Hydrol 332(1):276–289

Feyen L, Kalas M, Vrugt JA (2008) The value of semi-distributed parameters for large-scale streamflow simulation using global optimization. Hydrol Sci J 53(2):293–308

Frei C, Schöll R, Fukutome S, Schmidli J, Vidale PL (2006) Future change of precipitation extremes in Europe: intercomparison of scenarios from regional climate models. J Geophys Res 111:D06105. doi:10.1029/2005JD005965

Gallego J, Peedell S (2001) Using corine land cover to map population density. Towards Agri-environmental indicators, Topic Report 6/2001. European Environment Agency, Copenhagen, pp 92–103

Gilleland E, Katz RW (2005) Extremes toolkit (extRemes): weather and climate applications of extreme value statistics, tutorial. Univ. Corp. for Atm. Res, Boulder

Graham LP, Andréasson J, Carlsson B (2007) Assessing climate change impacts on hydrology from an ensemble of RCMs, model scales and linking methods—a case study on the Lule river basin. Clim Chang 81:293–307. doi:10.1007/s10584-006-9215-2

Hall JW, Sayers PB, Dawson RJ (2005) National-scale assessment of current and future flood risk in England and Wales. Nat Hazard 36:147–164

Hall JW, Sayers PB, Walkden MJA, Panzeri M (2006) Impacts of climate change on coastal flood risk in England and Wales: 2030–2100. Phil Trans Royal Society A 364:1027–1049

Huizinga HJ (2007) Flood damage functions for EU member states. Technical report, HKV Consultants. Implemented in the framework of the contract # 382441-F1SC awarded by the European Commission—Joint Research Centre

Jones CG, Willén U, Ullerstig A, Hansson U (2004) The Rossby Centre regional atmospheric climate model Part I: model climatology and performance for the present climate over Europe. Ambio 33:199–210

Kay AL, Jones RG, Reynard NS (2006) RCM rainfall for UK flood frequency estimation. II. Climate change results. J Hydrol 318:163–172

Kundzewicz ZW, Graczyk D, Maurer T, Pińskwar I, Radziejewski M, Svensson C, Szwed M (2005) Trend detection in river flow series: 1. Annual maximum flow. Hydrolog Sci J 50(5):797–810

Kundzewicz ZW, Radziejewski M, Pińskwar I (2006) Precipitation extremes in the changing climate of Europe. Clim Res 31:51–58

Kundzewicz ZW, Mata LJ, Arnell NW, Döll P, Jimenez B, Miller K, Oki T, Sen Z, Shiklomanov I (2008) The implications of projected climate change for freshwater resources and their management. Hydrol Sci J 53(1):3–10

Leander R, Buishand TA, van den Hurk BJJM, de Wit MJM (2008) Estimated changes in flood quantiles of the river Meuse from resampling of regional climate model output. J Hydrol 351:331–343

Lehner B, Döll P, Alcamo J, Henrichs T, Kaspar F (2006) Estimating the impact of global change on flood and drought risks in Europe: a continental integrated analysis. Clim Chang 75:273–299

Meier HEM, Döscher R, Faxén T (2003) A multiprocessor coupled ice-ocean model for the Baltic Sea: application to salt inflow. J Geophys Res 108(C8):3273. doi:10.1029/2000JC000521

Messner F, Penning-Rowsell E, Green C, Meyer V, Tunstall S, van der Veen A (2007) Evaluating flood damages: guidance and recommendations on principles and methods. T9-06-01, FLOODsite Project—Integrated flood risk analysis and management methodologies

Milly PCD, Dunne KA, Vecchia AV (2005) Global pattern of trends in streamflow and water availability in a changing climate. Nature 438:347–350

Mudelsee M, Börngen M, Tetzlaff G, Grünewald U (2003) No upward trends in the occurrence of extreme floods in central Europe. Nature 425:166–169

Nakicenovic N, Swart R (eds) (2000) IPCC special report on emission scenarios. Cambridge University Press, Cambridge

Pappenberger F, Beven KJ, Ratto M, Matgen P (2008) Multi-method global sensitivity analysis of flood inundation models. Adv Water Resour 31:1–14

Pope VD, Gallani ML, Rowntree PR, Stratton RA (2000) The impact of new physical parametrizations in the Hadley Centre climate model—HadAM3. Clim Dyn 16:123–146

Roeckner E, Bengtsson L, Feichter J, Lelieveld J, Rodhe H (1999) Transient climate change simulations with a coupled atmosphere-ocean GCM including the tropospheric sulfur cycle. J Clim 12:3004–3032

Semmler T, Jacob D (2004) Modeling extreme precipitation events—a climate change simulation for Europe. Glob Planet Chang 44:119–127

Shabalova M, van Deursen W, Buishand T (2003) Assessing future discharge of the river Rhine using RCM integrations and a hydrological model. Clim Res 23:233–246

Thodsen H (2007) The influence of climate change on stream flow in Danish rivers. J Hydrol 333:226–238

Trapp RJ, Robinson ED, Baldwin ME, Diffenbaugh NS, Schwedler BRJ (2010) Regional climate of hazardous convective weather through high-resolution dynamical downscaling. Clim Dyn, doi:10.1007/s00382-010-0826-y

van der Knijff J, Younis J, De Roo A (2008) LISFLOOD: a GIS-based distributed model for river-basin scale water balance and flood simulation. Int J Geogr Inform Sci, doi:10.1080/13658810802549154

Vogt JV, Soille P, de Jager A, Rimavičiūtė E, Mehl W, Foisneau S, Bódis K, Dusart J, Paracchini ML, Haastrup P, Bamps C (2007) A pan-European river and catchment database. EUR 22920 EN. Office for Official Publications of the European Communities, Luxembourg

Wilby RL (2005) Uncertainty in water resource model parameters used for climate change impact assessment. Hydrolog Process 19:3201–3219
Acknowledgements
The authors would like to thank Milan Kalas and Jalal Younis for assisting in the calibration of LISFLOOD in various catchments. Observations of river discharge have been provided by the Global Runoff Data Centre (GRDC) in Koblenz, Germany, and various national hydrological institutes.
Additional information
The views expressed are purely those of the authors and may not in any circumstances be regarded as stating an official position of the European Commission.
About this article
Cite this article
Feyen, L., Dankers, R., Bódis, K. et al. Fluvial flood risk in Europe in present and future climates. Climatic Change 112, 47–62 (2012). https://doi.org/10.1007/s10584-011-0339-7
Received:

Accepted:

Published:

Issue Date:

DOI: https://doi.org/10.1007/s10584-011-0339-7
Keywords