Abstract
Climate change and land degradation result in decreasing yields and crop failures in Northern Ghana and have caused further impoverishment of Ghana's poorest region. Farmers have diversified their livelihoods to adapt to uncertain environmental conditions in various ways. While traditionally a diversification of the production and migration were the prime means of adaptation, many farmers have started to intensify their production by adopting shallow groundwater irrigation for vegetable gardening for Ghana's urban markets. This has helped to cope with a changing environment, ameliorated poverty and reversed rural–urban migration, while the local hydrology curbed an over-exploitation of groundwater resources, commonly associated with an uncontrolled farmer-driven expansion of groundwater irrigation. This research confirms that farmer-driven small-scale irrigation can play an important role in the process of climate change adaptation. However, while farmers tried to integrate in the larger economy, they have become subject to market failures that in their essence are caused by unfair and unpredictable patterns of global trade. It is this double exposure to global environmental change and economic globalization that need to be taken into consideration when local adaptive capacities are discussed. Many convincing arguments call for the revision of some of the most unfair and devastating economic practices; however, the need to enhance adaptive capacity towards global climate change for poor parts of the population in the south should be added to the discussion.
Access options
Buy single article
Instant access to the full article PDF.
US$ 39.95
Tax calculation will be finalised during checkout.
Subscribe to journal
Immediate online access to all issues from 2019. Subscription will auto renew annually.
US$ 119
Tax calculation will be finalised during checkout.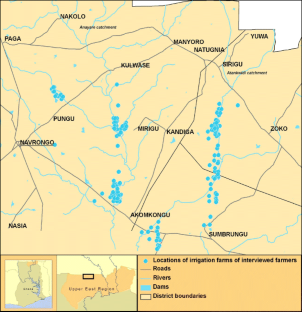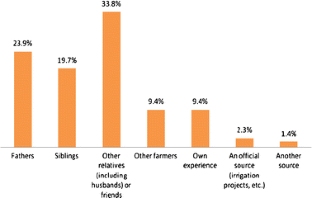 Notes
1.

To guarantee a valid simple random sample, all households of the Atankwidi catchment were identified in a satellite image and listed accordingly. Based on the list, a random sample was drawn. The sample was generously provided by Dr. Julia Schindler (for further details, see Schindler (2009:58–59)).

2.

Laux et al. (2008: 331–332) took a definition of the onset of the rainy season that depends on rainfall alone and at the same time reflects typical crop water needs in the region. The onset of the rainy season was defined by: (1) A total of at least 25 mm of rainfall in a five-day period; (2) At least three wet days (at least 0.1 mm of rainfall) in that period; and (3) no dry period longer than a week in the following 30 days. Given that these constraints of the definition did not yield an onset date for every year, a fuzzy logic approach was used to facilitate modelling.

3.

To measure wealth difference, a wealth indicator was generated. The indicator is based on the quantity of household assets such as radios, pumps, bicycles or TVs, as well as on the quantity of the livestock owned. In the wealth score, assets owned by households were weighted according to their average market prices in Navrongo, as established by a market survey in 2006. The same weighting factors were used for the asset data of 2006, 2007 and 2008, since price relations between the specific items had not changed significantly.
References
Adams AM, Cekan J, Sauerborn R (1998) Towards a conceptual framework of household coping: Reflections from Rural West Africa, Africa. Journal of the International African Institute 68:263–283

Adu SV (1972) Eroded Savannah soils of the Navrongo-Bawku area, Northern Ghana. Ghana J Agric Sci 5:3–12

Amegashitsi J (2009) Northern seasonal migrants in Techiman (M.A. thesis). University of Ghana, Accra

Amikuzuno J (2009) Spatial price transmission and market integration in agricultural markets after liberalization in Ghana: Evidence from fresh tomato markets PhD Ph.D. Dissertation, University Goettingen, Goettingen

Austin G (2008) Resources, techniques, and strategies south of the sahara: revising the factor endowments perspective on african economic development, 1500–2000. Econ Hist Rev 61:587

Awo M (2007) Tomatoes in Northern Ghana: Rrisky business or a way out of poverty (M.A. thesis). Institute of Social Science (ISS), The Hague

Barry B, Murali G, Kortatsi B, Forkuor G, Namara R, van den Berg J, Laube W (2010) Understanding Shallow Groundwater Irrigation in the White Volta Basin. Current extent and future sustainability. IWMI Research Report. IMWI, Colombo

Bates RH (1981) Markets and states in tropical Africa. University of California Press, Berkley

Berry S (1993) No condition is permanent: the social dynamics of agrarian change in Sub-Saharan Africa. University of Wisconsin Press, Madison

Blench R (2006) Agriculture and the environment in northeastern Ghana: a comparison of high and medium population density areas. Overseas Development Institute, London

Blench R, Dendo M (2007) Agricultural production and the potential for commodity chain expansion in the three northern regions of Ghana in 2006. http://www.rogerblench.info/Development/Ghana/FAO/Blench%20Working%20Paper%20Ghana%202006%20revised.pdf. Accessed 21 November 2010

Boko M, Niang I, Nyong A et al (2007) Africa. In: Parry ML, Canziani OF, Palutikof JP et al (eds) Climate change 2007: impacts, adaptation and vulnerability. Contribution to the fourth assessment report of the intergovernmental panel on Climate change, Cambridge University Press, Cambridge, pp 433–467

Boserup E (1965) The Conditions of agricultural growth. Aldne, Chicago

Braimoh AK, Vlek PLG (2005) Land cover change trajectories in Northern Ghana. Environ Manag 36:356–373

Bryceson DF (2002) The scramble in Africa: reorienting rural livelihoods. World Development 30:725

Bunte F (2007) Peeling tomato paste subsidies. Adding Value to the Agro-Food Supply Chain in the Future Euromediterranean Space, 1. Mediterranean Conference of Agro-Food Social Scientists, Barcelona, Spain

Carter MR (1997) Environment, technology, and the social articulation of risk in West African Agriculture. Econ Dev Cult Chang 45:557–590

Carter RC, Howsam P (1994) Sustainable use of groundwater for small-scale irrigation: with special reference to sub-Saharan Africa. Land Use Policy 11(4):275

Chalfin B (2003) The North Goes Global: Export Markets and Indigenous Commodities. In: Kröger F, Meier B (eds) Ghana's North. Research on Culture, Religion, and Politics of Societies in Transition. Peter Lang, Frankfurt a. M., pp 21–43

Clark G (1997) Managing transitions and continuities in Ghanaian trading contexts. Afr Econ Hist 32:65–88

Codjoe SNA (2004) Population and land use/cover dynamics in the Volta river basin of Ghana 1960–2010 Doctoral Thesis, University of Bonn

Collier P, Conway G, Venables T (2008) Climate change and Africa. Oxford Rev Econ Pol 24:337–353

Comprehensive Assessment of Water Management in Agriculture (2007) Water for Food, Water for Life: A Comprehensive Assessment of Water Management in Agriculture. London, Earthscan and Colombo, International Water Management Institute

Conley T, Udry C (2001) Social learning through networks: the adoption of new agricultural technologies in Ghana. Am J Agric Econ 83:668–673

Derbile E, Laube W, Schraven B (forthcoming) Between tradition and innovation: livelihood dynamics in the Upper Volta Basin of Northern Ghana. ZEF Working Papers, Center for Development Research, University of Bonn

Dietz AJ, Millar D, Dittoh S, Obeng F, Ofori-Sarpong E (2004) Climate and livelihood change in North East Ghana. In: Dietz AJ, Ruben R, Verhagen A (eds) The impact of climate change on drylands with a focus on West Africa. Kluwer Academic Publishers, Dordrecht, pp 149–172

Eakin H (2005) Institutional change, climate risk, and rural vulnerability: cases from Central Mexico. World Development 33:1923–1938

Ellis F (1998) Household strategies and rural livelihood diversification. J Dev Stud 35(1):1–38

Elwert G (1983) Bauern und Staat in Westafrika: Die Verflechtung sozioökonomischer Sektoren am Beispiel Benin. Campus, Frankfurt a. M.

Fairhead J, Leach M (1996) Misreading the African landscape: society and ecology in a forest savannah mosaic. Cambridge University Press, Cambridge

FAO (2006) FAO Briefs on Import Surges. Ghana:rice, poultry and tomato paste. FAO, Rome

FAOSTAT (2008) Ghana: Import Quantity Pate of Tomatoes. FAO. http://faostat.fao.org/site/535/DesktopDefault.aspx?PageID=535. Accessed 15 April 2008

Fortes M (1936) Culture contact as a dynamic process. Africa 9:24–55

Giordano M (2006) Agricultural groundwater use and rural livelihoods in sub-Saharan Africa: a first-cut assessment. Hydrogeol J 14:310–318

GSS (1989) 1984 population and housing census of Ghana special report on localities by local authorities: Upper East Region. Ghana Statistical Services, Accra

GSS (2000) Poverty trends in Ghana in the 1990s. Ghana Statistical Services, Accra

GSS (2002a) 2000 population and housing census - special reports on 20 largest localities. Ghana Statistical Service, Accra

GSS (2002b) 2000 population and housing census: summary report of final results. Ghana Statistical Services, Accra

Gyasi KO (2005) Determinants of Success of Collective Action on Local Commons: An Empirical Analysis of Community-Based Irrigation Management in Northern Ghana. Peter Lang, Frankfurt a. M.

Hulme M (2001) Climatic perspectives on Sahelian desiccation: 1973–1998. Global Environ Change 11(1):19–29

Hussain I, Ahanjra M (2004) Irrigation and poverty alleviation: review of the empirical evidence. Irrig Drain 53:1–15

Hyden G (1980) Beyond Ujamaa in Tanzania: underdevelopment and an uncaptured peasantry. Heinemann, London

Jung G, Kunstmann H (2007) High-resolution regional climate modelling for the Volta Basin of West Africa. J Geophys Res 112:17

Konings P (1986) The state and rural class formation in Ghana: a comparative analysis. Keegan Paul, London

Kpongor DS (2007) Spatially explicit modeling of sorghum (Sorghum bicolour (L.) Moench) production on complex terrain of a semi-arid region in Ghana using APSIM. Doctoral thesis, University of Bonn

Kranjac-Brisavljevic G, Bayorbor TB, Obeng F (1999) Rethinking natural resource degradation in semi-arid Sub-Saharan Africa: the case of semi-arid Ghana. Overseas Development Institute/University of Development Studies, London

Kumedzro RU (1970) The population geography of the Kassena-Nankani District, Upper Region: from 1900 to the present (BA Thesis). University of Ghana

Lambert MC (2002) Longing for Exile. Migration and the Making of a Transnational Community in Senegal, West Africa. Heinemann, Portsmouth

Laube W (2007) Changing resource regimes in Northern Ghana: actors, structures and institutions. LIT, Berlin

Laube W, Le QB (2007) Development options for the sustainable use of land and shallow groundwater in Atankiri and anayere catchments: report of the farmer workshop, Narvongo, Ghana on 20–22 July, 2007. Centre for Development Research, Bonn

Laube W, Awo M, Schraven B (2008) Erratic Rains and erratic markets: environmental change, economic globalisation and the expansion of shallow groundwater irrigation in West Africa. ZEF Working Papers Nr. 30, Center for Development Research, University of Bonn

Laux P, Kunstmann H, Bárdossy A (2008) Predicting the regional onset of the rainy season in West Africa. Int J Climatol 28:329–342

Lay J, Narloch U, Mahmoud TO (2009) Shocks, Structural Change, and the Patterns of Income Diversification in Burkina Faso. Afr Dev Rev 21(1):36–58

Lentz C (1998) Die Konstruktion von Ethnizität: eine politische Geschichte Nord-West Ghanas 1870–1990. Rüdiger Köppe, Köln

Levy P, Lemeshow S (1999) Sampling of populations: methods and applications. Wiley, New York

MacDonald AM, Calow RC, MacDonald DMJ, Darling GW, Dochartaigh B (2009) What impact will climate change have on rural groundwater supplies in Africa? Hydrol Sci J 54(4):690–703

Nabila JS (1987) The migration of the Fra-Fra in Northern Ghana: a case study of cyclical labour migration in West Africa. Doctoral thesis, Michigan State University

News in Ghana (2004) Livelihood of tomato farmers in UER under threat. News in Ghana. Available at http://www.modernghana.com/news/62773/1/livelihood-of-tomato-farmers-in-uer-under-threat.html. Accessed 20 September 2008

Niasse M (2005) Climate-induced water conflict risks in West Africa: recognizing and coping with increasing climate impacts on shared watercourses, in Human Security and Climate Change. Holmen Fjord Hotel, Asker, Oslo, pp 1–15

Nielsen JØ, Reenberg A (2009) Temporality and the problem with singling out climate as a current driver of change in a small West African village. J Arid Environ 74(4):464–474

O'Brien K, Leichenko RM (2000) Double exposure: assessing the impacts of climate change within the context of economic globalisation. Glob Environ Chang 10:221–232

O'Brien K, Leichenko RM, Kelkar U et al (2004) Mapping vulnerability to multiple stressors: climate change and globalisation in India. Glob Environ Chang 14:303–313

Olivier de Sardan JP (1988) Peasant logics and development project logics. Sociol Rural 28:216–226

Padmanabhan MA (2007) The making and unmaking of gendered crops in Northern Ghana. Singap J Trop Geogr 28(1):57–70. doi:10.1111/j.1467-9493.2006.00276.x

Paeth H (2004) SST versus climate change signals in West African rainfall: 20th-century variations and future projections. Clim Chang 65(1/2):179–208

Reid RS, Kruska RL, Muthui N, Taye A, Wotton S, Wilson CJ, Mulatu W (2000) Land-use and land-cover dynamics in response to changes in climatic, biological and socio-political forces: the case of southwestern Ethiopia. Landsc Ecol 15(4):339–355. doi:10.1023/a:1008177712995

Roncoli C, Ingram K, Kirshen P (2002) Reading the rains: local knowledge and rainfall forecasting in Burkina Faso. Soc Nat Resour Int J 15(5):409–427

Rostow W (1987) The stages of economic growth: a non-communist manifesto, 2nd edn. Cambridge University Press, Cambridge

Sandbrooke R (1985) The politics of Africa's economic stagnation. Cambridge University Press, Cambridge

Schindler J (2009) A multi-agent system for simulating land-use and land-cover change in the Atankwidi catchment of Upper East Ghana. Doctoral thesis, University of Bonn

Schraven B (2010) Irrigate or migrate? Local livelihood adaptation in Northern Ghana in response to ecological changes and economic challenges. Doctoral thesis, University of Bonn

Scoones I (2009) Livelihoods perspectives and rural development. J Peasant Stud 36:171–206

Scott JC (1976) The moral economy of the peasant. Yale University Press, New Heaven

Sinnadurai S, Abu J (1977) Onion farming in Ghana. Econ Bot 31(3):312–314. doi:10.1007/bf02866882

Songsore J (1996) Population growth and ecological degradation in Northern Ghana: myths and realities. Res Rev (NS) 12:51–66

Tiffen M, Mortimore M, Gichuki F (1994) More people, less erosion - environmental recovery in Kenya. Wiley, Chichester

Tonah S (1993) The development of agropastoral households in Northern Ghana: policy analysis, project appraisal and future perspectives. Verlag für Entwicklungspolitik, Saarbrücken

Tosh J (1980) The cash-crop revolution in tropical africa: an agricultural reappraisal. Afr Aff 79(314):79–94

Tripp R (1992) Dietary consequences of changes in trade and agriculture for the Nankane of Northern Ghana. Ecol Food Nutr 27:249–258

Van de Giesen N, Liebe J, Jung G (2010) Adapting to climate change in the Volta Basin, West Africa. Curr Sci 98:1033–1037

Whitehead A (2006) Persistent Poverty in North East Ghana. J Dev Stud 42(2):278–300

World Bank (2007) World Bank Assistance to agriculture in Sub-Saharan Africa: An IEG Review, Independent Evaluation Group. World Bank, Washington, p 144

Zhang X, Qui H, Huang Z (2010) Appel and Tomato Chains in China and the EU. LEI-Report, vol 2010–019. LEI, Wageningen
Acknowledgements
The research for this article was conducted in the GLOWA Volta Project, funded by the German Federal Ministry for Education and Research (BMBF), and the Shallow Groundwater Irrigation Project (CP 65), funded by the Challenge Project for Water and Food . The reviews of Nick van de Giessen, Dpt. of Water Resources Management, Technical University of Delft, and Steve Tonah, Dept. of Sociology, University of Ghana, Legon, greatly helped to enhance the quality of the paper.
About this article
Cite this article
Laube, W., Schraven, B. & Awo, M. Smallholder adaptation to climate change: dynamics and limits in Northern Ghana. Climatic Change 111, 753–774 (2012). https://doi.org/10.1007/s10584-011-0199-1
Received:

Accepted:

Published:

Issue Date:
Keywords
Adaptive Capacity

Tomato Production

Peasant Household

Shallow Groundwater Table

Volta Basin