Abstract
Problematic Internet use (PIU) preferentially affects youth development, particularly youth with psychiatric conditions. Studies attempting to understand PIU and its impact on adolescent mental health have been limited by cross-sectional design and self-report data. Even with a small sample size, digital phenotyping (DP) methodology can address these limitations through repeated sampling and collection of survey and sensor data through personal smartphones. This study pilots a 6-week DP protocol in 28 youth in mental health treatment in order to assess relationships between PIU, mood symptoms, and daily behaviors like smartphone engagement and daily travel in this high-risk population. Our results found shared associations between depression and PIU, where symptom severity of both worsened in the setting of decreased smartphone engagement. These clinically relevant findings indicate that, rather than uniformly worsening mental health, increased digital engagement may actually provide short-term relief from negative affect in youth with psychiatric comorbidities.
Access options
Buy single article
Instant access to the full article PDF.
USD 39.95
Price excludes VAT (USA)
Tax calculation will be finalised during checkout.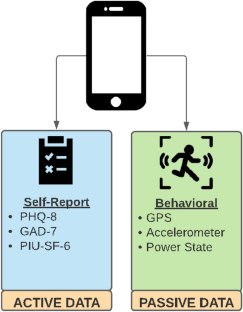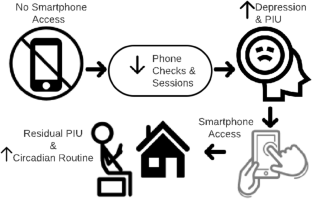 References
Shapira NA, Lessig MC, Goldsmith TD et al (2003) Problematic internet use: proposed classification and diagnostic criteria. Depress Anxiety 17:207–216. https://doi.org/10.1002/da.10094

Durkee T, Kaess M, Carli V et al (2012) Prevalence of pathological internet use among adolescents in Europe: demographic and social factors. Addiction 107:2210–2222. https://doi.org/10.1111/j.1360-0443.2012.03946.x

Moreno MA, Jelenchick L, Cox E et al (2011) Problematic internet use among US youth: a systematic review. Arch Pediatr Adolesc Med 165:797–805. https://doi.org/10.1001/archpediatrics.2011.58

Vigna-Taglianti F, Brambilla R, Priotto B et al (2017) Problematic internet use among high school students: prevalence, associated factors and gender differences. Psychiatry Res 257:163–171. https://doi.org/10.1016/j.psychres.2017.07.039

Rideout V, Robb M (2019) The common sense census: media use by tweens and teens. commonsense media, San Francisco

Hammond CJ, Mayes LC, Potenza MN (2015) Neurobiology of adolescent substance use and addictive behaviors: prevention and treatment implications. State of the Art Rev 25(1):15–21

Fuchs M, Riedl D, Bock A et al (2018) Pathological internet use: an important comorbidity in child and adolescent psychiatry: prevalence and correlation patterns in a naturalistic sample of adolescent inpatients. BioMed Res Int. https://doi.org/10.1155/2018/1629147

Gansner M, Belfort E, Cook B et al (2019) Problematic internet use and associated high-risk behavior in an adolescent clinical sample: results from a survey of psychiatrically hospitalized youth. Cyberpsychol Behav Soc Netw 22:349–354. https://doi.org/10.1089/cyber.2018.0329

Kim B-N, Park S, Park M-H (2017) The Relationship of sexual abuse with self-esteem, depression, and problematic internet use in Korean adolescents. Psychiatry Investig 14:372–375. https://doi.org/10.4306/pi.2017.14.3.372

Rideout V, Fox S (2018) Digital Health Practices, Social Media Use, and Mental Well-Being Among Teens and Young Adults in the U.S. Hopelab Well Trust 1–95

Wang C-Y, Wu Y-C, Su C-H et al (2017) Association between Internet gaming disorder and generalized anxiety disorder. J Behav Addict 6:564–571. https://doi.org/10.1556/2006.6.2017.088

Yen J-Y, Ko C-H, Yen C-F et al (2007) The comorbid psychiatric symptoms of internet addiction: attention deficit and hyperactivity disorder (ADHD), depression, social phobia, and hostility. J Adolesc Health 41:93–98. https://doi.org/10.1016/j.jadohealth.2007.02.002

Özaslan A, Yıldırım M, Güney E et al (2021) Association between problematic internet use, quality of parent-adolescents relationship, conflicts, and mental health problems. Int J Ment Health Addict. https://doi.org/10.1007/s11469-021-00529-8

Gao L, Gan Y, Whittal A, Lippke S (2020) Problematic internet use and perceived quality of life: findings from a cross-sectional study investigating work-time and leisure-time internet use. Int J Environ Res Public Health 17:4056. https://doi.org/10.3390/ijerph17114056

Kaye K, Orben A, Ellis D et al (2020) The conceptual and methodological mayhem of "Screen Time." Int J Environ Res Public Health 17:3661. https://doi.org/10.3390/ijerph17103661

Jeong H, Yim HW, Lee S-Y et al (2018) Discordance between self-report and clinical diagnosis of Internet gaming disorder in adolescents. Sci Rep 8:10084. https://doi.org/10.1038/s41598-018-28478-8

Stone AA, Shiffman S (1994) Ecological momentary assessment (EMA) in behavorial medicine. Ann Behav Med 16:199–202. https://doi.org/10.1093/abm/16.3.199

Insel TR (2018) Digital phenotyping: a global tool for psychiatry. World Psychiatry 17:276–277. https://doi.org/10.1002/wps.20550

Gansner M, Nisenson M, Carson N, Torous J (2020) A pilot study using ecological momentary assessment via smartphone application to identify adolescent problematic internet use. Psychiatry Res 293:113428. https://doi.org/10.1016/j.psychres.2020.113428

Barnett I, Torous J, Reeder HT et al (2020) Determining sample size and length of follow-up for smartphone-based digital phenotyping studies. J Am Med Inform Assoc. https://doi.org/10.1093/jamia/ocaa201

Onnela JP Digital phenotyping power calculation. https://onnela-lab.shinyapps.io/digital_phenotyping_sample_size_calculator/. Accessed 23 Nov 2020

Torous J (2020) LAMP. In: Div. Digit. Psychiatry BIDMC. https://www.digitalpsych.org/lamp.html. Accessed 20 Apr 2020

Torous J, Kiang MV, Lorme J, Onnela J-P (2016) New tools for new research in psychiatry: a scalable and customizable platform to empower data driven smartphone research. JMIR Ment Health 3:e16. https://doi.org/10.2196/mental.5165

Demetrovics Z, Király O, Koronczai B et al (2016) Psychometric properties of the problematic internet use questionnaire short-form (PIUQ-SF-6) in a nationally representative sample of adolescents. PLoS ONE. https://doi.org/10.1371/journal.pone.0159409

Bauer AM, Baldwin SA, Anguera JA et al (2018) Comparing approaches to mobile depression assessment for measurement-based care: prospective study. J Med Internet Res 20:e10001. https://doi.org/10.2196/10001

Barnett I, Onnela J-P (2018) Inferring mobility measures from GPS traces with missing data. Biostat Oxf Engl 21:e98–e112. https://doi.org/10.1093/biostatistics/kxy059

Wilcockson TDW, Ellis DA, Shaw H (2018) Determining typical smartphone usage: what data do we need? Cyberpsychol Behav Soc Netw 21:395–398. https://doi.org/10.1089/cyber.2017.0652

Kaess M, Durkee T, Brunner R et al (2014) Pathological Internet use among European adolescents: psychopathology and self-destructive behaviours. Eur Child Adolesc Psychiatry 23:1093–1102. https://doi.org/10.1007/s00787-014-0562-7

Tan Y, Chen Y, Lu Y, Li L (2016) Exploring associations between problematic internet use, depressive symptoms and sleep disturbance among southern chinese adolescents. Int J Environ Res Public Health. https://doi.org/10.3390/ijerph13030313

Park M-H, Park S, Jung K-I et al (2018) Moderating effects of depressive symptoms on the relationship between problematic use of the Internet and sleep problems in Korean adolescents. BMC Psychiatry. https://doi.org/10.1186/s12888-018-1865-x

Park S, Hong K-EM, Park EJ et al (2013) The association between problematic internet use and depression, suicidal ideation and bipolar disorder symptoms in Korean adolescents. Aust N Z J Psychiatry 47:153–159. https://doi.org/10.1177/0004867412463613

Kupferberg A, Bicks L, Hasler G (2016) Social functioning in major depressive disorder. Neurosci Biobehav Rev 69:313–332. https://doi.org/10.1016/j.neubiorev.2016.07.002

Oberle E, Ji XR, Kerai S et al (2020) Screen time and extracurricular activities as risk and protective factors for mental health in adolescence: a population-level study. Prev Med 141:106291. https://doi.org/10.1016/j.ypmed.2020.106291

Aşut Ö, Abuduxike G, Acar-Vaizoğlu S, Cali S (2019) Relationships between screen time, internet addiction and other lifestyle behaviors with obesity among secondary school students in the turkish republic of northern cyprus. Turk J Pediatr 61:568. https://doi.org/10.24953/turkjped.2019.04.014

Guo N, Luk TT, Wang MP et al (2021) Self-reported screen time on social networking sites associated with problematic smartphone use in Chinese adults: a population-based study. Front Psychiatry 11:614061. https://doi.org/10.3389/fpsyt.2020.614061

Jiang J (2018) How Teens and Parents Navigate Screen Time and Device Distractions. Pew Research Center

Araujo T, Wonneberger A, Neijens P, de Vreese C (2017) How much time do you spend online? Understanding and improving the accuracy of self-reported measures of internet use. Commun Methods Meas 11:173–190. https://doi.org/10.1080/19312458.2017.1317337

American Psychiatric Association (2013) Diagn. Stat. Man. Ment. Disord.

Onnela J-P, Rauch SL (2016) Harnessing smartphone-based digital phenotyping to enhance behavioral and mental health. Neuropsychopharmacology 41:1691–1696. https://doi.org/10.1038/npp.2016.7

O'Flaherty K (2021) Apple's stunning iOS 14 privacy move: a game-changer for all iPhone users. In: Forbes. https://www.forbes.com/sites/kateoflahertyuk/2021/01/31/apples-stunning-ios-14-privacy-move-a-game-changer-for-all-iphone-users/. Accessed 19 March 2021

Onnela JP Beiwe-Frequently Asked Questions. https://www.beiwe.org/about/.
Funding
This study was supported by the DuPont Warren Fellowship and Livingston Award, awarded to Dr. M.G. by the Department of Psychiatry, Harvard Medical School.
Ethics declarations
Conflict of interest
Dr. John Torous receives research support from Otsuka Pharmaceuticals for work unrelated to this manuscript. Drs. Gansner and Carson and Ms. Nisenson and Ms. Lin have no competing financial interests or other conflicts of interest to disclose.
Consent to Participate and Publish
Written informed consent was obtained for all participants over 18 years of age. For participants under 18 years of age, parental consent and adolescent assent was obtained.
Ethical Approval
This study was conducted in compliance with the ethical standards as outlined in the latest version of the Declaration of Helsinki. This study was approved by the Cambridge Health Alliance Institutional Review Board on 12/24/2021 for continuing review.
Additional information
Publisher's Note
Springer Nature remains neutral with regard to jurisdictional claims in published maps and institutional affiliations.
About this article
Cite this article
Gansner, M., Nisenson, M., Lin, V. et al. Piloting Smartphone Digital Phenotyping to Understand Problematic Internet Use in an Adolescent and Young Adult Sample. Child Psychiatry Hum Dev 54, 997–1004 (2023). https://doi.org/10.1007/s10578-022-01313-y
Accepted:

Published:

Issue Date:

DOI: https://doi.org/10.1007/s10578-022-01313-y
Keywords