Abstract
Capitalizing on a longitudinal cohort followed from gestation through adolescence (201 mother–child dyads), we investigate the contributions of severity and stability of both maternal depressive and perceived stress symptoms to adolescent psychopathology. Maternal depressive and perceived stress trajectories from pregnancy through adolescence were identified with latent class growth analyses, and associations with adolescent internalizing and externalizing symptoms were examined. For both depression and stress, the most common trajectory group comprised mothers displaying stable and low symptom levels over time, and adolescents of these mothers had the fewest internalizing and externalizing symptoms. Maternal membership to one or more aberrant trajectory groups predicted higher levels of internalizing and externalizing symptoms, determined by both maternal and adolescent self-report. This study indicates that profiles of multiple indicators of maternal psychopathology assessed across childhood, beginning prenatally, can provide critical additional insight into child psychopathology risk.
Access options
Buy single article
Instant access to the full article PDF.
USD 39.95
Price includes VAT (USA)
Tax calculation will be finalised during checkout.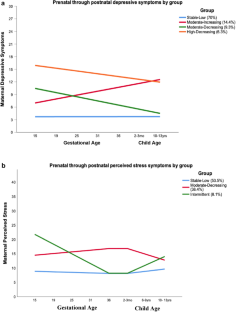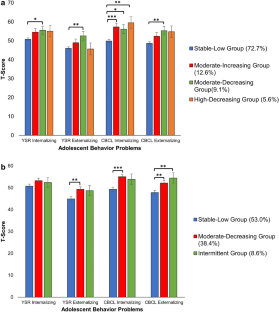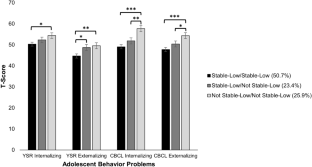 References
1.

Hahn-Holbrook J, Holbrook C, Haselton MG (2011) Parental precaution: Neurobiological means and adaptive ends. Neurosci Biobehav Rev 35(4):1052–1066

2.

Kuzawa CW, Quinn EA (2009) Developmental origins of adult function and health: evolutionary hypotheses. Annu Rev Anthropol 38:131–147

3.

Bateson P, Barker D, Clutton-Brock T, Debal D, D'Udine B, Foley RA et al (2004) Developmental plasticity and human health. Nature 430:419–421

4.

Belsky J, Steinberg L, Draper P (1991) Childhood experience, interpersonal development, and reproductive strategy: an evolutionary theory of socialization. Child Dev 62(4):647–670

5.

Barker ED, Jaffee SR, Uher R, Maughan B (2011) The contribution of prenatal and postnatal maternal anxiety and depression to child maladjustment. Depress Anxiety 28:696–702

6.

Davis EP, Sandman CA (2012) Prenatal psychobiological predictors of anxiety risk in preadolescent children. Psychoneuroendocrinology 37(8):1224–1233

7.

Davis EP, Hankin BL, Glynn LM, Head K, Kim DJ, Sandman CA (2020) Prenatal maternal stress, child cortical thickness, and adolescent depressive symptoms. Child Dev 91(2):e432–e450

8.

Glynn LM, Howland MA, Sandman CA, Davis EP, Phelan M, Baram TZ et al (2018) Prenatal maternal mood patterns predict child temperament and adolescent mental health. J Affect Disord 228:83–90

9.

Goodman SH, Rouse MH, Connell AM, Broth MR, Hall CM, Heyward D (2011) Maternal depression and child psychopathology: a meta-analytic review. Clin Child Fam Psychol Rev 14:1–27

10.

Talge NM, Neal C, Glover V (2007) Antenatal maternal stress and long-term effects on child neurodevelopment: how and why? J Child Psychol Psychiatry 48(3–4):245–261

11.

Kessler RC, Wai TC, Demler O, Walters EE (2005) Prevalence, severity, and comorbidity of 12-month DSM-IV disorders in the National Comorbidity Survey Replication. Arch Gen Psychiatry 62:617–709

12.

Jaffee SR, Sligo JL, McAnally HM, Bolton AE, Baxter JM, Hancox RJ (2020) Early-onset and recurrent depression in parents increases risk of intergenerational transmission to adolescent offspring. J Child Psychol Psychiatry. https://doi.org/10.1111/jcpp.13356

13.

Appleyard K, Egeland B, van Dulmen MHM, Sroufe LA (2005) When more is not better: the role of cumulative risk in child behavior outcomes. J Child Psychol Psychiatry 46(3):235–245

14.

Deater-Deckard K, Dodge KA, Bates JE, Pettit GS (1998) Multiple risk factors in the development of externalizing behavior problems: group and individual differences. Dev Psychopathol 10:469–493

15.

Evans GW, Cassells RC (2014) Childhood poverty, cumulative risk exposure, and mental health in emerging adults. Clin Psychol Sci 2(3):287–296

16.

Glynn LM, Baram TZ (2019) The influence of unpredictable, fragmented parental signals on the developing brain. Front Neuroendocrinol 53:100736

17.

Ellis BJ, Figueredo AJ, Brumbach BH, Schlomer GL (2009) Fundamental dimensions of environmental risk. Nature 20(2):204–268

18.

Hartman S, Sung S, Simpson JA, Schlomer GL, Belsky J (2018) Decomposing environmental unpredictability in forecasting adolescent and young adult development: a two-sample study. Dev Psychopathol 30(4):1321–1332

19.

Hammen C, Brennan PA (2003) Severity, chronicity, and timing of maternal depression and risk for adolescent offspring diagnoses in a community sample. Arch Gen Psychiatr 60(3):253–258

20.

NICHD Early Child Care Research Network (1999) Chronicity of maternal depressive symptoms, maternal sensitivity, and child functioning at 36 months. Dev Psychol 35(5):1297–1310

21.

Nandi A, Beard JR, Galea S (2009) Epidemiologic heterogeneity of common mood and anxiety disorders over the lifecourse in the general population: a systematic review. BMC Psychiatry 9(1):31

22.

Ashman S, Dawson G, Panagiotides H (2008) Trajectories of maternal depression over 7 years: relations with child psychophysiology and behavior and role of contextual risks. Dev Psychopathol 20(1):55–77

23.

Campbell SB, Morgan-Lopez AA, Cox MJ, McLoyd VC (2009) A latent class analysis of maternal depressive symptoms over 12 years and offspring adjustment in adolescence. J Abnorm Psychol 118(3):479–493

24.

Cents RAM, Diamantopoulou S, Hudziak JJ, Jaddoe VWV, Hofman A, Verhulst FC et al (2013) Trajectories of maternal depressive symptoms predict child problem behaviour: the Generation R Study. Psychol Med 43:13–25

25.

Chae H, East P, Delva J, Lozoff B, Gahagan S (2020) Maternal depression trajectories relate to youths' psychosocial and cognitive functioning at adolescence and young adulthood. J Child Fam Stud 29(12):3459–3469

26.

Kingston D, Kehler H, Austin MP, Mughai MK, Wajid A, Vemeyden L et al (2018) Trajectories of maternal depressive symptoms during pregnancy and the first 12 months postpartum and child externalizing and internalizing behavior at three years. PLOS ONE 13(4):e0195365

27.

Matijasevich A, Murray J, Cooper PJ, Anselmi L, Barros AJD, Barros FC et al (2015) Trajectories of maternal depression and offspring psychopathology at 6 years: 2004 Pelotas cohort study. J Affect Disord 174:424–431

28.

Pearson RM, Evans J, Kounali D (2013) Maternal depression during pregnancy and the postnatal period: risks and possible mechanisms for offspring depression at age 18 years. JAMA Psychiatr 70(12):1312–1319

29.

Wickham ME, Senthilselvan A, Wild CT, Hoglund WLG, Colman I (2015) Maternal depressive symptoms during childhood and risky adolescent health behaviors. Pediatrics 135(1):59–67

30.

Santor DA, Coyne JC (1997) Shortening the CES-D to improve its ability to detect cases of depression. Psychol Assess 9(3):233–243

31.

Glynn LM, Sandman CA (2014) Evaluation of the association between placental corticotrophin-releasing hormone and postpartum depressive symptoms. Psychosom Med 76:355–362

32.

Cohen S, Kamarck T, Mermelstein R (1983) A global measure of perceived stress. J Health Soc Behav 24(4):385–396

33.

Achenbach T, Rescorla L (2001) Manual for the ASEBA School-Age Forms & Profiles: Child Behavior Checklist for Ages 6–18, Teacher's Report Form, Youth Self-Report.

34.

Petty CR, Rosenbaum JF, Hirshfeld-Becker DR, Henin A, Hubley S, LaCasse S et al (2008) The child behavior checklist broad-band scales predict subsequent psychopathology: A 5-year follow-up. J Anxiety Disord 22(3):532–539

35.

Ebesutani C, Bernstein A, Martinez JI, Chorpita BF, Weisz JR (2011) The youth self report: applicability and validity across younger and older youths. J Clin Child Adolesc Psychol 40(2):338–346

36.

Sandman CA, Glynn LM, Davis EP (2013) Is there a viability-vulnerability tradeoff? Sex differences in fetal programming. J Psychosom Res 75:327–335

37.

Peverill M, Dirks MA, Narvaja T (2021) Socioeconomic status and child psychopathology in the United States: a meta-analysis of population-based studies. Clin Psychol Rev 83:101933

38.

Eme R (1979) Sex differences in child psychopathology: a review. Psychol Bull 86(3):574–595

39.

Rutter M, Caspi A, Moffit TE (2003) Using sex differences in psychopathology to study causal mechanisms: unifying issues and research strategies. J Child Psychol Psychiatry 44(8):1092–1115

40.

Kistner JA (2009) Sex differences in child and adolescent psychopathology: an introduction to the special section. J Clin Child Adolesc Psychol 38(4):453–459

41.

Sandman CA, Davis EP, Glynn LM (2012) Prescient human fetuses thrive. Psychol Sci 23:93–100

42.

Betts KS, Williams GM, Najman JM, Alati R (2014) Maternal depressive, anxious, and stress symptoms during pregnancy predict internalizing problems in adolescence. Depress Anxiety 31:9–18

43.

Campbell SB, Matestic P, von Stauffenberg C, Mohan R, Kirchner T (2007) Trajectories of maternal depressive symptoms, maternal sensitivity, and children's functioning at school entry. Dev Psychol 43(5):1202–1215

44.

Giallo R, Woolhouse H, Gartland D, Hiscock H, Brown S (2015) The emotional-behavioural functioning of children exposed to maternal depressive symptoms across pregnancy and early childhood: a prospective Australian pregnancy cohort study. Eur Child Adolesc Psychiatry 24:1233–1244

45.

Irwin JL, Davis EP, Hobel CJ, Coussons-Read M, Dunkel Schetter C (2020) Maternal prenatal anxiety trajectories and infant developmental outcomes in one-year-old offspring. Infant Behav Dev 60:101468

46.

Swales DA, Snyder HR, Hankin BL, Sandman CA, Glynn LM, Davis EP (2020) Maternal depressive symptoms predict general liability in child psychopathology. J Clin Child Adolesc. https://doi.org/10.1080/15374416.2020.1723598

47.

Coussons-Read ME, Okun ML, Nettles CD (2007) Psychosocial stress increases inflammatory markers and alters cytokine production across pregnancy. Brain Behav Immun 21:343–350

48.

Glover V, O'Donnell KJ, O'Connor TG, Fisher J (2018) Maternal stress, fetal programming, and mechanisms underlying later psychopathology—a global perspective. Dev Psychopathol 30:843–854

49.

Peterson GF, Espel EV, Davis EP, Sandman CA, Glynn LM (2020) Characterizing prenatal maternal distress with unique prenatal cortisol trajectories. Health Psychol 39(11):1013–1019

50.

Belsky J, Pasco Fearon RM (2002) Early attachment security, subsequent maternal sensitivity, and later child development: does continuity in development depend upon continuity of caregiving? Attach Hum Dev 4(3):361–387

51.

Davis EP, Korja R, Karlsson L, Glynn LM, Sandman CA, Vegetabile B et al (2019) Across continents and demographics, unpredictable maternal signals are associated with children's cognitive function. EBioMedicine 46:256–263

52.

Cummings EM, Davies PT (1994) Maternal depression and child development. J Child Psychol Psychiatry 35(1):73–122

53.

Goodman SH, Gotlib IH (1999) Risk for psychopathology in the children of depressed mothers: a developmental model for understanding mechanisms of transmission. Psychol Rev 106(3):458–490

54.

Muthén LK, Muthén BO. Mplus user's guide. 8th edn. Muthén & Muthén. (n.d.).
Ethics declarations
Conflict of Interest
The authors declare that they have no conflict of interest.
Research Involving Human and Animal Participants
All procedures performed in studies involving human participants were in accordance with the ethical standards of the institutional and/or national research committee and with the 1964 Helsinki Declaration and its later amendments or comparable ethical standards.
Informed Consent
Informed consent was obtained from all maternal participants and assent was obtained from all children included in the study.
Additional information
Publisher's Note
Springer Nature remains neutral with regard to jurisdictional claims in published maps and institutional affiliations.
Supplementary Information
Below is the link to the electronic supplementary material.
About this article
Cite this article
Bailey, N.A., Irwin, J.L., Davis, E.P. et al. Patterns of Maternal Distress from Pregnancy Through Childhood Predict Psychopathology During Early Adolescence. Child Psychiatry Hum Dev (2021). https://doi.org/10.1007/s10578-021-01259-7
Keywords
Maternal psychological distress

Early adolescent internalizing symptoms

Early adolescent externalizing symptoms

Latent class growth analyses