Abstract
The use of an oral orthotic, called an occlusal splint, has gained recognition for the potential to reduce the frequency of tics for individuals with Persistent Tic Disorders. The purpose of this study was to assess the feasibility of a fully blinded, randomized controlled trial (RCT) to assess the safety, tolerability and initial efficacy of the oral orthotic in youth with chronic tics. Thirteen youth were randomly assigned to wear an active or sham orthotic in a two week double-blind RCT, with a 4–6 week unblinded follow up period. A statistically significant difference was found for change in tic severity between participants wearing the active and sham orthotic. However, this difference was not replicated during the follow up period. The oral orthotic is a promising intervention for the reduction of tics in youth with Tourette's Syndrome and is worthy of continued study to establish intervention efficacy and mechanism of action.
Access options
Buy single article
Instant access to the full article PDF.
USD 39.95
Price includes VAT (USA)
Tax calculation will be finalised during checkout.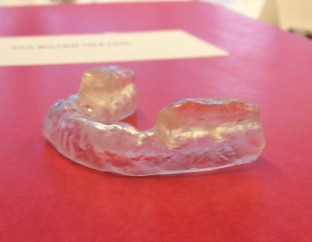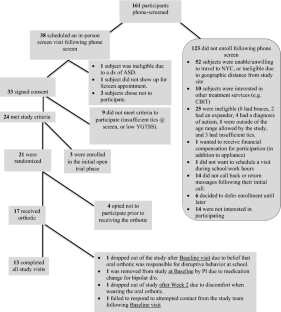 References
1.

Scahill L, Specht M, Page C (2014) The prevalence of tic disorders and clinical characteristics in children. Journal of Obsessive-Compulsive and Related Disorders 3:394–400

2.

Kompoliti K (2016) Sources of disability in Tourette syndrome: children vs. adults. Tremor Other Hyperkinet Mov 11:318–323

3.

Piacentini J, Woods DW, Scahill L et al (2010) Behavior therapy for children with Tourette Disorder. JAMA 303(19):1929–1937. https://doi.org/10.1001/jama.2010.607

4.

Wilhelm S, Peterson AL, Piacentini J et al (2012) Randomized trial of behavior therapy for adults with Tourette's Disorder. Arch Gen Psychiatry 69(8):795–803. https://doi.org/10.1001/archgenpsychiatry.2011.1528

5.

Murphy TK, Lewin AB, Storch EA, Stock S (2013) Practice parameter for the assessment and treatment of children and adolescents with tic disorders. J Am Acad Child Adolesc Psychiatry 12:1341–1359

6.

Quezada J, Coffman KA (2018) Current approaches and new developments in the pharmacological management of Tourette Syndrome. CNS Drugs 32:33–45

7.

Weisman H, Qureshi IA, Leckman JF, Scahill L, Bloch MH (2013) Systematic review: pharmacological treatment of tic disorders—efficacy of antipsychotic and alpha-2 adrenergic agonist agents. Neurosci Biobehav Rev 37(6):1162–1171

8.

Sukhodolsky DG, Woods DW, Piacentini J et al (2017) Moderators and predictors of response to behavior therapy for tics in Tourette Syndrome. Neurology 88:1029–1036

9.

Tourette Association of America. Impact Survey (2018) TAA Impact Survey Findings. 2019. https://tourette.org/researchmedical/impact-survey/. Accessed 28 Aug 2019.

10.

Sims A, Stack B (2009) Tourette's syndrome: A pilot study for the discontinuance of a movement Disorder. Cranio 27:11–18

11.

Sims A, Stack BC (2010) An intraoral neurocranial vertical distractor appliance providesunique treatment for Tourette's syndrome and resolves comorbid neurobehavioralproblems of obsessive compulsive disorder. Med Hypotheses 75:179–184

12.

Hottel TL, Jack RL, Taynor E et al (2019) Improved Yale Total Tic Severity Score due to craniofacial manipulation with an oral appliance. Compend Continu Educ Dent 40:6–15

13.

Murikami J, Tachibana Y, Akiyama S et al (2019) Oral splint ameliorates tic symptoms in patients with Tourette syndrome. Mov Disord. https://doi.org/10.1002/mds.27819

14.

Leckman JF, Riddle MA, Hardin MT et al (1989) The Yale global tic severity scale (YGTSS): initial testing of a clinical-rated scale of tic severity. J Am Acad Child Adolesc Psychiatry 28:566–573

15.

Guy W (1976) ECDEU assessment manual for psychopharmacology-revised. DHEW Publication, Rockville, MD

16.

Silverman WK, Albano AM (2004) The anxiety disorder interview schedule child and parent version (ADIS-IV-C/P). Oxford University Press, Oxford

17.

Goetz CG, Tanner CM, Wilson RS, Shannon KM (1987) A rating scale for Gille de al Tourette's syndrome: Description, reliability, and validity data. Neurology 37:1542–1544

18.

Goetz CG, Pappert EJ, Louis ED, Raman R, Leurgans S (1999) Advantages of a modified scoring method for the Rush video-based tic rating scale. Mov Disord 14(3):502–506

19.

Conti PC, dos Santos CN, Kogawa EM, de Castro Ferreira Conti AC, de Araujo Cdos R (2006) The treatment of painful temporomandibular joint clicking with oral splints: a randomized clinical trial. J Am Dent Assoc 137(8):1108–1114. https://doi.org/10.14219/jada.archive.2006.0349

20.

Major PW, Nebbe B (1997) Use and effectiveness of splint appliance therapy: review of literature. Cranio 15(2):159–166

21.

Clark GT (1984) A critical evaluation of orthopedic interocclusal appli[1]ance therapy: design, theory and overall effectiveness. J Am Dent Assoc 108(3):359–364

22.

Martínez-Gomis J, Willaert E, Nogues L, Pascual M, Somoza M, Monasterio C (2010) Five years of sleep apnea treatment with a mandibular advancement device. Side effects and technical complications. Angle Orthod. 80:30–36

23.

Pantin CC, Hillman DR, Tennant M (1999) Dental side effects of an oral device to treat snoring and obstructive sleep apnea. Sleep 22:237–240

24.

Clark GT, Sohn J, Hong CN (2000) Treating obstructive sleep apnea and snoring: assessment of an anterior mandibular positioning device. J Am Dent Assoc 126:687–693

25.

Coruzzi P, Gualerzi M, Bernkopf E, Brambilla L, Brambilla V, Broia V, Lombardi C, Parati G (2006) Autonomic cardiac modulation in obstructive sleep apnea: effect of an oral jaw-positioning appliance. Chest 130(5):1362–1368. https://doi.org/10.1378/chest.130.5.1362

26.

McGough JJ, Loo SK, Sturm A et al (2015) An eight-week, open-trial, pilot feasibility study of trigeminal nerve stimulation in youth with attention deficit/hyperactivity disorder. Brain Stimul 8:299–304. https://doi.org/10.1016/j.brs.2014.11.013

27.

McGough JJ, Sturm A, Cowen J et al (2019) Double-blind, sham-controlled, pilot study of trigeminal nerve stimulation for Attention Deficit/Hyperactivity Disorder. J Am Acad Child Adolesc Psychiatry 58:403–411. https://doi.org/10.1016/j.jaac.2018.11.013

28.

Hawksley J, Cavanna AE, Nagai Y (2015) The role of the autonomic nervous system in Tourette Syndrome. Front Neurosci. https://doi.org/10.3389/fnins.2015.00117

29.

Nagai Y, Cavanna AE, Critchley HD, Stern JJ, Robertson MM, Joyce EM (2014) Biofeedback treatment for Tourette syndrome: a preliminary randomized controlled trial. Cogn Behav Neurol 27:17–24
Acknowledgments
The authors would like to acknowledge Alex Keller, M.A., Lucia Haladjian, M.A., Alexandra Kushman, M.A., Michelle Pelcovitz, PhD, Corinne Catarozoli, PhD, & Paul Sullivan, PhD for their assistance with data collection, and the Tourette Association of America for funding this study.
Funding
Tourette Association of America.
Ethics declarations
Conflict of interest
Shannon Bennett, Ph.D. has received research support, speaking fees and travel support for speaking engagements from the Tourette Association of America. Dr. Bennett receives royalties from Wolters Kluwer for an UpToDate entry on child Anxiety Disorders. Jeffrey S. Hindin, DDS, Justin Mohatt, MD, Christopher Bauer, MA, Jennifer Schild, BS, and Avital Falk, PhD, has nothing to disclose. Matthew Specht, PhD has received research support, speaking fees and travel support for speaking engagements from the Tourette Association of America. Douglas Woods, Ph.D. receives royalties from Oxford University Press, Springer Press, and Guilford Press, and has received grant or research support from the NIMH and the Tourette Association of America. He has received speaking fees and/or travel support from the Tourette Association of America. John Walkup, M.D. has received past research support from the National Institute of Mental Health for federally funded studies including free drug and placebo from Pfizer in 2007 to support the Child Adolescent Anxiety Multimodal study; free medication from Abbott in 2005 for the Treatment of the Early Age Media study; free drug and placebo from Eli Lilly and Co. in 2003 for the Treatment of Adolescents with Depression study. He currently receives research support from the Tourette Association of America and The Hartwell Foundation. He has received honoraria and travel expenses for speaking engagements and meetings sponsored by the Tourette Association of America. He has received royalties from Guilford Press and Oxford University Press for multi‐author books published about Tourette syndrome and from Wolters Kluwer for CME activity on childhood anxiety. Dr. Walkup has served as an unpaid advisor to the Anxiety Disorders Association of America, and the Trichotillomania Learning Center. He has served as a paid speaker for the Tourette Syndrome ‐ Center for Disease Control and Prevention outreach educational programs, the American Academy of Child and Adolescent Psychiatry, and the American Psychiatric Association.
Additional information
Publisher's Note
Springer Nature remains neutral with regard to jurisdictional claims in published maps and institutional affiliations.
About this article
Cite this article
Bennett, S.M., Hindin, J.S., Mohatt, J. et al. Proof of Concept Study of an Oral Orthotic in Reducing Tic Severity in Tourette Syndrome. Child Psychiatry Hum Dev (2021). https://doi.org/10.1007/s10578-021-01178-7
Keywords
Tourette syndrome

Occlusal splint

Intervention

Tic disorders