Abstract
Existing research has built concrete links between trauma exposure and lifelong behavioral health outcomes. However, the ways by which father engagement buffers the detrimental effects of trauma on early childhood behavioral health remains unexplored. Using the data of 3001 mothers from the Fragile Families and Child Well-being Study, we conducted a moderation analysis to examine the associations between adverse childhood experiences (ACEs), child behavioral health, father engagement, and maternal education. We found that ACEs at child age three were positively associated with child externalizing and internalizing behaviors at child age five. Father engagement at child age one buffered the harmful effects of ACEs on child externalizing behaviors, but this effect was only significant for children living with mothers with an education level lower than high school. Child psychiatrists should view father engagement as a critical factor in fostering child resilience, particularly for children living in families with limited resources.
Access options
Buy single article
Instant access to the full article PDF.
USD 39.95
Price includes VAT (USA)
Tax calculation will be finalised during checkout.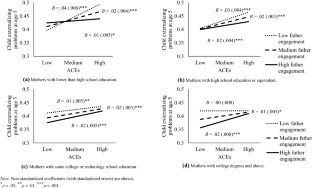 References
1.

Felitti VJ, Anda RF, Nordenberg D et al (1998) Relationship of childhood abuse and household dysfunction to many of the leading causes of death in adults: the adverse childhood experiences (ACE) study. Am J Prev Med 14:245–258

2.

Jimenez ME, Wade R Jr, Lin Y, Morrow LM, Reichman NE (2016) Adverse experiences in early childhood and kindergarten outcomes. Pediatrics 137:e20151839–e20161839

3.

Wang X, Maguire-Jack K, Barnhart S, Yoon S, Li Q (2020) Racial differences in the relationship between neighborhood disorder, adverse childhood experiences, and child behavioral health. J Abnorm Child Psychol 48:315–329

4.

Blum RW, Li M, Naranjo-Rivera G (2019) Measuring adverse child experiences among young adolescents globally: relationships with depressive symptoms and violence perpetration. J Adolesc Health 65:86–93

5.

Anda RF, Brown DW, Felitti VJ, Bremner JD, Dube SR, Giles WH (2007) Adverse childhood experiences and prescribed psychotropic medications in adults. Am J Prev Med 32:389–394

6.

Ege MA, Messias E, Thapa PB, Krain LP (2015) Adverse childhood experiences and geriatric depression: results from the 2010 BRFSS. Am J Geriatr Psychiatry 23:110–114

7.

Janiri D, Sani G, Rossi PD et al (2017) Amygdala and hippocampus volumes are differently affected by childhood trauma in patients with bipolar disorders and healthy controls. Bipolar Disord 19:353–362

8.

Misiak B, Krefft M, Bielawski T, Moustafa AA, Sąsiadek MM, Frydecka D (2017) Toward a unified theory of childhood trauma and psychosis: a comprehensive review of epidemiological, clinical, neuropsychological and biological findings. Neurosci Biobehav Rev 75:393–406

9.

Garami J, Valikhani A, Parkes D et al (2019) Examining perceived stress, childhood trauma and interpersonal trauma in individuals with drug addiction. Psychol Rep 122:433–450

10.

Cicchetti D (2010) Resilience under conditions of extreme stress: a multilevel perspective. World Psychiatry 9:145–154

11.

Masten AS (2001) Ordinary magic: resilience processes in development. Am Psychol 56:227–238

12.

Beaujolais B, Wang X, McCarthy KS et al (2020) Caregiver influences on resilience development among children with maltreatment experience: practitioner perspectives. Child Adolesc Soc Work J. https://doi.org/10.1007/s10560-020-00674-4

13.

Lind MJ, Brown RC, Sheerin CM et al (2018) Does parenting influence the enduring impact of severe childhood sexual abuse on psychiatric resilience in adulthood? Child Psychiatry Hum Dev 49:33–41

14.

Kim-Spoon J, Haskett ME, Longo GS, Nice R (2012) Longitudinal study of self-regulation, positive parenting, and adjustment problems among physically abused children. Child Abuse Negl 36:95–107

15.

Wall AE, Kohl PL (2007) Substance use in maltreated youth: findings from the national survey of child and adolescent well-being. Child Maltreat 12:20–30

16.

Bick J, Zajac K, Ralston ME, Smith D (2014) Convergence and divergence in reports of maternal support following childhood sexual abuse: prevalence and associations with youth psychosocial adjustment. Child Abuse Negl 38:479–487

17.

Pleck J (2010) Paternal involvement: revised conceptualization and theoretical. In: Lamb M (ed) The role of the father in child development, 5th edn. John Wiley and Sons, New Jersey, pp 94–153

18.

Marchand-Reilly JF, Yaure RG (2019) The role of parent's relationship quality in children's behavior problems. J Child Fam Stud 28:2199–2208

19.

Cookston JT, Finlay AK (2006) Father Involvement and adolescent adjustment: longitudinal findings from Add health. Fathering: A J Theory Res Pract Men Fathers 4:137–158

20.

Lamb ME (2000) The history of research on father involvement: an overview. Marriage Fam Rev 29:23–42

21.

Wang X, Wu Q, Yoon S (2019) Pathways from father engagement during infancy to child aggression in late childhood. Child Psychiatry Hum Dev 50:605–617

22.

Lareau A (2011) Unequal childhoods: class, race, and family life. University of California Press, California

23.

Flouri E, Buchanan A (2003) The role of father involvement and mother involvement in adolescents' psychological well-being. Br J Soc Work 33:399–406

24.

Yoon S, Pei F, Wang X et al (2018) Vulnerability or resilience to early substance use among adolescents at risk: the roles of maltreatment and father involvement. Child Abuse Negl 86:206–216

25.

Shin SH, Wang X, Yoon SH, Cage JL, Kobulsky JM, Montemayor BN (2019) Childhood maltreatment and alcohol-related problems in young adulthood: the protective role of parental warmth. Child Abuse Negl 98:104238

26.

Lamb ME (1977) Father-infant and mother-infant interaction in the first year of life. Child Dev 48:167–181

27.

Paquette D (2004) Theorizing the father-child relationship: mechanisms and developmental outcomes. Hum Dev 47:193–219

28.

Olsavsky AL, Berrigan MN, Schoppe-Sullivan SJ, Brown GL, Kamp Dush CM (2020) Paternal stimulation and father-infant attachment. Attach Hum Dev 22:15–26

29.

Roggman LA, Boyce L, Cook GA, Christiansen K, Jones D (2007) Playing with daddy: social toy play, early head start, and developmental outcomes. Fathering: A J Theory Res Pract Men Fathers 2:83–108

30.

Yogman MW (1994) Observations on the father-infant relationship. In: Cath SH, Gurwitt AR, Ross JM (eds) Father and child: developmental and clinical perspectives. The Analytic Press, Hillsdale, pp 101–122

31.

Anderson SA, Sabatelli RM (2003) Family interaction: a multigenerational development perspective. Allyn and Bacon, Massachusetts

32.

Rohner RP (1998) Father love and child development: history and current evidence. Curr Dir Psychol Sci 7:157–161

33.

Mezulis AH, Hyde JS, Clark R (2004) Father involvement moderates the effect of maternal depression during a child's infancy on child behavior problems in kindergarten. J Fam Psychol 18:575–588

34.

Papadaki E, Giovazolias T (2015) The protective role of father acceptance in the relationship between maternal rejection and bullying: a moderated-mediation model. J Child Fam Stud 24:330–340

35.

Belsky J, Gilstrap B, Rovine M (1984) The Pennsylvania infant and family development project, I: stability and change in mother-infant and father-infant interaction in a family setting at one, three, and nine months. Child Dev 55:692–705

36.

Lamb ME, Elster AB (1985) Adolescent mother-infant-father relationships. Dev Psychol 21:768–773

37.

Hossain Z, Field T, Gonzalez J, Malphurs J, Valle CD, Pickens J (1994) Infants of "depressed" mothers interact better with their nondepressed fathers. Infant Ment Health J 15:348–357

38.

Coleman JS (1988) Social capital in the creation of human capital. Am J Sociol 94:S95–S120

39.

Kelley ML, Power TG, Wimbush DD (1992) Determinants of disciplinary practices in low-income black mothers. Child Dev 63:573–582

40.

Pleck JH (2010) Paternal involvement: revised conceptualization and theoretical linkages with child outcomes. In: Lamb M (ed) The role of the father in child development, 5th edn. John Wiley and Sons, New Jersey, pp 58–93

41.

Reichman NE, Teitler JO, Garfinkel I, McLanahan SS (2010) Fragile families: sample and design. Child Youth Serv Rev 23:303–326

42.

Achenbach TM, Rescorla L (2001) ASEBA school-age forms and profiles. University of Vermont, Vermont

43.

Finkelhor D, Shattuck A, Turner H, Hamby S (2013) Improving the adverse childhood experiences study scale. JAMA Pediatr 167:70–75

44.

Purewal SK, Bucci M, Gutiérrez Wang L et al (2016) Screening for adverse childhood experiences (ACEs) in an integrated pediatric care model. Zero to Three 37:10–17

45.

Straus MA, Hamby SL, Finkelhor D, Moore DW, Runyan D (1998) Identification of child maltreatment with the parent-child conflict tactics scales: development and psychometric data for a national sample of American parents. Child Abuse Negl 22:249–270

46.

Kessler RC, Andrews G, Mroczek D, Ustun B, Wittchen H (1998) The world health organization composite international diagnostic interview short-form (CIDI-SF). Int J Methods Psychiatr Res 7:171–185

47.

Rosseel Y (2012) Lavaan: an R package for structural equation modeling and more. Version 0.5-12 (BETA). J Stat Softw 48:1–36

48.

R Core Team (2018) R: a language and environment for statistical computing. R Foundation for Statistical Computing, Vienna, Austria

49.

Hu L, Bentler PM, Hoyle RH (1995) Structural equation modeling: concepts, issues, and applications. Evaluat Model Fit 54:76–99

50.

Enders CK, Bandalos DL (2001) The relative performance of full information maximum likelihood estimation for missing data in structural equation models. Struct Equ Model 8:430–457

51.

Lindert J, von Ehrenstein OS, Grashow R, Gal G, Braehler E, Weisskopf MG (2014) Sexual and physical abuse in childhood is associated with depression and anxiety over the life course: systematic review and meta-analysis. Int J Public Health 59:359–372

52.

Rosenberg SD, Lu W, Mueser KT, Jankowski MK, Cournos F (2007) Correlates of adverse childhood events among adults with schizophrenia spectrum disorders. Psychiatr Serv 58:245–253

53.

Dube SR, Felitti VJ, Dong M, Chapman DP, Giles WH, Anda RF (2003) Childhood abuse, neglect, and household dysfunction and the risk of illicit drug use: the adverse childhood experiences study. Pediatrics 111:564–572

54.

Dube SR, Anda RF, Felitti VJ, Chapman DP, Williamson DF, Giles WH (2001) Childhood abuse, household dysfunction, and the risk of attempted suicide throughout the life span: findings from the adverse childhood experiences study. JAMA 286:3089–3096

55.

Garner AS, Forkey H, Szilagyi M (2015) Translating developmental science to address childhood adversity. Acad Pediatr 15:493–502

56.

Hamoudi A, Murray DW, Sorensen L, Fontaine A (2015) Self-regulation and toxic stress: a review of ecological, biological, and developmental studies of self-regulation and stress. In: OPRE report# 2015–30. Office of Planning, Research and Evaluation, Administration for Children and Families, U.S. Department of Health and Human Services.

57.

Boyce WT, Essex MJ, Alkon A, Goldsmith HH, Kraemer HC, Kupfer DJ (2006) Early father involvement moderates biobehavioral susceptibility to mental health problems in middle childhood. J Am Acad Child Adolesc Psychiatry 45:1510–1520

58.

Flouri E, Buchanan A (2002) Life satisfaction in teenage boys: the moderating role of father involvement and bullying. Aggress Behav 28:126–133

59.

McDowell DJ, Kim M, O'neil R, Parke RD (2002) Children's emotional regulation and social competence in middle childhood: the role of maternal and paternal interactive style. Marriage Fam Rev 34:345–364

60.

Eiden RD, Edwards EP, Leonard KE (2004) Predictors of effortful control among children of alcoholic and nonalcoholic fathers. J Stud Alcohol 65:309–319

61.

Dumont C, Paquette D (2013) What about the child's tie to the father? A new insight into fathering, father-child attachment, children's socio-emotional development and the activation relationship theory. Early Child Dev Care 183:430–446

62.

Tamis-LeMonda CS, Briggs RD, McClowry SG, Snow DL (2009) Maternal control and sensitivity, child gender, and maternal education in relation to children's behavioral outcomes in African American families. J Appl Dev Psychol 30:321–331

63.

Richman AL, Miller PM, LeVine RA (1992) Cultural and educational variations in maternal responsiveness. Dev Psychol 28:614–621

64.

Blake J (1981) Family size and the quality of children. Demography 18:421–442

65.

Ozer EJ, Fernald LC, Roberts SC (2008) Anxiety symptoms in rural Mexican adolescents. Soc Psychiatry Psychiatr Epidemiol 43:1014–1023

66.

Patil RN, Nagaonkar SN, Shah NB, Bhat TS (2013) A cross-sectional study of common psychiatric morbidity in children aged 5 to 14 years in an Urban Slum. J Family Med Prim Care 2:164–168

67.

Carlson MJ, Corcoran ME (2001) Family structure and children's behavioral and cognitive outcomes. J Marriage Fam 63:779–792

68.

Calam R, Jones S, Sanders MR, Dempsey R, Sadhnani V (2012) Parenting and the emotional and behavioural adjustment of young children in families with a parent with bipolar disorder. Behav Cogn Psychother 40:425–437

69.

Seeman MV (2010) Parenting issues in mothers with schizophrenia. Curr Women Health Rev 6:51–57

70.

Wang J, Hu YJ, Wang Y et al (2013) Parenting stress in Chinese mothers of children with autism spectrum disorders. Soc Psychiatry Psychiatr Epidemiol 48:575–582

71.

Bagner DM, Eyberg SM (2007) Parent–child interaction therapy for disruptive behavior in children with mental retardation: a randomized controlled trial. J Clin Child Adolesc Psychol 36:418–429

72.

Carlson MJ, McLanahan SS (2010) Fathers in fragile families. In: Lamb M (ed) The role of the father in child development, 5th edn. John Wiley and Sons, New Jersey, pp 241–269

73.

Maguire-Jack K, Lanier P, Lombardi B (2019) Investigating racial differences in clusters of adverse childhood experiences. Am J Orthopsychiatry 90:106–114

74.

Metzler M, Merrick MT, Klevens J, Ports KA, Ford DC (2017) Adverse childhood experiences and life opportunities: shifting the narrative. Child Youth Serv Rev 72:141–151
Funding
This research is a secondary data analysis on the public dataset Fragile Families and Child Well-being Study (FFCWS), and no funding has been received to conduct this study.
Ethics declarations
Conflict of interest
All authors declare that they have no conflict of interest.
Additional information
Publisher's Note
Springer Nature remains neutral with regard to jurisdictional claims in published maps and institutional affiliations.
About this article
Cite this article
Wang, X., Wu, Q. & Phelps, B.J. How Do Fathers Help? A Moderation Analysis of the Association between Adverse Childhood Experiences and Child Behavioral Health in Fragile Families. Child Psychiatry Hum Dev (2021). https://doi.org/10.1007/s10578-021-01170-1
Keywords
Adverse childhood experiences

Child behavioral health

Father engagement

Maternal education