Abstract
Self-harm presentations to emergency departments (ED) have become a growing concern, yet little is known about self-harm visits in pediatric EDs. This study aimed to investigate the clinical and demographic characteristics of patients who presented to the pediatric ED between 2012 and 2017 with non-suicidal self-harm (NSSH, n = 63, 60.3% female, M = 14.25 years), suicidal ideation (SI, n = 75, 57.3% female, M = 14.83 years), and suicide attempts (SA, n = 461, 82.9% female, M = 15.41 years). Also, predictors of SA were investigated. Of the patients, 79.4% had at least a psychiatric disorder. Depression was the most common diagnosis in the SI and SA groups, and autism spectrum disorder and intellectual disability were the leading diagnoses in the NSSH group. Self-poisoning was the most common method, and older age, female sex, having relational problems, and prior or current psychiatric admissions were the most important predictive factors of SA. NSSH, SI, and SA exhibit different features in early life. EDs provide an important opportunity for initiating developmentally appropriate interventions to reduce future risks.
Access options
Buy single article
Instant access to the full article PDF.
US$ 39.95
Tax calculation will be finalised during checkout.
Subscribe to journal
Immediate online access to all issues from 2019. Subscription will auto renew annually.
US$ 79
Tax calculation will be finalised during checkout.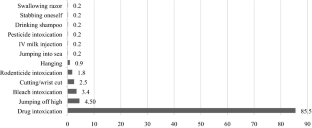 References
1.

Hawton K, Saunders KE, O'Connor RC (2012) Self-harm and suicide in adolescents. Lancet 379(9834):2373–2382

2.

World Health Organization (2019) Adolescent mental health. World Health Organization, Geneva

3.

Mars B, Heron J, Klonsky ED, Moran P, O'Connor RC, Tilling K, Wilkinson P, Gunnell D (2019) Predictors of future suicide attempt among adolescents with suicidal thoughts or non-suicidal self-harm: a population-based birth cohort study. Lancet Psychiatry 6(4):327–337

4.

Olfson M, Wall M, Wang S, Crystal S, Bridge JA, Liu S-M, Blanco C (2018) Suicide after deliberate self-harm in adolescents and young adults. Pediatrics 141(4):e20173517

5.

Pisinger VS, Hawton K, Tolstrup JS (2019) School-and class-level variation in self-harm, suicide ideation and suicide attempts in Danish high schools. Scand J Public Health 47(2):146–156

6.

Madge N, Hewitt A, Hawton K, Wilde EJd, Corcoran P, Fekete S, Kv H, Leo DD, Ystgaard M (2008) Deliberate self-harm within an international community sample of young people: comparative findings from the Child & Adolescent Self-harm in Europe (CASE) Study. J Child Psychol Psychiatry 49(6):667–677

7.

Geulayov G, Casey D, McDonald KC, Foster P, Pritchard K, Wells C, Clements C, Kapur N, Ness J, Waters K (2018) Incidence of suicide, hospital-presenting non-fatal self-harm, and community-occurring non-fatal self-harm in adolescents in England (the iceberg model of self-harm): a retrospective study. Lancet Psychiatry 5(2):167–174

8.

Somer O, Bildik T, Kabukçu-Başay B, Güngör D, Başay Ö, Farmer RF (2015) Prevalence of non-suicidal self-injury and distinct groups of self-injurers in a community sample of adolescents. Soc Psychiatry Psychiatr Epidemiol 50(7):1163–1171

9.

Clements C, Turnbull P, Hawton K, Geulayov G, Waters K, Ness J, Townsend E, Khundakar K, Kapur N (2016) Rates of self-harm presenting to general hospitals: a comparison of data from the Multicentre Study of Self-Harm in England and Hospital Episode Statistics. BMJ Open 6(2):e009749

10.

Borschmann R, Becker D, Coffey C, Spry E, Moreno-Betancur M, Moran P, Patton GC (2017) 20-year outcomes in adolescents who self-harm: a population-based cohort study. Lancet Child Adolesc Health 1(3):195–202

11.

Herbert A, Gilbert R, Cottrell D, Li L (2017) Causes of death up to 10 years after admissions to hospitals for self-inflicted, drug-related or alcohol-related, or violent injury during adolescence: a retrospective, nationwide, cohort study. Lancet 390(10094):577–587

12.

Mars B, Heron J, Crane C, Hawton K, Lewis G, Macleod J, Tilling K, Gunnell D (2014) Clinical and social outcomes of adolescent self harm: population based birth cohort study. BMJ 349:g5954

13.

Bergen H, Hawton K, Waters K, Ness J, Cooper J, Steeg S, Kapur N (2012) Premature death after self-harm: a multicentre cohort study. Lancet 380(9853):1568–1574

14.

Jacobson CM, Muehlenkamp JJ, Miller AL, Turner JB (2008) Psychiatric impairment among adolescents engaging in different types of deliberate self-harm. Journal of Clinical Child & Adolescent Psychology 37(2):363–375

15.

Chai Y, Luo H, Wong GH, Tang JY, Lam T-C, Wong IC, Yip PS (2020) Risk of self-harm after the diagnosis of psychiatric disorders in Hong Kong, 2000–10: a nested case-control study. Lancet Psychiatry 7(2):135–147

16.

Hawton K, Saunders K, Topiwala A, Haw C (2013) Psychiatric disorders in patients presenting to hospital following self-harm: a systematic review. J Affect Disord 151(3):821–830

17.

Nock MK, Green JG, Hwang I, McLaughlin KA, Sampson NA, Zaslavsky AM, Kessler RC (2013) Prevalence, correlates, and treatment of lifetime suicidal behavior among adolescents: results from the National Comorbidity Survey Replication Adolescent Supplement. JAMA Psychiatry 70(3):300–310

18.

Mayes SD, Gorman AA, Hillwig-Garcia J, Syed E (2013) Suicide ideation and attempts in children with autism. Res Autism Spectr Disord 7(1):109–119

19.

Kalb LG, Stuart EA, Freedman B, Zablotsky B, Vasa R (2012) Psychiatric-related emergency department visits among children with an autism spectrum disorder. Pediatr Emerg Care 28(12):1269–1276

20.

Mapelli E, Black T, Doan Q (2015) Trends in pediatric emergency department utilization for mental health-related visits. J Pediatr 167(4):905–910

21.

Hiscock H, Neely RJ, Lei S, Freed G (2018) Paediatric mental and physical health presentations to emergency departments, Victoria, 2008–15. Med J Aust 208(8):343–348

22.

Gardner W, Pajer K, Cloutier P, Zemek R, Currie L, Hatcher S, Colman I, Bell D, Gray C, Cappelli M (2019) Changing rates of self-harm and mental disorders by sex in youths presenting to Ontario emergency departments: repeated cross-sectional study. Can J Psychiatry 64(11):789–797

23.

Perera J, Wand T, Bein KJ, Chalkley D, Ivers R, Steinbeck KS, Shields R, Dinh MM (2018) Presentations to NSW emergency departments with self-harm, suicidal ideation, or intentional poisoning, 2010–2014. Med J Aust 208(8):348–353

24.

Carroll R, Metcalfe C, Gunnell D (2014) Hospital presenting self-harm and risk of fatal and non-fatal repetition: systematic review and meta-analysis. PLoS ONE 9(2):e89944

25.

Gairin I, House A, Owens D (2003) Attendance at the accident and emergency department in the year before suicide: retrospective study. Br J Psychiatry 183(1):28–33

26.

Nadkarni A, Parkin A, Dogra N, Stretch DD, Evans PA (2000) Characteristics of children and adolescents presenting to accident and emergency departments with deliberate self harm. Emerg Med J 17(2):98–102

27.

Mackay N, Barrowclough C (2005) Accident and emergency staff's perceptions of deliberate self-harm: attributions, emotions and willingness to help. Br J Clin Psychol 44(2):255–267

28.

Bridge JA, Marcus SC, Olfson M (2012) Outpatient care of young people after emergency treatment of deliberate self-harm. J Am Acad Child Adolesc Psychiatry 51(2):213–222

29.

Doshi A, Boudreaux ED, Wang N, Pelletier AJ, Camargo CA Jr (2005) National study of US emergency department visits for attempted suicide and self-inflicted injury, 1997–2001. Ann Emerg Med 46(4):369–375

30.

Stewart JG, Esposito EC, Glenn CR, Gilman SE, Pridgen B, Gold J, Auerbach RP (2017) Adolescent self-injurers: comparing non-ideators, suicide ideators, and suicide attempters. J Psychiatr Res 84:105–112

31.

O'Connor RC, Wetherall K, Cleare S, Eschle S, Drummond J, Ferguson E, O'Connor DB, O'Carroll RE (2018) Suicide attempts and non-suicidal self-harm: national prevalence study of young adults. BJPsych Open 4(3):142–148

32.

Kapur N, Cooper J, O'Connor RC, Hawton K (2013) Non-suicidal self-injury v. attempted suicide: new diagnosis or false dichotomy? Br J Psychiatry 202(5):326–328

33.

Mars B, Heron J, Crane C, Hawton K, Kidger J, Lewis G, Macleod J, Tilling K, Gunnell D (2014) Differences in risk factors for self-harm with and without suicidal intent: findings from the ALSPAC cohort. J Affect Disord 168:407–414

34.

TURKSTAT (2020) Address based population registration system. http://www.turkstat.gov.tr/PreTablo.do?alt_id=1059. Accessed 12 Aug 2020

35.

Ting SA, Sullivan AF, Boudreaux ED, Miller I, Camargo CA Jr (2012) Trends in US emergency department visits for attempted suicide and self-inflicted injury, 1993–2008. Gen Hosp Psychiatry 34(5):557–565

36.

Knipe D, Metcalfe C, Hawton K, Pearson M, Dawson A, Jayamanne S, Konradsen F, Eddleston M, Gunnell D (2019) Risk of suicide and repeat self-harm after hospital attendance for non-fatal self-harm in Sri Lanka: a cohort study. Lancet Psychiatry 6(8):659–666

37.

Zanus C, Battistutta S, Aliverti R, Montico M, Cremaschi S, Ronfani L, Monasta L, Carrozzi M (2017) Adolescent admissions to emergency departments for self-injurious thoughts and behaviors. PLoS ONE 12(1):e0170979

38.

Cloutier P, Martin J, Kennedy A, Nixon MK, Muehlenkamp JJ (2010) Characteristics and co-occurrence of adolescent non-suicidal self-injury and suicidal behaviours in pediatric emergency crisis services. J Youth Adolesc 39(3):259–269

39.

Olfson M, Gameroff MJ, Marcus SC, Greenberg T, Shaffer D (2005) Emergency treatment of young people following deliberate self-harm. Arch Gen Psychiatry 62(10):1122–1128

40.

Morgan C, Webb RT, Carr MJ, Kontopantelis E, Green J, Chew-Graham CA, Kapur N, Ashcroft DM (2017) Incidence, clinical management, and mortality risk following self harm among children and adolescents: cohort study in primary care. BMJ 359:j4351

41.

Goldman-Mellor S, Kwan K, Boyajian J, Gruenewald P, Brown P, Wiebe D, Cerdá M (2019) Predictors of self-harm emergency department visits in adolescents: a statewide longitudinal study. Gen Hosp Psychiatry 56:28–35

42.

Kelleher I, Lynch F, Harley M, Molloy C, Roddy S, Fitzpatrick C, Cannon M (2012) Psychotic symptoms in adolescence index risk for suicidal behavior: findings from 2 population-based case-control clinical interview studies. Arch Gen Psychiatry 69(12):1277–1283

43.

Harvey SB, Dean K, Morgan C, Walsh E, Demjaha A, Dazzan P, Morgan K, Lloyd T, Fearon P, Jones PB (2008) Self-harm in first-episode psychosis. Br J Psychiatry 192(3):178–184

44.

Brausch AM, Gutierrez PM (2010) Differences in non-suicidal self-injury and suicide attempts in adolescents. J Youth Adolesc 39(3):233–242

45.

May AM, Klonsky ED (2016) What distinguishes suicide attempters from suicide ideators? A meta-analysis of potential factors. Clin Psychol Sci Pract 23(1):5–20

46.

Klonsky ED, Muehlenkamp JJ (2007) Self-injury: a research review for the practitioner. J Clin Psychol 63(11):1045–1056

47.

Whitlock J, Muehlenkamp J, Eckenrode J, Purington A, Abrams GB, Barreira P, Kress V (2013) Nonsuicidal self-injury as a gateway to suicide in young adults. J Adolesc Health 52(4):486–492

48.

Maddox BB, Trubanova A, White SW (2017) Untended wounds: non-suicidal self-injury in adults with autism spectrum disorder. Autism 21(4):412–422

49.

Ruddick L, Davies L, Bacarese-Hamilton M, Oliver C (2015) Self-injurious, aggressive and destructive behaviour in children with severe intellectual disability: prevalence, service need and service receipt in the UK. Res Dev Disabil 45:307–315

50.

Kalb LG, Stuart EA, Mandell DS, Olfson M, Vasa RA (2017) Management of mental health crises among youths with and without ASD: a national survey of child psychiatrists. Psychiatr Serv 68(10):1039–1045

51.

Lilley R, Owens D, Horrocks J, House A, Noble R, Bergen H, Hawton K, Casey D, Simkin S, Murphy E (2008) Hospital care and repetition following self-harm: multicentre comparison of self-poisoning and self-injury. Br J Psychiatry 192(6):440–445

52.

Lee J, Bang YS, Min S, Ahn J-S, Kim H, Cha Y-S, Park I-S, Kim M-H (2019) Characteristics of adolescents who visit the emergency department following suicide attempts: comparison study between adolescents and adults. BMC Psychiatry 19(1):231

53.

Coppersmith DD, Nada-Raja S, Beautrais AL (2017) Non-suicidal self-injury and suicide attempts in a New Zealand birth cohort. J Affect Disord 221:89–96

54.

American Psychiatric Association (2013) Diagnostic and statistical manual of mental disorders (DSM-5®). American Psychiatric Publishing, Washington, DC

55.

Fox KR, Millner AJ, Franklin JC (2016) Classifying nonsuicidal overdoses: nonsuicidal self-injury, suicide attempts, or neither? Psychiatry Res 244:235–242

56.

Chartrand H, Kim H, Sareen J, Mahmoudi M, Bolton JM (2016) A comparison of methods of self-harm without intent to die: cutting versus self-poisoning. J Affect Disord 205:200–206

57.

Hawton K, Bergen H, Waters K, Ness J, Cooper J, Steeg S, Kapur N (2012) Epidemiology and nature of self-harm in children and adolescents: findings from the multicentre study of self-harm in England. Eur Child Adolesc Psychiatry 21(7):369–377

58.

Bennardi M, McMahon E, Corcoran P, Griffin E, Arensman E (2016) Risk of repeated self-harm and associated factors in children, adolescents and young adults. BMC Psychiatry 16(1):421

59.

Iannuzzi DA, Cheng ER, Broder-Fingert S, Bauman ML (2015) Brief report: emergency department utilization by individuals with autism. J Autism Dev Disord 45(4):1096–1102

60.

Vohra R, Madhavan S, Sambamoorthi U (2016) Emergency department use among adults with autism spectrum disorders (ASD). J Autism Dev Disord 46(4):1441–1454

61.

Johnson JG, Cohen P, Gould MS, Kasen S, Brown J, Brook JS (2002) Childhood adversities, interpersonal difficulties, and risk for suicide attempts during late adolescence and early adulthood. Arch Gen Psychiatry 59(8):741–749

62.

Hawton K, Fagg J, Simkin S (1996) Deliberate self-poisoning and self-injury in children and adolescents under 16 years of age in Oxford, 1976–1993. Br J Psychiatry 169(2):202–208
Ethics declarations
Conflict of Interest
The authors declare that they have no potential conflicts of interest.
Additional information
Publisher's Note
Springer Nature remains neutral with regard to jurisdictional claims in published maps and institutional affiliations.
About this article
Cite this article
Poyraz Fındık, O.T., Erdoğdu, A.B., Fadıloğlu, E. et al. Emergency Department Visits for Non-suicidal Self-harm, Suicidal Ideation, and Suicide Attempts in Children and Adolescents. Child Psychiatry Hum Dev (2021). https://doi.org/10.1007/s10578-021-01125-6
Keywords
Self-harm

Suicide

Self-injury

Depression

Psychiatric disorders