Abstract
Households experiencing intimate partner violence (IPV) and food insecurity are at high risk of lifelong physical and behavioral difficulties. Longitudinal data from a perinatal home-visiting cluster-randomized controlled intervention trial in South Africa townships were used to examine the relationships between household settings and mothers' histories of risk and children's behavior problems at 3 and 5 years of age. IPV, food insecurity, maternal depressed mood, and geriatric pregnancy (at age of 35 or older) were consistently associated with children's internalizing and externalizing behavior problems. Aggressive behavior was more prevalent among 3- and 5-year olds boys, and was associated with maternal alcohol use. The effects of these factors on child behavior were more prominent than maternal HIV status. There is a continuing need to reduce IPV and household food insecurity, as well as supporting older, depressed, alcohol using mothers in order to address children's behavioral needs.
Access options
Buy single article
Instant access to the full article PDF.
US$ 39.95
Tax calculation will be finalised during checkout.
Subscribe to journal
Immediate online access to all issues from 2019. Subscription will auto renew annually.
US$ 79
Tax calculation will be finalised during checkout.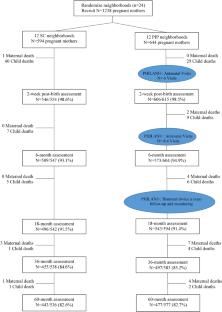 Abbreviations
ARV:

Anti-retroviral

CBCL:

Child behavior checklist

CHWs:

Community health workers

CI:

Confidence interval

EPDS:

Edinburgh postnatal depression scale

HFIAS:

Household food insecurity access scale

HICs:

High-income countries

IPV:

Intimate partner violence

LMICs:

Low- and middle-income countries

MD:

Mean difference

OR:

Odds ratio

PMTCT:

Prevention of mother to child transmission

RtHC:

Road-to-health card

SD:

Standard deviation

SE:

Standard error
References
1.

NationMaster (2010) Murder rate per million people: countries compared. https://www.nationmaster.com/country-info/stats/Crime/Violent-crime/Murder-rate-per-million-people, (accessed).

2.

Gordon C (2016) Intimate partner violence is everyone's problem, but how should we approach it in a clinical setting? S Afr J Med Sci 106:28–31

3.

Honikman S, van Heyningen T, Field S, Baron E, Tomlinson M (2012) Stepped care for maternal mental health: a case study of the perinatal mental health project in South Africa. PLoS Med 9:e1001222

4.

Rotheram-Fuller EJ, Tomlinson M, Scheffler A, Weichle TW, Rezvan PH, Comulada WS et al (2018) Maternal patterns of antenatal and postnatal depressed mood and the impact on child health at 3-years postpartum. J Consult Clin Psychol 86:218–230

5.

Rotheram-Borus MJ, Tomlinson M, Le Roux I, Stein JA (2015) Alcohol use, partner violence, and depression a cluster randomized controlled trial among urban South African mothers over 3 years. Am J Prev Med 49:715–725

6.

Davis EC, Rotheram-Borus MJ, Weichle TW, Rezai R, Tomlinson M (2017) Patterns of alcohol abuse, depression, and intimate partner violence among township mothers in South Africa over 5 years. AIDS Behav 21:174–182

7.

Lund IO, Skurtveit S, Handal M, Bukten A, Torvik FA, Ystrom E et al (2019) Association of constellations of parental risk with children's subsequent anxiety and depression findings from a HUNT Survey and Health Registry Study. JAMA Pediatr 173:251–259

8.

Shonkoff JP, Garner AS, Comm Early Childhood Adoption D, Sect Dev Behav P, Comm Psychosocial Aspects Child F, Committee on Early Childhood A et al (2012) The lifelong effects of early childhood adversity and toxic stress. Pediatrics 129:E232–E246

9.

Tottenham N, Hare TA, Quinn BT, McCarry TW, Nurse M, Gilhooly T et al (2010) Prolonged institutional rearing is associated with atypically large amygdala volume and difficulties in emotion regulation. Dev Sci 13:46–61

10.

Hunt X, Tomlinson M (2018) Child developmental trajectories in adversity: environmental embedding and developmental cascades in contexts of risk. In: Hodes, M. et al. (eds), Understanding uniqueness and diversity in child and adolescent mental health (pp. 137–166). Amsterdam, Netherlands:Elsevier

11.

Vu NL, Jouriles EN, McDonald R, Rosenfield D (2016) Children's exposure to intimate partner violence: a meta-analysis of longitudinal associations with child adjustment problems. Clin Psychol Rev 46:25–33

12.

Kieling CMD, Baker-Henningham HP, Belfer MP, Conti GP, Ertem IMD, Omigbodun OP et al (2011) Child and adolescent mental health worldwide: evidence for action. Lancet 378:1515–1525

13.

Van der Ende J, Verhulst FC, Tiemeier H (2016) The bidirectional pathways between internalizing and externalizing problems and academic performance from 6 to 18 years. Dev Psychopathol 28:855–867

14.

Woltering S, Lishak V, Hodgson N, Granic I, Zelazo PD (2016) Executive function in children with externalizing and comorbid internalizing behavior problems. J Child Psychol Psychiatry 57:30–38

15.

Holtmann M, Buchmann AF, Esser G, Schmidt MH, Banaschewski T, Laucht M (2011) The Child Behavior Checklist-Dysregulation Profile predicts substance use, suicidality, and functional impairment: a longitudinal analysis. J Child Psychol Psychiatry 52:139–147

16.

Kimball E (2016) Edleson revisited: reviewing children's witnessing of domestic violence 15 years later. J Fam Violence 31:625–637

17.

Klomek ABPD, Sourander AMD, Niemelä SMD, Kumpulainen KMD, Piha JMD, Tamminen TMD et al (2009) Childhood bullying behaviors as a risk for suicide attempts and completed suicides: a population-based birth Cohort Study. J Am Acad Child Adolesc Psychiatry 48:254–261

18.

Fanti KA, Hellfeldt K, Colins OF, Meehan A, Andershed A-K, Andershed H et al (2019) Worried, sad, and breaking rules? Understanding the developmental interrelations among symptoms of anxiety, depression, and conduct problems during early childhood. J Crim Justice 62:23–28

19.

Barros AJDD, Ronsmans CP, Axelson HM, Loaiza EP, Bertoldi ADP, França GVAM et al (2012) Equity in maternal, newborn, and child health interventions in Countdown to 2015: a retrospective review of survey data from 54 countries. Lancet 379:1225–1233

20.

Rotheram-Borus MJ, le Roux IM, Tomlinson M, Mbewu N, Comulada WS, le Roux K et al (2011) Philani Plus (+): A mentor mother community health worker home visiting program to improve maternal and infants' outcomes. Prev Sci 12:372–388

21.

Jyoti DF, Frongillo EA, Jones SJ (2005) Food insecurity affects school children's academic performance, weight gain, and social skills. J Nutr 135:2831–2839

22.

Whitaker RC, Phillips SM, Orzol SM (2006) Food insecurity and the risks of depression and anxiety in mothers and behavior problems in their preschool-aged children. Pediatrics 118:E859–E868

23.

Seligman HK, Laraia BA, Kushel MB (2010) Food insecurity is associated with chronic disease among low-income NHANES participants. J Nutr 140:304–310

24.

Rotheram-Borus MJ, Tomlinson M, le Roux IM, Harwood JM, Comulada S, O'Connor MJ et al (2014) A cluster randomised controlled effectiveness trial evaluating perinatal home visiting among South African mothers/infants. PLoS One 9:e105934

25.

Baingana F, Bannon I, Thomas R (2005) Mental health and conflicts: conceptual framework and approaches. World Bank, Washington

26.

Garber J (2005) Depression and the family. In Psychopathology and the family, Hudson, J.L. and Rapee, R.M. (eds), pp. 225–280.

27.

Sowa NA, Cholera R, Pence BW, Gaynes BN (2015) Perinatal depression in HIV-infected African women: a systematic review. J Clin Psychiatry 76:1385–1396

28.

Nachega JB, Uthman OA, Anderson J, Peltzer K, Wampold S, Cotton MF et al (2012) Adherence to antiretroviral therapy during and after pregnancy in low-income, middle-income, and high-income countries: a systematic review and meta-analysis. AIDS 26:2039–2052

29.

Tuthill EL, Pellowski JA, Young SL, Butler LM (2017) Perinatal depression among HIV-infected women in KwaZulu-Natal South Africa: prenatal depression predicts lower rates of exclusive breastfeeding. AIDS Behav 21:1691–1698

30.

Vythilingum R, Faure SC, Geerts SDJ (2012) Risk factors for substance use in pregnant women in South Africa. S Afr Med J 102:853–854

31.

Desmond K, Milburn N, Richter L, Tomlinson M, Greco E, van Heerden A et al (2011) Alcohol consumption among HIV-positive pregnant women in KwaZulu-Natal, South Africa: prevalence and correlates. Drug Alcohol Depend 120:113–118

32.

Brand SR, Brennan PA (2009) Impact of antenatal and postpartum maternal mental illness: how are the children? Clin Obstet Gynecol 52:441–455

33.

Diego MA, Field T, Hernandez-Reif M, Cullen C, Schanberg S, Kuhn C (2004) Prepartum, postpartum, and chronic depression effects on newborns. Psychiatry 67:63–80

34.

Stein AP, Pearson RMP, Goodman SHP, Rapa ED, Rahman AP, McCallum MMA et al (2014) Effects of perinatal mental disorders on the fetus and child. Lancet 384:1800–1819

35.

Fisher J, de Mello MC, Patel V, Rahman A, Tran T, Holton S et al (2012) Prevalence and determinants of common perinatal mental disorders in women in low- and lower-middle-income countries: a systematic review. Bull World Health Organ 90:139

36.

Davies LA, Cockcroft K, Olinger L, Chersich M, Urban M, Makkan CMC et al (2017) Alcohol exposure during pregnancy altered childhood developmental trajectories in a rural South African community. Acta Paediatr 106:1802–1810

37.

Subramoney S, Eastman E, Adnams C, Stein DJ, Donald KA (2018) The early developmental outcomes of prenatal alcohol exposure: a review. Front Neurol 9:1108

38.

Achenbach, T. M., & Rescorla, L. A. (2000). Manual for the ASEBA Preschool Forms & Profiles. Burlington, VT: University of Vermont, Research Center for Children, Youth, & Families

39.

Tsai AC, Tomlinson M, Comulada WS, Rotheram-Borus MJ (2016) Food insufficiency, depression, and the modifying role of social support: evidence from a population-based, prospective cohort of pregnant women in peri-urban South Africa. Soc Sci Med 151:69–77

40.

Cox JL, Holden JM, Sagovsky R (1987) Detection of postnatal depression: development of the 10-item edinburgh postnatal depression scale. Br J Psychiatry 150:782–786

41.

Rochat T, Tomlinson M, Newell M, Stein A (2013) Detection of antenatal depression in rural HIV-affected populations with short and ultrashort versions of the Edinburgh Postnatal Depression Scale (EPDS). Arch Womens Ment Health 16:401–410

42.

Rubin DB (1987) Multiple imputation for nonresponse in surveys, 1st edn. Wiley, New Jersey

43.

van Buuren S, Brand JPL, Groothuis-Oudshoorn C, Rubin DB (2006) Fully conditional specification in multivariate imputation. J Stat Comput Simul 76:1049–1064

44.

Bartlett JW, Seaman SR, White IR, Carpenter JR (2014) Multiple imputation of covariates by fully conditional specification: accommodating the substantive model. Stat Methods Med Res 24:462–487

45.

Enders CK, Keller BT, Levy R (2018) A fully conditional specification approach to multilevel imputation of categorical and continuous variables. Psychol Methods 23:298–317

46.

StataCorp. (2019) Stata Statistical Software: Release 16. StataCorp LLC, College Station, TX

47.

Keller BT, Enders CK (2018) Blimp User's Manual (Version 1.1), Los Angeles, CA

48.

Tomlinson M, Rotheram-Borus MJ, le Roux IM, Youssef M, Nelson SH, Scheffler A et al (2016) Thirty-six-month outcomes of a generalist paraprofessional perinatal home visiting intervention in South Africa on maternal health and child health and development. Prev Sci 17:937–948

49.

World Health Organization: WHO (2005) Atlas: child and adolescent mental health resources: global concerns, implications for the future. https://www.who.int/mental_health/resources/Child_ado_atlas.pdf, (accessed).

50.

Cree RA, Bitsko RH, Robinson LR, Holbrook JR, Danielson ML, Smith C et al (2018) Health care, family, and community factors associated with mental, behavioral, and developmental disorders and poverty among children aged 2–8 Years—United States, 2016. Morbidity Mortality Weekly Rep (MMWR) 67:1377–1383

51.

Widom CS, Wilson HW (2015) Intergenerational transmission of violence. Violence and Mental Health. Springer, New York, pp 27–45

52.

Skeen S, Macedo A, Tomlinson M, Hensels IS, Sherr L (2016) Exposure to violence and psychological well-being over time in children affected by HIV/AIDS in South Africa and Malawi. AIDS Care 28:16–25

53.

Russell M, Cupp PK, Jewkes RK, Gevers A, Mathews C, LeFleur-Bellerose C et al (2014) Intimate partner violence among adolescents in Cape Town, South Africa. Prev Sci 15:283–295

54.

Campbell J (2019) What's behind South Africa's recent violence? https://www.cfr.org/in-brief/whats-behind-south-africas-recent-violence, (accessed 2020).

55.

Lewis T, McElroy E, Harlaar N, Runyan D (2015) Does the impact of child sexual abuse differ from maltreated but non-sexually abused children? A prospective examination of the impact of child sexual abuse on internalizing and externalizing behavior problems. Child Abuse Neglect 51:31–40

56.

Thurman TR, Kidman R, Nice J, Ikamari L (2015) Family functioning and child behavioral problems in households affected by HIV and AIDS in Kenya. AIDS Behav 19:1408–1414

57.

Kitzmann KM, Gaylord NK, Holt AR, Kenny ED (2003) Child witnesses to domestic violence: a meta-analytic review. J Consult Clin Psychol 71:339–352

58.

Rescorla L, Achenbach T, Ivanova MY, Dumenci L, Almqvist F, Bilenberg N et al (2007) Behavioral and emotional problems reported by parents of children ages 6 to 16 in 31 societies. J Emot Behav Disord 15:130–142

59.

Rombach I, Gray AM, Jenkinson C, Murray DW, Rivero-Arias O (2018) Multiple imputation for patient reported outcome measures in randomised controlled trials: advantages and disadnantages of imputing at the item, subscale or composite score level. BMC Med Res Methodol 18:87
Acknowledgements
This work was funded by the U.S. National Institute on Alcohol Abuse and Alcoholism (NIAAA) R01AA017104 and supported by the U.S. National Institutes of Health (NIH) MH58107, 5P30AI028697, and UL1TR000124. PHR is supported by the U.S. National Institute of Mental Health (NIMH) T32MH109205 and Center for HIV Identification, Prevention, and Treatment Services (CHIPTS) P30MH58107. MT is supported by the National Research Foundation (South Africa) and is a lead investigator of the Centre of Excellence in Human Development, University of the Witwatersrand, in South Africa. The funders had no role in study design, data collection and analysis, decision to publish, or preparation of the manuscript. The authors have declared that they have no competing or potential conflicts of interest.
Ethics declarations
Conflict of Interest
The authors declare that they have no conflict of interest.
Ethical Approval
The Institutional Review Boards of University of California Los Angeles (UCLA) and Stellenbosch University approved the study (IRB#10–000386). All procedures were in accordance with the ethical standards laid down in the 1964 Declaration of Helsinki and its later amendments or comparable ethical standards.
Informed Consent
All mothers provided written, voluntary, informed consent.
Additional information
Publisher's Note
Springer Nature remains neutral with regard to jurisdictional claims in published maps and institutional affiliations.
Electronic supplementary material
Below is the link to the electronic supplementary material.
Estimated regression coefficient with 95% CI obtained from linear mixed-effects model for analysis of child behavioral outcomes on potential structural factors and maternal risks. Supplementary file1 (DOCX 18 kb)
Estimated regression coefficient with 95% CI obtained from logistic mixed-effects model for analysis of child behavioral outcomes on potential structural factors and maternal risks. Supplementary file2 (DOCX 18 kb)
About this article
Cite this article
Hayati Rezvan, P., Tomlinson, M., Christodoulou, J. et al. Intimate Partner Violence and Food Insecurity Predict Early Behavior Problems Among South African Children over 5-years Post-Birth. Child Psychiatry Hum Dev (2020). https://doi.org/10.1007/s10578-020-01025-1
Keywords
Child behavior problems

Maternal risks

Intimate partner violence

Food insecurity

HIV

Longitudinal studies