Abstract
The role of the dopamine transporter (DAT) in the onset and maintenance of emotional–behavioral difficulties is recognized in adults, adolescents and school-age children, whereas few studies in this field have focused on preschoolers. The study recruited 2-year old children (N = 152) in the general population assessing the possible effect of DAT methylation and allelic polymorphism on internalizing and externalizing symptoms, also exploring whether epigenetic and genetic variability interact. Our results showed that DAT methylation is significantly associated with all the dimensions of children's emotional/behavioral functioning in children carrying 10/10–3/3–8/10 polymorphisms but not in children carrying 9/10–9/9 allele repeats. Understanding the influence of genetic/epigenetic factors on maladaptive emotional/behavioral outcomes in young children, can be of great help in programming effective prevention and intervention plans and can be a valid aid to alleviate psychopathological symptoms before they crystalize into more severe clinical conditions in later life.
Access options
Buy single article
Instant access to the full article PDF.
US$ 39.95
Tax calculation will be finalised during checkout.
Subscribe to journal
Immediate online access to all issues from 2019. Subscription will auto renew annually.
US$ 79
Tax calculation will be finalised during checkout.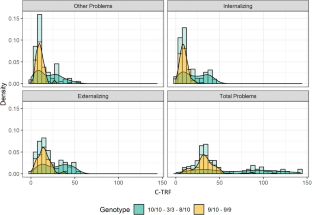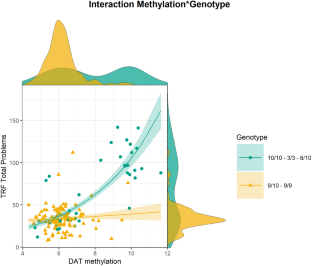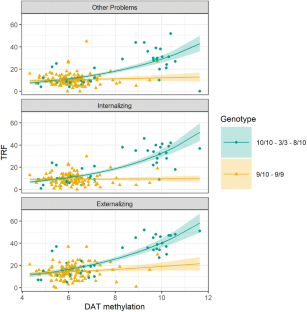 References
1.

Shumay E, Fowler JS, Volkow ND (2010) Genomic features of the human dopamine transporter gene and its potential epigenetic states: implications for phenotypic diversity. PLoS ONE 5:e11067

2.

Faraone SV, Spencer TJ, Madras BK, Zhang-James Y, Biederman J (2014) Functional effects of dopamine transporter gene genotypes on in vivo dopamine transporter functioning: a meta-analysis. Mol Psychiatry 19:880–889

3.

Forbes EE, Brown SM, Kimak M, Ferrell RE, Manuck SB, Hariri AR (2007) Genetic variation in components of dopamine neurotransmission impacts ventral striatal reactivity associated with impulsivity. Mol Psychiatry 14:60–70

4.

Zill P, Baghai TC, Schüle C, Born C, Früstück C, Büttner A et al (2012) DNA methylation analysis of the angiotensin converting enzyme (ACE) gene in major depression. PLoS ONE 7:e40479

5.

Koenen KC, Uddin M, Chang S, Aiello AE, Wildman DE, Goldmann E et al (2011) SLC6A4 methylation modifies the effect of the number of traumatic events on risk for posttraumatic stress disorder. Depress Anxiety 28:639–647

6.

Connor CM, Guo Y, Akbarian S (2009) Cingulate white matter neurons in schizophrenia and bipolar disorder. Biol Psychiatry 66:486–493

7.

VanNess SH, Owens MJ, Kilts CD (2005) The variable number of tandem repeats element in DAT1 regulates in vitro dopamine transporter density. BMC Genomics 6:55

8.

Michelhaugh SK, Fiskerstrand C, Lovejoy E, Bannon MJ, Quinn JP (2008) The dopamine transporter gene (SLC6A3) variable number of tandem repeats domain enhances transcription in dopamine neurons. J Neurochem 79:1033–1038

9.

Congdon E, Lesch KP, Canli T (2008) Analysis of DRD4 and DAT polymorphisms and behavioral inhibition in healthy adults: implications for impulsivity. Am J Med Genet B 147:27–32

10.

Pearson-Fuhrhop KM, Dunn EC, Mortero S, Devan WJ, Falcone GJ, Lee P et al (2014) Dopamine genetic risk score predicts depressive symptoms in healthy adults and adults with depression. PLoS ONE 9:e93772

11.

Krause J, Dresel SH, Krause KH, La Fougère C, Zill P, Ackenheil M (2006) Striatal dopamine transporter availability and DAT-1 gene in adults with ADHD: no higher DAT availability in patients with homozygosity for the 10-repeat allele. World J Biol Psychiatry 7:152–157

12.

Adriani W, Romano E, Pucci M, Pascale E, Cerniglia L, Cimino S, D'Addario C (2017) Potential for diagnosis versus therapy monitoring of attention deficit hyperactivity disorder: a new epigenetic biomarker interacting with both genotype and auto-immunity. Eur Child Adolesc Psychiatry 27:241–252

13.

Levigne JV, Herzing LB, Cook EH, Lebailly SA, Gouze KR, Hopkins J (2013) Gene × Environment effects of serotonin transporter, dopamine receptor D4, and monoamine oxidase A genes with contextual and parenting risk factors on symptoms of oppositional defiant disorder, anxiety, and depression in a community sample of 4-year-old children. Dev Psychopathol 25:555–575

14.

Lester BM, Conradt E, Marsit CJ (2013) Epigenetic basis for the development of depression in children. Clin Obstet Gynecol 56:556

15.

Schore AN (2017) All our sons: the developmental neurobiology and neuroendocrinology of boys at risk. Infant Ment Health J 38:15–52

16.

Barker ED, Walton E, Cecil CA (2017) Annual Research Review: DNA methylation as a mediator in the association between risk exposure and child and adolescent psychopathology. J Child Psychol Psychiatry 59:303–322

17.

Cimino S, Cerniglia L, Ballarotto G, Marzilli E, Pascale E, D'Addario C, Tambelli R (2019) Children's DAT1 polymorphism moderates the relationship between parents' psychological profiles, children's DAT methylation, and their emotional/behavioral functioning in a normative sample. Int J Environ Res Public Health 16:2567

18.

Beach SR, Brody GH, Barton AW, Philibert RA (2016) Exploring genetic moderators and epigenetic mediators of contextual and family effects: from Gene × Environment to epigenetics. Dev Psychopathol 28:1333–1346

19.

Belsky J (2016) The differential susceptibility hypothesis. JAMA Pediatr 170:321

20.

Cimino S, Cerniglia L, Ballarotto G, Marzilli E, Pascale E, D'Addario C, Tambelli R (2018) DNA methylation at the DAT promoter and risk for psychopathology: intergenerational transmission between school-age youths and their parents in a community sample. Front Psychiatry 8:303

21.

Alink LR, Mesman J, Van Zeijl J, Stolk MN, Juffer F, Koot HM, Van IJzendoorn MH (2006) The early childhood aggression curve: development of physical aggression in 10- to 50-month-old children. Child Dev 77:954–966

22.

Thurston IB, Curley J, Fields S, Kamboukos D, Rojas A, Phares V (2008) How nonclinical are community samples? J Community Psychol 36:411–420

23.

Villani V, Ludmer J, Gonzalez A, Levitan R, Kennedy J, Masellis M et al (2018) Dopamine receptor D2 (DRD2), dopamine transporter solute carrier family C6, member 4 (SLC6A3), and catechol-O-methyltransferase (COMT) genes as moderators of the relation between maternal history of maltreatment and infant emotion regulation. Dev Psychopathol 30:581–592

24.

Achenbach TM, Rescorla LA (2001) Empirically based and DSM-oriented assessment of preschoolers for pharmacotherapy and other interventions. Child Adolesc Psychopharmacol News 6:1–7

25.

Frigerio A, Cattaneo C, Cataldo M, Schiatti A, Molteni M, Battaglia M (2004) Behavioral and emotional problems among Italian children and adolescents aged 4 to 18 years as reported by parents and teachers. Eur J Psychol Assess 20:124–133

26.

American Psychiatric Association (2013) Diagnostic and statistical manual of mental disorders (DSM-5®). American Psychiatric Publishing, Washington, DC

27.

Torrone DZ, Kuriakose JS, Moors K, Jiang H, Niedzwiecki MM, Perera FF et al (2012) Reproducibility and intraindividual variation over days in buccal cell DNA methylation of two asthma genes, interferon γ (IFNγ) and inducible nitric oxide synthase (iNOS). Clin Epigenet 4:3

28.

Homish GG, Edwards EP, Eiden RD, Leonard KE (2010) Analyzing family data: a GEE approach for substance use researchers. Addict Behav 35:558–563

29.

Man K, Harring JR (2019) Negative binomial models for visual fixation counts on test items. Educ Psychol Meas 79:617–635

30.

Wagenmakers E, Farrell S (2004) AIC model selection using Akaike weights. Psychon Bull Rev 11:192–196

31.

R Core Team (2019) R: a language and environment for statistical computing. R Foundation for Statistical Computing, Vienna

32.

Venables WN, Ripley BD (2002) Modern applied statistics with S: statistics computation. Springer, New York

33.

Zhang D (2016) A coefficient of determination for generalized linear models. Am Stat 71:310–316

34.

Wickham H (2009) ggplot: using the grammar of graphics with R

35.

Wilke CO (2019) Cowplot: streamlined plot theme and plot annotations for 'Ggplot2'. https://CRAN.R-project.org/package=cowplot. Accessed 12 Apr 2020

36.

Jasiewicz A, Rubiś B, Samochowiec J, Małecka I, Suchanecka A, Jabłoński M et al (2015) DAT1 methylation changes in alcohol-dependent individuals vs. controls. J Psychiatr Res 64:130–133

37.

Wiers CE, Shumay E, Volkow ND, Frieling H, Kotsiari A, Lindenmeyer J et al (2015) Effects of depressive symptoms and peripheral DAT methylation on neural reactivity to alcohol cues in alcoholism. Transl Psychiatry 5:e648

38.

Bakermans-Kranenburg MJ, van IJzendoorn MH (2006) Gene–environment interaction of the dopamine D4 receptor (DRD4) and observed maternal insensitivity predicting externalizing behavior in preschoolers. Dev Psychobiol 48:406–409

39.

Kochanska G, Philibert RA, Barry RA (2009) Interplay of genes and early mother–child relationship in the development of self-regulation from toddler to preschool age. J Child Psychol Psychiatry 50:1331–1338

40.

Oh Y, Greenberg MT, Willoughby MT (2020) Examining longitudinal associations between externalizing and internalizing behavior problems at within- and between-child levels. J Abnorm Child Psychol 48(4):467–480

41.

Chase RM, Eyberg SM (2008) Clinical presentation and treatment outcome for children with comorbid externalizing and internalizing symptoms. J Anxiety Disord 22:273–282

42.

Montirosso R, Giusti L, De Carli P, Tronick E, Borgatti R, Mosca F et al (2018) Developmental care, neonatal behavior and postnatal maternal depressive symptomatology predict internalizing problems at 18 months for very preterm children. J Perinatol 38(2):191–195

43.

Caspi A, Houts RM, Belsky DW, Goldman-Mellor SJ, Harrington H, Israel S, Meier MH, Ramrakha S, Shalev I, Poulton R, Moffitt TE (2014) The p factor: one general psychopathology factor in the structure of psychiatric disorders? Clin Psychol Sci 2:119–137

44.

Neumann A, Pappa I, Lahey BB, Verhulst FC, Medina-Gomez C, Jaddoe VW et al (2016) Single nucleotide polymorphism heritability of a general psychopathology factor in children. J Am Acad Child Adolesc Psychiatry 55:1038–1045

45.

Neumann A, Muetzel RL, Lahey BB, Bakermans-Kranenburg MJ, van IJzendoorn MH, Jaddoe VW et al (2020) White matter microstructure and the general psychopathology factor in children. J Am Acad Child Adolesc Psychiatry. https://doi.org/10.1016/j.jaac.2019.12.006

46.

Murray AL, Eisner M, Ribeaud D (2016) The development of the general factor of psychopathology 'p factor' through childhood and adolescence. J Abnorm Child Psychol 44:1573–1586

47.

McElroy E, Shevlin M, Murphy J, McBride O (2018) Co-occurring internalizing and externalizing psychopathology in childhood and adolescence: a network approach. Eur Child Adolesc Psychiatry 27:1449–1457

48.

Cicchetti D (2016) Developmental psychopathology, risk, resilience, and intervention. Wiley, Hoboken

49.

De Carli P, Riem MM, Parolin L (2017) Approach-avoidance responses to infant facial expressions in nulliparous women: associations with early experience and mood induction. Infant Behav Dev 49:104–113

50.

De Carli P, Bakermans-Kranenburg MJ, Parolin L, Lega C, Zanardo B, Cattaneo Z, Riem MM (2019) A walk on the dark side: TMS over the right inferior frontal gyrus (rIFG) disrupts behavioral responses to infant stimuli. Soc Neurosci 14:697–704

51.

De Carli P, Tagini A, Sarracino D, Santona A, Bonalda V, Cesari PE, Parolin L (2018) Like grandparents, like parents: empirical evidence and psychoanalytic thinking on the transmission of parenting styles. Bull Menn Clin 82:46–70

52.

Stanger C, Lewis M (1993) Agreement among parents, teachers, and children on internalizing and externalizing behavior problems. J Clin Child Psychol 22:107–116

53.

Mesman J, Bongers IL, Koot HM (2001) Preschool developmental pathways to preadolescent internalizing and externalizing problems. J Child Psychol Psychiatry 42:679–689

54.

Antúnez Z, de la Osa N, Granero R, Ezpeleta L (2018) Reciprocity between parental psychopathology and oppositional symptoms from preschool to middle childhood. J Clin Psychol 74(3):489–504

55.

Mill J, Petronis A (2008) Pre- and peri-natal environmental risks for attention-deficit hyperactivity disorder (ADHD): the potential role of epigenetic processes in mediating susceptibility. J Child Psychol Psychiatry 49(10):1020–1030

56.

Janiri D, Sani G, De Rossi P, Piras F, Banaj N, Ciullo V, Simonetti A, Arciniegas DB, Spalletta G (2019) Hippocampal subfield volumes and childhood trauma in bipolar disorders. J Affect Disord 15(253):35–43

57.

Rijlaarsdam J, van IJzendoorn MH, Verhulst FC, Jaddoe VWV, Felix JF, Tiemeier H et al (2017) Prenatal stress exposure, oxytocin receptor gene (OXTR) methylation, and child autistic traits: the moderating role of OXTR rs53576 genotype. Autism Res 10:430–438

58.

Fumagalli M, Provenzi L, De Carli P, Dessimone F, Sirgiovanni I, Giorda R et al (2018) From early stress to 12-month development in very preterm infants: preliminary findings on epigenetic mechanisms and brain growth. PLoS ONE 13:e0190602
Acknowledgements
We want to thank Claudio Zandonella Callegher and Gianmarco Altoè for their precious suggestions on the analytic strategy to implement in the present study.
Funding
This research received no specific grant from any funding agency in the public, commercial, or not-for-profit sectors.
Ethics declarations
Conflict of interests
The authors declare no conflict of interest.
Additional information
Publisher's Note
Springer Nature remains neutral with regard to jurisdictional claims in published maps and institutional affiliations.
Electronic supplementary material
Below is the link to the electronic supplementary material.
About this article
Cite this article
Cimino, S., Cerniglia, L., De Carli, P. et al. DNA Methylation and Allelic Polymorphism at the Dopamine Transporter Promoter Affect Internalizing and Externalizing Symptoms in Preschoolers. Child Psychiatry Hum Dev 52, 281–290 (2021). https://doi.org/10.1007/s10578-020-01009-1
Keywords
DAT methylation

Polymorphism

Internalizing and externalizing problems

Preschoolers