Abstract
Patient-centered care requires providing care that is responsive to patient preferences, needs, and values, yet data on parent and youth treatment preferences remains sparse. The present study (1) identifies variations in parent and youth preferences for depression treatment, and (2) explores relationships between parent and youth demographics and psychosocial functioning, and the preferences that parents and youth endorse. Participants were 64 youth and 63 parents awaiting randomization in a clinical trial evaluating psychosocial youth depression treatments. Parents preferred treatments that emphasize learning skills and strategies (82.5%) and include the parent in treatment at least some of the time (96.8%). Youth preferred that the therapist meet mostly with the youth alone (67.2%) but share at least some information with parents (78.1%). Youth (43.8%) tended to respond "don't know" to questions about their preferred therapeutic approach. Understanding parent and youth preferences, especially psychosocial treatment preferences, is needed to provide high-quality, patient-centered care.
Access options
Buy single article
Instant access to the full article PDF.
US$ 39.95
Tax calculation will be finalised during checkout.
Subscribe to journal
Immediate online access to all issues from 2019. Subscription will auto renew annually.
US$ 79
Tax calculation will be finalised during checkout.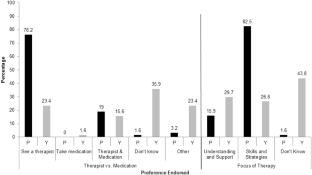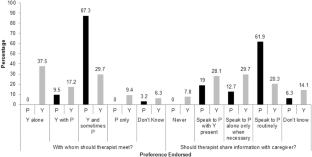 Notes
1.

The term "parent" is used instead of a more general term (e.g., "caregiver") because the vast majority of adult participants were parents.
References
1.

Asarnow JR, Kolko DJ, Miranda J, Kazak AE (2017) The pediatric patient-centered medical home: innovative models for improving behavioral health. Am Psychol 72:13–27

2.

Institute of Medicine (2001) Crossing the quality chasm: a new health system for the 21st century. The National Academies Press, Washington DC

3.

Rapp AM, Chavira DA, Sugar CA, Asarnow JR (2017) Integrated primary medical-behavioral health care for adolescent and young adult depression: predictors of service use in the youth partners in care trial. J Pediatr Psychol 42:1051–1064

4.

Bannon WM Jr, McKay MM (2005) Are barriers to service and parental preference match for service related to urban child mental health service use? Fam Soc 86:30–34

5.

Olfson M, Druss BG, Marcus SC (2015) Trends in mental health care among children and adolescents. N Engl J Med 372:2029–2038

6.

Marcus M, Yasamy MT, van Ommeren M, Chisholm D, Saxena S (2012) Depression: a global public health concern. https://www.who.int/mental_health/management/depression/who_paper_depression_wfmh_2012.pdf

7.

World Health Organization International Consortium in Psychiatric Epidemiology (2000) Cross-national comparisons of the prevalences and correlates of mental disorders. Bull World Health Organ 78:413–426

8.

Weersing VR, Jeffreys M, Do MT, Schwartz KTG, Bolano C (2017) Evidence base update of psychosocial treatments for child and adolescent depression. J Clin Child Adolesc Psychol 46:11–43

9.

Bridge JA, Iyengar S, Salary CB, Barbe R, Birmaher B, Pincus HA et al (2007) Clinical response and risk for reported suicidal ideation and suicide attempts in pediatric antidepressant treatment: a meta-analysis of randomized controlled trials. J Am Med Assoc 297:1683–1696

10.

Birmaher B, Brent D (2007) Practice parameter for the assessment and treatment of children and adolescents with depressive disorders. J Am Acad Child Adolesc Psychiatry 46:1503–1526

11.

Chorpita BF, Daleiden EL, Ebesutani C, Young J, Becker KD, Nakamura BJ et al (2011) Evidence-based treatments for children and adolescents: an updated review of indicators of efficacy and effectiveness. Clin Psychol-Sci Pr 18:154–172

12.

Cook JM, Biyanova T, Elhai J, Schnurr PP, Coyne JC (2010) What do psychotherapists really do in practice? An internet study of over 2,000 practitioners. Psychotherapy 47:260–267

13.

Jaycox LH, Asarnow JR, Sherbourne CD, Rea MM, LaBorde AP, Wells KB (2006) Adolescent primary care patients' preferences for depression treatment. Adm Policy Ment Health 33:198–207

14.

Bradley KL, McGrath PJ, Brannen CL, Bagnell AL (2010) Adolescents' attitudes and opinions about depression treatment. Community Ment Health J 46:242–251

15.

Caporino NE, Karver MS (2012) The acceptability of treatments for depression to a community sample of adolescent girls. J Adolesc 35:1237–1245

16.

Tarnowski KJ, Simonian SJ, Bekeny P, Park A (1992) Acceptability of interventions for childhood depression. Behav Modif 16:103–117

17.

Lewin AB, McGuire JF, Murphy TK, Storch EA (2014) Editorial perspective: the importance of considering parent's preferences when planning treatment for their children–the case of childhood obsessive-compulsive disorder. J Child Psychol Psychiatry 55:1314–1316

18.

Brown AM, Deacon BJ, Abramowitz JS, Dammann J, Whiteside SP (2007) Parents' perceptions of pharmacological and cognitive-behavioral treatments for childhood anxiety disorders. Behav Res Ther 45:819–828

19.

Johnston C, Hommersen P, Seipp C (2008) Acceptability of behavioral and pharmacological treatments for attention-deficit/hyperactivity disorder: relations to child and parent characteristics. Behav Ther 39:22–32

20.

Chandra A, Scott MM, Jaycox LH, Meredith LS, Tanielian T, Burnam A (2009) Racial/ethnic differences in teen and parent perspectives toward depression treatment. J Adolesc Health 44:546–553

21.

APA Presidential Task Force on Evidence-Based Practice (2006) Evidence-based practice in psychology. Am Psychol 61:271–285

22.

Kazdin AE (2016) Methodological issues and strategies in clinical research, 4th edn. American Psychological Association, Washington DC

23.

Tompson MC, Sugar CA, Langer DA, Asarnow JR (2017) A randomized clinical trial comparing family-focused treatment and individual supportive therapy for depression in childhood and early adolescence. J Am Acad Child Adolesc Psychiatry 56:515–523

24.

Kaufman J, Birmaher B, Brent D, Rao UMA, Flynn C, Moreci P et al (1997) Schedule for affective disorders and schizophrenia for school-age children-present and lifetime version (K-SADS-PL): initial reliability and validity data. J Am Acad Child Adolesc Psychiatry 36:980–988

25.

Poznanski EO, Grossman JA, Buchsbaum Y, Banegas M, Freeman L, Gibbons R (1984) Preliminary studies of the reliability and validity of the Children's Depression Rating Scale. J Am Acad Child Adolesc Psychiatry 23:191–197

26.

Kovacs M (1992) Children's depression inventory. Multi-Health System, North Tonawanda

27.

Achenbach T, Rescorla L (2001) ASEBA school-age forms and profiles. ASEBA, Burlington

28.

Achenbach TM (2009) The Achenbach System of Empirically Based Assessment (ASEBA): development, findings, theory, and applications. University of Vermont research for children, youth, and families, Burlington

29.

Derogatis L (1975) Brief symptom inventory. National Computer Systems, Paramus

30.

Robin AL, Foster SL (1995) The conflict behavior questionnaire. Dictionary of behavioral assessment techniques. Guilford Press, Pergamon, pp 148–150

31.

Rudolph KD, Hammen C, Burge D (1995) Cognitive representations of self, family, and peers in school-age children: links with social competence and sociometric status. Child Dev 66:1385–1402

32.

Cohen J (1988) Statistical power analysis for the behavioral sciences, 2nd edn. Lawrence Erlbaum Associates, Hillsdale

33.

Cox DR, Snell EJ (1989) Analysis of binary data, 2nd edn. Chapman and Hall, London

34.

Brinkman WB, Epstein JN (2011) Treatment planning for children with attention-deficit/hyperactivity disorder: treatment utilization and family preferences. Patient Prefer Adherence 5:45–56

35.

Cunningham CE, Deal K, Rimas H, Buchanan DH, Gold M, Sdao-Jarvie K et al (2008) Modeling the information preferences of parents of children with mental health problems: a discrete choice conjoint experiment. J Abnorm Child Psychol 36:1123–1138

36.

Waschbusch DA, Cunningham CE, Pelham WE Jr, Rimas HL, Greiner AR, Gnagy EM et al (2011) A discrete choice conjoint experiment to evaluate parent preferences for treatment of young, medication naive children with ADHD. J Clin Child Adolesc Psychol 40:546–561

37.

Cipriani A, Zhou X, Del Giovane C, Hetrick SE, Qin B, Whittington C et al (2016) Comparative efficacy and tolerability of antidepressants for major depressive disorder in children and adolescents: a network meta-analysis. Lancet 388:881–890

38.

Tompson MC, Boger KD, Asarnow JR (2012) Enhancing the developmental appropriateness of treatment for depression in youth: integrating the family in treatment. Child Adolesc Psychiatr Clin N Am 21:345–384

39.

Dowell KA, Ogles BM (2010) The effects of parent participation on child psychotherapy outcome: a meta-analytic review. J Clin Child Adolesc Psychol 39:151–162

40.

Kennard B, Silva S, Vitiello B, Curry J, Kratochvil C, Simons A et al (2006) Remission and residual symptoms after short-term treatment in the treatment of adolescents with depression study (TADS). J Am Acad Child Adolesc Psychiatry 45:1404–1411

41.

Kaminski JW, Claussen AH (2017) Evidence base update for psychosocial treatments for disruptive behaviors in children. J Clin Child Adolesc Psychol 46:477–499

42.

Witteman HO, Scherer LD, Gavaruzzi T, Pieterse AH, Fuhrel-Forbis A, Dansokho SC et al (2016) Design features of explicit values clarification methods: a systematic review. Med Decis Making 36:453–471

43.

Swift JK, Callahan JL, Cooper M, Parkin SR (2018) The impact of accommodating client preference in psychotherapy: a meta-analysis. J Clin Psychol 74:1924–1937

44.

Vollmer B, Grote J, Lange R, Walker C (2009) A therapy preferences interview: empowering clients by offering choices. Psychother Bull 44:33–37

45.

Cooper M, Norcross JC (2016) A brief, multidimensional measure of clients' therapy preferences: the Cooper-Norcross Inventory of Preferences (C-NIP). Int J Clin Hlth Psyc 16:87–98

46.

Sandell R, Clinton D, Frövenholt J, Bragsejö M (2011) Credibility clusters, preferences, and helpfulness beliefs for specific forms of psychotherapy. Psychol Psychother-T 84:425–441

47.

Wilson TD, Gilbert DT (2003) Affective forecasting. Adv Exp Soc Psychol 35:345–411

48.

Peters E, Klein W, Kaufman A, Meilleur L, Dixon A (2013) More is not always better: intuitions about effective public policy can lead to unintended consequences. Soc Iss Policy Rev 7:114–148

49.

Fagerlin A, Pignone M, Abhyankar P, Col N, Feldman-Stewart D, Gavaruzzi T et al (2013) Clarifying values: an updated review. BMC Med Inform Decis Mak 13:S8

50.

Yeh M, Weisz JR (2001) Why are we here at the clinic? Parent-child (dis)agreement on referral problems at outpatient treatment entry. J Consult Clin Psychol 69:1018–1025

51.

Langer DA, Jensen-Doss A (2018) Shared decision-making in youth mental health care: using the evidence to plan treatments collaboratively. J Clin Child Adolesc Psychol 47:821–831

52.

McHugh RK, Whitton SW, Peckham AD, Welge JA, Otto MW (2013) Patient preference for psychological vs pharmacologic treatment of psychiatric disorders: A meta-analytic review. J Clin Psychiatry 74:595–602

53.

Unützer J, Katon W, Callahan CM, Williams JW, Hunkeler E, Harpole L et al (2002) Collaborative care management of late-life depression in the primary care setting: a randomized controlled trial. J Am Med Assoc 288:2836–2845
Funding
This work was supported by grants from the National Institute of Mental Health (MH101238, principal investigator David A. Langer; MH082861, principal investigator Martha C. Tompson; MH082856, principal investigator Joan R. Asarnow).
Ethics declarations
Conflict of interest
The authors declare that they have no conflict of interest.
Ethical Approval
All procedures performed in studies involving human participants were in accordance with the ethical standards of the institutional and/or national research committee and with the 1964 Helsinki declaration and its later amendments or comparable ethical standards.
Additional information
Publisher's Note
Springer Nature remains neutral with regard to jurisdictional claims in published maps and institutional affiliations.
Appendices
Appendix 1
Treatment Preference Measure – Parent.
This set of questions involves your views about treatment for depression. Please circle the answer that best describes your preferences in the following examples
1
If your child were depressed, would you prefer:
a) To have your child see a therapist
b) To have your child take medication
c) To have your child see a therapist and take medication
d) I don't know
e) Other: ____________
2
If your child went for therapy, would you prefer that the therapist focus on:
a) Providing understanding and support
b) Teaching skills and strategies
c) I don't know
3
If your child went for therapy, would you rather the therapist see:
a) Your child only
b) Your child together with you
c) Your child, sometimes including you
d) You only
e) I don't know
4
Children have different feelings about how much their parents should know about what's going on in their therapy. Would you prefer that the therapist:
a) Never speak to you
b) Speak to you, but only with your child in the room
c) Speak to you alone, but only if there's a big problem
d) Speak to you alone to let you know what's going on in therapy
e) I don't know
Appendix 2
Treatment Preference Measure – Youth.
This set of questions involves your views about treatment for depression. Please circle the answer that best describes your preferences in the following examples
1
If you were sad and depressed, would you prefer:
a) To see a therapist
b) To take medication
c) To see a therapist and take medication
d) I don't know
e) Other: ____________
2
If you went for therapy, would you prefer that the therapist focus on:
a) Providing understanding and support
b) Teaching skills and strategies
c) I don't know
3
If you went for therapy, would you rather the therapist see:
a) You by yourself
b) You with your mom or dad
c) You, but sometimes include your mom or dad
d) Your parents only
e) I don't know
4
Kids have different feelings about how much their parents should know about what's going on in their therapy. Would you prefer that the therapist:
a) Never speak to your parents
b) Speak to your parents, but only with you in the room
c) Speak to your parents alone, but only if there's a big problem
d) Speak to your parents alone to let them know what's going on in therapy
e) I don't know
About this article
Cite this article
Langer, D.A., Kritikos, T.K., Asarnow, J.R. et al. Parent and Youth Preferences in the Treatment of Youth Depression. Child Psychiatry Hum Dev 52, 236–247 (2021). https://doi.org/10.1007/s10578-020-01006-4
Keywords
Child

Parent

Depression

Preference

Treatment