Abstract
This study examines the prevalence of trauma exposure and its association with psychiatric symptoms, substance use, and sexual activity among First-Time Offending, Court-Involved Non-Incarcerated (FTO-CINI) Latinx youth. Latinx youth (N = 181), ages 12–18, were recruited from a family court in the Northeastern region of the United States as part of a longitudinal cohort study of 423 FTO-CINI youth. Baseline data on trauma exposure and symptoms, psychiatric symptoms, substance use (alcohol/marijuana), and sexual activity among the Latinx sample were analyzed by age, gender, and offense type (status versus delinquent). Almost three-quarters of Latinx FTO-CINI youth reported lifetime trauma exposure. Almost half of Latinx youth reported lifetime marijuana use, 30% reported lifetime alcohol use, and 33% reported lifetime sexual activity. Females reported higher rates of internalizing symptoms and greater affect dysregulation. Trauma-exposed youth were more likely than their non-exposed peers to have reported more externalizing symptoms; trauma-exposed females compared to trauma-exposed males reported more severe internalizing symptoms. Latinx FTO-CINI females may have different behavioral health needs than their male counterparts. Court-based screening and assessment practices should attend to the specific behavioral needs of this unique, underserved population.
This is a preview of subscription content, log in to check access.
Access options
Buy single article
Instant access to the full article PDF.
US$ 39.95
Price includes VAT for USA
Subscribe to journal
Immediate online access to all issues from 2019. Subscription will auto renew annually.
US$ 99
This is the net price. Taxes to be calculated in checkout.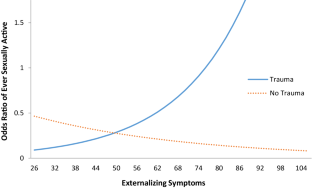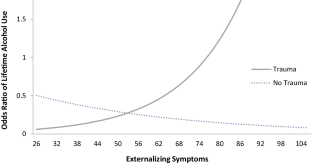 Notes
1.

Latinx is used throughout this paper to avoid gender binaries and to be inclusive of gender fluid Latinx youth. Latinx will be used to encompass a heterogeneous population that differs in terms of race, social class, country of origin, and gender identity to name a few [61].
References
1.

Facts on U.S. Latinos (2015) Pew Hispanic Center

2.

US Census Bureau. Census 2015. US Census Bureau

3.

Winkelman TNA, Frank JW, Binswanger IA, Pinals DA (2017) Health conditions and racial differences among justice-involved adolescents, 2009 to 2014. Acad Pediatr. https://doi.org/10.1016/j.acap.2017.03.003

4.

Abram KM, Zwecker NA, Welty LJ, Hershfield JA, Dulcan MK, Teplin LA (2015) Comorbidity and continuity of psychiatric disorders in youth after detention: a prospective longitudinal study. JAMA Psychiatry. https://doi.org/10.1001/jamapsychiatry.2014.1375

5.

Castillo J (2014) Tolerance in schools for latino students: dismantling the school-to-prison pipeline. Harvard J Hisp Policy

6.

Rodriguez N (2007) Juvenile court context and detention decisions: reconsidering the role of race, ethnicity, and community characteristics in juvenile court processes. Justice Q. https://doi.org/10.1080/07418820701717144

7.

McClelland GM, Teplin LA, Abram KM (2004) Detection and prevalence of substance us among juvenile detainees

8.

Miller HV (2015) Juvenile justice system outcomes among foreign-born and native-born Latinos in the United States: an exploratory study. Youth Violence Juvenile Justice. https://doi.org/10.1177/1541204014547592

9.

Tapia MUS (2015) Latino arrest: an analysis of risk by nativity and origin. Hispanic J Behav Sci. https://doi.org/10.1177/0739986314562928

10.

Bui H (2008) Parent-child conflicts, school troubles, and differences in delinquency across imigration generations. Crime Delinq https://doi.org/10.1177/0011128707306122

11.

Schubert CA, Mulvey EP, Glasheen C (2011) Influence of mental health and substance use problems and criminogenic risk on outcomes in serious juvenile offenders. J Am Acad Child Adolesc Psychiatry. https://doi.org/10.1016/j.jaac.2011.06.006

12.

Kemp K, Thamotharan S, Poindexter B, Barker D, Tolou-Shams M, Houck CD (2017) Emotion regulation as a predictor of juvenile arrest. Crim Justice Behav. https://doi.org/10.1177/0093854817695842

13.

Abram KM, Teplin L, King DC et al (2013) PTSD, trauma, and comorbid psychiatric disorders in detained youth. Juv Justice Bull

14.

Griffin KW, Scheier LM, Acevedo B, Grenard JL, Botvin GJ (2012) Long-term effects of self-control on alcohol use and sexual behavior among urban minority young women. Int J Env Res Public Heal. https://doi.org/10.3390/ijerph9010001

15.

Teplin LA, Mericle AA, McClelland GM, Abram KM (2003) HIV and AIDS risk behaviors in juvenile detainees: implications for public health policy. Am J Public Health. https://doi.org/10.2105/AJPH.93.6.906

16.

Teplin LA, Abram KM, McClelland GM, Dulcan MK, Mericle AA (2002) Psychiatric disorders in youth in juvenile detention. Arch Gen Psychiatry. https://doi.org/10.1001/archpsyc.59.12.1133

17.

Hockenberry S, Puzzanchera C (2016) Delinquency cases involving hispanic youth, 2013. Washington, DC

18.

Lopez V, Nuño L (2016) Latina and African-American girls in the juvenile justice system: needs, problems, and solutions. Sociol Compass. https://doi.org/10.1111/soc4.12338

19.

King DC, Abram KM, Romero EG, Washburn JJ, Welty LJ, Teplin LA (2011) Childhood maltreatment and psychiatric disorders among detained youths. Psychiatr Serv. https://doi.org/10.1176/appi.ps.004412010

20.

Johnston EE, Argueza BR, Graham C, Bruce JS, Chamberlain LJ, Anoshiravani A (2016) In their own voices: the reproductive health care experiences of detained adolescent girls. Women's Heal Issues. https://doi.org/10.1016/j.whi.2015.09.009

21.

Moore E, Gaskin C, Indig D (2013) Childhood maltreatment and post-traumatic stress disorder among incarcerated young offenders. Child Abuse Negl. https://doi.org/10.1016/j.chiabu.2013.07.012

22.

Mueser KT, Taub J (2008) Trauma and PTSD among adolescents with severe emotional disorders involved in multiple service systems. Psychiatr Serv. https://doi.org/10.1176/ps.2008.59.6.627

23.

Ryan JP, Williams AB, Courtney ME (2013) Adolescent neglect, juvenile delinquency and the risk of recidivism. J Youth Adolesc. https://doi.org/10.1007/s10964-013-9906-8

24.

Alcántara C, Chen C-N, Alegría M (2014) Do post-migration perceptions of social mobility matter for Latino immigrant health? Soc Sci Med. https://doi.org/10.1016/j.socscimed.2013.11.024

25.

Zimmerman GM, Messner SF (2013) Individual, family background, and contextual explanations of racial and ethnic disparities in youths' exposure to violence. Am J Public Health. https://doi.org/10.2105/AJPH.2012.300931

26.

Child M (2015) Department of Health and Human Services

27.

Lau KSL, Aalsma MC, Holloway ED, Wiehe SE, Vachon DD (2015) The effects of racial heterogeneity on mental health: a study of detained youth across Multiple counties. Am J Orthopsychiatr. https://doi.org/10.1037/ort0000100

28.

Substance Abuse and Mental Health Services Administration (2014) Trauma-informed care in behavioral health services. HHS Publ No 13-4801. https://doi.org/10.1097/NCM.0000000000000038

29.

Scott CK, Dennis ML (2016) Preliminary findings of the JJ-Trials National Surveys: revised version of presentation at the National Institute on Drug Abuse (NIDA). In: Rockville

30.

Belenko S, Knight D, Wasserman GA et al (2017) The juvenile justice behavioral health services cascade: a new framework for measuring unmet substance use treatment services needs among adolescent offenders. J Subst Abuse Treat. https://doi.org/10.1016/j.jsat.2016.12.012

31.

Chassin L (2008) Juvenile justice and substance use. Futur Child. https://doi.org/10.1353/foc.0.0017

32.

Dolan J (2012) Treatment of dual diagnosis post traumatic stress disorder and substance use disorders: a meta-analysis. ProQuest Diss Theses

33.

Tapia M (2015) U.S. Latino arrest: an analysis of risk by nativity and origin. Hisp J Behav Sci. https://doi.org/10.1177/0739986314562928

34.

Adolescent Substance Use: America's #1 Public Health Problem. New York (2011)

35.

Romer D, Hornik R, Stanton B et al (1997) "Talking" computers: a reliable and private method to conduct interviews on sensitive topics with children. J Sex Res. https://doi.org/10.1080/00224499709551859

36.

Reynolds CR, Kamphaus RW (2004) Behavior assessment system for children, 2nd edn. American Guidance Service, Circle Pines, MN

37.

van de Looij-Jansen PM, Jansen W, de Wilde EJ, Donker MCH, Verhulst FC (2010) Discrepancies between parent-child reports of internalizing problems among preadolescent children: relationships with gender, ethnic background, and future internalizing problems. J Early Adolesc 31(3):443–462. https://doi.org/10.1177/0272431610366243

38.

Turner L, Taylor (2006 doi) Stress burden, drug dependence and the nativity paradox among U.S. Hispanics. Drug Alcohol Depend. https://doi.org/10.1016/j.drugalcdep.2005.11.003

39.

Brown LK, Houck C, Lescano C, Donenberg G, Tolou-Shams M, Mello J (2012) Affect regulation and HIV risk among youth in therapeutic schools. AIDS Behav. https://doi.org/10.1007/s10461-012-0220-3

40.

LeBeau R, Mischel E, Resnick H, Kilpatrick D, Friedman M, Craske M (2014) Dimensional assessment of posttraumatic stress disorder in DSM-5. Psychiatry Res. https://doi.org/10.1016/j.psychres.2014.03.032

41.

Donenberg GR, Emerson E, Bryant FB, Wilson H, Weber-Shifrin E (2001) Understanding AIDS-risk behavior among adolescents in psychiatric care: links to psychopathology and peer relationships. J Am Acad Child Adolesc Psychiatry. https://doi.org/10.1097/00004583-200106000-00008

42.

Vittinghoff E, Glidden D, Shiboski S, McCulloch C (2012) Regression methods in biostatistics: linear, logistic, survival, and repeated measures models. Springer, New York

43.

McLaughlin KA, Koenen KC, Hill ED et al (2013) Trauma exposure and posttraumatic stress disorder in a national sample of adolescents. J Am Acad Child Adolesc Psychiatry. https://doi.org/10.1016/j.jaac.2013.05.011

44.

Cubbin C, Santelli J, Brindis CD, Braveman P (2005) Neighborhood context and sexual behaviors among adolescents: findings from the National Longitudinal Study of Adolescent Health. Perspect Sex Reprod Health. https://doi.org/10.1363/3712505

45.

Grinstead OA, Faigeles B, Comfort M et al (2005) HIV, STD, and Hepatitis risk to primary female partners of men being released from prison. Women Health. https://doi.org/10.1300/J013v41n02_05

46.

Khan MR, Doherty IA, Schoenbach VJ, Taylor EM, Epperson MW, Adimora AA (2009) Incarceration and high-risk sex partnerships among men in the united states. J Urban Heal. https://doi.org/10.1007/s11524-009-9348-5

47.

Morrow KM, Gaiter J, MacGowan R et al (2009) HIV, STD, and hepatitis risk behaviors of young men before and after incarceration. AIDS Care. https://doi.org/10.1080/09540120802017586

48.

Winiarski DA, Schechter JC, Brennan PA, Foster SL, Cunningham PB, Whitmore EA (2017) Adolescent physiological and behavioral patterns of emotion dysregulation predict Multisystemic Therapy response. J Emot Behav Disord. https://doi.org/10.1177/1063426616638315

49.

Conrad SM, Tolou-Shams M, Rizzo CJ, Placella N, Brown LK (2014) Gender differences in recidivism rates for juvenile justice youth: The impact of sexual abuse. Law Hum Behav. https://doi.org/10.1037/lhb0000062

50.

Reed PL, Anthony JC, Breslau N (2007) Incidence of drug problems in young adults exposed to trauma and posttraumatic stress disorder: do early life experiences and predispositions matter? Arch Gen Psychiatry. https://doi.org/10.1001/archpsyc.64.12.1435

51.

Johnston LD, O'Malley PM, Bachman JG, Schulenberg JE (2009) Monitoring the future: national results on adolescent drug use. Overview of key findings, 2008. Natl Inst Drug Abus

52.

Hall W (2009) The adverse health effects of cannabis use: what are they, and what are their implications for policy? Int J Drug Policy. https://doi.org/10.1016/j.drugpo.2009.02.013

53.

Hanson KL, Medina KL, Padula CB, Tapert SF, Brown S (2011) a. Impact of adolescent alcohol and drug use on neuropsychological functioning in young adulthood: 10-year outcomes. J Child Adolesc Subst Abuse. https://doi.org/10.1080/1067828X.2011.555272

54.

Jacobus J, Tapert SF (2014) Effects of cannabis on the adolescent brain. Curr Pharm Des. https://doi.org/10.2174/13816128113199990426

55.

Schweinsburg AD, Brown SA, Tapert SF (2008) The influence of marijuana use on neurocognitive functioning in adolescents. Curr Drug Abuse Rev. https://doi.org/10.2174/1874473710801010099

56.

Stoolmiller M, Blechman EA (2005) Substance use is a robust predictor of adolescent recidivism. Crim Justice Behav. https://doi.org/10.1177/0093854804274372

57.

O'Neil KA, Conner BT, Kendall PC (2011) Internalizing disorders and substance use disorders in youth: comorbidity, risk, temporal order, and implications for intervention. Clin Psychol Rev. https://doi.org/10.1016/j.cpr.2010.08.002

58.

Benish SG, Quintana S, Wampold BE (2011) Culturally adapted psychotherapy and the legitimacy of myth: a direct-comparison meta-analysis. J Couns Psychol. https://doi.org/10.1037/a0023626

59.

Griner D, Smith TB (2006) Culturally adapted mental health intervention: a meta-analytic review. Psychother Theory Res Pract Train. https://doi.org/10.1037/0033-3204.43.4.531

60.

van der Kolk BA (2014) The body keeps the score: brain, mind, and body in the healing of trauma. Viking, New York

61.

Vélez VN (2016) Organizing for change: latinx im/migrant parents, school decision-making, and the racial politics of parent leadership in school reform. AMAE J 10(3):108–128
Funding
This study was supported through funding from the following National Institute of Health grants: National Institute on Drug Abuse under grant number R01DA034538 (Tolou-Shams), National Institute of Drug Abuse under grant number R01DA034538-05S1 (Hoskins). NIDA did not have any role in study design; collection, analysis, and interpretation of data, writing the report and the decision to submit the report for publication. Acknowledgements: The authors extend their gratitude to the adolescents and families who participated in this study, the collaborating juvenile court system and staff as well as Peter Bacchetti, PhD (UCSF Department of Epidemiology and Biostatistics) for his assistance with data analysis.
About this article
Cite this article
Hoskins, D., Marshall, B.D.L., Koinis-Mitchell, D. et al. Latinx Youth in First Contact with the Justice System: Trauma and Associated Behavioral Health Needs. Child Psychiatry Hum Dev 50, 459–472 (2019). https://doi.org/10.1007/s10578-018-0855-z
Keywords
PTSD

Sexual behavior

Substance abuse

Trauma

Ethnic minority youth