Abstract
Studies point to parental experiential avoidance (EA) as a potential correlate of maladaptive parenting behaviors associated with child anxiety. However, research has not examined the relationship between EA and parental accommodation of child anxiety, nor the extent to which parental negative beliefs about child anxiety help explain such a relationship. In a sample of mothers (N = 45) of anxious and non-anxious children, the present study investigated the potential link between maternal EA and accommodation of child anxiety and whether this link may be indirectly accounted for via maternal negative beliefs about child anxiety. EA was significantly and positively associated with accommodation of child anxiety, but when negative beliefs about child anxiety were incorporated into the model this direct effect was no longer significant. Findings highlight the contribution of parental emotions and cognitions to behaviors that may exacerbate child anxiety, and may inform treatment and prevention efforts with families of anxious youth.
Access options
Buy single article
Instant access to the full article PDF.
USD 39.95
Price excludes VAT (USA)
Tax calculation will be finalised during checkout.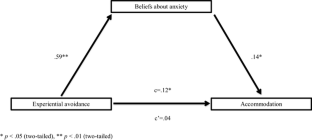 References
Kessler RC, Avenevoli S, Costello EJ, Georgiades K, Green JG, Gruber MJ et al (2012) Prevalence, persistence, and sociodemographic correlates of DSM-IV disorders in the National Comorbidity Survey Replication Adolescent Supplement. Arch Gen Psychiatry 69:372–380

Cornacchio D, Crum KI, Coxe S, Pincus DB, Comer JS (2016) Irritability and severity of anxious symptomatology among youth with anxiety disorders. J Am Acad Child Adolesc Psychiatry 55:54–61

Festa CC, Ginsburg GS (2011) Parental and peer predictors of social anxiety in youth. Child Psychiatry Hum Dev 42:291–306

Langley AK, Falk A, Peris T, Wiley JF, Kendall PC, Ginsburg G et al (2014) The child anxiety impact scale (CAIS): examining parent- and child-reported impairment in child anxiety disorders. J Clin Child Adolesc Psychol 43:579–591

Lyneham HJ, Sburlati ES, Abbott MJ, Rapee RM, Hudson JL, Tolin DF et al (2013) Psychometric properties of the Child Anxiety Life Interference Scale (CALIS). J Anxiety Disord 27:711–719

Weiner CL, Elkins RM, Pincus DB, Comer JS (2015) Anxiety sensitivity and sleep-related problems in anxious youth. J Anxiety Disord 32:66–72

Whiteside SP (2009) Adapting the Sheehan Disability Scale to assess child and parent impairment related to childhood anxiety disorders. J Clin Child Adolesc Psychol 38:721–730

Wu P, Goodwin R, Comer JS, Hoven C, Cohen P (2010) The relationship between anxiety disorders and substance use among adolescents in the community: Specificity and gender differences. J Youth Adolesc 39:177–188

Beesdo K, Bittner A, Pine DS, Stein MB, Höfler M, Lieb R et al (2007) Incidence of social anxiety disorder and the consistent risk for secondary depression in the first three decades of life. Arch Gen Psychiatry 64:903–912

Benjamin CL, Harrison JP, Settipani CA, Brodman DM, Kendall PC (2013) Anxiety and related outcomes in young adults 7 to 19 years after receiving treatment for child anxiety. J Consult Clin Psychol 81:865–876

Comer JS, Blanco C, Grant B, Hasin D, Liu SM, Turner JB et al (2011) Health-related quality of life across the anxiety disorders: results from the National Epidemiologic Survey on alcohol and related conditions. J Clin Psychiatry 72:43–50

Copeland WE, Shanahan L, Costello J, Angold A (2009) Childhood and adolescent psychiatric disorders as predictors of young adult disorders. Arch Gen Psychiatry 66:764–772

Woodward LJ, Fergusson DM (2001) Life course outcomes of young people with anxiety disorders in adolescence. J Am Acad Child Adolesc Psychiatry 40:1086–1093

Helenius D, Munk-Jorgensen P, Steinhauysen HC (2014) Family load estimates and risk factors of anxiety disorders in a nationwide three generation study. Psychiatry Res 216:351–356

McClure EB, Brennan PA, Hammen C, Le Brocque RM (2001) Parental anxiety disorders, child anxiety disorders, and the perceived parent-child relationship in an Australian high-risk sample. J Abnorm Child Psychol 29:1–10

Sanchez AL, Kendall PC, Comer JS (2016) Evaluating the intergenerational link between maternal and child intolerance of uncertainty: a preliminary cross-sectional examination. Cognit Ther Res 40:532–539

Spence SH, Najman JM, Bor W, O'Callaghan MJ, Williams GM (2002) Maternal anxiety and depression, poverty and marital relationship factors during early childhood as predictors of anxiety and depressive symptoms in adolescence. J Child Psychol Psychiatry 43:457–469

Hettema JM, Neale MC, Kendler KS (2001) A review and meta-analysis of the genetic epidemiology of anxiety disorders. Am J Psychiatry 158:1568–1578

Scaini S, Ogliari A, Eley TC, Zavos HMS, Battaglia M (2012) Genetic and environmental contributions to separation anxiety: a meta-analytic approach to twin data. Depress Anxiety 29:754–761

Waszczuk MA, Zavos HS, Gregory AM, Eley TC (2014) The phenotypic and genetic structure of depression and anxiety disorder symptoms in childhood, adolescence, and young adulthood. JAMA Psychiatry 71:905–916

Hudson JL, Dodd HF, Bovopoulos N (2011) Temperament, family environment and anxiety in preschool children. J Abnorm Child Psychol 39:939–951

Bögels SM, Brechman-Toussaint ML (2006) Family issues in child anxiety: attachment, family functioning, parental rearing and beliefs. Clin Psychol Rev 26:834–856

Cooper-Vince CE, Pincus DB, Comer JS (2014) Maternal intrusiveness, family financial means, and anxiety across childhood in a large multiphase sample of community youth. J Abnorm Child Psychol 42:429–438

Hudson JL, Comer JS, Kendall PC (2008) Parental responses to positive and negative emotions in anxious and nonanxious children. J Clin Child Adolesc Psychol 37:303–313

Hudson JL, Rapee RM (2001) Parent-child interactions and anxiety disorders: an observational study. Behav Res Ther 39:1411–1427

Kerns CE, Pincus DB, McLaughlin KA, Comer JS (2017) Maternal emotion regulation during child distress, child anxiety accommodation, and links between maternal and child anxiety. J Anxiety Disord 50:52–59

McLeod BD, Wood JJ, Weisz JR (2007) Examining the association between parenting and childhood anxiety: a meta-analysis. Clin Psychol Rev 27:155–172

Rapee RM (2012) Family factors in the development and management of anxiety disorders. Clin Child Fam Psychol Rev 15:69–80

Williams LR, Degnan KA, Perez-Edgar KE, Henderson HA, Rubin KH, Pine DS et al (2009) Impact of behavioral inhibition and parenting style on internalizing and externalizing problems from early childhood through adolescence. J Abnorm Child Psychol 37:1063–1075

Bayer JK, Sanson AV, Hemphill SA (2006) Parent influences on early childhood internalizing difficulties. J Appl Dev Psychol 27:542–559

Flessner CA, Freeman JB, Sapyta J, Garcia A, Franklin ME, March JS et al (2011) Predictors of parental accommodation in pediatric obsessive-compulsive disorder: findings from the Pediatric Obsessive-Compulsive Disorder Treatment Study (POTS) trial. J Am Acad Child Adolesc Psychiatry 50:716–725

Thompson-Hollands J, Kerns CE, Pincus DB, Comer JS (2014) Parental accommodation of child anxiety and related symptoms: range, impact, and correlates. J Anxiety Disord 28:765–773

Lebowitz ER, Woolston J, Bar-Haim Y, Calvocoressi L, Dauser C, Warnick E et al (2013) Family accommodation in pediatric anxiety disorders. Depress Anxiety 30:47–54

Settipani CA, Kendall PC (2017) The effect of child distress on accommodation of anxiety: relations with maternal beliefs, empathy, and anxiety. J Clin Child Adolesc Psychol 46:810–823

Storch EA, Shalloum A, Johnco C, Dane BF, Crawford EA, King MA et al (2015) Phenomenology and clinical correlates of family accommodation in pediatric anxiety disorders. J Anxiety Disord 35:75–81

Lebowitz ER, Scharfstein LA, Jones J (2014) Comparing family accommodation in pediatric obsessive-compulsive disorder, anxiety disorders, and nonanxious children. Depress Anxiety 31:1018–1025

Jones JD, Lebowitz ER, Marin CE, Stark KD (2015) Family accommodation mediates the association between anxiety symptoms in mothers and children. J Child Adolesc Ment Health 27:41–51

Tiwari S, Podell JC, Martin ED, Mychailyszyn MP, Furr JM, Kendall PC (2008) Experiential avoidance in the parenting of anxious youth: theory, research, and future directions. Cognit Emot 22:480–496

Woodruff-Borden J, Morrow C, Bourland S, Cambron S (2002) The behavior of anxious parents: examining mechanisms of transmission of anxiety from parent to child. J Clin Child Adolesc Psychol 31:264–374

Selles RR, Franklin M, Sapyta J, Compton SN, Tommet D, Jones RN et al (2017) Children's and parents' ability to tolerate child distress: impact on cognitive behavioral therapy for pediatric obsessive compulsive disorder. Child Psychiatry Hum Dev. https://doi.org/10.1007/s10578-017-0748-6

Hayes SC, Strosahl KD, Wilson KG (1999) Acceptance and commitment therapy: an experiential approach to behavior change. Guilford Press, New York

Berman NC, Wheaton MG, McGrath P, Abramowitz JS (2010) Predicting anxiety: the role of experiential avoidance and anxiety sensitivity. J Anxiety Disord 24:109–113

Kashdan TB, Farmer AS, Adams LM, Ferssizidis P, McKnight PE, Nezlek JB (2013) Distinguishing healthy adults from people with social anxiety disorder: evidence for the value of experiential avoidance and positive emotions in everyday social interactions. J Abnorm Psychol 122:645–655

McHugh RK, Reynolds EK, Leyro TM, Otto MW (2013) An examination of the association of distress intolerance and emotion regulation with avoidance. Cognit Ther Res 37:363–367

Cheron DM, Ehrenreich JT, Pincus DB (2009) Assessment of parental experiential avoidance in a clinical sample of children with anxiety disorders. Child Psychiatry Hum Dev 40:383–403

Shea SE, Coyne LW (2011) Maternal dysphoric mood, stress, and parenting practices in mothers of head start preschoolers: the role of experiential avoidance. Child Fam Behav Ther 33:231–247

Bond FW, Hayes SC, Baer RA, Carpenter KM, Guenole N, Orcutt HK et al (2011) Preliminary psychometric properties of the acceptance and action questionnaire-II: a revised measure of psychological inflexibility and experiential avoidance. Behav Ther 42:676–688

Francis SE, Chorpita BF (2009) Development and evaluation of the parental beliefs about anxiety questionnaire. J Psychopathol Behav Assess 32:138–149

Spence SH (1999) Spence children's anxiety scale (parent version). University of Queensland, Brisbane

Scholing MH, Rapee RM, Abbott M, Spence SH, Waters A (2004) A parent-report measure of children's anxiety: psychometric properties and comparison with child-report in a clinic and normal sample. Behav Res Ther 42:813–839

Spence SH, Rapee R, McDonald C, Ingram M (2001) The structure of anxiety symptoms among preschoolers. Behav Res Ther 39:1293–1316

Hayes AF (2013) Introduction to mediation, moderation, and conditional process analysis: a regression-based approach. Guilford, New York

Taylor AB, MacKinnon DP, Tein JY (2008) Tests of the three-path mediated effect. Organ Res Methods 11:241–269

Francis SE, Chorpita BF (2011) Parental beliefs about child anxiety as a mediator of parent and child anxiety. Cognit Ther Res 35:21–29

Comer JS, Puliafico AC, Aschenbrand SG, McKnight K, Robin JA, Goldfine M et al (2012) A pilot feasibility evaluation of the CALM Program for anxiety disorders in early childhood. J Anxiety Disord 26:40–49

Kendall PC, Hudson JL, Gosch E, Flannery-Schroeder E, Suveg C (2008) Cognitive-behavioral therapy for anxiety disordered youth: a randomized clinical trial evaluating child and family modalities. J Consult Clin Psychol 76:282–297

Silverman WK, Kurtines WM, Jaccard J, Pina AA (2009) Directionality of change in youth anxiety treatment involving parents: an initial examination. J Consult Clin Psychol 77:474–485

Thompson-Hollands J, Edson A, Tompson MC, Comer JS (2014) Family involvement in the psychological treatment of obsessive-compulsive disorder: a meta-analysis. J Fam Psychol 28:287–298

Bodden DH, Bögels SM, Nauta MH, De Haan E, Ringrose J, Appelboom C et al (2008) Child versus family cognitive-behavioral therapy in clinically anxious youth: an efficacy and partial effectiveness study. J Am Acad Child Adolesc Psychiatry 47:1384–1394

Manassis K, Lee TC, Bennett K, Zhao X, Mendlowitz S, Duda S et al (2014) Types of parental involvement in CBT with anxious youth: a preliminary meta-analysis. J Consult Clin Psychol 82:1163–1172
Funding
This work was supported by a Clara Mayo Memorial Fellowship Award (PI: Kerns) and by the National Institutes of Health (NIH) K23 MH090247 (PI: Comer).
Ethics declarations
Conflict of interest
Dr. Comer receives royalties from Worth Publishers. No other authors have financial interests to declare.
About this article
Cite this article
Feinberg, L., Kerns, C., Pincus, D.B. et al. A Preliminary Examination of the Link Between Maternal Experiential Avoidance and Parental Accommodation in Anxious and Non-anxious Children. Child Psychiatry Hum Dev 49, 652–658 (2018). https://doi.org/10.1007/s10578-018-0781-0
Published:

Issue Date:

DOI: https://doi.org/10.1007/s10578-018-0781-0
Keywords