Abstract
LGBTQ youth experience increased risks of homelessness, mental health disorder symptoms, and suicidality. Utilizing data from LGBTQ youth contacting a suicide crisis services organization, this study examined: (a) rates of homelessness among crisis services users, (b) the relationship between disclosure of LGBTQ identity to parents and parental rejection and homelessness, and (c) the relationship between homelessness and mental health disorder outcomes and suicidality. A nationwide sample of LGBTQ youth was recruited for a confidential online survey from an LGBTQ-focused crisis services hotline. Overall, nearly one-third of youth contacting the crisis services hotline had experienced lifetime homelessness, and those who had disclosed their LGBTQ identity to parents or experienced parental rejection because of LGBTQ status experienced higher rates of homelessness. Youth with homelessness experiences reported more symptoms of several mental health disorders and higher rates of suicidality. Suggestions for service providers are discussed.
Access options
Buy single article
Instant access to the full article PDF.
USD 39.95
Price excludes VAT (USA)
Tax calculation will be finalised during checkout.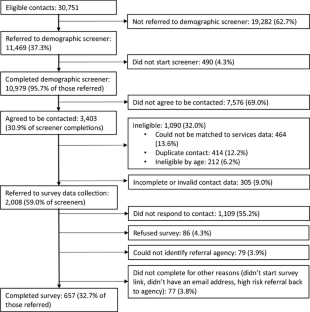 References
Marshal MP, Sucato G, Stepp SD, Hipwell A, Smith HA, Friedman MS et al (2012) Substance use and mental health disparities among sexual minority girls: results from the Pittsburgh girls study. J Pediatr Adolesc Gynecol 25(1):15–18

Russell ST, Fish JN (2016) Mental health in lesbian, gay, bisexual, and transgender (LGBT) youth. Annu Rev Clin Psychol 12:465–487

Shearer A, Herres J, Kodish T, Squitieri H, James K, Russon J et al (2016) Differences in mental health symptoms across lesbian, gay, bisexual, and questioning youth in primary care settings. J Adolesc Health 59(1):38–43

National Alliance on Mental Illness. LGBTQ 2017. https://www.nami.org/Find-Support/LGBTQ

James SE, Herman JL, Rankin S, Keisling M, Mottet L, Anafi M (2016) The report of the 2015 US transgender survey. National Center for Transgender Equality, Washington, DC

Corliss HL, Goodenow CS, Nichols L, Austin SB (2011) High burden of homelessness among sexual-minority adolescents: findings from a representative Massachusetts high school sample. Am J Public Health 101(9):1683–1689

Rice E, Fulginiti A, Winetrobe H, Montoya J, Plant A, Kordic T (2012) Sexuality and homelessness in Los Angeles public schools. Am J Public Health 102(2):200–201

Noell JW, Ochs LM (2001) Relationship of sexual orientation to substance use, suicidal ideation, suicide attempts, and other factors in a population of homeless adolescents. J Adolesc Health 29(1):31–36

Whitbeck LB, Chen X, Hoyt DR, Tyler KA, Johnson KD (2004) Mental disorder, subsistence strategies, and victimization among gay, lesbian, and bisexual homeless and runaway adolescents. J Sex Res 41(4):329–342

Gattis MN (2013) An ecological systems comparison between homeless sexual minority youths and homeless heterosexual youths. J Soc Serv Res 39(1):38–49

Cochran BN, Stewart AJ, Ginzler JA, Cauce AM (2002) Challenges faced by homeless sexual minorities: comparison of gay, lesbian, bisexual, and transgender homeless adolescents with their heterosexual counterparts. Am J Public Health 92(5):773–777

Bidell MP (2014) Is there an emotional cost of completing high school? Ecological factors and psychological distress among LGBT homeless youth. J Homosex 61(3):366–381

Hodgson KJ, Shelton KH, van den Bree MB, Los FJ (2013) Psychopathology in young people experiencing homelessness: a systematic review. Am J Public Health 103(6):e24–e37

Pearson J, Thrane L, Wilkinson L (2017) Consequences of runaway and thrownaway experiences for sexual minority health during the transition to adulthood. J LGBT Youth 14(2):145–171

Votta E, Farrell S (2009) Predictors of psychological adjustment among homeless and housed female youth. J Can Acad Child Adolesc Psychiatry 18(2):126–132

Castellanos HD (2016) The role of institutional placement, family conflict, and homosexuality in homelessness pathways among Latino LGBT youth in New York City. J Homosex 63(5):601–632

Durso LE, Gates GJ (2012) Serving our youth: findings from a national survey of services providers working with lesbian, gay, bisexual and transgender youth who are homeless or at risk of becoming homeless. http://williamsinstitute.law.ucla.edu/research/safe-schools-and-youth/serving-our-youth-july-2012/

Schmitz RM, Tyler KA (2017) The complexity of family reactions to identity among homeless and college lesbian, gay, bisexual, transgender, and queer young adults. Arch Sex Behav. https://doi.org/10.1007/s10508-017-1014-5

Ryan C, Russell ST, Huebner D, Diaz R, Sanchez J (2010) Family acceptance in adolescence and the health of LGBT young adults. J Child Adolesc Psychiatr Nurs 23(4):205–213

Office of the Surgeon General, National Action Alliance for Suicide Prevention (2012) National strategy for suicide prevention: goals and objectives for action: a report of the US Surgeon General and of the National Action Alliance for Suicide Prevention. U.S. Department of Health and Human Services, Washington, DC

Petering R (2017) Homeless youth risk and resiliency survey: Los Angeles at-a-glance, reserach brief. http://robinpetering.com/wp-content/uploads/2017/07/HYRRS_LA_Petering.pdf

Rice E, Lee A, Taitt S (2011) Cell phone use among homeless youth: potential for new health interventions and research. J Urban Health 88(6):1175–1182

Berberet HM (2006) Putting the pieces together for queer youth: a model of integrated assessment of need and program planning. Child Welfare 85(2):361–384

Hensley MA, Matthieu MM (2011) Educational needs assessment for homeless service providers on preventing suicide. Soc Work Ment Health 9(2):92–106

Meezan W, Martin JI (2009) Handbook of research with lesbian, gay, bisexual, and transgender populations: Routledge, New York

Meyer IH, Wilson PA (2009) Sampling lesbian, gay, and bisexual populations. J Couns Psychol 56(1):23

Gibbons CJ, Stirman SW, Brown GK, Beck AT (2010) Engagement and retention of suicide attempters in clinical research. Crisis. https://doi.org/10.1027/0227-5910/a000018

Forintos DP, Rózsa S, Pilling J, Kopp M (2013) Proposal for a short version of the Beck Hopelessness Scale based on a national representative survey in Hungary. Community Ment Health J 49(6):822–830

Lang AJ, Stein MB (2005) An abbreviated PTSD checklist for use as a screening instrument in primary care. Behav Res Ther 43(5):585–594

Melchior LA, Huba G, Brown VB, Reback CJ (1993) A short depression index for women. Educ Psychol Meas 53(4):1117–1125

Hill RM, Rey Y, Marin CE, Sharp C, Green KL, Pettit JW (2015) Evaluating the Interpersonal Needs Questionnaire: comparison of the reliability, factor structure, and predictive validity across five versions. Suicide Life Threat Behav 45(3):302–314

Posner K, Brown GK, Stanley B, Brent DA, Yershova KV, Oquendo MA et al (2011) The Columbia–Suicide Severity Rating Scale: initial validity and internal consistency findings from three multisite studies with adolescents and adults. Am J Psychiatry 168(12):1266–1277

Osman A, Bagge CL, Gutierrez PM, Konick LC, Kopper BA, Barrios FX (2001) The Suicidal Behaviors Questionnaire-Revised (SBQ-R): validation with clinical and nonclinical samples. Assessment 8(4):443–454

StataCorp (2015) Stata statistical software: release 14. StataCorp LP, College Station

King R, Nurcombe B, Bickman L, Hides L, Reid W (2003) Telephone counselling for adolescent suicide prevention: changes in suicidality and mental state from beginning to end of a counselling session. Suicide Life Threat Behav 33(4):400–411

Gould MS, Kalafat J, HarrisMunfakh JL, Kleinman M (2007) An evaluation of crisis hotline outcomes part 2: suicidal callers. Suicide Life Threat Behav 37(3):338–352
Acknowledgements
This study was sponsored by The Trevor Project.
About this article
Cite this article
Rhoades, H., Rusow, J.A., Bond, D. et al. Homelessness, Mental Health and Suicidality Among LGBTQ Youth Accessing Crisis Services. Child Psychiatry Hum Dev 49, 643–651 (2018). https://doi.org/10.1007/s10578-018-0780-1
Published:

Issue Date:

DOI: https://doi.org/10.1007/s10578-018-0780-1
Keywords
LGBTQ youth

Homelessness

Suicidality

Mental health

Crisis services