Abstract
Although many juvenile offenders report experiencing police injustice, few studies have examined how this source of strain may impact youths' behavioral outcomes, including risk for future recidivism. This study begins to address that gap in the literature. We applied the general strain theory as our theoretical framework to examine the interactive effect of perceived police injustice and moral disengagement on juvenile aggressive behavior. Our sample included 95 juvenile offenders who completed questionnaires on measures of perceived police injustice and moral disengagement. Results supported our hypothesis, such that moral disengagement predicted past month aggression among juvenile offenders, but only by youth who reported mean and high levels of perceived police injustice. While more research is needed in this area, this study's findings underscore the need to address both perceived police engagement and moral disengagement among youth at-risk of engaging in delinquent behaviors. Implications for intervention programs are also presented.
This is a preview of subscription content, log in to check access.
Access options
Buy single article
Instant access to the full article PDF.
US$ 39.95
Price includes VAT for USA
Subscribe to journal
Immediate online access to all issues from 2019. Subscription will auto renew annually.
US$ 99
This is the net price. Taxes to be calculated in checkout.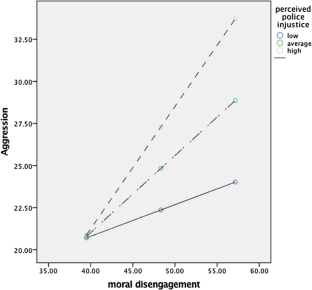 References
1.

Agnew R (1992) Foundation for a general strain theory of crime and delinquency. Criminology 30:47–88

2.

Agnew R (2001) Building on the foundation of general strain theory: specifying the types of strain most likely to lead to crime and delinquency. J Res Crime Delinq 38(4):319–361. doi:10.1177/0022427801038004001

3.

Agnew R (2013) When criminal coping is likely: an extension of general strain theory. Deviant Behav 34(8):653–670. doi:10.1080/01639625.2013.766529

4.

Bandura A (1999) Moral disengagement in the perpetration of inhumanities. Pers Soc Psychol Rev 3(3):193–209. doi:10.1207/s15327957pspr0303_3

5.

Bandura A, Barbaranelli C, Caprara GV, Pastorelli C (1996) Mechanisms of moral disengagement in the exercise of moral agency. J Pers Soc Psychol 71(2):364–374. doi:10.1037/0022-3514.71.2.364

6.

Barkworth JM, Murphy K (2015) Procedural justice policing and citizen compliance behaviour: the importance of emotion. Psychol Crime Law 21(3):254–273. doi:10.1080/1068316X.2014.951649

7.

Borrero M (2001) The widening mistrust between youth and police. Fam Soc 82(4):399–408

8.

Bustamante A, Chaux E (2014) Reducing moral disengagement mechanisms: a comparison of two interventions. J Lat/Lat Am Stud 6(1):52–54. doi:10.18085/llas.6.1.123583644qq115t3

9.

Cardwell SM, Piquero AR, Jennings WG, Copes H, Schubert CA, Mulvey EP (2015) Variability in moral disengagement and its relation to offending in a sample of serious youthful offenders. Crim Justice Behav 42(8):819–839

10.

Dowler K, Zawilski V (2007) Public perceptions of police misconduct and discrimination: examining the impact of media consumption. J Crim Justice 35(2):193–203. doi:10.1016/j.jcrimjus.2007.01.006

11.

Farrell AD, Kung EM, White KS, Valois R (2000) The structure of self-reported aggression, drug use, and delinquent behaviors during early adolescence. J Clin Child Psychol 29(2):282–292

12.

Froggio G (2007) Strain and juvenile delinquency: a critical review of Agnew's General Strain Theory. J Loss Trauma 12(4):383–418. doi:10.1080/15325020701249363

13.

Gini G, Pozzoli T, Hymel S (2014) Moral disengagement among children and youth: a meta-analytic review of links to aggressive behavior. Aggress Behav 40(1):56–68. doi:10.1002/ab.21502

14.

Goodrich SA, Anderson SA, LaMotte V (2014) Evaluation of a program designed to promote positive police and youth interactions. J Juv Justice 3(2):55–71

15.

Hayes AF (2012) PROCESS: a versatile computational tool for observed variable mediation, moderation, and conditional process modeling [White paper]. Retrieved from http://www.afhayes.com/public/process2012.pdf

16.

Hayes AF (2013) Introduction to mediation, moderation, and conditional process analysis: a regression-based approach. Guilford Press, New York

17.

Henry DB, Farrell AD, Project TMVP (2004) The study designed by a committee: design of the Multisite Violence Prevention Project. Am J Prev Med 26(1):12–19

18.

Hymel S, Bonanno RA (2014) Moral disengagement processes in bullying. Theory Into Pract 53(4):278–285. doi:10.1080/00405841.2014.947219

19.

Hymel S, Perren S (2015) Introduction to the special issue: moral disengagement and aggression in children and youth. Merrill-Palmer Q 61(1):1–9

20.

Kaufman JM, Rebellon CJ, Thaxton S, Agnew R (2008) A general strain theory of racial differences in criminal offending. Aust N Z J Criminol 41(3):421–437. doi:10.1375/acri.41.3.421

21.

Kane RJ (2005) Compromised police legitimacy as a predictor of violent crime in structurally disadvantaged communities. Criminology 43(2):469–498. doi:10.1111/j.0011-1348.2005.00014.x

22.

Kiriakidis SP (2008) Moral disengagement: relation to delinquency and independence from indices of social dysfunction. Int J Offender Ther Comp Criminol 52:571–583. doi:10.1177/0306624X07309063

23.

Listwan SJ, Sullivan CJ, Agnew R, Cullen FT, Colvin M (2011) The pains of imprisonment revisited: the impact of strain on inmate recidivism. Justice Q 30(1):144–168. doi:10.1080/07418825.2011.597772

24.

Lersch KM, Mieczkowski T (2005) Violent police behavior: past, present, and future research directions. Aggress Violent Behav 10(5):552–568. doi:10.1016/j.avb.2004.10.002

25.

McAlister AL (2001) Moral disengagement: measurement and modification. J Peace Res 38(1):87–99. doi:10.1177/0022343301038001005

26.

McGrath SA, Marcum CD, Copes H (2012) The effects of experienced, vicarious, and anticipated strain on violence and drug use among inmates. Am J Crim Justice 37(1):60–75. doi:10.1007/s12103-011-9127-1

27.

Morris RG, Carriaga ML, Diamond B, Piquero NL, Piquero AR (2012) Does prison strain lead to prison misbehavior? An application of general strain theory to inmate misconduct. J Crim Justice 40(3):194–201. doi:10.1016/j.jcrimjus.2011.12.001

28.

Mulford CF (2004) Restorative justice and the development of empathy, remorse and moral disengagement in adolescent offenders. Diss Abstr Int 64:5256

29.

Neff JL, Waite DE (2007) Male versus female substance abuse patterns among incarcerated juvenile offenders: comparing strain and social learning variables. Justice Q 24(1):106–132. doi:10.1080/07418820701201024

30.

Ngo FT, Paternoster R, Cullen FT, Mackenzie DL (2011) Life domains and crime: a test of Agnew's general theory of crime and delinquency. J Crim Justice 39(4):302–311. doi:10.1016/j.jcrimjus.2011.03.006

31.

Pelton J, Gound M, Forehand R, Brody G (2004) The moral disengagement scale: extension with an American minority sample. J Psychopathol Behav Assess 26(1):31–39

32.

Piquero NL, Sealock MD (2000) Generalizing general strain theory: an examination of an offending population. Justice Q 17(3):449–484. doi:10.1080/07418820000094631

33.

Piquero NL, Sealock MD (2004) Gender and general strain theory: a preliminary test of Broidy and Agnew's gender/GST hypotheses. Justice Q 21(1):125–158. doi:10.1080/07418820400095761

34.

Preacher KJ, Rucker DD, Hayes AF (2007) Addressing moderated mediation hypotheses: theory, methods, and prescriptions. Multivar Behav Res 42:185–227. doi:10.1080/00273170701341316

35.

Robertson AR, Stein JA, Schaefer-Rohleder L (2010) Effects of hurricane Katrina and other adverse life events on adolescent female offenders: a test of general strain theory. J Res Crime Delinq 47:469–495. doi:10.1177/0022427810375577

36.

Shulman EP, Cauffman E, Piquero AR, Fagan J (2011) Moral disengagement among serious juvenile offenders: a longitudinal study of the relations between morally disengaged attitudes and offending. Dev Psychol 47(6):1619–1632. doi:10.1037/a0025404

37.

Slocum LA, Wiley SA, Esbensen FA (2016) The importance of being satisfied: a longitudinal exploration of police contact, procedural injustice, and subsequent delinquency. Crim Justice Behav 43(1):7–26. doi:10.1177/0093854815609069

38.

Sullivan TN, Farrell AD, Kliewer W (2006) Peer victimization in early adolescence: association between physical and relational victimization and drug use, aggression, and delinquent behaviors among urban middle school students. Dev Psychopathol 18(1):119–137. doi:10.1017/S095457940606007X

39.

Tyler TR, Fagan J, Geller A (2014) Street stops and police legitimacy: teachable moments in young urban men's legal socialization. J Empir Leg Stud 11(4):751–785

40.

Walters GD (2016) Friends, cognition, and delinquency: proactive and reactive criminal thinking as mediators of the peer influence and peer selection effects among male delinquents. Justice Q 33(6):1055–1079. doi:10.1080/07418825.2015.1039048

41.

Zweig JM, Yahner J, Visher CA, Lattimore PK (2015) Using general strain theory to explore the effects of prison victimization experiences on later offending and substance use. Prison J 95(1):84–113. doi:10.1177/0032885514563283
About this article
Cite this article
Zapolski, T.C.B., Banks, D.E., Lau, K.S.L. et al. Perceived Police Injustice, Moral Disengagement, and Aggression Among Juvenile Offenders: Utilizing the General Strain Theory Model. Child Psychiatry Hum Dev 49, 290–297 (2018). https://doi.org/10.1007/s10578-017-0750-z
Keywords
Policing

Aggression

Moral disengagement

Juvenile offenders