Abstract
This study aims to analyze the mediating role of coping strategies in the relationship between family functioning and youth maladjustment. A community sample of 341 adolescents (M = 15.11 years old; SD = 1.71) completed self-report measures about such variables. Results showed that a perception of an inadequate family functioning was associated with the use of maladaptive coping strategies, as well as with youth psychological maladjustment. The results also revealed that rumination and support-seeking mediated the relationship between family functioning and internalizing behavior, and hostile expression of feelings played a mediating role between family functioning and externalizing behavior. No gender differences were found in the relationship between variables. This study emphasizes the importance of coping strategies used by adolescents to understand the relationship between family functioning and youth psychological maladjustment.
Access options
Buy single article
Instant access to the full article PDF.
US$ 39.95
Tax calculation will be finalised during checkout.
Subscribe to journal
Immediate online access to all issues from 2019. Subscription will auto renew annually.
US$ 79
Tax calculation will be finalised during checkout.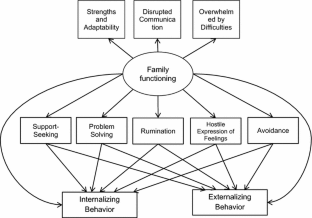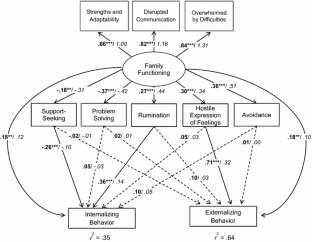 References
1.

Cox MJ, Paley B (1997) Families as systems. Annu Rev Psychol 48:243–267

2.

Wolff JC, Ollendick TH (2006) The comorbidity of conduct problems and depression in childhood and adolescence. Clin Child Fam Psychol 9:201–220

3.

Steinberg L (2001) We know some things: parent–adolescent relationship in retrospect and prospect. J Res Adolesc 1:1–19

4.

Vandeleur CL, Jeanpretre N, Perrez M, Schoebi D (2009) Cohesion, satisfaction with family bonds, and emotional well-being in families with adolescents. J Marriage Fam 71:1205–1219

5.

Youngblade LM, Theokas C, Schulenberg J, Curry L, Huang IC, Novak M (2007) Risk and promotive factors in families, schools, and communities: a contextual model of positive youth development in adolescence. Pediatrics 119:S47–S53

6.

Hakvoort EM, Bos HMW, van Balen F, Hermanns JMA (2010) Family relationships and the psychosocial adjustment of school-aged children in intact families. J Genet Psychol 171:182–201

7.

Henry CS, Robinson LC, Neal RA, Huey EL (2006) Adolescent perceptions of overall family system functioning and parental behaviors. J Child Fam Stud 15:308–318

8.

Schermerhorn AC, D'Onofrio BM, Turkheimer E, Ganiban JM, Spotts EL, Lichtenstein P, Neiderhiser JM (2011) A genetically informed study of associations between family functioning and child psychosocial adjustment. Dev Psychol 47:707–725

9.

Abaied JL, Rudolph KD (2015) Family relationships, emotional processes, and adolescent depression. In: Richards CS, O'Hara MW (eds) The Oxford handbook of depression and comorbidity. Oxford University Press, Oxford, pp 460–475

10.

Low NCP, Dugas E, O'Loughlin E, Rodriguez D, Contreras G, Chaiton M, O'Loughlin J (2012) Common stressful life events and difficulties are associated with mental health symptoms and substance use in young adolescents. BMC Psychiatry 12:116–125

11.

Malaquias S, Crespo C, Francisco R (2014) How do adolescents benefit from family rituals? Links to social connectedness, depression and anxiety. J Child Fam Stud. doi:10.1007/s10826-014-0104-4

12.

Santiago CD, Wadsworth ME (2009) Coping with family conflict: what's helpful and what's not for low-income adolescents. J Child Fam Stud 18:192–202

13.

Sheidow AJ, Henry DB, Tolan PH, Strachan MK (2014) The role of stress exposure and family functioning in internalizing outcomes of urban families. J Child Fam Stud 23:1351–1365

14.

Henderson C, Dakof G, Schwartz S, Liddle H (2006) Family functioning, self-concept, and severity of adolescent externalizing problems. J Child Fam Stud 15:721–731

15.

Sijtsema J, Oldehinkel AJ, Veenstra R, Verhulst FC, Ormel J (2013) Effects of structural and dynamic family characteristics on the development of depressive and aggressive problems during adolescence. The TRAILS study. Eur Child Adolesc Psychiatry 23:499–513

16.

Fay D, Carr A, O'Reilly K, Cahill P, Dooley B, Guerin S, Stratton P (2013) Irish norms for the SCORE-15 and 28 from a national telephone survey. J Fam Ther 35:24–42

17.

Olson DH (2000) Circumplex model of marital and family systems. J Fam Ther 22:144–167

18.

Olson DH, Gorall DM (2003) Circumplex model of marital and family systems. In: Walsh F (ed) Normal family processes, 3rd edn. Guilford, New York, pp 514–547

19.

Ma JLC, Wong TKY, Lau LK, Shuk Han P (2009) Perceived family functioning and family resources of Hong Kong families: implications for social work practice. J Fam Soc Work 12:244–263

20.

Dreman S, Ronen-Eliav H (1997) The relation of divorced mothers' perceptions of family cohesion and adaptability to behavior problems in children. J Marriage Fam 59:324–331

21.

Cumsille PE, Epstein N (1994) Family cohesion, family adaptability, social support, and adolescent depressive symptoms in outpatient clinic families. J Fam Psychol 8:202–214

22.

Slicker EK (1997) Family adaptability and cohesion: Relationship to older adolescent behavior. In: Paper presented at 105th annual meeting of the American Psychological Association, Chicago, IL, August 15–19

23.

Meschke LL, Juang LP (2014) Obstacles to parent–adolescent communication in Hmong American families: exploring pathways to adolescent mental health promotion. Ethn Health 19:144–159

24.

Zhiwen X, Xiaoming L, Stanton B (2011) Perceptions of parent–adolescent communication within families: it is a matter of perspective. Psychol Health Med 16:53–65

25.

Estévez E, Murgui S, Moreno D, Musitu G (2007) Estilos de comunicación familiar, actitud hacia la autoridad institucional y conducta violenta del adolescente en la escuela. Psicothema 19:108–113

26.

Brage D, Meredith W (1994) A causal model of adolescent depression. J Psychol 128:455–468

27.

Fergusson DM, Horwood LJ (2003) Resilience to childhood adversity: results of a 21-year study. In: Luthar SS (ed) Resilience and vulnerability: adaptation in the context of childhood adversities. Cambridge University Press, Cambridge, pp 130–155

28.

Matjasko JL, Grunden LN, Ernst JL (2007) Structural and dynamic process family risk factors: consequences for holistic adolescent functioning. J Marriage Fam 69:654–674

29.

Buehler C, Gerard JM (2013) Cumulative family risk predicts increases in adjustment difficulties across early adolescence. J Youth Adolesc 42:905–920

30.

Cahill P, O'Reilly K, Carr A, Dooley B, Stratton P (2010) Validation of a 28-item version of the systemic clinical outcome and routine evaluation in an Irish context: the SCORE-28. J Fam Ther 32:210–231

31.

Forman EM, Davies PT (2003) Family instability and young adolescent maladjustment: the mediating effects of parenting quality and adolescent appraisals of family security. J Clin Child Adolesc 32:94–105

32.

Fröjd S, Kaltiala-Heino R, Pelkonen M, Von Der Pahlen B, Marttunen M (2009) Significance of family life events in middle adolescence: a survey on Finnish community adolescents. Nord J Psychiatry 63:78–86

33.

Skinner EA, Zimmer-Gembeck MJ (2007) The development of coping. Annu Rev Psychol 58:119–144

34.

Lazarus RS, Folkman S (1984) Stress, appraisal and coping. Springer, New York

35.

Cicognani E (2011) Coping strategies with minor stressors in adolescence: relationships with social support, self-efficacy, and psychological well-being. J Appl Soc Psychol 41:559–578

36.

Skinner EA, Edge K, Altman J, Sherwood H (2003) Searching for the structure of coping: a review and critique of category systems for classifying ways of coping. Psychol Bull 129:216–269

37.

Compas BE, Connor-Smith JK, Saltzman H, Thomsen AH, Wadsworth ME (2001) Coping with stress during childhood and adolescence: problems, progress, and potential in theory and research. Psychol Bull 127:87–127

38.

Brady S, Gorman-Smith D, Henry D, Tolan P (2008) Adaptive coping reduces the impact of community violence exposure on violent behavior among african american and latino male adolescents. J Abnorm Child Psychol 36:105–115

39.

Thompson RJ, Mata J, Jaeggi SM, Buschkuehl M, Jonides J, Gotlib IH (2010) Maladaptive coping, adaptive coping, and depressive symptoms: variations across age and depressive state. Behav Res Ther 48:459–466

40.

Zimmer-Gembeck MJ, Locke EM (2007) The socialization of adolescent coping behaviours: relationships with families and teachers. J Adolesc 30:1–16

41.

Kliewer W, Fearnow MD, Miller PA (1996) Coping socialization in middle childhood: tests of maternal and paternal influences. Child Dev 67:2339–2357

42.

Seiffge-Krenke I (1995) Stress, coping, and relationships in adolescence. Lawrence Erlbaum Associates, Hillsdale

43.

Zimmer-Gembeck MJ, Locke EM (2007) The socialization of adolescent coping behaviours: relationships with families and teachers. J Adolesc 30:1–16

44.

Stern M, Zevon MA (1990) Stress, coping, and family environment: the adolescent's response to naturally occurring stressors. J Adolesc Res 5:290–305

45.

Lohman BJ, Jarvis PA (2000) Adolescent stressors, coping strategies, and psychological health studied in the family context. J Youth Adolesc 29:15–43

46.

Tolan PH, Gorman-Smith D, Henry D, Chung K, Hunt M (2002) The relation of patterns of coping of inner-city youth to psychopathology symptoms. J Res Adolesc 12:423–449

47.

Zimmer-Gembeck MJ, Skinner EA (2011) The development of coping across childhood and adolescence: an integrative review and critique of research. Int J Behav Dev 35:1–17

48.

Lengua LJ, Stormshak EA (2000) Gender, gender roles, and personality: gender differences in the prediction of coping and psychological symptoms. Sex Roles 43:787–820

49.

Jorgensen RS, Dusek JB (1990) Adolescent adjustment and coping strategies. J Personal 58:503–513

50.

Jose PE, D'Anna CA, Cafasso L, Bryant F, Chiker V, Gein N, Zhezmer N (1998) Stress and coping among Russian and American early adolescents. Dev Psychol 34:757–769

51.

Seiffge-Krenke I (2004) Adaptive and maladaptive coping styles: does intervention change anything? Eur J Dev Psychol 1:367–382

52.

Roubinov DS, Luecken LJ (2013) Family conflict in childhood and adolescence and depressive symptoms in emerging adulthood: mediation by disengagement coping. J Divorce Remarriage 54:576–595

53.

Felsten G (1998) Gender and coping: use of distinct strategies and associations with stress and depression. Anxiety Stress Copin 11:289–309

54.

Seiffge-Krenke I, Weidemann S, Fentner S, Aegenheister N, Poeblau M (2001) Coping with school-related stress and family stress in healthy and clinically referred adolescents. Eur Psychol 6:123–132

55.

Liu FF, Gonzales NA, Fernandez AC, Millsap R, Dumka LE (2011) Family stress and coping for mexican origin adolescents. J Clin Child Adolesc 40:385–397

56.

Rodriguez E, Donenberg G, Emerson E, Wilson H, Brown L, Houck C (2014) Family environment, coping, and mental health in adolescents attending therapeutic day schools. J Adolesc 37:1133–1142

57.

Leadbeater BJ, Kuperminc GP, Blatt SJ, Hertzog C (1999) A multivariate model of gender differences in adolescents' internalizing and externalizing problems. Dev Psychol 35:1268–1282

58.

Copeland EP, Hess RS (1995) Differences in young adolescents' coping strategies based on gender and ethnicity. J Early Adolesc 15:203–219

59.

Matud MP (2004) Gender differences in stress and coping styles. Pers Individ Differ 37:1401–1415

60.

Al-Bahrani M, Aldhafri S, Alkharusi H, Kazem A, Alzubiadi A (2013) Age and gender differences in coping style across various problems: Omani adolescents' perspective. J Adolesc 36:303–309

61.

Hollingshead AB (2011) Four factor index of social status. Yale J Soc 8:21–51

62.

Stratton P, Bland J, Janes E, Lask J (2010) Developing an indicator of family function and a practicable outcome measure for systemic therapy and couple therapy: the SCORE. J Fam Ther 32:232–258

63.

Vilaça M, Silva JT, Relvas AP (2014) Systemic Clinical outcome routine evaluation (SCORE-15). In: Relvas AP (ed) Instrumentos de Avaliação Familiar—Funcionamento e Intervenção [Family Assessment Instruments—Functioning and Intervention], vol 1. Imprensa da Universidade de Coimbra, Coimbra, pp 23–45

64.

Crespo C, Francisco R (2011) Coping and resilience [adapted from Youth Connectedness Project, Roy MkcKenzie Centre for the Study of Families, NZ] (version for research). Faculdade de Psicologia, Universidade de Lisboa, Lisboa

65.

Achenbach TM (1991) Manual for the youth self-report and 1991 profile. University of Vermont Department of Psychiatry, Burlington

66.

Arbuckle J (2013) IBM® SPSS® Amos™ 22 user's guide. IBM Corporation, Crawfordville

67.

Shrout PE, Bolger N (2002) Mediation in experimental and nonexperimental studies: new procedures and recommendations. Psychol Methods 7:422–445

68.

Kline R (2005) Principles and practice of structural equation modeling. Guilford Press, New York

69.

Wadsworth ME, Compas BE (2002) Coping with economic strain and family conflict: the adolescent perspective. J Res Adolesc 12:243–274

70.

Lindahl KM, Bregman HR, Malik NM (2012) Family boundary structures and child adjustment: the indirect role of emotional reactivity. J Fam Psychol 26:839–847

71.

Rosnati R, Iafrate R, Scabini E (2007) Parent–adolescent communication in foster, inter-country adoptive, and biological Italian families: gender and generational differences. Int J Psychol 42:36–45

72.

Hoffmann ML, Powlishta KK, White KJ (2004) An examination of gender differences in adolescent adjustment: the effect of competence on gender role differences in symptoms of psychopathology. Sex Roles 50:795–810

73.

Vashchenko M, Lambidoni E, Brody L (2007) Late adolescents' coping styles in interpersonal and intrapersonal using the narrative disclosure task. Clin Soc Work J 35:245–255
Acknowledgments
This study was partially supported by the Research Center for Psychological Science (UID/PSI/04527/2013) from the Ministry of Science and Technology (FCT, Portugal). We would like to express our appreciation to the participating schools, families and adolescents, and to the Master' students who contributed to data collection (A. Filipa Tavares, A. Luísa Sousa, A. Rita Lambuça, Nádia Horta, Sara I. Ferreira and Tânia Soares).
About this article
Cite this article
Francisco, R., Loios, S. & Pedro, M. Family Functioning and Adolescent Psychological Maladjustment: The Mediating Role of Coping Strategies. Child Psychiatry Hum Dev 47, 759–770 (2016). https://doi.org/10.1007/s10578-015-0609-0
Keywords
Family functioning

Coping

Adolescent maladjustment

Gender differences