Abstract
Very little evidence exists on working memory (WM) deficits in children with disruptive behavior disorders such as Oppositional Defiant Disorder (ODD) or Conduct Disorder (CD). We evaluated the function of visuospatial WM in patients (n = 26) with ODD/CD compared with age- and gender-matched controls (n = 26) while controlling for the comorbid diagnosis of Attention-Deficit/Hyperactivity-Disorder (ADHD) in patients. The patients were diagnosed by Kiddie-SADS-PL interview, psychiatric symptoms were measured using Child Behavior Checklist and Teacher Report Form. WM was measured by computer-based visuospatial n-back tasks with three difficulty levels. Incorrect responses (reflecting WM performance) in all WM tasks were significantly higher in patients with ODD/CD than in controls. Both patient subgroups, ODD/CD + ADHD and ODD/CD alone, had WM deficits compared with controls. These results suggest that children with ODD/CD have visuospatial WM deficits that are not accounted for by comorbid ADHD.
Access options
Buy single article
Instant access to the full article PDF.
US$ 39.95
Tax calculation will be finalised during checkout.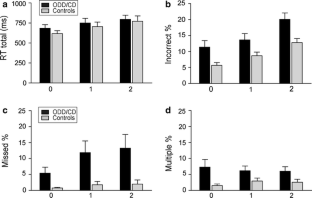 References
1.

Frick PJ, Ellis M (1999) Callous-unemotional traits and subtypes of conduct disorder. Clin Child Fam Psychol Rev 2:149–168

2.

American Psychiatric Association (1994) Diagnostic and statistical manual of mental health disorders, 4th edn. American Psychiatric Association, Washington, DC

3.

Hinshaw SP, Lahey BB, Hart EL (1993) Issues of taxonomy and comorbidity in the development of conduct disorder. Dev Psychopathol 5:31–49

4.

Frick PJ (1998) Conduct disorders and severe antisocial behavior. Plenum, New York

5.

Hill J (2002) Biological, psychological and social processes in the conduct disorders. J Child Psychol Psychiatry 43:133–164

6.

van Goozen S, Cohen-Kettenis P, Snoek H, Matthys W, Swaab-Barneveld H, van Engeland H (2004) Executive functioning in children: a comparison of hospitalised ODD and ODD/AHDH children and normal controls. J Child Psychol Psychiatry 45:284–292

7.

Ozonoff S (1997) Components of executive function in autism and other disorders. In: Russel J (ed) Autism as an executive disorder. Oxford University Press, Oxford, pp 179–211

8.

Pennington BF, Ozonoff S (1996) Executive functions and developmental psychopathology. J Child Psychol Psychiatry 37:51–87

9.

Barkley RA (1997) Behavioral inhibition, sustained attention, and executive functions: constructing a unifying theory of ADHD. Psychol Bull 121:65–94

10.

Moffitt TE (1993) Adolescence-limited and life-course-persistent antisocial behavior: a developmental taxonomy. Psychol Rev 100:674–701

11.

Oosterlaan J, Scheres A, Sergeant J (2005) Which executive functioning deficits are associated with AD/HD, ODD/CD and comorbid AD/HD + ODD/CD? J Abnorm Child Psychol 33:69–85

12.

Séguin J, Pihl R, Harden P, Tremblay R, Boulerice B (1995) Cognitive and neuropsychological characteristics of physically aggressive boys. J Abnorm Psychol 104:614–624

13.

Séguin J, Boulerice B, Harden P, Tremblay R, Pihl R (1999) Executive functions and physical aggression after controlling for attention deficit hyperactivity disorder, general memory and IQ. J Child Psychol Psychiatry 40:1197–1208

14.

Aranowitz B, Liebowitz M, Hollander E, Fazzini E, Durlach-Misteli C, Frenkel M et al (1994) Neuropsychiatric and neuropsychological findings in conduct disorder and attention-deficit hyperactivity disorder. J Neuropsychiatry Clin Neurosci 6:245–249

15.

Oosterlaan J, Logan G, Sergeant J (1998) Response inhibition in AD/HD, CD, comorbid AD/HD + CD, anxious, and control children: a meta-analysis of studies with the stop task. J Child Psychol Psychiatry 39:411–425

16.

Sergeant J, Geurts H, Oosterlaan J (2002) How specific is a deficit of executive functioning for attention-deficit/hyperactivity disorder? Behav Brain Res 130:3–28

17.

Närhi V, Lehto-Salo P, Ahonen T, Marttunen M (2010) Neuropsychological subgroups of adolescents with conduct disorder. Scand J Psychol 51:278–284

18.

Schoemaker K, Mulder H, Dekovic M, Matthys W (2013) Executive functions in preschool children with externalizing behavior problems: a meta-analysis. J Abnorm Child Psychol 41:457–471

19.

Baddeley AD (1988) Cognitive psychology and human memory. Trends Neurosci 11:176–181

20.

Awh E, Vogel EK, Oh SH (2006) Interactions between attention and working memory. Neuroscience 139:201–208

21.

Vuontela V, Steenari MR, Aronen ET, Korvenoja A, Aronen HJ, Carlson S (2009) Brain activation and deactivation during location and color working memory tasks in 11–13-year-old children. Brain Cogn 69:56–64

22.

Baddeley AD (1986) Working memory. Oxford University Press, Oxford

23.

Baddeley AD (1992) Working memory. Science 255:556–559

24.

Baddeley AD (2000) The episodic buffer: a new component of working memory? Trends Cogn Sci 4:417–423

25.

Alloway TP, Cathercole SE, Pickering SJ (2006) Verbal and visuospatial short-term and working memory in children: are they separable? Child Dev 77:1698–1716

26.

Engle RW, Kane MJ, Tuholski SW (1999) Individual differences in working memory capacity and what they tell us about controlled attention, general fluid intelligence, and functions of prefrontal cortex. In: Miyake A, Shah P (eds) Models of working memory: mechanisms of active maintenance and executive control. Cambridge University Press, New York, pp 102–134

27.

Baddeley AD (1996) The fractionation of working memory. Proc Natl Acad Sci USA 93:13468–13472

28.

Carlson S, Martinkauppi S, Rama P, Salli E, Korvenoja A, Aronen HJ (1998) Distribution of cortical activation during visuospatial n-back tasks as revealed by functional magnetic resonance imaging. Cereb Cortex 8:743–752

29.

Martinkauppi S, Rämä P, Aronen HJ, Korvenoja A, Carlson S (2000) Working memory of auditory localization. Cereb Cortex 10:889–898

30.

Vuontela V, Steenari MR, Carlson S, Koivisto J, Fjällberg M, Aronen ET (2003) Audiospatial and visuospatial working memory in 6–13-year-old school children. Learn Mem 10:74–81

31.

Vuontela V, Carlson S, Troberg AM, Fontell T, Simola P, Saarinen S et al (2013) Working memory, attention, inhibition, and their relation to adaptive functioning and behavioral/emotional symptoms in school-aged children. Child Psychiatry Hum Dev 44:105–122

32.

Aronen ET, Vuontela V, Steenari MR, Salmi J, Carlson S (2005) Working memory, psychiatric symptoms, and academic performance at school. Neurobiol Learn Mem 83:33–42

33.

Rhodes S, Park J, Seth S, Coghill D (2012) A comprehensive investigation of memory impairment in attention deficit hyperactivity disorder and oppositional defiant disorder. J Child Psychol Psychiatry 53:128–137

34.

Verte S, Geurts HM, Roeyers H, Oosterlaan J, Sergeant JA (2005) Executive functioning in children with autism and tourette syndrome. Dev Psychopathol 17:415–445

35.

Henry LA (2001) How does the severity of a learning disability affect working memory performance? Memory 9:233–247

36.

Owen AM, McMillan KM, Laird AR, Bullmore E (2005) N-back working memory paradigm: a meta-analysis of normative functional neuroimaging studies. Hum Brain Mapp 25:46–59

37.

Steenari MR, Vuontela V, Paavonen EJ, Carlson S, Fjällberg M, Aronen ET (2003) Working memory and sleep in 6- to 13-year-old schoolchildren. J Am Acad Child Adolesc Psychiatry 42:85–92

38.

Achenbach TM, Rescorlta LA (2001) Manual for the ASEBA school-age forms and profiles: an integrated system of multi-informant assessment. University of Vermont, Research Center for Children, Youth & Families, Burlington, VT

39.

Aronen ET, Mäkelä J, Cacciatore R, Almqvist F (1998) KIDDIE-SADS-PL-Finnish translation. Department of Child Psychiatry, Hospital for Children and Adolescents, University of Helsinki

40.

Kaufman J, Birmaher B, Brent D, Rao U, Flynn C, Moreci P et al (1997) Schedule for affective disorders and schizophrenia for school-age children-present and lifetime version (K-SADS-PL): initial reliability and validity data. J Am Acad Child Adolesc Psychiatry 36:980–988

41.

Teichner G, Golden C (2000) The relationship of neuropsychological impairment in conduct disorder in adolescence: a conceptual review. Aggress Violent Behav 5:509–528

42.

Jurado MB, Rosselli M (2007) The elusive nature of executive functions: a review of our current understanding. Neuropsychol Rev 17:213–233

43.

Miller EK, Cohen JD (2001) An integrative theory of prefrontal cortex function. Annu Rev Neurosci 24:167–202

44.

Crone EA, Riddenrinkhof KR (2011) The developing brain: from theory to neuroimaging and back. Dev Cogn Neurosci 1:101–109

45.

Luna B, Padmanabhan A, O'Hearn K (2010) What has fMRI told us about the development of cognitive control through adolescence? Brain Cogn 72:101–113

46.

Rubia K, Halari R, Smith AB, Mohammad M, Scott S, Brammer MJ (2009) Shared and disorder-specific prefrontal abnormalities in boys with pure attention-deficit/hyperactivity disorder compared to boys with pure CD during interference inhibition and attention allocation. J Child Psychol Psychiatry 50:669–678

47.

Rubia K, Smith AB, Halari R, Matsukura F, Mohammad M, Taylor E, Brammer MJ (2009) Disorder-specific dissociation of orbitofrontal dysfunction in boys with pure conduct disorder during reward and ventrolateral prefrontal dysfunction in boys with pure ADHD during sustained attention. Am J Psychiatry 166:83–94

48.

Casey BJ, Giedd JN, Thomas KM (2000) Structural and functional brain development and its relation to cognitive development. Biol Psychol 54:241–257

49.

Conway AR, Kane MJ, Engle RW (2003) Working memory capacity and its relation to general intelligence. Trends Cogn Sci 7:547–552

50.

Diamond A, Lee K (2011) Interventions shown to aid executive function development in children 4 to 12 years old. Science 333:959–964
Acknowledgments
This study was funded by grants from the Lastenlinna Foundation, Helsinki University Central Hospital Research Funds (EVO grant 2012139), Helsinki University Research Funds, the Finnish Paediatric Foundation, the Academy of Finland (Grant # 259752), the aivoAALTO project of Aalto University, and the Päivikki and Sakari Sohlberg Foundation. The authors thank M.Psy. Jari Lipsanen (University of Helsinki) and Professor Seppo Sarna (University of Helsinki) for statistical advice.
Conflict of interest
The authors declare that they have no conflict of interest.
Electronic supplementary material
Below is the link to the electronic supplementary material.
About this article
Cite this article
Saarinen, S., Fontell, T., Vuontela, V. et al. Visuospatial Working Memory in 7- to 12-Year-Old Children with Disruptive Behavior Disorders. Child Psychiatry Hum Dev 46, 34–43 (2015). https://doi.org/10.1007/s10578-014-0449-3
Keywords
Working memory

Conduct Disorder

Oppositional Defiant Disorder

Children