Abstract
Nighttime fears are very common in preschool years. During these years, children's fantasy–reality differentiation undergoes significant development. Our study was aimed at exploring the links between nighttime fears and fantasy–reality differentiation in preschool children. Eighty children (aged: 4–6 years) suffering from severe nighttime fears were compared with 32 non-fearful controls. Fears were assessed using child and parental reports. Children viewed images depicting fantastic or real entities and situations, and were asked to report whether these were imaginary or could occur in real life. The results revealed that children with nighttime fears demonstrated more fantasy–reality confusion compared to their controls. These differences in fantasy–reality differentiation were more pronounced in younger children. Additional significant associations were found between fantasy–reality differentiation and age and specific characteristics of the stimuli. These preliminary findings, suggesting a developmental delay in fantasy–reality differentiation in children with nighttime fears, have significant theoretical and clinical implications.
Access options
Buy single article
Instant access to the full article PDF.
USD 39.95
Price excludes VAT (USA)
Tax calculation will be finalised during checkout.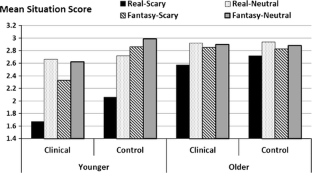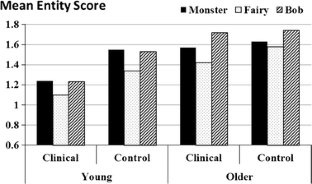 References
Gullone E (2000) The development of normal fear: a century of research. Clin Psychol Rev 20:429–451

Muris P, Merckelbach H, Gadet B, Moulaert V (2000) Fears, worries, and scary dreams in 4-to 12-year-old children: their content, developmental pattern, and origins. J Clin Child Psychol 29:43–52

Muris P (2007) Normal and abnormal fear and anxiety in children and adolescents. Elsevier Science & Technology, Boston

Ollendick TH, King NJ (1994) Fears and their level of interference in adolescents. Behav Res Ther 32:635–638

Muris P, Merckelbach H, Mayer B, Prins E (2000) How serious are common childhood fears? Behav Res Ther 38:217–228

Bauer DH (1976) Exploratory study of developmental changes in children's fears. J Child Psychol Psychiatry 17:69–74

Muris P, Merckelbach H, Ollendick TH, King NJ, Bogie N (2001) Children's nighttime fears: parent-child ratings of frequency, content, origins, coping behaviors and severity. Behav Res Ther 39:13–28

Gordon J, King N, Gullone E, Muris P, Ollendick TH (2007) Nighttime fears of children and adolescents: frequency, content, severity, harm expectations, disclosure, and coping behaviours. Behav Res Ther 45:2464–2472

Graziano AM, Mooney KC, Huber C, Ignasiak D (1979) Self-control instruction for children's fear-reduction. J Behav Ther Exp Psychiatry 10:221–227

King NJ, Hamilton DI, Ollendick TH (1988) Children's phobias: a behavioral perspective. Wiley, Chicehster

Rachman S (1977) The conditioning theory of fear-acquisition: a critical examination. Behav Res Ther 15:375–387

Ollendick TH, King NJ (1991) Origins of childhood fears: an evaluation of Rachman's theory of fear acquisition. Behav Res Ther 29:117–123

Merckelbach H, Muris P, Schouten E (1996) Pathways to fear in spider phobic children. Behav Res Ther 34:935–938

Muris P, Steerneman P, Merckelbach H, Meesters C (1996) The role of parental fearfulness and modeling in children's fear. Behav Res Ther 34:265–268

Muris P, Merckelbach H, Collaris R (1997) Common childhood fears and their origins. Behav Res Ther 35:929–937

Estes D, Wellman HM, Woolley JD (1989) Children's understanding of mental phenomena. Adv Child Dev Behav 22:41–87

Flavell JH, Flavell ER, Greene FL (1987) Young children's knowledge about the apparent-real and pretend-real distinctions. Dev Psychol 23:816–822

Wellman HM, Estes D (1986) Early understanding of mental entities: a reexamination of childhood realism. Child Dev 57:910–923

Harris PL, Brown E, Marriott C, Whittall S, Harmer S (1991) Monsters, ghosts and witches: testing the limits of the fantasy–reality distinction in young children. Br J Dev Psychol 9:105–123

DiLalla LF, Watson MW (1988) Differentiation of fantasy and reality: preschoolers' reactions to interruptions in their play. Dev Psychol 28:286–291

Bourchier A, Davis A (2000) Individual and developmental differences in children's understanding of the fantasy–reality distinction. Br J Dev Psychol 18:353–368

Bourchier A, Davis A (2000) The influence of availability and affect on children's pretence. Br J Dev Psychol 18:137–156

Woolley JD, Phelps KE (1994) Young children's practical reasoning about imagination. Br J Dev Psychol 12:53–67

Bourchier A, Davis A (2002) Children's understanding of the pretence-reality distinction: a review of current theory and evidence. Dev Sci 5:397–413

Bourchier A, Davis A (2002) The pretence-reality distinction—confusion, emotion and source monitoring. Dev Sci 5:422–426

Carrick N, Quas JA (2006) Effects of discrete emotions on young children's ability to discern fantasy and reality. Dev Psychol 42:1278–1288

Samuels A, Taylor M (1994) Childrens ability to distinguish fantasy events from real-life events. Br J Dev Psychol 12:417–427

Woolley JD (1997) Thinking about fantasy: are children fundamentally different thinkers and believers from adults? Child Dev 68:991–1011

Hudson J, Nelson K (1983) Effects of script structure on children's story recall. Dev Psychol 19:625–635

Carrick N, Quas JA, Lyon T (2010) Maltreated and nonmaltreated children's evaluations of emotional fantasy. Child Abuse Negl 34:129–134

Woolley JD, Boerger EA, Markman AB (2004) A visit from the Candy Witch: factors influencing young children's belief in a novel fantastical being. Dev Sci 7:456–468

Johnson CN, Harris PL (1994) Magic—special but not excluded. Br J Dev Psychol 12:35–51

Tversky A, Kahneman D (1973) Availability—heuristic for judding frequency and probability. Cognit Psychol 5:207–232

Muris P, Meesters C, Mayer B, Bogie N, Luijten M, Geebelen E et al (2003) The Koala Fear Questionnaire: a standardized self-report scale for assessing fears and fearfulness in pre-school and primary school children. Behav Res Ther 41:597–617

Muris P, Verweij C, Meesters C (2003) The "anti-monster letter" as a simple therapeutic tool for reducing nighttime fears in young children. Behav Change 20:200–207

Muris P, Merckelbach H, Meesters C, Van Lier P (1997) What do children fear most often? J Behav Ther Exp Psychiatry 28:263–267

Muris P, Schmidt H, Merckelbach H (2000) Correlations among two self-report questionnaires for measuring DSM-defined anxiety disorder symptoms in children: the screen for child anxiety related emotional disorders and the Spence Children's Anxiety Scale. Pers Individ Differ 28:333–346

Ollendick TH (1983) Reliability and validity of the revised fear survey schedule for children (Fssc-R). Behav Res Ther 21:685–692

Achenbach TM, Edelbrock CS (1983) Manual for the child behavior checklist and revised child behavior profile. University of Vermont, Department of Psychiatry, Burlington

Zilber N, Auerbach J, Lerner Y (1994) Israeli norms for the Achenbach child-behavior checklist—comparison of clinically-referred and non-referred children. Israel J Psychiatry Relat Sci 31:5–12

Sharon T, Woolley JD (2004) Do monsters dream? Young children's understanding of the fantasy/reality distinction. Br J Dev Psychol 22:293–310

Piaget J (1930) The construction of reality in the child. Basic Books, New York

Flavell JH, Flavell ER, Green FL, Korfmacher JE (1990) Do young-children think of television images as pictures or real objects. J Broadcast Electron Media 34:399–419

Wright JC, Huston AC, Reitz AL, Piemyat S (1994) Young children's perceptions of television reality—determinants and developmental differences. Dev Psychol 30:229–239

Sayfan L, Lagattuta KH (2009) Scaring the monster away: what children know about managing fears of real and imaginary creatures. Child Dev 80:1756–1774

Sadeh A, Hen-Gal S, Tikotzky L (2008) Young children's reactions to war-related stress: a survey and assessment of an innovative intervention. Pediatrics 121:46–53

Kushnir J, Sadeh A (2012) Assessment of brief interventions for nighttime fears in preschool children. Eur J Pediatr 171:67–75
Acknowledgments
The study was supported by the Israel Science Foundation (grant no. 1047/08 to Avi Sadeh). The authors are thankful to Ornit Arbel for coordinating and managing the study and to the participating families.
Conflict of interest
The authors have no conflict of interest to report.
About this article
Cite this article
Zisenwine, T., Kaplan, M., Kushnir, J. et al. Nighttime Fears and Fantasy–Reality Differentiation in Preschool Children. Child Psychiatry Hum Dev 44, 186–199 (2013). https://doi.org/10.1007/s10578-012-0318-x
Published:

Issue Date:

DOI: https://doi.org/10.1007/s10578-012-0318-x
Keywords
Nighttime fears

Anxiety

Preschool

Child

Fantasy

Reality