Abstract
Sleep disturbance is an early marker for bipolar disorder (BD) onset in youth. We characterized sleep quality in adolescents experiencing mania within the last 6-12 months. We examined the association between mood and sleep in 27 adolescents with BD and 24 matched healthy controls (HC). Subjects were assessed by parent and teen report of sleep, a semi-structured clinical interview, the Young Mania Rating Scale (YMRS), and the Childhood Depression Rating Scale (CDRS-R). Average BD youth YMRS (mean 20.3 ± 7.3) and CDRS-R (mean 42.4 ± 14.1) scores indicated they were still ill at time of assessment. Compared to HCs, adolescents with BD have distinct patterns of prolonged sleep onset latency, frequent nighttime awakenings, and increased total time awake. Mood symptoms, specifically excessive guilt, self-injurious behavior, and worsening evening mood, interfered with sleep. Further studies are needed to determine whether early regulation of sleep would improve long-term outcome in BD youth.
This is a preview of subscription content, log in to check access.
Access options
Buy single article
Instant access to the full article PDF.
US$ 39.95
Price includes VAT for USA
Subscribe to journal
Immediate online access to all issues from 2019. Subscription will auto renew annually.
US$ 99
This is the net price. Taxes to be calculated in checkout.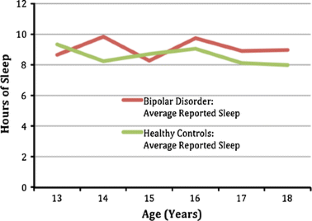 References
1.

Birmaher B, Axelson D, Strober M, Gill MK, Valeri S, Chiappetta L et al (2006) Clinical course of children and adolescents with bipolar spectrum disorders. Arch Gen Psychiatry 63:175–183

2.

Carter TD, Mundo E, Parikh SV, Kennedy JL (2003) Early age at onset as a risk factor for poor outcome of bipolar disorder. J Psychiatry Res 37:297–303

3.

Geller B, Craney JL, Bolhofner K, Nickelsburg MJ, Williams M, Zimerman B (2002) Two-year prospective follow-up of children with a prepubertal and early adolescent bipolar disorder phenotype. Am J Psychiatry 159:927–933

4.

Geller B, DelBello MP (2003) Bipolar disorder in childhood and early adolescence. Guilford Press, New York

5.

Perlis RH, Miyahara S, Marangell LB, Wisniewski SR, Ostacher M, DelBello MP et al (2004) Long-term implications of early onset in bipolar disorder: data from the first 1000 participants in the systematic treatment enhancement program for bipolar disorder (STEP-BD). Biol Psychiatry 55:875–881

6.

Togen M, Angst J (2002) Textbook in psychiatric epidemiology. Wiley-Liss, New York

7.

Birmaher B, Axelson D, Goldstein B, Strober M, Gill MK, Hunt J et al (2009) Four-year longitudinal course of children and adolescents with bipolar spectrum disorders: the course and outcome of bipolar youth (COBY) study. Am J Psychiatry 166:795–804

8.

Goldstein TR, Birmaher B, Axelson D, Goldstein BI, Gill MK, Esposito-Smythers C et al (2009) Psychosocial functioning among bipolar youth. J Affect Disord 114:174–183

9.

Axelson D, Birmaher B, Strober M, Gill MK, Valeri S, Chiappetta L et al (2006) Phenomenology of children and adolescents with bipolar spectrum disorders. Arch Gen Psychiatry 63:1139–1148

10.

Harvey AG (2009) The adverse consequences of sleep disturbance in pediatric bipolar disorder: implications for intervention. Child Adolesc Psychiatry Clin N Am 18:321–338, viii

11.

Jackson A, Cavanagh J, Scott J (2003) A systematic review of manic and depressive prodromes. J Affect Disord 74:209–217

12.

Staton D (2008) The impairment of pediatric bipolar sleep: hypotheses regarding a core defect and phenotype-specific sleep disturbances. J Affect Disord 108:199–206

13.

American Psychiatric Association. and American Psychiatric Association. Task Force on DSM-IV (2000) Diagnostic and statistical manual of mental disorders: DSM-IV-TR. American Psychiatric Association, Washington, DC

14.

Spitzer RL, Endicott J, Robins E (1978) Research diagnostic criteria: rationale and reliability. Arch Gen Psychiatry 35:773–782

15.

Ballenger JC, Reus VI, Post RM (1982) The "atypical" clinical picture of adolescent mania. Am J Psychiatry 139:602–606

16.

Lewinsohn PM, Klein DN, Seeley JR (1995) Bipolar disorders in a community sample of older adolescents: prevalence, phenomenology, comorbidity, and course. J Am Acad Child Adolesc Psychiatry 34:454–463

17.

Findling RL, Gracious BL, McNamara NK, Youngstrom EA, Demeter CA, Branicky LA et al (2001) Rapid, continuous cycling and psychiatric co-morbidity in pediatric bipolar I disorder. Bipolar Disord 3:202–210

18.

Bhangoo RK, Dell ML, Towbin K, Myers FS, Lowe CH, Pine DS et al (2003) Clinical correlates of episodicity in juvenile mania. J Child Adolesc Psychopharmacol 13:507–514

19.

Geller B, Tillman R, Craney JL, Bolhofner K (2004) Four-year prospective outcome and natural history of mania in children with a prepubertal and early adolescent bipolar disorder phenotype. Arch Gen Psychiatry 61:459–467

20.

Faedda GL, Baldessarini RJ, Glovinsky IP, Austin NB (2004) Pediatric bipolar disorder: phenomenology and course of illness. Bipolar Disord 6:305–313

21.

Lofthouse N, Fristad M, Splaingard M, Kelleher K (2007) Parent and child reports of sleep problems associated with early-onset bipolar spectrum disorders. J Fam Psychol 21:114–123

22.

Kowatch RA, Youngstrom EA, Danielyan A, Findling RL (2005) Review and meta-analysis of the phenomenology and clinical characteristics of mania in children and adolescents. Bipolar Disord 7:483–496

23.

Tillman R, Geller B, Craney JL, Bolhofner K, Williams M, Zimerman B (2004) Relationship of parent and child informants to prevalence of mania symptoms in children with a prepubertal and early adolescent bipolar disorder phenotype. Am J Psychiatry 161:1278–1284

24.

Parker G, Malhi G, Hadzi-Pavlovic D, Parker K (2006) Sleeping in? The impact of age and depressive sub-type on hypersomnia. J Affect Disord 90:73–76

25.

Geller B, Zimerman B, Williams M, Delbello MP, Bolhofner K, Craney JL et al (2002) DSM-IV mania symptoms in a prepubertal and early adolescent bipolar disorder phenotype compared to attention-deficit hyperactive and normal controls. J Child Adolesc Psychopharmacol 12:11–25

26.

Faedda GL, Teicher MH (2005) Objective measures of activity and attention in the differential diagnosis of psychiatric disorders of childhood. Essent Psychopharmacol 6:239–249

27.

Mehl RC, O'Brien LM, Jones JH, Dreisbach JK, Mervis CB, Gozal D (2006) Correlates of sleep and pediatric bipolar disorder. Sleep 29:193–197

28.

Rao U, Dahl RE, Ryan ND, Birmaher B, Williamson DE, Rao R et al (2002) Heterogeneity in EEG sleep findings in adolescent depression: unipolar versus bipolar clinical course. J Affect Disord 70:273–280

29.

Siegel JM (2003) Why we sleep. Sci Am 289:92–97

30.

Riemann D, Voderholzer U, Berger M (2002) Sleep and sleep-wake manipulations in bipolar depression. Neuropsychobiology 45(Suppl 1):7–12

31.

Achenbach TM, McConaughy SH, Howell CT (1987) Child/adolescent behavioral and emotional problems: implications of cross-informant correlations for situational specificity. Psychol Bull 101:213–232

32.

Ferdinand RF, van der Ende J, Verhulst FC (2004) Parent-adolescent disagreement regarding psychopathology in adolescents from the general population as a risk factor for adverse outcome. J Abnorm Psychol 113:198–206

33.

Youngstrom EA, Findling RL, Calabrese JR (2004) Effects of adolescent manic symptoms on agreement between youth, parent, and teacher ratings of behavior problems. J Affect Disord 82(Suppl 1):S5–S16

34.

Owens JA, Spirito A, McGuinn M, Nobile C (2000) Sleep habits and sleep disturbance in elementary school-aged children. J Dev Behav Pediatr 21:27–36

35.

Grills AE, Ollendick TH (2003) Multiple informant agreement and the anxiety disorders interview schedule for parents and children. J Am Acad Child Adolesc Psychiatry 42:30–40

36.

Carskadon MA (1990) Patterns of sleep and sleepiness in adolescents. Pediatrician 17:5–12

37.

Hollinghead A (1975) Four-factor index of social status. Yale University, New Haven

38.

Geller B, Williams M, Zimerman B, Frazier J (1996) Washington University in St. Louis Kiddie Schedule for affective disorders and schizophrenia (WASH-U-KSADS). Washington University, St. Louis

39.

Young RC, Biggs JT, Ziegler VE, Meyer DA (1978) A rating scale for mania: reliability, validity and sensitivity. Br J Psychiatry 133:429–435

40.

Poznanski EO, Grossman JA, Buchsbaum Y, Banegas M, Freeman L, Gibbons R (1984) Preliminary studies of the reliability and validity of the children's depression rating scale. J Am Acad Child Psychiatry 23:191–197

41.

Shaffer D, Gould MS, Brasic J, Ambrosini P, Fisher P, Bird H et al (1983) A children's global assessment scale (CGAS). Arch Gen Psychiatry 40:1228–1231

42.

Buysse DJ, Reynolds CF III, Monk TH, Berman SR, Kupfer DJ (1989) The Pittsburgh sleep quality index: a new instrument for psychiatric practice and research. Psychiatry Res 28:193–213

43.

Nowlin-Finch NL, Altshuler LL, Szuba MP, Mintz J (1994) Rapid resolution of first episodes of mania: sleep related? J Clin Psychiatry 55:26–29

44.

Barbini B, Bertelli S, Colombo C, Smeraldi E (1996) Sleep loss, a possible factor in augmenting manic episode. Psychiatry Res 65:121–125

45.

Plante DT, Winkelman JW (2008) Sleep disturbance in bipolar disorder: therapeutic implications. Am J Psychiatry 165:830–843

46.

Cloutier P, Martin J, Kennedy A, Nixon MK, Muehlenkamp JJ (2010) Characteristics and co-occurrence of adolescent non-suicidal self-injury and suicidal behaviours in pediatric emergency crisis services. J Youth Adolesc 39:259–269

47.

Swann AC, Moeller FG, Steinberg JL, Schneider L, Barratt ES, Dougherty DM (2007) Manic symptoms and impulsivity during bipolar depressive episodes. Bipolar Disord 9:206–212

48.

Goldstein TR, Birmaher B, Axelson D, Ryan ND, Strober MA, Gill MK et al (2005) History of suicide attempts in pediatric bipolar disorder: factors associated with increased risk. Bipolar Disord 7:525–535

49.

Schmidt RE, Van der Linden M (2009) The aftermath of rash action: sleep-interfering counterfactual thoughts and emotions. Emotion 9:549–553

50.

Schmidt RE, Gay P, Ghisletta P, VDL M (2010) Linking impulsivity to dysfunctional thought control and insomnia: a structural equation model. J Sleep Res 19:3–11

51.

Goldberg JF, McLeod LD, Fehnel SE, Williams VS, Hamm LR, Gilchrist K (2010) Development and psychometric evaluation of the bipolar functional status questionnaire (BFSQ). Bipolar Disord 12:32–44

52.

Ohayon MM, Priest RG, Zulley J, Smirne S (2000) The place of confusional arousals in sleep and mental disorders: findings in a general population sample of 13, 057 subjects. J Nerv Ment Dis 188:340–348

53.

Harvey AG (2008) Sleep and circadian rhythms in bipolar disorder: seeking synchrony, harmony, and regulation. Am J Psychiatry 165:820–829

54.

McClung CA (2007) Clock genes and bipolar disorder: implications for therapy. Pharmacogenomics 8:1097–1100

55.

Hlastala SA, Kotler JS, McClellan JM, McCauley EA (2010) Interpersonal and social rhythm therapy for adolescents with bipolar disorder: treatment development and results from an open trial. Depress Anxiety 27:457–464

56.

Frye MA, Grunze H, Suppes T, McElroy SL, Keck PE Jr, Walden J et al (2007) A placebo-controlled evaluation of adjunctive modafinil in the treatment of bipolar depression. Am J Psychiatry 164:1242–1249
Acknowledgments
The authors would like to thank Melissa Pease, Erica Weitz, Elizabeth Adams, and Tenah Acquaye for their assistance with recruiting and running participants, and Allison Libby for help with data entry.
About this article
Cite this article
Roybal, D.J., Chang, K.D., Chen, M.C. et al. Characterization and Factors Associated with Sleep Quality in Adolescents with Bipolar I Disorder. Child Psychiatry Hum Dev 42, 724–740 (2011). https://doi.org/10.1007/s10578-011-0239-0
Keywords
Bipolar disorder

Adolescents

Sleep

Mood

Parent–child report