Abstract
Research suggests that parenting styles are related to the types of discipline parents utilize and that the coupling of parenting styles and discipline techniques are related to child outcomes. Although extant research examines the effects of parenting styles and discipline on child and early adolescent adjustment, less is known about adjustment in late adolescents, also described as emerging adults. Thus, the current study investigated the relationships among parenting styles (e.g., authoritative, authoritarian, permissive), discipline strategies (e.g., non-violent discipline, psychological aggression, physical assault), and emerging adult emotional adjustment (e.g., self-esteem, depression, and anxiety). The sample consisted of 526 participants ranging in age from 18 to 22 years. Results were analyzed with structural equation modeling and suggest that, although perceived parenting styles and discipline are both correlated with emerging adult emotional adjustment, perceived parenting is associated with emerging adult emotional adjustment for females but not males when examined simultaneously with perceived discipline. This finding demonstrates the importance of examining the direct and indirect relationships in the context of gender dyads.
Access options
Buy single article
Instant access to the full article PDF.
US$ 39.95
Tax calculation will be finalised during checkout.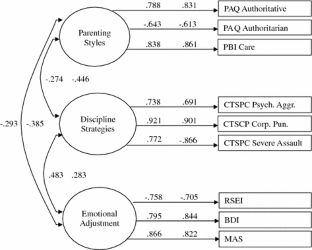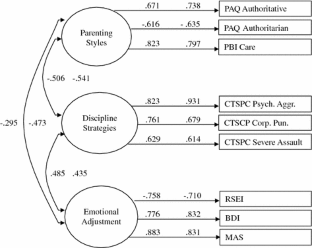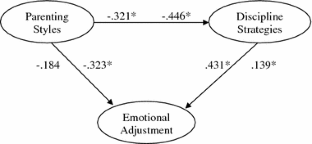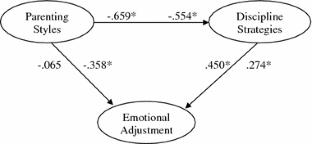 References
1.

Baumrind D (1991) Effective parenting during the early adolescent transition. In: Cowan PA (ed) Family transitions. Lawrence Erlbaum, Hillsdale, pp 111–163

2.

Harper FWK, Brown AM, Arias I, Brody G (2006) Corporal punishment and kids: how do parent support and gender influence child adjustment? J Fam Violence 2:197–207

3.

Renk K, McKinney C, Klein J, Oliveros A (2006) Childhood discipline, perceptions of parents, and current functioning in female college students. J Adolesc 29:78–88

4.

McKinney C, Renk K (2008) Differential parenting between mothers and fathers: implications for late adolescents. J Fam Issues 29:806–827

5.

Arnett JJ (2000) Emerging adulthood: a theory of development from the late teens through the twenties. Am Psychol 55:469–480

6.

Maccoby EE, Martin JA (1983) Socialization in the context of the family: parent–child interaction. In: Mussen PH, Hetherington EM (eds) Handbook of child psychology: socialization, personality, and social development, vol 4. Wiley, New York, pp 1–101

7.

Henderson CE, Dakof GA, Schwartz SJ, Liddle HA (2006) Family functioning, self-concept, and severity of adolescent externalizing problems. J Child Fam Stud 15:721–731

8.

McKinney C, Renk K (2008) Multivariate models of parent-late adolescent gender dyads: the importance of parenting processes in predicting adjustment. Child Psychiatry Hum Dev 39:147–170

9.

Paulussen-Hoogeboom MC, Stams GJJM, Hermanns JMA, Peetsma TTD, Wittenboer GLH (2008) Parenting style as a mediator between children's negative emotionality and problematic behavior in early childhood. J Genet Psychol 169:209–226

10.

Barnett MA, Quackenbush SW, Sinisi CS (1996) Factors affecting children's, adolescents', and young adults' perceptions of parental discipline. J Genet Psychol 157:411–424

11.

Hoffman ML (1963) Parent discipline and the child's consideration for others. Child Dev 34:573–588

12.

Straus MA (1994) Beating the devil out of them: corporal punishment in American families and its effects on children. Lexington Books, New York

13.

Day RD, Peterson GW, McCracken C (1998) Predicting spanking behavior of younger and older children by mothers and fathers. J Marriage Fam 60:79–94

14.

Manzeske DP, Stright AD (2009) Parenting styles and emotion regulation: the roles of behavioral and psychological control during young adulthood. J Adult Dev 16:223–229

15.

Kuppens S, Grietens H, Onghena P, Michiels D (2009) Relations between parental psychological control and childhood relational aggression: reciprocal in nature? J Clin Child Adolesc Psychol 38:117–131

16.

Pettit GS, Bates J, Dodge KA (1997) Supportive parenting, ecological context, and the children's adjustment: a seven-year long longitudinal study. Child Dev 68:908–923

17.

Krevans J, Gibbs JC (1996) Parents' use of inductive discipline: relations to children's empathy and prosocial behavior. Child Dev 67:3263–3277

18.

Laible D, Eye J, Carlo G (2008) Dimensions of conscience in mid-adolescence: links with social behavior, parenting, and temperament. J Youth Adolescence 37:875–887

19.

Fletcher AC, Walls JK, Cook E, Madison KJ, Bridges TH (2008) Parenting styles as a moderator of associations between maternal disciplinary strategies and child well-being. J Fam Issues 29:1724–1742

20.

Gfroerer K, Kern R, Curlette W (2004) Research support for individual psychology's parenting model. J Individ Psychol 61:379–388

21.

Bosco GL, Renk K, Dinger TM, Epstein MK, Phares V (2003) The connections between adolescents' perceptions of parents, parental psychological symptoms, and adolescent functioning. J Appl Dev Psychol 24:179–200

22.

McKinney C, Donnelly R, Renk K (2008) Perceived parenting, positive and negative perceptions of parents, and late adolescent emotional adjustment. Child Adolesc Ment Health 13:66–73

23.

Paulson SE, Sputa CL (1996) Patterns of parenting during adolescence: perceptions of adolescents and parents. J Adolesc 31:369–381

24.

Phares V, Fields S, Kamboukos D (2009) Fathers' and mothers' involvement with their adolescents. J Child Fam Stud 18:1–9

25.

Gryczkowski MR, Jordan SS, Mercer SH (2010) Differential relations between mothers' and fathers' parenting practices and child externalizing behavior. J Child Fam Stud 19:539–546

26.

Conrade G, Ho R (2001) Differential parenting styles for fathers and mothers: differential treatment for sons and daughters. Aust J Psychol 53:29–35

27.

Phares V (1999) "Poppa" psychology. Praeger Publishers, Westport

28.

McKee L, Roland E, Coffelt N, Olsen A, Forehand R, Massari C et al (2007) Harsh discipline and child problem behaviors: the roles of positive parenting and gender. J Fam Violence 22:187–196

29.

Milevsky A, Schlechter M, Netter S, Keehn D (2007) Maternal and paternal parenting styles in adolescents: associations with self-esteem, depression, and life satisfaction. J Fam Stud 16:39–47

30.

Agliata AK, Renk K (2008) College students' adjustment: the role of parent-college student expectation discrepancies and communication reciprocity. J Youth Adolesc 37:967–982

31.

Parker G, Tupling H, Brown LB (1979) A parental bonding instrument. Br J Med Psychol 52:1–10

32.

Buri JR (1991) Parental Authority Questionnaire. J Pers Assess 57:110–119

33.

Straus MA, Hamby SL, Finkelhor D, Moore DW, Runyan D (1998) Identification of child maltreatment with the parent-child conflict tactics scales: development and psychometric data for a national sample of American parents. Child Abuse Negl 22:249–270

34.

Rosenberg M (1965) Society and the adolescent self image. Princeton University Press, Princeton

35.

Beck AT, Steer RA, Brown GK (1996) Beck depression inventory: second edition manual. The Psychological Corporation, San Antonio

36.

Taylor JA (1953) A personality scale of manifest anxiety. J Abnorm Soc Psych 48:285–290

37.

Kline RB (1998) Principles and practice of structural equation modeling. The Guilford Press, New York

38.

Bentler PM (1992) On the fit of models to covariances and methodology to the bulletin. Psychol Bull 112:400–404

39.

Hu L, Bentler PM (1999) Cutoff criteria for fit indexes in covariance structure analysis: conventional criteria versus new alternatives. Stuct Equ Model 6:1–55

40.

James LR, Mulaik SS, Brett JM (1982) Causal analysis: assumptions, models, and data. Sage, Beverly Hills

41.

Anderson JC, Gerbing DW (1988) Structural equations modeling in practice: a review and recommended two-step approach. Psychol Bull 103:411–423

42.

Barry B, Stewart GL (1997) Composition, process, and performance in self-managed groups: the role of personality. J Appl Psychol 82:62–78

43.

Russell A, Saebel J (1997) Mother-son, mother-daughter, father-son, and father-daughter: are they distinct relationships? Dev Rev 17:111–147
About this article
Cite this article
McKinney, C., Milone, M.C. & Renk, K. Parenting and Late Adolescent Emotional Adjustment: Mediating Effects of Discipline and Gender. Child Psychiatry Hum Dev 42, 463–481 (2011). https://doi.org/10.1007/s10578-011-0229-2
Keywords
Parenting

Discipline

Gender

Late adolescents

Emotional adjustment