Abstract
Adolescent Latinas continue to report higher levels of suicide attempts than their African-American and White peers. The phenomenon is still not understood and is theorized to be the result of the confluence of many cultural, familial, and individual level factors. In Latino cultures, belief in the importance of the family, the value known as familism, appears to protect youth's emotional and behavioral health, but parent-adolescent conflict has been found to be a risk factor for suicide attempts. The role of familism in relation to parent-adolescent conflict, self-esteem, internalizing behaviors, and suicide attempts has not been studied extensively. To address this question, we interviewed 226 adolescent Latinas, 50% of whom had histories of suicide attempts. Using path analysis, familism as a cultural asset was associated with lower levels of parent-adolescent conflict, but higher levels of internalizing behaviors, while self-esteem and internalizing behaviors mediated the relationship between parent-adolescent conflict and suicide attempts. Our findings point to the importance of family involvement in culturally competent suicide prevention and intervention programs. Reducing parent-daughter conflict and fostering closer family ties has the added effect of improving self-esteem and shrinking the likelihood of suicide attempts.
This is a preview of subscription content,
to check access.
Access this article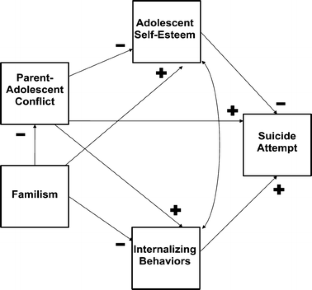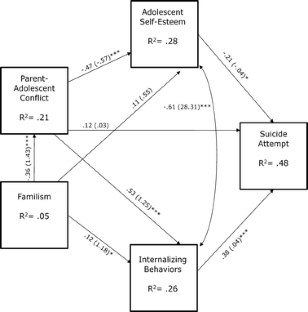 Similar content being viewed by others
Notes
We use the terms Hispanic and Latino or Latina interchangeably.
References
Centers for Disease Control and Prevention (2008) Youth online: comprehensive results. Available at: http://apps.nccd.cdc.gov/yrbss/

Substance Abuse Mental Health Services Administration (2003) Summary of findings from the 2000 National Household Survey on Drug Abuse. Department of Health and Human Services, Rockville

Zayas L, Pilat A (2008) Suicidal behavior in Latinas: explanatory cultural factors and implications for intervention. Suicide Life Threat 38(3):334–342

Hawton K, Harriss L, Zahl D (2006) Deaths from all causes in a long-term follow-up study of 11583 deliberate self-harm patients. Psychol Med 36(3):397–405

Zayas L, Lester R, Cabassa L, Fortuna L (2005) Why do so many Latina teens attempt suicide? A conceptual model for research. Am J Orthopsychiatry 75(2):275–287

Vygotsky LS (1978) Mind in society. Harvard University Press, Cambridge

Bronfenbrenner U (1986) Ecology of the family as a context for human development: research perspectives. Dev Psychol 22(6):723–742

Cooley C (2001) The relationship between familism and child maltreatment in Latino and Anglo families. Child Maltreat 6(2):130–142

Smokowski PR, Rose R, Bacallao ML (2008) Acculturation and Latino family processes: how cultural involvement, biculturalism, and acculturation gaps influence family dynamics. Fam Rel 57(3):295–308

Rodriguez JM, Kosloski K (1998) The impact of acculturation on attitudinal familism in a community of Puerto Rican Americans. Hisp J Beh Sci 20(3):375–390

Cauce AM, Domenech-Rodriguez M (2002) Latino families: myths and realities. In: Contreras JM, Kerns KA, Neal-Barnett AM (eds) Latino children and families in the United States. Greenwood, Westport, pp 3–26

Vega WA, Kolody B, Valle R, Weir J (1991) Social networks, social support, and their relationship to depression among immigrant Mexican women. Hum Organ 50(2):154–162

Gil AG, Wagner EF (2002) Acculturation, familism, and alcohol use among Latino adolescent males: longitudinal relations. J Commun Psychol 28:443–458

Smokowski PR, Bacallao ML (2006) Acculturation and aggression in Latino adolescents: a structural model focusing on cultural risk factors and assets. J Abnorm Child Psychol 34:657–671

Rodriguez N, Ramirez M, Korman M (1999) The transmission of values across generations of Mexican, Mexican American and European American families: implications for mental health. In: Sheets RH, Hollins ER (eds) Racial/ethnic identity and human development. Erlbaum, Mahwah, pp 7–28

Cuellar I, Arnold B, Gonzalez G (1995) Cognitive referents of acculturation: assessment of cultural constructs in Mexican Americans. J Commun Psychol 23(4):339–356

Ramirez JR, Crano WD, Quist R, Burgoon M, Alvaro EM, Grandpre J (2004) Acculturation, familism, parental monitoring, and knowledge as predictors of marijuana and inhalant use in adolescents. Psychol Addict Behav 18(1):3–11

Sabogal F, Marín G, Otero-Sabogal R, Marín BV, Perez-Stable EJ (1987) Hispanic familism and acculturation: what changes and what doesn't? Hisp J Behav Sci 9(4):397–412

Lugo Steidel A, Contreras J (2003) A new familism scale for use with Latino populations. Hisp J Behav Sci 25(3):312–330

Valenzuela A, Dornbusch SM (1994) Familism and social capital in the academic achievement of Mexican origin and Anglo adolescents. Soc Sci Q 75(1):18–36

Rodriguez RA, Henderson CE, Rowe CL, Burnett KF, Dakof GA, Liddle HA (2007) Acculturation and drug use among dually diagnosed Hispanic adolescents. J Ethn Subst Abuse 6(2):97–113

Steinberg L (2001) We know some things: parent-adolescent relationships in retrospect and prospect. J Res Adolesc 11(1):1–19

Smetana JG (1989) Adolescents' and parents' reasoning about actual family conflict. Child Dev 60:1052–1067

Feldman SS, Rosenthal DA (1990) The acculturation of autonomy expectations in Chinese high schoolers residing in two western nations. Int J Psychol 25(2):259–281

Bulcroft RA, Carmody DC, Bulcroft KA (1998) Family structure and patterns of independence giving to adolescents: variations by age, race, and gender of child. J Fam Issues 19(4):404–435

Fuligni AJ, Tseng V, Lam M (1999) Attitudes toward family obligations among American adolescents with Asian, Latin American, and European backgrounds. Child Dev 70(4):1030–1044

Portes A, Rumbaut RG (2001) Legacies: the story of the immigrant second generation. Univ of California Press, Berkeley

Allen JP, Hauser ST, Bell KL, O'Connor TG (1994) Longitudinal assessment of autonomy and relatedness in adolescent-family interactions as predictors of adolescent ego development and self-esteem. Child Dev 65(1):179–194

Baca Zinn M (1982) Chicano men and masculinity. J Ethn Stud 10(2):29–44

Kulis S, Marsiglia FF, Hurdle D (2003) Gender identity, ethnicity, acculturation, and drug use: exploring differences among adolescents in the Southwest. J Commun Psychol 31(2):167–188

Céspedes YM, Huey SJ Jr (2008) Depression in Latino adolescents: a cultural discrepancy perspective. Cultur Divers Ethnic Minor Psychol 14(2):168–172

Bakan D (1966) The duality of human existence: an essay on psychology and religion. Rand McNally, Chicago

Helgeson VS (1994) Relation of agency and communion to well-being: evidence and potential explanations. Psychol Bull 116:412–428

Davies PT, Lindsay LL (2004) Interparental conflict and adolescent adjustment: why does gender moderate early adolescent vulnerability? J Fam Psychol 18(1):160–170

Smokowski PR, Bacallao ML (2007) Acculturation, internalizing mental health symptoms, and self-esteem: cultural experiences of Latino adolescents in North Carolina. Child Psychiatry Hum Dev 37(3):273–292

Portes PR, Zady MF (2002) Self-esteem in the adaptation of Spanish-speaking adolescents: the role of immigration, family conflict and depression. Hisp J Beh Sci 24(3):296–318

Breton JJ, Tousignant M, Bergeron L, Berthiaume C (2002) Informant-specific correlates of suicidal behavior in a community survey of 12-to 14-year-olds. J Am Acad Child Adolesc Psychiatry 41(6):723–730

Randell B, Wang W, Herting J, Eggert L (2006) Family factors predicting categories of suicide risk. J Child Fam Stud 15(3):255–270

Johnson JG, Cohen P, Gould MS, Kasen S, Brown J, Brook JS (2002) Childhood adversities, interpersonal difficulties, and risk for suicide attempts during late adolescence and early adulthood. Arch Gen Psychiatry 59(8):741–749

Allison S, Pearce C, Martin G, Miller K, Long R (1995) Parental influence, pessimism and adolescent suicidality. Arch Suicide Res 1(4):229–242

Toumbourou JW, Gregg ME (2002) Impact of an empowerment-based parent education program on the reduction of youth suicide risk factors. J Adol Health 31(3):277–285

Gould MS, Greenberg T, Velting DM, Shaffer D (2003) Youth suicide risk and preventive interventions: a review of the past 10 years. J Am Acad Child Adolesc Psychiatry 42(4):386–405

Kovacs M, Goldston D, Gatsonis C (1993) Suicidal behaviors and childhood-onset depressive disorders: a longitudinal investigation: longitudinal studies of depressive disorders in children. J Am Acad Child Adolesc Psychiatry 32(1):8–20

Spirito A, Francis G, Overholser J, Frank N (1996) Coping, depression, and adolescent suicide attempts. J Clin Child Adol Psychol 25(2):147–155

Guiao IZ, Esparza D (1995) Suicidality correlates in Mexican American teens. Issues Ment Health Nurs 16(5):461–479

Swanson JW, Linskey AO, Quintero-Salinas R, Pumariega AJ, Holzer C (1992) Depressive symptoms, drug use and suicidal ideation among youth in the Rio Grande valley: a bi-national school survey. J Am Acad Child Adolesc Psychiatry 31(4):669–678

Dukes RL, Lorch B (1989) The effects of school, family, self-concept, and deviant behaviour on adolescent suicide ideation. J Adolesc 12(3):239–251

Campbell NB, Milling L, Laughlin A, Bush E (1993) The psychosocial climate of families with suicidal pre-adolescent children. Am J Orthopsychiatry 63:142–145

Razin AM, O'Dowd MA, Nathan A, Rodriguez I, Goldfield A, Martin C et al (1991) Suicidal behavior among inner-city Hispanic adolescent females. Gen Hosp Psychiatry 13(1):45–58

Shagle SC, Barber BK (1993) Effects of family, marital, and parent-child conflict on adolescent self-derogation and suicidal ideation. J Marriage Fam 55(4):964–974

Roberts RE, Roberts CR, Xing Y (2007) Are Mexican American adolescents at greater risk of suicidal behaviors? Suicide Life Threat 37(1):10–21

Vega WA, Gil AG, Zimmerman RS, Warheit GJ (1993) Risk factors for suicidal behavior among Hispanic, African–American, and non-Hispanic white boys in early adolescence. Ethn Dis 3(3):229–241

Duarté-Vélez Y, Bernal G (2007) Suicide behavior among Latino and Latina adolescents: conceptual and methodological issues. Death Stud 31(5):425–455

Carlson GA, Asarnow JR, Orbach I (1987) Developmental aspects of suicidal behavior in children: I. J Am Acad Child Adolesc Psychiatry 26(2):186–192

Ng B (1996) Characteristics of 61 Mexican American adolescents who attempted suicide. Hisp J Beh Sci 18(1):3–12

Sabo D, Miller KE, Melnick MJ, Farrell MP, Barnes GM (2005) High school athletic participation and adolescent suicide: a nationwide US study. Int Rev Sociol Sport 40(1):1–5

O'carroll PW, Berman AL, Maris RW, Moscicki EK, Tanney BL, Silverman MM (1996) Beyond the tower of Babel: a nomenclature for suicidology. Suicide Life Threat 26(3):237–252

Rosenberg M (1979) Conceiving the self. Basic Books, New York

Achenbach TM (1991) Manual for the child behavior Checklist/4–18 and 1991 profile. Univ of Vermont, Dept Psychol, Burlington

Robin AL, Foster SL (1989) Negotiating parent-adolescent conflict: a behavioral-family systems approach. Guilford Press, New York

Muthén LK, Muthén BO (2006) Version 5 Mplus user's guide. Muthén & Muthén, Los Angeles

Collins LM, Schafer JL, Kam CM (2001) A comparison of inclusive and restrictive strategies in modern missing data procedures: New approaches to missing data. Psychol Methods 6(4):330–351

Royston P (2004) Multiple imputation of missing values. Stata J 4:227–241

Kline RB (2005) Principles and practice of structural equation modeling. The Guilford Press, New York

Gunlicks-Stoessel ML, Powers SI (2008) Adolescents' emotional experiences of mother-adolescent conflict predict internalizing and externalizing symptoms. J Res Adolesc 18(4):621–642

Parker JS, Benson MJ (2004) Parent-adolescent relations and adolescent functioning: Self-esteem, substance abuse, and delinquency. Adolescence 39(155):519–531

Li CE, DiGiuseppe R, Froh J (2006) The roles of sex, gender, and coping in adolescent depression. Adolescence 41(163):409–415

Elder JP, Broyles SL, Brennan JJ, de Nuncio MLZ, Nader PR (2005) Acculturation, parent–child acculturation differential, and chronic disease risk factors in a Mexican-American population. J Immigr Health 7(1):1–9

McDonald EJ, McCabe K, Yeh M, Lau A, Garland A, Hough RL (2005) Cultural affiliation and self-esteem as predictors of internalizing symptoms among Mexican American adolescents. J Clin Child Adolesc Psychol 34(1):163–171

Lee A, Hankin BL (2009) Insecure attachment, dysfunctional attitudes, and low self-esteem predicting prospective symptoms of depression and anxiety during adolescence. J Clin Child Adolesc Psychol 38(2):219–231

Umana-Taylor AJ, Updegraff KA (2007) Latino adolescents' mental health: exploring the interrelations among discrimination, ethnic identity, cultural orientation, self-esteem, and depressive symptoms. J Adolesc 30(4):549–567

Phinney JS, Cantu CL, Kurtz DA (1997) Ethnic and American identity as predictors of self-esteem among African American, Latino, and white adolescents. J Youth Adolesc 26:165–185

Rossello J, Bernal G (1999) The efficacy of cognitive-behavioral and interpersonal treatments for depression in Puerto Rican adolescents. J Consult Clin Psychol 67:734–745
Acknowledgments
Support for this paper was provided by grant R01 MH070689 from the National Institute of Mental Health to Luis H. Zayas. Additional support was provided by the Center for Latino Family Research. We extend our gratitude to the adolescent girls and their families who participated in this study.
About this article
Cite this article
Kuhlberg, J.A., Peña, J.B. & Zayas, L.H. Familism, Parent-Adolescent Conflict, Self-Esteem, Internalizing Behaviors and Suicide Attempts Among Adolescent Latinas. Child Psychiatry Hum Dev 41, 425–440 (2010). https://doi.org/10.1007/s10578-010-0179-0
Published:

Issue Date:

DOI: https://doi.org/10.1007/s10578-010-0179-0
Keywords