Abstract
Although many studies examine the biological phenomena that mediate the relationship between stress and illness, more research is needed regarding psychological variables that may mediate this relationship. Thus, the current study investigates the mediating effects of locus of control and self-efficacy in the relationships among stress, illness, and the utilization of health services in a sample of 159 college students. Results suggest that participants who endorse higher levels of stress also endorse higher levels of illness, higher levels of external locus of control, and lower levels of self-efficacy. In addition, structural equation modeling suggests that there are direct relationships between stress and illness and between illness and the utilization of health services. Further, locus of control appears to be a partial mediator in the relationship between stress and illness. Given the link established between stress and illness and the individual differences associated with reactions to stressful situations, it is important for future examinations to continue to identify potential mediators of the stress-illness link.
Access options
Buy single article
Instant access to the full article PDF.
USD 39.95
Price includes VAT (USA)
Tax calculation will be finalised during checkout.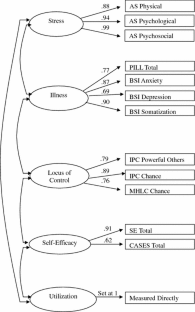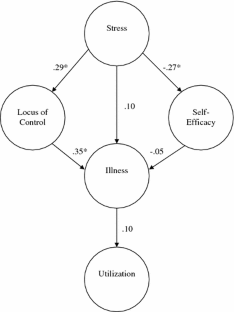 References
1.

Lazarus RS, Folkman S (1984) Stress, appraisal, and coping. Springer, New York

2.

Horner K (1996) Locus of control, neuroticism, and stressors: combined influences on reported physical illness. Pers Individ Dif 21:195–204

3.

Lazarus RS (1966) Psychological stress and the coping process. McGraw-Hill, New York

4.

Shapiro DH, Schwartz CE, Astin JA (1996) Controlling ourselves, controlling our world. Am Psychol 51:1213–1230

5.

Seligman MEP (1991) Learned optimism. Knopf, New York

6.

Cunningham AJ, Lockwood GA, Cunningham JA (1990) A relationship between perceived self-efficacy and quality of life in cancer patients. Patient Educ Couns 17:71–88

7.

Thompson S (1981) Will it hurt less if I can control it? A complex answer to a simple question. Psychol Bull 90:89–101

8.

Rotter JB (1966) Generalized expectancies for internal versus external control of reinforcement. Psychol Monogr 80:1–28

9.

Levenson H (1974) Activism and powerful other: distinctions within the concept of internal-external control. J Pers Assess 38:377–383

10.

Levenson H (1981) Differentiating among internality, powerful others, and chance. In: Lefcourt HM (ed) Research with the locus of control construct: assessment methods. Academic Press, New York, pp 15–63

11.

Wallston KA, Wallston BS, DeVellis R (1978) Development of the multidimensional health locus of control scale. Health Educ Monogr 6:160–170

12.

Murphy LMB, Thompson JR, Morris MA (1997) Adherence behavior among adolescents with type I insulin-dependent diabetes mellitus: the role of cognitive appraisal processes. J Pediatr Psychol 22:811–925

13.

Smith CA, Dobbins CJ, Wallston KA (1998) The mediational role of perceived competence in psychological adjustment to rheumatoid arthritis. J Appl Soc Psychol 21:1218–1247

14.

Bandura A (1977) Self-efficacy: toward a unifying theory of behavioral change. Psychol Rev 84:191–215

15.

Wiedenfeld SA, Bandura A, Levine S, O'Leary A, Brown S, Raska K (1990) Impact of perceived self-efficacy in coping with stressors on components of the immune system. J Pers Soc Psychol 59:1082–1094

16.

Shelley M, Pakenham KI (2004) External health locus of control and general self-efficacy: moderators of emotional distress among university students. Aust J Psychol 56:191–199

17.

Bollini AM, Walker EF, Hamann S, Kestler L (2004) The influence of perceived control and locus of control on the cortisol and subjective responses to stress. Biol Psychol 67:245–260

18.

Abouserie R (1994) Sources and levels of stress in relation to locus of control and self-esteem in university students. Educ Psychol 14:323–331

19.

Gadzella B (1994) Locus of control differences among stress groups. Percept Mot Skills 79:1619–1624

20.

Oaten M, Cheng K (2005) Academic examination stress impairs self-control. J Soc Clin Psychol 24:254–279

21.

Roghmann KJ, Haggerty RJ (1973) The diary as a research instrument in the study of health and illness behavior. Med Care 10:143–163

22.

Tessler R, Mechanic D, Dimond M (1976) The effect of psychological distress on physician utilization: a prospective study. J Health Soc Behav 17:353–364

23.

Gortmaker SL, Eckenrode J, Gore S (1982) Stress and the utilization of health services: a time series and cross-sectional analysis. J Health Soc Behav 23:25–38

24.

Segerstrom SC, Miller GE (2004) Psychological stress and the human immune system: a meta-analytic study of 30 years of inquiry. Psychol Bull 130:601–630

25.

Digest of Education Statistics (2008) Retrieved December 27, 2009, from http://nces.ed.gov/programs/digest/d08/tables/dt08_314.asp

26.

Ostertag PA, McNamara JR (1991) "Feminization" of psychology: the changing sex ratio and its implications for the profession. Psychol Women Q 15:349–369

27.

Olos L, Hoff E (2006) Gender ratios in European psychology. Eur Psychol 11:1–11

28.

Cohen S, Kamarck T, Mermelstein R (1983) A global measure of perceived stress. J Health Soc Behav 24:385–396

29.

Kohn JP, Frazer GH (1986) An academic stress scale: identification and rated importance of academic stressors. Psychol Rep 59:415–426

30.

Stanton WR, Raja S, Langley J (1995) Stability in the structure of health locus of control among adolescents. Br J Clin Psych 34:279–287

31.

Sherer M, Maddux JE, Mercandante B, Prentice-Dunn S, Jacobs B, Rojers RW (1982) The self-efficacy scale: construction and validation. Psychol Rep 51:663–671

32.

Endler NS, Kocovski NL, Macrodimitris SD (2001) Coping, efficacy, and perceived control in acute vs chronic illnesses. Pers Individ Dif 30:617–625

33.

Owen SV, Froman RD (1988) Development of a college academic self-efficacy scale. Paper presented at the annual meeting of the national council on measurement in education, New Orleans LA

34.

Derogatis LR (1993) Brief symptom inventory: administration, scoring, and procedures manual. NCS Pearson, Minneapolis

35.

Pennebaker JW (1982) The psychology of physical symptoms. Springer, New York

36.

MacGeorge EL, Samter W, Feng B, Gillihan SJ, Graves AR (2004) Stress, social support, and health among college students after September 11, 2001. J Coll Stud Dev 45:655–670

37.

Kline RB (1998) Principles and practice of structural equation modeling. The Guilford Press, New York

38.

Bentler PM (1992) On the fit of models to covariances and methodology to the Bulletin. Psychol Bull 112:400–404

39.

James LR, Mulaik SS, Brett JM (1982) Causal analysis: assumptions, models, and data. Sage Publications, Beverly Hills

40.

Anderson JC, Gerbing DW (1988) Structural equations modeling in practice: a review and recommended two-step approach. Psychol Bull 103:411–423

41.

Arnett JJ (2000) Emerging adulthood: a theory of development from the late teens through the twenties. Am Psychol 55:469–480

42.

Kandrack M, Grant KR, Segall A (1991) Gender differences in health related behaviour: some unanswered questions. Soc Sci Med 32:579–590

43.

Liang W, Shediac-Rizkallah MC, Celentano DD, Rohde C (1999) A population-based study of age and gender differences in patterns of health-related behaviors. Am J Prev Med 17:8–17

44.

Shumaker SA, Hill DR (1991) Gender differences in social support and physical health. Health Psychol 10:102–111

45.

Bird CE, Rieker PP (1999) Gender matters: an integrated model for understanding men's and women's health. Soc Sci Med 48:745–755
Acknowledgments
This manuscript is based on the dissertation of the first author under the supervision of the second author. Special thanks to Cliff McKinney, Ph.D., who consulted on this statistics for this project.
About this article
Cite this article
Roddenberry, A., Renk, K. Locus of Control and Self-Efficacy: Potential Mediators of Stress, Illness, and Utilization of Health Services in College Students. Child Psychiatry Hum Dev 41, 353–370 (2010). https://doi.org/10.1007/s10578-010-0173-6
Keywords
Locus of control

Self-efficacy

Stress

Illness