Abstract
Childhood cruelty to animals is a symptom of conduct disorder that has been linked to the perpetration of violence in later life. Research has identified several factors associated with its etiology, including social factors. However, no cross-cultural studies on this phenomenon have been reported. This study investigated childhood cruelty to animals in Japan, Australia and Malaysia. Parents of 1,358 children between the ages of 5 and 13 years completed the Children's Attitudes and Behaviours towards Animals questionnaire (CABTA) which assesses Typical and Malicious Cruelty to animals. Analyses revealed no overall differences between children from these countries on either scale. However, younger boys were more likely to be cruel than younger girls in each country, and younger children in Australia and Japan were more likely to be cruel that older children in those countries. The findings are discussed in relation to previous research, and recommendations for future studies are suggested.
Access options
Buy single article
Instant access to the full article PDF.
US$ 39.95
Tax calculation will be finalised during checkout.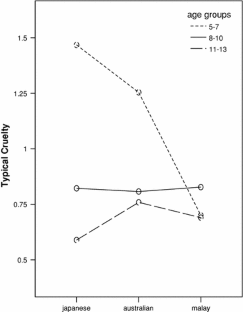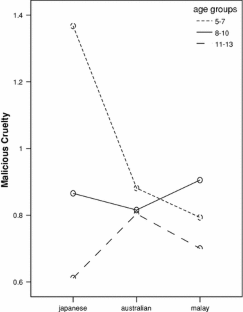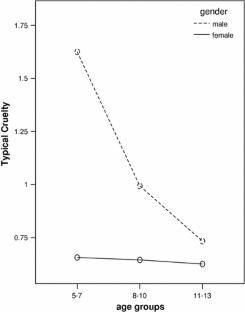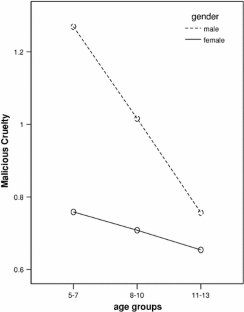 References
1.

Merz-Perez L, Heide K, Silverman IJ (2001) Childhood cruelty to animals and subsequent violence against humans. Int J Offender Ther Comp Criminol 25:556–573. doi:10.1177/0306624X01455003

2.

Felthous AR, Yudowitz B (1977) Approaching a comparative typology of assaultive female offenders. Psychiatry 40:270–276

3.

Miller KS, Knutson JF (1997) Reports of severe physical punishment and exposure to animal cruelty by inmates convicted of felonies and by university students. Child Abuse Negl 21:59–82. doi:10.1016/S0145-2134(96)00131-7

4.

Schiff K, Louw D, Ascione FR (1999) Animal relations in childhood and later violent behaviour against humans. Acta Criminologica 12:77–86

5.

Ascione FR (1999) The abuse of animals and human interpersonal violence: making the connection. In: Ascione FR, Arkow P (eds) Child abuse, domestic violence, and animal abuse: linking the circles of compassion for prevention and intervention. Purdue University Press, West Lafayette, pp 50–61

6.

Ascione FR, Thompson TM, Black T (1997) Childhood cruelty to animals: assessing cruelty dimensions and motivations. Anthrozoos 10:170–177. doi:10.2752/089279397787001076

7.

Flynn CP (1999) Animal abuse in childhood and later support for interpersonal violence in families. Soc Anim 7:161–171. doi:10.1163/156853099X00059

8.

Flynn CP (1999) Exploring the link between corporal punishment and children's cruelty to animals. J Marr Fam 61:971–981. doi:10.2307/354017

9.

DeViney E, Dickert J, Lockwood R (1983) The care of pets within child abusing families. Int J Study Anim Probl 4:321–329

10.

Friedrich WN (1997) Child sexual behavior inventory: professional manual. Psychological Assessment Resources, Odessa

11.

McClellan J, Adams J, Douglas D, McCurry C, Storck M (1995) Clinical characteristics related to severity of sexual abuse: a study of seriously mentally ill youth. Child Abuse Negl 19:1245–1254. doi:10.1016/0145-2134(95)00087-O

12.

Wherry JN, Jolly JB, Feldman J, Adam B, Manjanatha S (1995) Child sexual abuse inventory scores for inpatient psychiatric boys: an exploratory study. J Child Sex Abuse 4:95–105. doi:10.1300/J070v04n03_07

13.

Ascione FR (1998) Battered women's reports of their partners' and their children's cruelty to animals. J Emot Abuse 1:119–133. doi:10.1300/J135v01n01_06

14.

Ascione FR (2000) What veterinarians need to know about the link between animal abuse and interpersonal violence. In: Proceedings of the 137th Annual Meeting of the American Veterinary Medical Association, Salt Lake City, UT, July 25, 2000 (CD–ROM records #316–317)

15.

Flynn CP (2000) Woman's best friend: pet abuse and the role of companion animals in the lives of battered women. Violence Against Women 6:162–177. doi:10.1177/10778010022181778

16.

Ascione FR (2001) Animal abuse and youth violence. Office of Juvenile Justice and Delinquency Prevention Juvenile Justice Bulletin, September. US Department of Justice, Washington DC

17.

Flynn CP (2001) Acknowledging the "zoological connection": a sociological analysis of animal cruelty. Soc Anim 9:71–87. doi:10.1163/156853001300109008

18.

Oliver E (2002) Animal welfare in Japan. Animal People November 2, 6

19.

Fackler M (2006) Japan, home of the cute and inbred dog. New York Times. December 28

20.

Karasaki T, Saito J (1999) A pet's life in Japan—unloved, abandoned, destroyed. Revised law designed to give pets better lives. Asahi Evening News, December 09. Available at http://www.aapn.org/japandogs.html

21.

Al-Kaysı MI (1986) Morals and manners in Islam: a guide to Islamic Ādāb. Islamic Foundation, Leicester

22.

Banderker AM (undated) Dogs in Islam. Animal voice. Available at http://www.islamicconcern.com/dogs.asp

23.

Clarke R (2001) Animal abuse: legislation in Australia/Pacific Region. Paper presented at World Small Animal Veterinary Association World Congress, Vancouver

24.

Australian Companion Animal Council (2007) Pet ownership statistics. Available at http://www.acac.org.au/

25.

Guymer E, Mellor D, Luk E, Pearse V (2001) The development of a screening questionnaire for childhood cruelty to animals. J Child Psychol Psychiatry 42:1057–1063. doi:10.1111/1469-7610.00805

26.

Mellor D, Yeow J, Mamat MH, Binti Mohd Hapidzal NF (2008) The relationship between childhood cruelty to animals and psychological adjustment: a Malaysian study. Anthrozoos 21:363–374. doi:10.2752/175303708X371582

27.

Goodman R (1997) The strengths and difficulties questionnaire: a research note. J Child Psychol Psychiatry 38:581–586. doi:10.1111/j.1469-7610.1997.tb01545.x

28.

Hay DF (2007) The gradual emergence of sex differences in aggression: alternative hypotheses. Psychol Med 37:1527–1537. doi:10.1017/S0033291707000165

29.

Maccoby EE, Jacklin C (1974) The psychology of sex differences. Stanford University Press, Stanford

30.

Achenbach TM, Howell, CT, Quay HC, Conners CK (1991) National survey of problems and competencies among four to sixteen-year-olds. Mon of the Soc for Res in Child Dev 56: Serial No. 255

31.

Flynn CP (2000) Why family professionals can no longer ignore violence toward animals. Fam Relat 49:87–95. doi:10.1111/j.1741-3729.2000.00087.x

32.

Tapia F (1971) Children who are cruel to animals. Child Psychiatry Hum Dev 2(2):70–77. doi:10.1007/BF01434639

33.

Rigdon JD, Tapia F (1977) Children who are cruel to animals—a follow-up study. J Oper Psychiatr 8(1):27–36

34.

Felthous AR, Kellert SR (1987) Psychosocial aspects of selecting animal species for physical abuse. J Sci 32:1713–1723

35.

Kellert SR, Felthous AR (1985) Childhood cruelty toward animals among criminals and noncriminals. Hum Relat 38:1113–1129. doi:10.1177/001872678503801202

36.

Offord DR, Boyle MH, Racine YA (1991) The epidemiology of antisocial behavior in childhood and adolescence. In: Pepler DJ, Rubin KH (eds) The development and treatment of childhood aggression. Lawrence Erlbaum and Associates, Hillsdale, pp 31–54

37.

Weisz JR, McCarty CA (1999) Can we trust parent reports in research on cultural and ethnic differences in child psychopathology? Using the bicultural family design to test parental culture effects. J Abnorm Psychol 108:598–605. doi:10.1037/0021-843X.108.4.598

38.

Weisz JR, McCarty CA, Eastman KL, Chaiyasit W, Suwanlert S (1997) Developmental psychology and culture: ten lessons from Thailand. In: Luthar SS, Burak JA, Cicchetti D, Weisz JR (eds) Developmental psychopathology: perspectives on adjustment risk and disorder. Cambridge University Press, Cambridge, pp 568–592
Acknowledgments
The authors would like to thank Yoko Hayashi, I. Ogawa and A. Muramatsu for assistance in translating of the CABTA into Japanese, and Emily Goh for assistance in translating the measure in Bahasa Malaysia. Our thanks also go to the schools and parents who participated in the project, and to the students at Teikyo University of Science and Technology for their help in data collection. Finally, we wish to acknowledge the source of the Japanese pet ownership data cited in this paper. The data were collected by Pet Food Manufactures Association, Japan, and are can be viewed online at http://www.jppfma.org/shiryo/shiryo-set.html.
About this article
Cite this article
Mellor, D., Yeow, J., Hapidzal, N.F.M. et al. Childhood Cruelty to Animals: A Tri-national Study. Child Psychiatry Hum Dev 40, 527–541 (2009). https://doi.org/10.1007/s10578-009-0142-0
Received:

Accepted:

Published:

Issue Date:
Keywords
Childhood

Cruelty to animals

Australia

Japan

Malaysia