Abstract
Stress-coping strategies have been implicated in depression. The control of stress coping may improve the symptom and higher prevalence of depression during the postpartum period in women. However, the neuronal mechanisms underlying stress coping remain to be fully elucidated in postpartum women. In this study, we examined how locus coeruleus-noradrenergic (LC-NA) neurons, which have been associated with both stress coping and depression, regulate changes in coping style induced by subchronic exposure to unfamiliar male mice as a social threat in postpartum female mice. In contrast to virgin females, dams exposed to unfamiliar males daily for four consecutive days showed reduced immobility duration in the forced swim test, indicating that exposure to unfamiliar males decreased passive stress coping in dams. Exposure to unfamiliar males also decreased sucrose palatability in the sucrose preference test and suppressed the crouching behavior in the maternal care test but did not affect anxiety-like behavior in the hole-board test in dams. In fiber photometry analyses, LC-NA neurons showed differential activity between dams and virgin females in response to unfamiliar males. Chemogenetic inhibition of LC-NA neurons during exposure to unfamiliar males prevented the social threat-induced decrease in immobility duration in the forced swim test in dams. Furthermore, inhibition or activation of LC-NA neurons exacerbated crouching behavior in dams. These results indicate that LC-NA neurons regulate the social threat-induced decrease in passive stress coping and relieve social threat-induced inhibition of maternal care in postpartum female mice.
Access options
Buy single article
Instant access to the full article PDF.
USD 39.95
Price excludes VAT (USA)
Tax calculation will be finalised during checkout.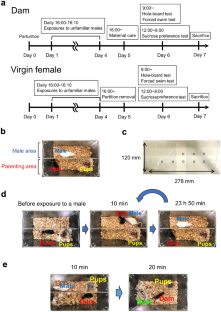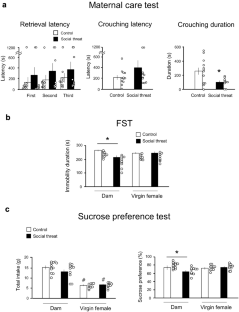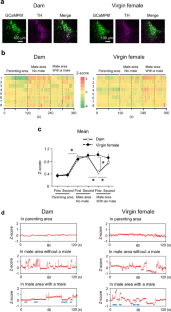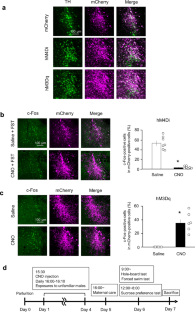 Data Availability
Data supporting the main findings and conclusions of this study are included in the article. All datasets and analyses used in this study are available from the corresponding author upon request.
References
Aston-Jones G, Cohen JD (2005) An integrative theory of locus coeruleus-norepinephrine function: adaptive gain and optimal performance. Annu Rev Neurosci 28:403–450. https://doi.org/10.1146/annurev.neuro.28.061604.135709

Borodovitsyna O, Duffy BC, Pickering AE, Chandler DJ (2020) Anatomically and functionally distinct locus coeruleus efferents mediate opposing effects on anxiety-like behavior. Neurobiol Stress 13:100284. https://doi.org/10.1016/j.ynstr.2020.100284

Brummelte S, Galea LA (2016) Postpartum depression: Etiology, treatment and consequences for maternal care. Horm Behav 77:153–166. https://doi.org/10.1016/j.yhbeh.2015.08.008

Chen TW, Wardill TJ, Sun Y, Pulver SR, Renninger SL, Baohan A, Schreiter ER, Kerr RA, Orger MB, Jayaraman V, Looger LL, Svoboda K, Kim DS (2013) Ultrasensitive fluorescent proteins for imaging neuronal activity. Nature 499(7458):295–300. https://doi.org/10.1038/nature12354

Choi NG, Hegel MT, Sirrianni L, Marinucci ML, Bruce ML (2012) Passive coping response to depressive symptoms among low-income homebound older adults: does it affect depression severity and treatment outcome? Behav Res Ther 50(11):668–674. https://doi.org/10.1016/j.brat.2012.07.003

Commons KG, Cholanians AB, Babb JA, Ehlinger DG (2017) The rodent forced swim test measures stress-coping strategy. Not Depress-like Behav ACS Chem Neurosci 8(5):955–960. https://doi.org/10.1021/acschemneuro.7b00042

Doucet EL, Bobadilla AC, Houades V, Lanteri C, Godeheu G, Lanfumey L, Sara SJ, Tassin JP (2013) Sustained impairment of alpha2A-adrenergic autoreceptor signaling mediates neurochemical and behavioral sensitization to amphetamine. Biol Psychiatry 74(2):90–98. https://doi.org/10.1016/j.biopsych.2012.11.029

Dvorkin R, Shea SD (2022) Precise and pervasive phasic bursting in locus coeruleus during maternal behavior in mice. J Neurosci 42(14):2986–2999. https://doi.org/10.1523/JNEUROSCI.0938-21.2022

Espana RA, Berridge CW (2006) Organization of noradrenergic efferents to arousal-related basal forebrain structures. J Comp Neurol 496(5):668–683. https://doi.org/10.1002/cne.20946

Fan Y, Chen P, Li Y, Zhu MY (2013) Effects of chronic social defeat on expression of dopamine beta-hydroxylase in rat brains. Synapse 67(6):300–312. https://doi.org/10.1002/syn.21641

Faul F, Erdfelder E, Buchner A, Lang AG (2009) Statistical power analyses using G*Power 3.1: tests for correlation and regression analyses. Behav Res Methods 41(4):1149–1160. https://doi.org/10.3758/BRM.41.4.1149

Fox ME, Bucher ES, Johnson JA, Wightman RM (2016) Medullary norepinephrine projections release norepinephrine into the contralateral bed nucleus of the stria terminalis. ACS Chem Neurosci 7(12):1681–1689. https://doi.org/10.1021/acschemneuro.6b00210

Guo P, El-Gohary Y, Prasadan K, Shiota C, Xiao X, Wiersch J, Paredes J, Tulachan S, Gittes GK (2012) Rapid and simplified purification of recombinant adeno-associated virus. J Virol Methods 183(2):139–146. https://doi.org/10.1016/j.jviromet.2012.04.004

Gutierrez-Lobos K, Scherer M, Anderer P, Katschnig H (2002) The influence of age on the female/male ratio of treated incidence rates in depression. BMC Psychiatry 2:3. https://doi.org/10.1186/1471-244x-2-3

Gutierrez-Zotes A, Labad J, Martin-Santos R, Garcia-Esteve L, Gelabert E, Jover M, Guillamat R, Mayoral F, Gornemann I, Canellas F, Gratacos M, Guitart M, Roca M, Costas J, Luis Ivorra J, Navines R, de Diego-Otero Y, Vilella E, Sanjuan J (2015) Coping strategies and postpartum depressive symptoms: a structural equation modelling approach. Eur Psychiatry 30(6):701–708. https://doi.org/10.1016/j.eurpsy.2015.06.001

Hahn-Holbrook J, Holbrook C, Haselton MG (2011) Parental precaution: neurobiological means and adaptive ends. Neurosci Biobehav Rev 35(4):1052–1066. https://doi.org/10.1016/j.neubiorev.2010.09.015

Hammond KA, Lloyd KC, Diamond J (1996) Is mammary output capacity limiting to lactational performance in mice? J Exp Biol 199(Pt 2):337–349. https://doi.org/10.1242/jeb.199.2.337

Hare BD, Shinohara R, Liu RJ, Pothula S, DiLeone RJ, Duman RS (2019) Optogenetic stimulation of medial prefrontal cortex Drd1 neurons produces rapid and long-lasting antidepressant effects. Nat Commun 10(1):223. https://doi.org/10.1038/s41467-018-08168-9

Harris AZ, Atsak P, Bretton ZH, Holt ES, Alam R, Morton MP, Abbas AI, Leonardo ED, Bolkan SS, Hen R, Gordon JA (2018) A novel method for chronic social defeat stress in female mice. Neuropsychopharmacology 43(6):1276–1283. https://doi.org/10.1038/npp.2017.259

Iniguez SD, Riggs LM, Nieto SJ, Dayrit G, Zamora NN, Shawhan KL, Cruz B, Warren BL (2014) Social defeat stress induces a depression-like phenotype in adolescent male c57BL/6 mice. Stress 17(3):247–255. https://doi.org/10.3109/10253890.2014.910650

Isogai Y, Wu Z, Love MI, Ahn MH, Bambah-Mukku D, Hua V, Farrell K, Dulac C (2018) Multisensory logic of infant-directed aggression by males. Cell 175(7):1827–18411817. https://doi.org/10.1016/j.cell.2018.11.032

Itoi K, Sugimoto N (2010) The brainstem noradrenergic systems in stress, anxiety and depression. J Neuroendocrinol 22(5):355–361. https://doi.org/10.1111/j.1365-2826.2010.01988.x

Jones PM, Robinson IC, Harris MC (1983) Release of oxytocin into blood and cerebrospinal fluid by electrical stimulation of the hypothalamus or neural lobe in the rat. Neuroendocrinology 37(6):454–458. https://doi.org/10.1159/000123592

Kijima T, Muroi Y, Ishii T (2021) Regulation of maternal care by corticotropin-releasing factor receptors in the dorsal raphe nucleus in mice. Behav Neurosci 135(3):359–368. https://doi.org/10.1037/bne0000374

Kornstein SG, Sloan DM, Thase ME (2002) Gender-specific differences in depression and treatment response. Psychopharmacol Bull 36(4):99–112

Krashes MJ, Koda S, Ye C, Rogan SC, Adams AC, Cusher DS, Maratos-Flier E, Roth BL, Lowell BB (2011) Rapid, reversible activation of AgRP neurons drives feeding behavior in mice. J Clin Invest 121(4):1424–1428. https://doi.org/10.1172/JCI46229

Krukoff TL (1999) c-fos Expression as a marker of functional activity in the brain. Cell neuromethods techniques. Neuromethods, vol 33. Humana Press, New Jersey. https://doi.org/10.1385/0-89603-510-7:213

Leonhardt M, Matthews SG, Meaney MJ, Walker CD (2007) Psychological stressors as a model of maternal adversity: diurnal modulation of corticosterone responses and changes in maternal behavior. Horm Behav 51(1):77–88. https://doi.org/10.1016/j.yhbeh.2006.08.008

Leys C, Schumann S (2010) A nonparametric method to analyze interactions: the adjusted rank transform test. J Exp Soc Psychol 46(4):684–688. https://doi.org/10.1016/j.jesp.2010.02.007

Lin SH, Miyata S, Matsunaga W, Kawarabayashi T, Nakashima T, Kiyohara T (1998) Metabolic mapping of the brain in pregnant, parturient and lactating rats using fos immunohistochemistry. Brain Res 787(2):226–236. https://doi.org/10.1016/s0006-8993(97)01484-4

Liu MY, Yin CY, Zhu LJ, Zhu XH, Xu C, Luo CX, Chen H, Zhu DY, Zhou QG (2018) Sucrose preference test for measurement of stress-induced anhedonia in mice. Nat Protoc 13(7):1686–1698. https://doi.org/10.1038/s41596-018-0011-z

Macbeth AH, Luine VN (2010) Changes in anxiety and cognition due to reproductive experience: a review of data from rodent and human mothers. Neurosci Biobehav Rev 34(3):452–467. https://doi.org/10.1016/j.neubiorev.2009.08.011

MacLaren DA, Browne RW, Shaw JK, Krishnan Radhakrishnan S, Khare P, Espana RA, Clark SD (2016) Clozapine N-oxide administration produces behavioral effects in long-evans rats: implications for designing DREADD experiments. eNeuro. https://doi.org/10.1523/ENEURO.0219-16.2016

Matsushita N, Kobayashi K, Miyazaki J, Kobayashi K (2004) Fate of transient catecholaminergic cell types revealed by site-specific recombination in transgenic mice. J Neurosci Res 78(1):7–15. https://doi.org/10.1002/jnr.20229

McCall JG, Al-Hasani R, Siuda ER, Hong DY, Norris AJ, Ford CP, Bruchas MR (2015) CRH engagement of the locus coeruleus noradrenergic system mediates stress-induced anxiety. Neuron 87(3):605–620. https://doi.org/10.1016/j.neuron.2015.07.002

Melia KR, Rasmussen K, Terwilliger RZ, Haycock JW, Nestler EJ, Duman RS (1992) Coordinate regulation of the cyclic AMP system with firing rate and expression of tyrosine hydroxylase in the rat locus coeruleus: effects of chronic stress and drug treatments. J Neurochem 58(2):494–502. https://doi.org/10.1111/j.1471-4159.1992.tb09748.x

Muroi Y, Ishii T (2019) Glutamatergic signals in the dorsal raphe nucleus regulate maternal aggression and care in an opposing manner in mice. Neuroscience 400:33–47. https://doi.org/10.1016/j.neuroscience.2018.12.034

Nephew BC, Bridges RS (2011) Effects of chronic social stress during lactation on maternal behavior and growth in rats. Stress 14(6):677–684. https://doi.org/10.3109/10253890.2011.605487

Nilsson LK, Schwieler L, Engberg G, Linderholm KR, Erhardt S (2005) Activation of noradrenergic locus coeruleus neurons by clozapine and haloperidol: involvement of glutamatergic mechanisms. Int J Neuropsychopharmacol 8(3):329–339. https://doi.org/10.1017/S1461145705005080

Noble RE (2005) Depression in women. Metabolism 54(5 Suppl 1):49–52. https://doi.org/10.1016/j.metabol.2005.01.014

Nothnick WB (2000) Disruption of the tissue inhibitor of metalloproteinase-1 gene results in altered reproductive cyclicity and uterine morphology in reproductive-age female mice. Biol Reprod 63(3):905–912. https://doi.org/10.1095/biolreprod63.3.905

Numan M, Stolzenberg DS (2009) Medial preoptic area interactions with dopamine neural systems in the control of the onset and maintenance of maternal behavior in rats. Front Neuroendocrinol 30(1):46–64. https://doi.org/10.1016/j.yfrne.2008.10.002

Pavcovich LA, Cancela LM, Volosin M, Molina VA, Ramirez OA (1990) Chronic stress-induced changes in locus coeruleus neuronal activity. Brain Res Bull 24(2):293–296. https://doi.org/10.1016/0361-9230(90)90219-p

Paxinos G, Franklin K (2003) The mouse brain in stereotaxic coordinates, 2nd edn. Gulf Professional Publishing, Houston

Petersson M, Uvnas-Moberg K, Erhardt S, Engberg G (1998) Oxytocin increases locus coeruleus alpha 2-adrenoreceptor responsiveness in rats. Neurosci Lett 255(2):115–118. https://doi.org/10.1016/s0304-3940(98)00729-0

Pirnik Z, Mravec B, Kubovcakova L, Mikkelsen JD, Kiss A (2004) Hypertonic saline and immobilization induce Fos expression in mouse brain catecholaminergic cell groups: colocalization with tyrosine hydroxylase and neuropeptide Y. Ann N Y Acad Sci 1018:398–404. https://doi.org/10.1196/annals.1296.049

Reyes BA, Zitnik G, Foster C, Van Bockstaele EJ, Valentino RJ (2015) Social stress engages neurochemically-distinct afferents to the rat locus coeruleus depending on coping strategy. eNeuro. https://doi.org/10.1523/ENEURO.0042-15.2015

Reyes BAS, Zhang XY, Dufourt EC, Bhatnagar S, Valentino RJ, Van Bockstaele EJ (2019) Neurochemically distinct circuitry regulates locus coeruleus activity during female social stress depending on coping style. Brain Struct Funct 224(4):1429–1446. https://doi.org/10.1007/s00429-019-01837-5

Robinson IC (1983) Neurohypophysial peptides in cerebrospinal fluid. Prog Brain Res 60:129–145. https://doi.org/10.1016/S0079-6123(08)64381-2

Santana N, Mengod G, Artigas F (2009) Quantitative analysis of the expression of dopamine D1 and D2 receptors in pyramidal and GABAergic neurons of the rat prefrontal cortex. Cereb Cortex 19(4):849–860. https://doi.org/10.1093/cercor/bhn134

Smith K (2014) Mental health: a world of depression. Nature 515(7526):181. https://doi.org/10.1038/515180a

Smith CD, Holschbach MA, Olsewicz J, Lonstein JS (2012) Effects of noradrenergic alpha-2 receptor antagonism or noradrenergic lesions in the ventral bed nucleus of the stria terminalis and medial preoptic area on maternal care in female rats. Psychopharmacology 224(2):263–276. https://doi.org/10.1007/s00213-012-2749-2

Takeda H, Tsuji M, Matsumiya T (1998) Changes in head-dipping behavior in the hole-board test reflect the anxiogenic and/or anxiolytic state in mice. Eur J Pharmacol 350(1):21–29. https://doi.org/10.1016/s0014-2999(98)00223-4

Torner L, Plotsky PM, Neumann ID, de Jong TR (2017) Forced swimming-induced oxytocin release into blood and brain: effects of adrenalectomy and corticosterone treatment. Psychoneuroendocrinology 77:165–174. https://doi.org/10.1016/j.psyneuen.2016.12.006

Tye KM, Mirzabekov JJ, Warden MR, Ferenczi EA, Tsai HC, Finkelstein J, Kim SY, Adhikari A, Thompson KR, Andalman AS, Gunaydin LA, Witten IB, Deisseroth K (2013) Dopamine neurons modulate neural encoding and expression of depression-related behaviour. Nature 493(7433):537–541. https://doi.org/10.1038/nature11740

Valentino RJ, Van Bockstaele E (2008) Convergent regulation of locus coeruleus activity as an adaptive response to stress. Eur J Pharmacol 583(2–3):194–203. https://doi.org/10.1016/j.ejphar.2007.11.062

Valentino RJ, Van Bockstaele E (2015) Endogenous opioids: the downside of opposing stress. Neurobiol Stress 1:23–32. https://doi.org/10.1016/j.ynstr.2014.09.006

Vankov A, Herve-Minvielle A, Sara SJ (1995) Response to novelty and its rapid habituation in locus coeruleus neurons of the freely exploring rat. Eur J Neurosci 7(6):1180–1187. https://doi.org/10.1111/j.1460-9568.1995.tb01108.x

Wang X, Escobar JB, Mendelowitz D (2021) Sex differences in the hypothalamic oxytocin pathway to locus coeruleus and augmented attention with chemogenetic activation of hypothalamic oxytocin neurons. Int J Mol Sci. https://doi.org/10.3390/ijms22168510

Winklewski PJ, Radkowski M, Wszedybyl-Winklewska M, Demkow U (2017) Stress response, brain noradrenergic system and cognition. Adv Exp Med Biol 980:67–74. https://doi.org/10.1007/5584_2016_204

Zhang H, Chaudhury D, Nectow AR, Friedman AK, Zhang S, Juarez B, Liu H, Pfau ML, Aleyasin H, Jiang C, Crumiller M, Calipari ES, Ku SM, Morel C, Tzavaras N, Montgomery SE, He M, Salton SR, Russo SJ, Nestler EJ, Friedman JM, Cao JL, Han MH (2019) alpha1- and beta3-Adrenergic receptor-mediated mesolimbic homeostatic plasticity confers resilience to social stress in susceptible mice. Biol Psychiatry 85(3):226–236. https://doi.org/10.1016/j.biopsych.2018.08.020
Acknowledgements
We thank Dr. Kazuto Kobayashi (Fukushima Medical University) for providing DBH-Cre/6-8 mice. We thank Dr. Bryan Roth (UNC Eshelman School of Pharmacy) for providing AAVs.
Funding
This work was supported by JSPS KAKENHI [Grant No: 17K08119, 18H04601], the Akiyama Life Science Foundation [Grant No: 111–076], and the Takeda Science Foundation.
Ethics declarations
Conflict of interest
The authors have no relevant financial or non-financial interests to disclose.
Ethical Approval
All procedures in this study were performed following the National Institutes of Health Guide for the Care and Use of Laboratory Animals (NIH Publication No. 80–23; revised 2011) and approved by the Animal Research Committee of the Obihiro University of Agriculture and Veterinary Medicine.
Consent to Participate
Not applicable.
Consent for Publication
This manuscript has been approved for publication by all authors.
Additional information
Publisher's Note
Springer Nature remains neutral with regard to jurisdictional claims in published maps and institutional affiliations.
Supplementary Information
Below is the link to the electronic supplementary material.
Rights and permissions
Springer Nature or its licensor (e.g. a society or other partner) holds exclusive rights to this article under a publishing agreement with the author(s) or other rightsholder(s); author self-archiving of the accepted manuscript version of this article is solely governed by the terms of such publishing agreement and applicable law.
About this article
Cite this article
Nakamura, A., Muroi, Y. & Ishii, T. Locus Coeruleus-Noradrenergic Neurons Regulate Stress Coping During Subchronic Exposure to Social Threats: A Characteristic Feature in Postpartum Female Mice. Cell Mol Neurobiol 43, 2359–2376 (2023). https://doi.org/10.1007/s10571-022-01314-4
Received:

Accepted:

Published:

Issue Date:

DOI: https://doi.org/10.1007/s10571-022-01314-4
Keywords