Abstract
Glioma is the most common type of primary brain malignancy with high morbidity and mortality, but little is known about its pathological mechanisms. Kinesin family member 11 (KIF11) is a key driver of malignancy in glioblastoma, a grade IV glioma, but its involvement in glioma chemoresistance remains to be determined. We accessed the TCGA open datasets, collected glioma tumor tissue samples, and analyzed the expression of KIF11 in glioma patients. Meanwhile, the correlation between KIF11 and survival outcomes was determined by the Kaplan–Meier analysis. The role of KIF11 in glioma tumor cell function was assessed in an in vitro knockdown and overexpressing system. Here, we found that KIF11 was upregulated in glioma tumors and negatively correlated with overall survival outcomes via analyzing the open datasets. KIF11 was negatively correlated with TP53 expression. Furthermore, KIF11 promoted the stemness in glioma cells, accompanied by increased cell proliferation and chemoresistance. Mechanistically, we found that KIF11 promoted cell cycle progression via upregulating cyclin expression.
Access options
Buy single article
Instant access to the full article PDF.
USD 39.95
Price excludes VAT (USA)
Tax calculation will be finalised during checkout.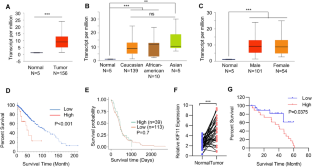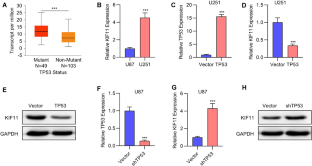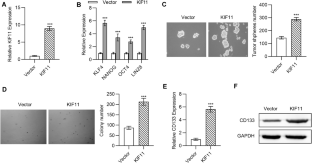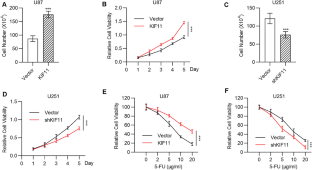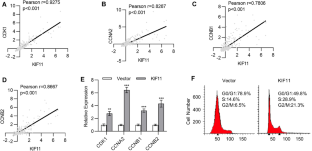 References
Abdullah LN, Chow EK (2013) Mechanisms of chemoresistance in cancer stem cells. Clin Transl Med 2(1):3. https://doi.org/10.1186/2001-1326-2-3

Arato-Ohshima T, Sawa H (1999) Over-expression of cyclin D1 induces glioma invasion by increasing matrix metalloproteinase activity and cell motility. Int J Cancer 83(3):387–392. https://doi.org/10.1002/(sici)1097-0215(19991029)83:3%3c387::aid-ijc15%3e3.0.co;2-o

Bao S, Wu Q, McLendon RE, Hao Y, Shi Q, Hjelmeland AB, Dewhirst MW, Bigner DD, Rich JN (2006) Glioma stem cells promote radioresistance by preferential activation of the DNA damage response. Nature 444(7120):756–760. https://doi.org/10.1038/nature05236

Bao B, Ahmad A, Azmi AS, Ali S, Sarkar FH (2013) Overview of cancer stem cells (CSCs) and mechanisms of their regulation: implications for cancer therapy. Curr Protoc Pharmacol Chapter 61:14–25. https://doi.org/10.1002/0471141755.ph1425s61

Chen DG, Zhu B, Lv SQ, Zhu H, Tang J, Huang C, Li Q, Zhou P, Wang DL, Li GH (2017) Inhibition of EGR1 inhibits glioma proliferation by targeting CCND1 promoter. J Exp Clin Cancer Res 36(1):186. https://doi.org/10.1186/s13046-017-0656-4

Chen L, Lin L, Xian N, Zheng Z (2019) Annexin A2 regulates glioma cell proliferation through the STAT3cyclin D1 pathway. Oncol Rep 42(1):399–413. https://doi.org/10.3892/or.2019.7155

Chu C, Zhong G, Li H (2020) Structure and function of subcortical periodic cytoskeleton throughout the nervous system. STEMedicine 1(1):e9. https://doi.org/10.37175/stemedicine.v1i1.9

Clement V, Sanchez P, de Tribolet N, Radovanovic I, Ruiz i Altaba A (2007) HEDGEHOG-GLI1 signaling regulates human glioma growth, cancer stem cell self-renewal, and tumorigenicity. Curr Biol 17(2):165–172. https://doi.org/10.1016/j.cub.2006.11.033

Collins K, Jacks T, Pavletich NP (1997) The cell cycle and cancer. Proc Natl Acad Sci USA 94(7):2776–2778. https://doi.org/10.1073/pnas.94.7.2776

Deshmukh RS, Sharma S, Das S (2018) Cyclin F-dependent degradation of RBPJ inhibits IDH1(R132H)-mediated tumorigenesis. Cancer Res 78(22):6386–6398. https://doi.org/10.1158/0008-5472.Can-18-1772

Geng RX, Li N, Xu Y, Liu JH, Yuan FE, Sun Q, Liu BH, Chen QX (2018) Identification of core biomarkers associated with outcome in glioma: evidence from bioinformatics analysis. Dis Markers 2018:3215958. https://doi.org/10.1155/2018/3215958

Ghosh D, Nandi S, Bhattacharjee S (2018) Combination therapy to checkmate glioblastoma: clinical challenges and advances. Clin Transl Med 7(1):33. https://doi.org/10.1186/s40169-018-0211-8

Grignon Y, Duyckaerts C, Bennecib M, Hauw JJ (1998) Cytoarchitectonic alterations in the supramarginal gyrus of late onset Alzheimer's disease. Acta Neuropathol 95(4):395–406. https://doi.org/10.1007/s004010050816

Jilkine A, Gutenkunst RN (2014) Effect of dedifferentiation on time to mutation acquisition in stem cell-driven cancers. PLoS Comput Biol 10(3):e1003481. https://doi.org/10.1371/journal.pcbi.1003481

Jin Q, Dai Y, Wang Y, Zhang S, Liu G (2019) High kinesin family member 11 expression predicts poor prognosis in patients with clear cell renal cell carcinoma. J Clin Pathol 72(5):354–362. https://doi.org/10.1136/jclinpath-2018-205390

Kelly PJ (2010) Gliomas: survival, origin and early detection. Surg Neurol Int 1:96. https://doi.org/10.4103/2152-7806.74243

Liu G, Yuan X, Zeng Z, Tunici P, Ng H, Abdulkadir IR, Lu L, Irvin D, Black KL, Yu JS (2006) Analysis of gene expression and chemoresistance of CD133+ cancer stem cells in glioblastoma. Mol Cancer 5:67. https://doi.org/10.1186/1476-4598-5-67

Liu L, Yin S, Brobbey C, Gan W (2020) Ubiquitination in cancer stem cell: roles and targeted cancer therapy. STEMedicine 1(3):e37. https://doi.org/10.37175/stemedicine.v1i3.37

Louis DN, Ohgaki H, Wiestler OD, Cavenee WK, Burger PC, Jouvet A, Scheithauer BW, Kleihues P (2007) The 2007 WHO classification of tumours of the central nervous system. Acta Neuropathol 114(2):97–109. https://doi.org/10.1007/s00401-007-0243-4

Lu C, Shervington A (2008) Chemoresistance in gliomas. Mol Cell Biochem 312(1–2):71–80. https://doi.org/10.1007/s11010-008-9722-8

Moreno CS, Matyunina L, Dickerson EB, Schubert N, Bowen NJ, Logani S, Benigno BB, McDonald JF (2007) Evidence that p53-mediated cell-cycle-arrest inhibits chemotherapeutic treatment of ovarian carcinomas. PLoS ONE 2(5):e441. https://doi.org/10.1371/journal.pone.0000441

Norberg T, Klaar S, Karf G, Nordgren H, Holmberg L, Bergh J (2001) Increased p53 mutation frequency during tumor progression–results from a breast cancer cohort. Cancer Res 61(22):8317–8321

Oda T, Tsuda H, Scarpa A, Sakamoto M, Hirohashi S (1992) p53 gene mutation spectrum in hepatocellular carcinoma. Cancer Res 52(22):6358–6364

Rivlin N, Brosh R, Oren M, Rotter V (2011) Mutations in the p53 tumor suppressor gene: important milestones at the various steps of tumorigenesis. Genes Cancer 2(4):466–474. https://doi.org/10.1177/1947601911408889

Roy S, Lahiri D, Maji T, Biswas J (2015) Recurrent glioblastoma: where we stand. South Asian J Cancer 4(4):163–173. https://doi.org/10.4103/2278-330x.175953

Sakariassen PO, Immervoll H, Chekenya M (2007) Cancer stem cells as mediators of treatment resistance in brain tumors: status and controversies. Neoplasia 9(11):882–892. https://doi.org/10.1593/neo.07658

Shervington A, Cruickshanks N, Wright H, Atkinson-Dell R, Lea R, Roberts G, Shervington L (2006) Glioma: what is the role of c-Myc, hsp90 and telomerase? Mol Cell Biochem 283(1–2):1–9. https://doi.org/10.1007/s11010-006-2495-z

Sun G, Shi L, Yan S, Wan Z, Jiang N, Fu L, Li M, Guo J (2014) MiR-15b targets cyclin D1 to regulate proliferation and apoptosis in glioma cells. Biomed Res Int 2014:687826. https://doi.org/10.1155/2014/687826

Uchino S, Noguchi M, Ochiai A, Saito T, Kobayashi M, Hirohashi S (1993) p53 mutation in gastric cancer: a genetic model for carcinogenesis is common to gastric and colorectal cancer. Int J Cancer 54(5):759–764. https://doi.org/10.1002/ijc.2910540509

Valensin S, Ghiron C, Lamanna C, Kremer A, Rossi M, Ferruzzi P, Nievo M, Bakker A (2009) KIF11 inhibition for glioblastoma treatment: reason to hope or a struggle with the brain? BMC Cancer 9:196. https://doi.org/10.1186/1471-2407-9-196

Varna M, Lehmann-Che J, Turpin E, Marangoni E, El-Bouchtaoui M, Jeanne M, Grigoriu C, Ratajczak P, Leboeuf C, Plassa LF, Ferreira I, Poupon MF, Janin A, de The H, Bertheau P (2009) p53 dependent cell-cycle arrest triggered by chemotherapy in xenografted breast tumors. Int J Cancer 124(4):991–997. https://doi.org/10.1002/ijc.24049

Venere M, Horbinski C, Crish JF, Jin X, Vasanji A, Major J, Burrows AC, Chang C, Prokop J, Wu Q, Sims PA, Canoll P, Summers MK, Rosenfeld SS, Rich JN (2015) The mitotic kinesin KIF11 is a driver of invasion, proliferation, and self-renewal in glioblastoma. Sci Transl Med 7(304):304ra143. https://doi.org/10.1126/scitranslmed.aac6762

Vinogradov S, Wei X (2012) Cancer stem cells and drug resistance: the potential of nanomedicine. Nanomedicine (Lond) 7(4):597–615. https://doi.org/10.2217/nnm.12.22

Wen PY, Kesari S (2008) Malignant gliomas in adults. N Engl J Med 359(5):492–507. https://doi.org/10.1056/NEJMra0708126

Wordeman L (2010) How kinesin motor proteins drive mitotic spindle function: lessons from molecular assays. Semin Cell Dev Biol 21(3):260–268. https://doi.org/10.1016/j.semcdb.2010.01.018

Yu Y, Feng YM (2010) The role of kinesin family proteins in tumorigenesis and progression: potential biomarkers and molecular targets for cancer therapy. Cancer 116(22):5150–5160. https://doi.org/10.1002/cncr.25461

Zheng H, Ying H, Yan H, Kimmelman AC, Hiller DJ, Chen AJ, Perry SR, Tonon G, Chu GC, Ding Z, Stommel JM, Dunn KL, Wiedemeyer R, You MJ, Brennan C, Wang YA, Ligon KL, Wong WH, Chin L, DePinho RA (2008) p53 and Pten control neural and glioma stem/progenitor cell renewal and differentiation. Nature 455(7216):1129–1133. https://doi.org/10.1038/nature07443

Zhou J, Chen WR, Yang LC, Wang J, Sun JY, Zhang WW, He ZY, Wu SG (2019) KIF11 functions as an oncogene and is associated with poor outcomes from breast cancer. Cancer Res Treat 51(3):1207–1221. https://doi.org/10.4143/crt.2018.460
Funding
This work was supported by Hebei Provincial Health Commission (20191770).
Ethics declarations
Conflict of interest
The authors declare that they have no conflict of interest.
Ethical Approval
The study was approved by the Ethical Review Committee of Cangzhou Central Hospital.
Informed Consent
Each informed consent was acquired.
Additional information
Publisher's Note
Springer Nature remains neutral with regard to jurisdictional claims in published maps and institutional affiliations.
About this article
Cite this article
Liu, B., Zhang, G., Cui, S. et al. Upregulation of KIF11 in TP53 Mutant Glioma Promotes Tumor Stemness and Drug Resistance. Cell Mol Neurobiol 42, 1477–1485 (2022). https://doi.org/10.1007/s10571-020-01038-3
Received:

Accepted:

Published:

Issue Date:

DOI: https://doi.org/10.1007/s10571-020-01038-3
Keywords
KIF11

Glioma

TP53

Cancer stem cell

Cyclin