Abstract
With the development of neural prostheses, neural plasticity including synaptic remodeling under electrical stimulation is drawing more and more attention. Indeed, intracochlear electrical stimulation used to restore hearing in deaf can induce the loss of residual hearing and synapses of the inner hair cells (IHCs). However, the mechanism under this process is largely unknown. Considering that the guinea pig is always a suitable and convenient choice for the animal model of cochlea implant (CI), in the present study, normal-hearing guinea pigs were implanted with CIs. Four-hour electrical stimulation with the intensity of 6 dB above electrically evoked compound action potential (ECAP) threshold (which can decrease the quantity of IHC synapses and the excitability of the auditory nerve) resulted in the upregulation of Bdnf (p < 0.0001) and downregulation of Nt-3 (p < 0.05). Intracochlear perfusion of exogenous NT-3 or TrkC/Fc (which blocks NT-3) can, respectively, resist or aggravate the synaptic loss induced by electrical stimulation. In contrast, local delivery of exogenous BDNF or TrkB/Fc (which blocks BDNF) to the cochlea, respectively, exacerbated or protected against the synaptic loss caused by electrical stimulation. Notably, the synaptic changes were only observed in the basal and middle halves of the cochlea. All the findings above suggested that NT-3 and BDNF may play opposite roles in the remodeling of IHC synapses induced by intracochlear electrical stimulation, i.e. NT-3 and BDNF promoted the regeneration and degeneration of IHC synapses, respectively.
Access options
Buy single article
Instant access to the full article PDF.
US$ 39.95
Tax calculation will be finalised during checkout.
Subscribe to journal
Immediate online access to all issues from 2019. Subscription will auto renew annually.
US$ 119
Tax calculation will be finalised during checkout.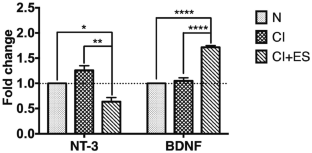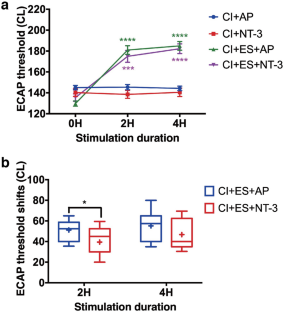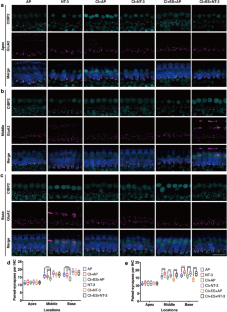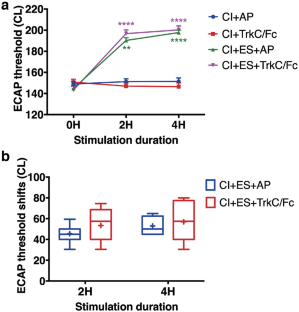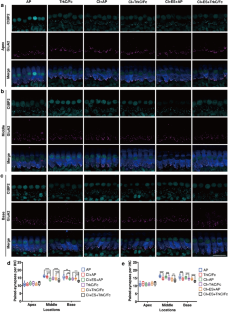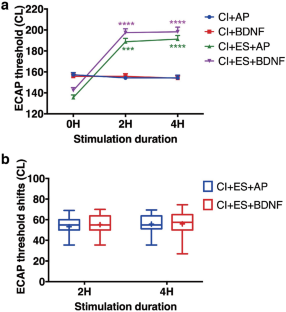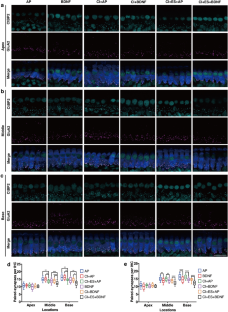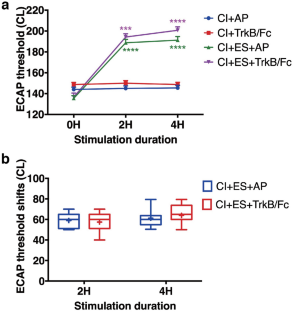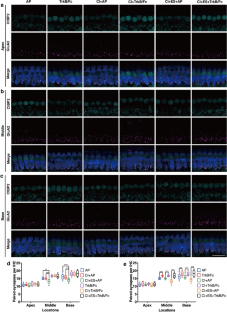 Data Availability
The data that support the findings of this study are available from the corresponding author upon reasonable request.
References
Addams-Williams J, Munaweera L, Coleman B, Shepherd R, Backhouse S (2011) Cochlear implant electrode insertion: in defence of cochleostomy and factors against the round window membrane approach. Cochlear Implants Int 12(Suppl 2):S36–39. https://doi.org/10.1179/146701011X13074645127478

Barriga-Rivera A, Guo T, Yang CY, Abed AA, Dokos S, Lovell NH, Morley JW, Suaning GJ (2017) High-amplitude electrical stimulation can reduce elicited neuronal activity in visual prosthesis. Sci Rep 7:42682. https://doi.org/10.1038/srep42682

Bean LA, Kumar A, Rani A, Guidi M, Rosario AM, Cruz PE, Golde TE, Foster TC (2015) Re-opening the critical window for estrogen therapy. J Neurosci 35(49):16077–16093. https://doi.org/10.1523/JNEUROSCI.1890-15.2015

Borkholder DA, Zhu X, Frisina RD (2014) Round window membrane intracochlear drug delivery enhanced by induced advection. J Control Release 174:171–176. https://doi.org/10.1016/j.jconrel.2013.11.021

Chen H, Xing Y, Xia L, Chen Z, Yin S, Wang J (2018) AAV-mediated NT-3 overexpression protects cochleae against noise-induced synaptopathy. Gene Ther 25(4):251–259. https://doi.org/10.1038/s41434-018-0012-0

Chen Z, Kujawa SG, McKenna MJ, Fiering JO, Mescher MJ, Borenstein JT, Swan EE, Sewell WF (2005) Inner ear drug delivery via a reciprocating perfusion system in the guinea pig. J Control Release 110(1):1–19. https://doi.org/10.1016/j.jconrel.2005.09.003

Dowling P, Ming X, Raval S, Husar W, Casaccia-Bonnefil P, Chao M, Cook S, Blumberg B (1999) Up-regulated p75NTR neurotrophin receptor on glial cells in MS plaques. Neurology 53(8):1676–1682. https://doi.org/10.1212/wnl.53.8.1676

Ernfors P, Van De Water T, Loring J, Jaenisch R (1995) Complementary roles of BDNF and NT-3 in vestibular and auditory development. Neuron 14(6):1153–1164. https://doi.org/10.1016/0896-6273(95)90263-5

Eshraghi AA, Polak M, He J, Telischi FF, Balkany TJ, Vandewater TR (2005) Pattern of hearing loss in a rat model of cochlear implantation trauma. Otol Neurotol 26(3):442–447. https://doi.org/10.1097/01.mao.0000169791.53201.e1

Flores-Otero J, Davis RL (2011) Synaptic proteins are tonotopically graded in postnatal and adult type I and type II spiral ganglion neurons. J Comp Neurol 519(8):1455–1475. https://doi.org/10.1002/cne.22576

Flores-Otero J, Xue HZ, Davis RL (2007) Reciprocal regulation of presynaptic and postsynaptic proteins in bipolar spiral ganglion neurons by neurotrophins. J Neurosci 27(51):14023–14034. https://doi.org/10.1523/JNEUROSCI.3219-07.2007

Fritzsch BS-SI, Smeyne R, Fagan AM, Barbacid M (1995) Reduction and loss of inner ear innervation in trkB and trkC receptor knockout mice: a whole mount DiI and scanning electron microscopic analysis. Audit Neurosci 1:401–407

Gantz BJ, Hansen MR, Turner CW, Oleson JJ, Reiss LA, Parkinson AJ (2009) Hybrid 10 clinical trial: preliminary results. Audiol Neurootol 14(Suppl 1):32–38. https://doi.org/10.1159/000206493

Garcia-Alcantara F, Murillo-Cuesta S, Pulido S, Bermudez-Munoz JM, Martinez-Vega R, Milo M, Varela-Nieto I, Rivera T (2018) The expression of oxidative stress response genes is modulated by a combination of resveratrol and N-acetylcysteine to ameliorate ototoxicity in the rat cochlea. Hear Res 358:10–21

Goman AM, Dunn CC, Gantz BJ, Lin FR (2018) Prevalence of potential hybrid and conventional cochlear implant candidates based on audiometric profile. Otol Neurotol 39(4):515–517. https://doi.org/10.1097/MAO.0000000000001728

Green SH, Bailey E, Wang Q, Davis RL (2012) The Trk A, B, C's of neurotrophins in the cochlea. Anat Rec (Hoboken) 295(11):1877–1895. https://doi.org/10.1002/ar.22587

Gstoettner W, Helbig S, Settevendemie C, Baumann U, Wagenblast J, Arnoldner C (2009) A new electrode for residual hearing preservation in cochlear implantation: first clinical results. Acta Otolaryngol 129(4):372–379. https://doi.org/10.1080/00016480802552568

Hansen MR, Zha XM, Bok J, Green SH (2001) Multiple distinct signal pathways, including an autocrine neurotrophic mechanism, contribute to the survival-promoting effect of depolarization on spiral ganglion neurons in vitro. J Neurosci 21(7):2256–2267

Havenith S, Versnel H, Agterberg MJ, de Groot JC, Sedee RJ, Grolman W, Klis SF (2011) Spiral ganglion cell survival after round window membrane application of brain-derived neurotrophic factor using gelfoam as carrier. Hear Res 272(1–2):168–177. https://doi.org/10.1016/j.heares.2010.10.003

Havenith S, Versnel H, Klis SF, Grolman W (2015) Local delivery of brain-derived neurotrophic factor on the perforated round window membrane in Guinea pigs: a possible clinical application. Otol Neurotol 36(4):705–713. https://doi.org/10.1097/MAO.0000000000000634

Hederstierna C, Hultcrantz M, Collins A, Rosenhall U (2010) The menopause triggers hearing decline in healthy women. Hear Res 259(1–2):31–35. https://doi.org/10.1016/j.heares.2009.09.009

Heffner HE, Heffner RS (2007) Hearing ranges of laboratory animals. J Am Assoc Lab Anim Sci 46(1):20–22

Homans NC, Metselaar RM, Dingemanse JG, van der Schroeff MP, Brocaar MP, Wieringa MH, Baatenburg de Jong RJ, Hofman A, Goedegebure A (2017) Prevalence of age-related hearing loss, including sex differences, in older adults in a large cohort study. Laryngoscope 127(3):725–730. https://doi.org/10.1002/lary.26150

Honeder C, Ahmadi N, Kramer AM, Zhu C, Saidov N, Arnoldner C (2018) Cochlear implantation in the guinea pig. J Vis Exp. https://doi.org/10.3791/56829

Huang EJ, Reichardt LF (2003) Trk receptors: roles in neuronal signal transduction. Annu Rev Biochem 72:609–642. https://doi.org/10.1146/annurev.biochem.72.121801.161629

Irmen F, Hueb J, Schroll H, Brucke C, Schneider GH, Hamker FH, Kuhn AA (2017) Subthalamic nucleus stimulation impairs emotional conflict adaptation in Parkinson's disease. Soc Cogn Affect Neurosci 12(10):1594–1604

Jin Y, Lyu AR, Park SJ, Xu J, Cui J, Sohn KC, Hur GM, Jin Y, Park YH (2016) Early postnatal NT-3 gene delivery enhances hearing acquisition in the developmental period. Laryngoscope 126(11):E379–E385. https://doi.org/10.1002/lary.26130

Koh JY, Gwag BJ, Lobner D, Choi DW (1995) Potentiated necrosis of cultured cortical neurons by neurotrophins. Science 268(5210):573–575. https://doi.org/10.1126/science.7725105

Kolarow R, Kuhlmann CR, Munsch T, Zehendner C, Brigadski T, Luhmann HJ, Lessmann V (2014) BDNF-induced nitric oxide signals in cultured rat hippocampal neurons: time course, mechanism of generation, and effect on neurotrophin secretion. Front Cell Neurosci 8:323. https://doi.org/10.3389/fncel.2014.00323

Li Q, Lu T, Zhang C, Hansen MR, Li S (2019) Electrical stimulation induces synaptic changes in the peripheral auditory system. J Comp Neurol. https://doi.org/10.1002/cne.24802

Liu WJ, Yang J (2015) Developmental expression of inositol 1, 4, 5-trisphosphate receptor in the post-natal rat cochlea. Eur J Histochem 59(2):147–155

McFadden D, Hsieh MD, Garcia-Sierra A, Champlin CA (2010) Differences by sex, ear, and sexual orientation in the time intervals between successive peaks in auditory evoked potentials. Hear Res 270(1–2):56–64

Mhatre AN, Jero J, Chiappini I, Bolasco G, Barbara M, Lalwani AK (2002) Aquaporin-2 expression in the mammalian cochlea and investigation of its role in Meniere's disease. Hear Res 170(1–2):59–69

Mistry N, Nolan LS, Saeed SR, Forge A, Taylor RR (2014) Cochlear implantation in the mouse via the round window: effects of array insertion. Hear Res 312:81–90. https://doi.org/10.1016/j.heares.2014.03.005

Nguyen Y, Couloigner V, Rudic M, Nguyen Y, Couloigner V, Rudic M, Grayeli AB, Ferrary E, Sterkers O (2009) An animal model of cochlear implantation with an intracochlear fluid delivery system. Acta Otolaryngol 129(11):1153–1159. https://doi.org/10.3109/00016480802629440

Nykjaer A, Lee R, Teng KK, Jansen P, Madsen P, Nielsen MS, Jacobsen C, Kliemannel M, Schwarz E, Willnow TE, Hempstead BL, Petersen CM (2004) Sortilin is essential for proNGF-induced neuronal cell death. Nature 427(6977):843–848. https://doi.org/10.1038/nature02319

Pfingst BE, Bowling SA, Colesa DJ, Garadat SN, Raphael Y, Shibata SB, Strahl SB, Su GL, Zhou N (2011) Cochlear infrastructure for electrical hearing. Hear Res 281(1–2):65–73. https://doi.org/10.1016/j.heares.2011.05.002

Pfingst BE, Colesa DJ, Swiderski DL, Hughes AP, Strahl SB, Sinan M, Raphael Y (2017) Neurotrophin gene therapy in deafened ears with cochlear implants: long-term effects on nerve survival and functional measures. J Assoc Res Otolaryngol. https://doi.org/10.1007/s10162-017-0633-9

Ramekers D, Versnel H, Strahl SB, Klis SF, Grolman W (2015) Temporary neurotrophin treatment prevents deafness-induced auditory nerve degeneration and preserves function. J Neurosci 35(36):12331–12345. https://doi.org/10.1523/JNEUROSCI.0096-15.2015

Reichardt LF (2006) Neurotrophin-regulated signalling pathways. Philos Trans R Soc Lond B Biol Sci 361(1473):1545–1564. https://doi.org/10.1098/rstb.2006.1894

Richardson RT, O'Leary S, Wise A, Hardman J, Clark G (2005) A single dose of neurotrophin-3 to the cochlea surrounds spiral ganglion neurons and provides trophic support. Hear Res 204(1–2):37–47. https://doi.org/10.1016/j.heares.2005.01.001

Roux PP, Colicos MA, Barker PA, Kennedy TE (1999) p75 neurotrophin receptor expression is induced in apoptotic neurons after seizure. J Neurosci 19(16):6887–6896

Samdani AF, Newcamp C, Resink A, Facchinetti F, Hoffman BE, Dawson VL, Dawson TM (1997) Differential susceptibility to neurotoxicity mediated by neurotrophins and neuronal nitric oxide synthase. J Neurosci 17(12):4633–4641

Sampaio AL, Araujo MF, Oliveira CA (2011) New criteria of indication and selection of patients to cochlear implant. Int J Otolaryngol 2011:573968. https://doi.org/10.1155/2011/573968

Santa Maria PL, Domville-Lewis C, Sucher CM, Chester-Browne R, Atlas MD (2013) Hearing preservation surgery for cochlear implantation–hearing and quality of life after 2 years. Otol Neurotol 34(3):526–531. https://doi.org/10.1097/MAO.0b013e318281e0c9

Shen N, Liang Q, Liu Y, Lai B, Li W, Wang Z, Li S (2016) Charge-balanced biphasic electrical stimulation inhibits neurite extension of spiral ganglion neurons. Neurosci Lett 624:92–99. https://doi.org/10.1016/j.neulet.2016.04.069

Sly DJ, Campbell L, Uschakov A, Saief ST, Lam M, O'Leary SJ (2016) Applying neurotrophins to the round window rescues auditory function and reduces inner hair cell synaptopathy after noise-induced hearing loss. Otol Neurotol 37(9):1223–1230. https://doi.org/10.1097/MAO.0000000000001191

Sugawara M, Murtie JC, Stankovic KM, Liberman MC, Corfas G (2007) Dynamic patterns of neurotrophin 3 expression in the postnatal mouse inner ear. J Comp Neurol 501(1):30–37. https://doi.org/10.1002/cne.21227

Suzuki J, Corfas G, Liberman MC (2016) Round-window delivery of neurotrophin 3 regenerates cochlear synapses after acoustic overexposure. Sci Rep 6:24907. https://doi.org/10.1038/srep24907

Svedbrant J, Bark R, Hultcrantz M, Hederstierna C (2015) Hearing decline in menopausal women—a 10-year follow-up. Acta Otolaryngol 135(8):807–813. https://doi.org/10.3109/00016489.2015.1023354

Tan J, Shepherd RK (2006) Aminoglycoside-induced degeneration of adult spiral ganglion neurons involves differential modulation of tyrosine kinase B and p75 neurotrophin receptor signaling. Am J Pathol 169(2):528–543. https://doi.org/10.2353/ajpath.2006.060122

Teng HK, Teng KK, Lee R, Wright S, Tevar S, Almeida RD, Kermani P, Torkin R, Chen ZY, Lee FS, Kraemer RT, Nykjaer A, Hempstead BL (2005) ProBDNF induces neuronal apoptosis via activation of a receptor complex of p75NTR and sortilin. J Neurosci 25(22):5455–5463. https://doi.org/10.1523/JNEUROSCI.5123-04.2005

Tong M, Brugeaud A, Edge AS (2013) Regenerated synapses between postnatal hair cells and auditory neurons. J Assoc Res Otolaryngol 14(3):321–329. https://doi.org/10.1007/s10162-013-0374-3

Tsuji J, Liberman MC (1997) Intracellular labeling of auditory nerve fibers in guinea pig: central and peripheral projections. J Comp Neurol 381(2):188–202

Viberg A, Canlon B (2004) The guide to plotting a cochleogram. Hear Res 197(1–2):1–10. https://doi.org/10.1016/j.heares.2004.04.016

Wan G, Gomez-Casati ME, Gigliello AR, Liberman MC, Corfas G (2014) Neurotrophin-3 regulates ribbon synapse density in the cochlea and induces synapse regeneration after acoustic trauma. Elife. https://doi.org/10.7554/eLife.03564

Wang Q, Green SH (2011) Functional role of neurotrophin-3 in synapse regeneration by spiral ganglion neurons on inner hair cells after excitotoxic trauma in vitro. J Neurosci 31(21):7938–7949. https://doi.org/10.1523/JNEUROSCI.1434-10.2011

Werginz P, Rattay F (2016) The impact of calcium current reversal on neurotransmitter release in the electrically stimulated retina. J Neural Eng 13(4):046013. https://doi.org/10.1088/1741-2560/13/4/046013

Wise AK, Hume CR, Flynn BO, Jeelall YS, Suhr CL, Sgro BE, O'Leary SJ, Shepherd RK, Richardson RT (2010) Effects of localized neurotrophin gene expression on spiral ganglion neuron resprouting in the deafened cochlea. Mol Ther 18(6):1111–1122. https://doi.org/10.1038/mt.2010.28

Wise AK, Richardson R, Hardman J, Clark G, O'Leary S (2005) Resprouting and survival of guinea pig cochlear neurons in response to the administration of the neurotrophins brain-derived neurotrophic factor and neurotrophin-3. J Comp Neurol 487(2):147–165. https://doi.org/10.1002/cne.20563

Wysocki J (2005) Topographical anatomy of the guinea pig temporal bone. Hear Res 199(1–2):103–110. https://doi.org/10.1016/j.heares.2004.08.008

Xiong H, Yamada K, Han D, Nabeshima T, Enikolopov G, Carnahan J, Nawa H (1999) Mutual regulation between the intercellular messengers nitric oxide and brain-derived neurotrophic factor in rodent neocortical neurons. Eur J Neurosci 11(5):1567–1576. https://doi.org/10.1046/j.1460-9568.1999.00567.x

Yawn R, Hunter JB, Sweeney AD, Bennett ML (2015) Cochlear implantation: a biomechanical prosthesis for hearing loss. F1000Prime Rep 7:45. https://doi.org/10.12703/P7-45

Ylikoski J, Pirvola U, Moshnyakov M, Palgi J, Arumae U, Saarma M (1993) Expression patterns of neurotrophin and their receptor mRNAs in the rat inner ear. Hear Res 65(1–2):69–78. https://doi.org/10.1016/0378-5955(93)90202-c

Zhai SQ, Guo W, Hu YY, Yu N, Chen Q, Wang JZ, Fan M, Yang WY (2011) Protective effects of brain-derived neurotrophic factor on the noise-damaged cochlear spiral ganglion. J Laryngol Otol 125(5):449–454. https://doi.org/10.1017/S0022215110002112
Acknowledgements
We thank Professor Zhengmin Wang of our department for critical comments and suggestions on our research work. We are grateful to Z. SUN, C. Xu and W. Fan (Shanghai Listent Medical Technology Co., LTD.) for technical support of ECAP measurement and analysis. We further thank Shanghai Listent Medical Technology Co., LTD. for providing customized electrode arrays and pulse generators.
Funding
This work was supported by the grants from National Natural Science Foundation of China (No. 81670927).
Ethics declarations
Conflict of interest
All authors declare that they have no conflict of interest.
Ethical Approval
Animal care procedures were approved and performed in accordance with institutional guidelines.
Additional information
Publisher's Note
Springer Nature remains neutral with regard to jurisdictional claims in published maps and institutional affiliations.
The original version of this article was revised: Figure 9 has been corrected.
Electronic supplementary material
Below is the link to the electronic supplementary material.
About this article
Cite this article
Li, Q., Chen, M., Zhang, C. et al. Opposite Roles of NT-3 and BDNF in Synaptic Remodeling of the Inner Ear Induced by Electrical Stimulation. Cell Mol Neurobiol (2020). https://doi.org/10.1007/s10571-020-00935-x
Received:

Accepted:

Published:
Keywords
Synaptic remodeling

Electrical stimulation

Cochlear implant (CI)

Neurotrophin-3 (NT-3)

Brain derived neurotrophic factor (BDNF)