Abstract
The role of astrocytes on glutamate release and differentiation of glioma stem cells (GSCs) remains unknown. We investigated glutamate release, proliferation, and differentiation of GSCs after indirect incubation with astrocytes in vitro, including morphology change, GFAP expression, glutamine synthetase, and EAAT1 expression. The role of formyl peptide receptor (FPR) agonist and antagonist on interaction between astrocytes and GSCs in co-culture model was analyzed. We found: (1) After incubation of astrocytes and GSCs, differentiated GSCs present the morphology of astrocytes and express GFAP. (2) GSCs release high concentration of glutamate, as well as tumor cells. However, differentiated GSCs possess the ability of glutamate uptake. (3) Proliferation ability of differentiated GSCs is lower than tumor cells. (4) Glutamine synthetase is predominantly expressed in the nucleus of tumor cells, while in the cytoplasm of differentiated GSCs. (5) Differentiation of GSCs could be triggered by FPR agonist, while astrocyte-induced differentiation of GSCs could be blocked by FPR antagonist. These results indicate astrocytes promote astrocytic differentiation and glutamate uptake of GSCs via FPR.
This is a preview of subscription content, log in to check access.
Access options
Buy single article
Instant access to the full article PDF.
US$ 39.95
Price includes VAT for USA
Subscribe to journal
Immediate online access to all issues from 2019. Subscription will auto renew annually.
US$ 199
This is the net price. Taxes to be calculated in checkout.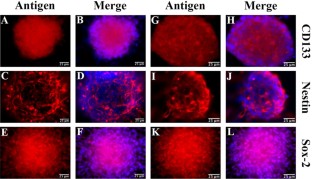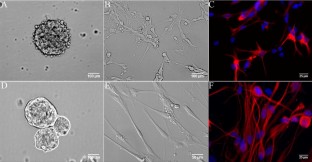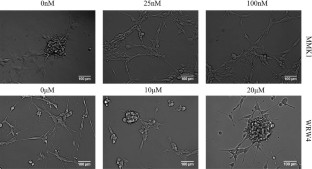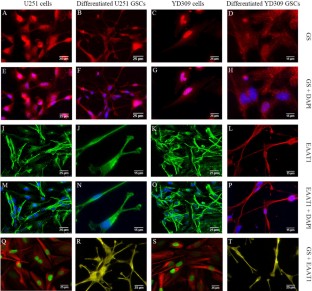 References
Aravalli RN, Behnan Sahin M, Cressman ENK, Steer CJ (2010) Establishment and characterization of a unique 1μm diameter liver-derived progenitor cell line. Biochem Biophys Res Commun 391(1):56–62. https://doi.org/10.1016/j.bbrc.2009.11.001

Bak LK, Schousboe A, Waagepetersen HS (2006) The glutamate/GABA-glutamine cycle: aspects of transport, neurotransmitter homeostasis and ammonia transfer. J Neurochem 98(3):641–653. https://doi.org/10.1111/j.1471-4159.2006.03913.x

Bernal GM, Peterson DA (2011) Phenotypic and gene expression modification with normal brain aging in GFAP-positive astrocytes and neural stem cells. Aging Cell 10(3):466–482. https://doi.org/10.1111/j.1474-9726.2011.00694.x

Boer JC, Domanska UM, Timmer-Bosscha H, Boer IG, de Haas CJ, Joseph JV, Kruyt FA, de Vries EG, den Dunnen WF, van Strijp JA, Walenkamp AM (2013) Inhibition of formyl peptide receptor in high-grade astrocytoma by CHemotaxis Inhibitory Protein of S. aureus. Br J Cancer 108(3):587–596. https://doi.org/10.1038/bjc.2012.603

Bortolomai I, Canevari S, Facetti I, De Cecco L, Castellano G, Zacchetti A, Alison MR, Miotti S (2010) Tumor initiating cells: development and critical characterization of a model derived from the A431 carcinoma cell line forming spheres in suspension. Cell Cycle 9(6):1194–1206. https://doi.org/10.4161/cc.9.6.11108

Bourkoula E, Mangoni D, Ius T, Pucer A, Isola M, Musiello D, Marzinotto S, Toffoletto B, Sorrentino M, Palma A, Caponnetto F, Gregoraci G, Vindigni M, Pizzolitto S, Falconieri G, De Maglio G, Pecile V, Ruaro ME, Gri G, Parisse P, Casalis L, Scoles G, Skrap M, Beltrami CA, Beltrami AP, Cesselli D (2014) Glioma-associated stem cells: a novel class of tumor-supporting cells able to predict prognosis of human low-grade gliomas. Stem Cells 32(5):1239–1253. https://doi.org/10.1002/stem.1605

Chen JH, Bian XW, Yao XH, Gong W, Hu J, Chen K, Iribarren P, Zhao W, Zhou XD (2006) Nordy, a synthetic lipoxygenase inhibitor, inhibits the expression of formylpeptide receptor and induces differentiation of malignant glioma cells. Biochem Biophys Res Commun 342(4):1368–1374. https://doi.org/10.1016/j.bbrc.2006.02.113

Chen J, Li Y, Yu T-S, McKay RM, Burns DK, Kernie SG, Parada LF (2012) A restricted cell population propagates glioblastoma growth after chemotherapy. Nature 488(7412):522–526. https://doi.org/10.1038/nature11287

Cheng Y-H, Chen Y-C, Brien R, Yoon E (2016) Scaling and automation of a high-throughput single-cell-derived tumor sphere assay chip. Lab Chip 16(19):3708–3717. https://doi.org/10.1039/c6lc00778c

Chiu M, Taurino G, Bianchi MG, Ottaviani L, Andreoli R, Ciociola T, Lagrasta CA, Tardito S, Bussolati O (2018) Oligodendroglioma cells lack glutamine synthetase and are auxotrophic for glutamine, but do not depend on glutamine anaplerosis for growth. J Int J Mol Sci. https://doi.org/10.3390/ijms19041099

Corbetta C, Di Ianni N, Bruzzone MG, Patane M, Pollo B, Cantini G, Cominelli M, Zucca I, Pisati F, Poliani PL, Finocchiaro G, Pellegatta S (2019) Altered function of the glutamate-aspartate transporter GLAST, a potential therapeutic target in glioblastoma. Int J Cancer 144(10):2539–2554. https://doi.org/10.1002/ijc.31985

Danbolt NC (2001) Glutamate uptake. Prog Neurobiol 65(1):1–105. https://doi.org/10.1016/s0301-0082(00)00067-8

Dontu G, Abdallah WM, Foley JM, Jackson KW, Clarke MF, Kawamura MJ, Wicha MS (2003) In vitro propagation and transcriptional profiling of human mammary stem/progenitor cells. Genes Dev 17(10):1253–1270. https://doi.org/10.1101/gad.1061803

Dontu G, Wicha MS (2005) Survival of mammary stem cells in suspension culture: implications for stem cell biology and neoplasia. J Mammary Gland Biol Neoplasia 10(1):75–86. https://doi.org/10.1007/s10911-005-2542-5

Ehtesham M, Kabos P, Kabosova A, Neuman T, Black KL, Yu JS (2002) The use of interleukin 12-secreting neural stem cells for the treatment of intracranial glioma. Cancer Res 62(20):5657–5663

Erecinska M, Silver IA (1990) Metabolism and role of glutamate in mammalian brain. Prog Neurobiol 35(4):245–296. https://doi.org/10.1016/0301-0082(90)90013-7

Hertz L (1979) Functional interactions between neurons and astrocytes I Turnover and metabolism of putative amino acid transmitters. Prog Neurobiol 13(3):277–323. https://doi.org/10.1016/0301-0082(79)90018-2

Hertz L, Dringen R, Schousboe A, Robinson SR (1999) Astrocytes: glutamate producers for neurons. J Neurosci Res 57(4):417–428. https://doi.org/10.1002/(sici)1097-4547(19990815)57:4<417:aid-jnr1>3.3.co;2-e

Huang J, Hu J, Bian X, Chen K, Gong W, Dunlop NM, Howard OM, Wang JM (2007) Transactivation of the epidermal growth factor receptor by formylpeptide receptor exacerbates the malignant behavior of human glioblastoma cells. Cancer Res 67(12):5906–5913. https://doi.org/10.1158/0008-5472.CAN-07-0691

Huang J, Chen K, Chen J, Gong W, Dunlop NM, Howard OMZ, Gao Y, Bian XW, Wang JM (2010) The G-protein-coupled formylpeptide receptor FPR confers a more invasive phenotype on human glioblastoma cells. J Br J Cancer 102(6):1052–1060. https://doi.org/10.1038/sj.bjc.6605591

Ishiuchi S, Tsuzuki K, Yoshida Y, Yamada N, Hagimura N, Okado H, Miwa A, Kurihara H, Nakazato Y, Tamura M, Sasaki T, Ozawa S (2002) Blockage of Ca(2+)-permeable AMPA receptors suppresses migration and induces apoptosis in human glioblastoma cells. Nat Med 8(9):971–978. https://doi.org/10.1038/nm746

Jhaveri N, Chen TC, Hofman FM (2016) Tumor vasculature and glioma stem cells: contributions to glioma progression. Cancer Lett 380(2):545–551. https://doi.org/10.1016/j.canlet.2014.12.028

Kouri FM, Hurley LA, Daniel WL, Day ES, Hua Y, Hao L, Peng C-Y, Merkel TJ, Queisser MA, Ritner C, Zhang H, James CD, Sznajder JI, Chin L, Giljohann DA, Kessler JA, Peter ME, Mirkin CA, Stegh AH (2015) miR-182 integrates apoptosis, growth, and differentiation programs in glioblastoma. Genes Dev 29(7):732–745. https://doi.org/10.1101/gad.257394.114

Le Y, Hu J, Gong W, Shen W, Li B, Dunlop NM, Halverson DO, Blair DG, Wang JM (2000) Expression of functional formyl peptide receptors by human astrocytoma cell lines. J Neuroimmunol 111(1–2):102–108. https://doi.org/10.1016/s0165-5728(00)00373-8

Li Q, Rycaj K, Chen X, Tang DG (2015) Cancer stem cells and cell size: a causal link? Semin Cancer Biol 35:191–199. https://doi.org/10.1016/j.semcancer.2015.07.002

Long PM, Tighe SW, Driscoll HE, Fortner KA, Viapiano MS, Jaworski DM (2015) Acetate supplementation as a means of inducing glioblastoma stem-like cell growth arrest. J Cell Physiol 230(8):1929–1943. https://doi.org/10.1002/jcp.24927

Lyons SA, Chung WJ, Weaver AK, Ogunrinu T, Sontheimer H (2007) Autocrine glutamate signaling promotes glioma cell invasion. Cancer Res 67(19):9463–9471. https://doi.org/10.1158/0008-5472.CAN-07-2034

Man J, Yu X, Huang H, Zhou W, Xiang C, Huang H, Miele L, Liu Z, Bebek G, Bao S, Yu JS (2018) Hypoxic induction of vasorin regulates notch1 turnover to maintain glioma stem-like cells. Cell Stem Cell 22(1):104–118. https://doi.org/10.1016/j.stem.2017.10.005

Martinez-Hernandez A, Bell KP, Norenberg MD (1977) Glutamine synthetase: glial localization in brain. Science 195(4284):1356–1358. https://doi.org/10.1126/science.14400

Park H, Ahn S-H, Jung Y, Yoon Joo C, Choi Y-H (2017) Leptin suppresses glutamate-induced apoptosis through regulation of ERK1/2 signaling pathways in rat primary astrocytes. Cell Physiol Biochem 44(6):2117–2128. https://doi.org/10.1159/000485950

Piao Y, Lu L, de Groot J (2009) AMPA receptors promote perivascular glioma invasion via beta1 integrin-dependent adhesion to the extracellular matrix. Neuro Oncol 11(3):260–273. https://doi.org/10.1215/15228517-2008-094

Pinilla C, Edwards BS, Appel JR, Yates-Gibbins T, Giulianotti MA, Medina-Franco JL, Young SM, Santos RG, Sklar LA, Houghten RA (2013) Selective agonists and antagonists of formylpeptide receptors: duplex flow cytometry and mixture-based positional scanning libraries. Mol Pharmacol 84(3):314–324. https://doi.org/10.1124/mol.113.086595

Ramaswamy P, Aditi Devi N, Hurmath Fathima K, Dalavaikodihalli Nanjaiah N (2014) Activation of NMDA receptor of glutamate influences MMP-2 activity and proliferation of glioma cells. Neurol Sci 35(6):823–829. https://doi.org/10.1007/s10072-013-1604-5

Rosati A, Poliani PL, Todeschini A, Cominelli M, Medicina D, Cenzato M, Simoncini EL, Magrini SM, Buglione M, Grisanti S, Padovani A (2013) Glutamine synthetase expression as a valuable marker of epilepsy and longer survival in newly diagnosed glioblastoma multiforme. Neuro Oncol 15(5):618–625. https://doi.org/10.1093/neuonc/nos338

Schonberg DL, Lubelski D, Miller TE, Rich JN (2014) Brain tumor stem cells: molecular characteristics and their impact on therapy. Mol Aspects Med 39:82–101. https://doi.org/10.1016/j.mam.2013.06.004

Singh SK, Clarke ID, Terasaki M, Bonn VE, Hawkins C, Squire J, Dirks PB (2003) Identification of a cancer stem cell in human brain tumors. Cancer Res 63(18):5821–5828

Takano T, Lin JH, Arcuino G, Gao Q, Yang J, Nedergaard M (2001) Glutamate release promotes growth of malignant gliomas. Nat Med 7(9):1010–1015. https://doi.org/10.1038/nm0901-1010

Tardito S, Oudin A, Ahmed SU, Fack F, Keunen O, Zheng L, Miletic H, Sakariassen PO, Weinstock A, Wagner A, Lindsay SL, Hock AK, Barnett SC, Ruppin E, Morkve SH, Lund-Johansen M, Chalmers AJ, Bjerkvig R, Niclou SP, Gottlieb E (2015) Glutamine synthetase activity fuels nucleotide biosynthesis and supports growth of glutamine-restricted glioblastoma. Nat Cell Biol 17(12):1556–1568. https://doi.org/10.1038/ncb3272

Vembadi A, Menachery A, Qasaimeh MA (2019) Cell cytometry: review and perspective on biotechnological advances. Front Bioeng Biotechnol 7:147. https://doi.org/10.3389/fbioe.2019.00147

Wang G, Zhang L, Chen X, Xue X, Guo Q, Liu M, Zhao J (2016) Formylpeptide receptors promote the migration and differentiation of rat neural stem cells. Sci Rep 6:25946. https://doi.org/10.1038/srep25946

Yang CZ, Li HL, Zhou Y, Chai RC, Zhao R, Dong Y, Xu ZY, Lau LT, Yingge Z, Teng J, Chen J, Yu AC (2011) A new specialization in astrocytes: glutamate- and ammonia-induced nuclear size changes. J Neurosci Res 89(12):2041–2051. https://doi.org/10.1002/jnr.22657

Yang C, Lei D, Ouyang W, Ren J, Li H, Hu J, Huang S (2014) Conditioned media from human adipose tissue-derived mesenchymal stem cells and umbilical cord-derived mesenchymal stem cells efficiently induced the apoptosis and differentiation in human glioma cell lines in vitro. Biomed Res Int 2014:109389. https://doi.org/10.1155/2014/109389

Yao XH, Ping YF, Chen JH, Xu CP, Chen DL, Zhang R, Wang JM, Bian XW (2008) Glioblastoma stem cells produce vascular endothelial growth factor by activation of a G-protein coupled formylpeptide receptor FPR. J Pathol 215(4):369–376. https://doi.org/10.1002/path.2356

Yao XH, Liu Y, Chen K, Gong W, Liu MY, Bian XW, Wang JM (2011) Chemoattractant receptors as pharmacological targets for elimination of glioma stem-like cells. J Int Immunopharmacol 11(12):1961–1966. https://doi.org/10.1016/j.intimp.2011.08.021

Yao PS, Kang DZ, Lin RY, Ye B, Wang W, Ye ZC (2014) Glutamate/glutamine metabolism coupling between astrocytes and glioma cells: neuroprotection and inhibition of glioma growth. Biochem Biophys Res Commun 450(1):295–299. https://doi.org/10.1016/j.bbrc.2014.05.120

Ye ZC, Oberheim N, Kettenmann H, Ransom BR (2009) Pharmacological "cross-inhibition" of connexin hemichannels and swelling activated anion channels. Glia 57(3):258–269. https://doi.org/10.1002/glia.20754

Ye ZC, Sontheimer H (1999) Glioma cells release excitotoxic concentrations of glutamate. Cancer Res 59(17):4383–4391

Yin Y, Sun W, Xiang J, Deng L, Zhang B, Xie P, Qiao W, Zou J, Liu C (2013) Glutamine synthetase functions as a negative growth regulator in glioma. J Neurooncol 114(1):59–69. https://doi.org/10.1007/s11060-013-1168-5
Acknowledgements
The study was supported by Young and Middle-aged Backbone Key Research Project of National Health and Family Planning Commission of Fujian Province (No. 2017-ZQN-46 to Pei-Sen Yao), National Natural Science Foundation of China (No. 81802492 to Pei-Sen Yao), Natural Science Funding of Fujian Province (No. 2018J01175 to Pei-Sen Yao).
Ethics declarations
Conflict of interest
The authors declare that they have no conflict of Interest.
Ethical Approval
All procedures performed in studies involving animals (including C57BL/6 pups) were in accordance with the ethical standards of the institution or practice at which the studies were conducted (Approval No. 2017[028]).
Additional information
Publisher's Note
Springer Nature remains neutral with regard to jurisdictional claims in published maps and institutional affiliations.
About this article
Cite this article
Xu, Y., Yang, J., Kang, D. et al. Astrocytes Regulate Differentiation and Glutamate Uptake of Glioma Stem Cells via Formyl Peptide Receptor. Cell Mol Neurobiol (2020). https://doi.org/10.1007/s10571-020-00886-3
Received:

Accepted:

Published:
Keywords
Glutamate

Glutamine

Astrocytes

Glioma