Abstract
Excitatory neurotransmission relies on the precise targeting of α-amino-3-hydroxy-5-methyl-4-isoxazolepropionic acid (AMPA)-type glutamate receptors to the neuronal plasma membrane. Activity-dependent ubiquitination of AMPA receptor (AMPAR) subunits sorts internalised receptors to late endosomes for degradation, which ultimately determines the number of AMPARs on neuronal membrane. Our recent study has demonstrated a functional cross-talk between the phosphorylation and ubiquitination of the GluA1 subunit in mammalian central neurons. However, the existence of such a cross modulation for the GluA2 subunit remains unknown. Here, we have shown that bicuculline induced GluA2 ubiquitination on the same lysine residues (Lys-870 and Lys-882) in the C-terminal as those elicited by the AMPA treatment. Interestingly, bicuculline-induced ubiquitination was markedly enhanced by the phospho-mimetic GluA2 S880E mutant. Pharmacological activation of protein kinase C (PKC) by phorbol ester, which mediates the phosphorylation of GluA2 at Ser-880, augmented bicuculline-induced ubiquitination of GluA2 in cultured neurons. This effect was specific for the GluA2 subunit because phorbol ester did not alter the level of GluA1 ubiquitination. However, phorbol ester-induced enhancement of GluA2 ubiquitination did not require Ser-880 phosphorylation. This suggests that pseudo-phosphorylation of Ser-880 is sufficient but is not necessary for the augmentation of bicuculline-induced GluA2 ubiquitination. Collectively, these data provide the first demonstration of subunit-specific modulation of AMPAR ubiquitination by the PKC-dependent signalling pathway in mammalian central neurons.
Access options
Buy single article
Instant access to the full article PDF.
US$ 39.95
Tax calculation will be finalised during checkout.
Subscribe to journal
Immediate online access to all issues from 2019. Subscription will auto renew annually.
US$ 119
Tax calculation will be finalised during checkout.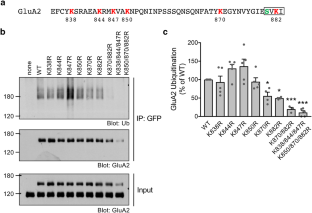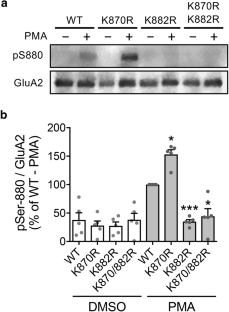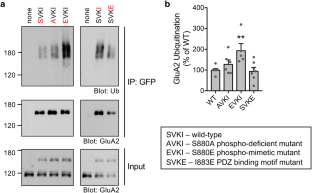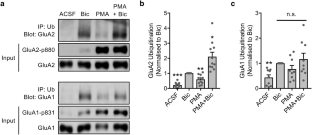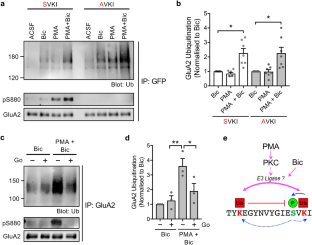 Abbreviations
AMPA:

α-Amino-3-hydroxy-5-methyl-4-isoxazolepropionic acid

AMPARs:

AMPA receptors

DIV:

Days in vitro

DMSO:

Dimethyl sulfoxide

GRIP1:

Glutamate receptor-interacting protein 1

L-VGCCs:

L-type voltage-gated calcium channels

LTD:

Long-term depression

mGluRs:

Metabotropic glutamate receptors

NEM:

N-Ethylmaleimide

NMDA:

N-Methyl-d-aspartate

NMDARs:

NMDA receptors

PDZ:

Postsynaptic density 95/disc large/zona occludens-1

PICK1:

Protein interacting with C-kinase 1

PKA:

Protein kinase A

PKC:

Protein kinase C

PMA:

Phorbol 12-myristate 13-acetate

RNF:

Ring finger protein

WT:

Wild-type
Acknowledgments
This work was supported in part by grants from the Australian National Health and Medical Research Council (GNT1138452), the Alzheimer's Australia Dementia Research Foundation (DPG14-57), and the Clem Jones Centre for Ageing Dementia Research (to VA). JW was supported by an Australian Research Council DECRA Fellowship (DE170100112). SG was a recipient of University of Queensland International Scholarship.
Ethics declarations
Conflict of interest
All authors declare that they have no competing financial interests.
Ethical Approval
All animal handling procedures were carried out in accordance to the Australian code for the care and use of animals for scientific purposes by the National Health and Medical Research Council and were approved by the University of Queensland Animal Ethics Committee (AEC approval number QBI/047/18).
Informed Consent
This article does not contain any studies with human participants performed by any of the authors. All authors have read and agreed with the submission of the manuscript.
Additional information
Publisher's Note
Springer Nature remains neutral with regard to jurisdictional claims in published maps and institutional affiliations.
About this article
Cite this article
Widagdo, J., Kerk, J.W., Guntupalli, S. et al. Subunit-Specific Augmentation of AMPA Receptor Ubiquitination by Phorbol Ester. Cell Mol Neurobiol 40, 1213–1222 (2020). https://doi.org/10.1007/s10571-020-00809-2
Received:

Accepted:

Published:

Issue Date:
Keywords
AMPA receptors

Ubiquitination

Phosphorylation

Phorbol ester

Protein kinase C