Abstract
Cathepsin K deficiency in male mice (Ctsk−/−) results in decreased numbers of hippocampal astrocytes and altered neuronal patterning as well as learning and memory deficits. Additionally, cathepsin K carries essential roles in the thyroid gland where it contributes to the liberation of thyroid hormones (TH). Because TH are essential for brain development, in particular for the cerebellum, we investigated whether cathepsin K's function in the thyroid is directly linked to the brain phenotype of Ctsk−/− mice. Serum levels of thyroid stimulating hormone, brain concentrations of free TH, and deiodinase 2 (Dio2) activity in brain parenchyma as well as cerebellar development were comparable in Ctsk−/− and WT animals, suggesting regular thyroid states and TH metabolism. Despite unaltered transcript levels, protein expression of two TH transporters was enhanced in specific brain regions in Ctsk−/− mice, suggesting altered TH supply to these regions. Thyrotropin releasing hormone (Trh) mRNA levels were enhanced threefold in the hippocampus of Ctsk−/− mice. In the striatum of Ctsk−/− mice the mRNA for Dio2 and hairless were approximately 1.3-fold enhanced, while mRNA levels for monocarboxylate transporter 8 and Trh were reduced to 60% and 40%, respectively, pointing to altered striatal physiology. We conclude that the role of cathepsin K in the thyroid gland is not directly associated with its function in the central nervous system (CNS) of mice. Future studies will show whether the brain region-specific alterations in Trh mRNA may eventually result in altered neuroprotection that could explain the neurobehavioral defects of Ctsk−/− mice.
This is a preview of subscription content, log in to check access.
Access options
Buy single article
Instant access to the full article PDF.
US$ 39.95
Price includes VAT for USA
Subscribe to journal
Immediate online access to all issues from 2019. Subscription will auto renew annually.
US$ 199
This is the net price. Taxes to be calculated in checkout.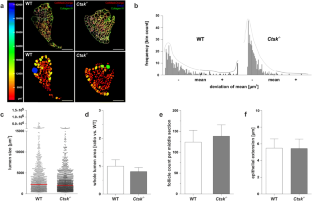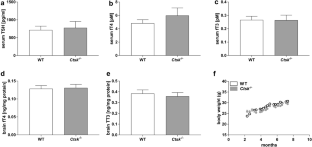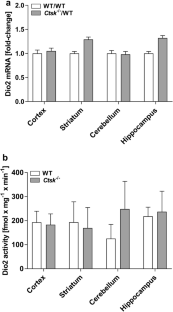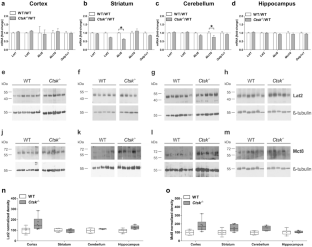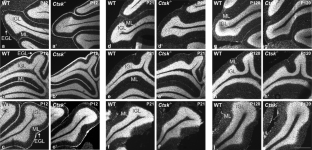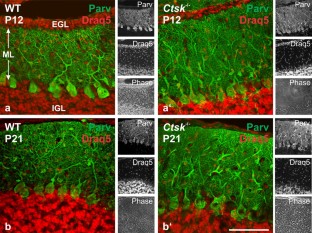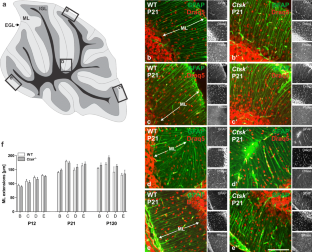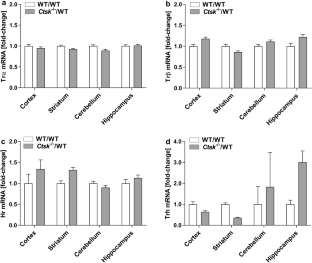 References
Ango F, Wu C, der Want JJ, Wu P, Schachner M, Huang ZJ (2008) Bergmann glia and the recognition molecule CHL1 organize GABAergic axons and direct innervation of Purkinje cell dendrites. PLoS Biol 6:e103

Anyetei-Anum CS, Roggero VR, Allison LA (2018) Thyroid hormone receptor localization in target tissues. J Endocrinol 237:R19–R34. https://doi.org/10.1530/JOE-17-0708

Barres BA (2008) The mystery and magic of glia: a perspective on their roles in health and disease. Neuron 60:430–440

Bastianelli E (2003) Distribution of calcium-binding proteins in the cerebellum. Cerebellum 2:242–262

Bernstein HG, Bukowska A, Dobrowolny H, Bogerts B, Lendeckel U (2007) Cathepsin K and schizophrenia Synapse 61:252–253

Blum G (2008) Use of fluorescent imaging to investigate pathological protease activity. Curr Opin Drug Discov Devel 11:708–716

Bradford MM (1976) A rapid and sensitive method for the quantitation of microgram quantities of protein utilizing the principle of protein-dye binding. Anal Biochem 72:248–254

Brix K, Linke M, Tepel C, Herzog V (2001) Cysteine proteinases mediate extracellular prohormone processing in the thyroid. Biol Chem 382:717–725

Brix K, Dunkhorst A, Mayer K, Jordans S (2008) Cysteine cathepsins: cellular roadmap to different functions. Biochimie 90:194–207

Brix K, Scott CJ, Heck MMS (2013) Compartmentalization of proteolysis. Springer Verlag Preoteases: Structure and Function. pp 85–125

Brix K, McInnes J, Al-Hashimi A, Rehders M, Tamhane T, Haugen MH (2014) Proteolysis mediated by cysteine cathepsins and legumain-recent advances and cell biological challenges. Protoplasma. 252(3):755–774

Brömme D, Okamoto K (1995) Human cathepsin O2, a novel cysteine protease highly expressed in osteoclastomas and ovary molecular cloning, sequencing and tissue distribution. Biol Chem Hoppe Seyler 376:379–384

Buhling F et al (1999) Expression of cathepsin K in lung epithelial cells. Am J Respir Cell Mol Biol 20:612–619

Bustin SA et al (2009) The MIQE guidelines: minimum information for publication of quantitative real-time PCR experiments. Clin Chem 55:611–622. https://doi.org/10.1373/clinchem.2008.112797

Chiamolera MI, Wondisford FE (2009) Minireview: thyrotropin-releasing hormone and the thyroid hormone feedback mechanism. Endocrinology 150:1091–1096. https://doi.org/10.1210/en.2008-1795

Dauth S, Arampatzidou M, Rehders M, Yu DMT, Führer D, Brix K (2011a) Thyroid cathepsin K—roles in physiology and thyroid disease. Clin Rev Bone Miner Metab 9:94–106

Dauth S et al (2011b) Cathepsin K deficiency in mice induces structural and metabolic changes in the central nervous system that are associated with learning and memory deficits. BMC Neurosci 12:74

Dauth S, Schmidt MM, Rehders M, Dietz F, Kelm S, Dringen R, Brix K (2012) Characterization and metabolism of astroglia-rich primary cultures from cathepsin K-deficient mice. Biol Chem 393:959–970

Desmarais S, Masse F, Percival MD (2009) Pharmacological inhibitors to identify roles of cathepsin K in cell-based studies: a comparison of available tools. Biol Chem 390:941–948

Drake MT, Clarke BL, Oursler MJ, Khosla S (2017) Cathepsin K Inhibitors for Osteoporosis: biology, Potential Clinical Utility, and Lessons Learned. Endocr Rev 38:325–350. https://doi.org/10.1210/er.2015-1114

Engelhard A, Christiano AM (2004) The hairless promoter is differentially regulated by thyroid hormone in keratinocytes and neuroblastoma cells. Exp Dermatol 13:257–264. https://doi.org/10.1111/j.0906-6705.2004.00175.x

Engels K et al (2015) Differences in mouse hepatic thyroid hormone transporter expression with age and hyperthyroidism. Eur Thyroid J 4:81–86. https://doi.org/10.1159/000381020

Feher LZ et al (2005) Impact of haloperidol and risperidone on gene expression profile in the rat cortex. Neurochem Int 47:271–280

Fonseca TL et al (2013) Coordination of hypothalamic and pituitary T3 production regulates TSH expression. J Clin Invest 123:1492–1500. https://doi.org/10.1172/jci61231

Friedrichs B et al (2003) Thyroid functions of mouse cathepsins B. K, and L J Clin Invest 111:1733–1745

Frohlich E, Wahl R (2019) The forgotten effects of thyrotropin-releasing hormone: metabolic functions and medical applications. Front Neuroendocrinol 52:29–43. https://doi.org/10.1016/j.yfrne.2018.06.006

Galou M et al (1996) Disrupted glial fibrillary acidic protein network in astrocytes from vimentin knockout mice. J Cell Biol 133:853–863

Gelb BD, Shi GP, Chapman HA, Desnick RJ (1996) Pycnodysostosis, a lysosomal disease caused by cathepsin K deficiency. Science 273:1236–1238

Haeckel C et al (1999) Expression of cathepsin K in the human embryo and fetus. Dev Dyn 216:89–95

He F, Sun YE (2007) Glial cells more than support cells? Int J Biochem Cell Biol 39:661–665

Hokfelt T et al (1989) Distribution of TRH-like immunoreactivity with special reference to coexistence with other neuroactive compounds. Ann N Y Acad Sci 553:76–105

Horn S, Heuer H (2010) Thyroid hormone action during brain development: more questions than answers. Mol Cell Endocrinol 315:19–26

Jordans S et al (2009) Monitoring compartment-specific substrate cleavage by cathepsins B, K, L, and S at physiological pH and redox conditions. BMC Biochem 10:23

Ko F, Tallerico T, Seeman P (2006) Antipsychotic pathway genes with expression altered in opposite direction by antipsychotics and amphetamine. Synapse 60:141–151

Koibuchi N, Chin WW (2000) Thyroid hormone action and brain development. Trends Endocrinol Metab 11:123–128

Lamprecht MR, Sabatini DM, Carpenter AE (2007) Cell Profiler: free, versatile software for automated biological image analysis. Biotechniques 42:71–75. https://doi.org/10.2144/000112257

Le Gall C, Bonnelye E, Clezardin P (2008) Cathepsin K inhibitors as treatment of bone metastasis. Curr Opin Support Palliat Care 2:218–222. https://doi.org/10.1097/SPC.0b013e32830baea9

Lendeckel U et al (2009) Cathepsin K generates enkephalin from beta-endorphin: a new mechanism with possible relevance for schizophrenia. Neurochem Int 54:410–417

Low WC, Roepke J, Farber SD, Hill TG, Sattin A, Kubek MJ (1989) Distribution of thyrotropin-releasing hormone (TRH) in the hippocampal formation as determined by radioimmunoassay. Neurosci Lett 103:314–319

Merchenthaler I, Csernus V, Csontos C, Petrusz P, Mess B (1988) New data on the immunocytochemical localization of thyrotropin-releasing hormone in the rat central nervous system. Am J Anat 181:359–376. https://doi.org/10.1002/aja.1001810404

Monga V, Meena CL, Kaur N, Jain R (2008) Chemistry and biology of thyrotropin-releasing hormone (TRH) and its analogs. Curr Med Chem 15:2718–2733

Morley JE (1979) Extrahypothalamic thyrotropin releasing hormone (TRH) – its distribution and its functions. Life Sci 25:1539–1550

Mullard A (2016) Merck & Co. drops osteoporosis drug odanacatib. Nat Rev Drug Discov 15:669. https://doi.org/10.1038/nrd.2016.207

Muller-Fielitz H et al (2017) Tanycytes control the hormonal output of the hypothalamic-pituitary-thyroid axis. Nat Commun 8:484. https://doi.org/10.1038/s41467-017-00604-6

Neuhoff V, Philipp K, Zimmer HG, Mesecke S (1979) A simple, versatile, sensitive and volume-independent method for quantitative protein determination which is independent of other external influences. Hoppe Seylers Z Physiol Chem 360:1657–1670

Nillni EA (1999) Neuroregulation of ProTRH biosynthesis and processing. Endocrine 10:185–199. https://doi.org/10.1007/BF02738618

Ortiga-Carvalho TM, Chiamolera MI, Pazos-Moura CC, Wondisford FE (2016) Hypothalamus–Pituitary–Thyroid Axis. Compr Physiol 6:1387–1428. https://doi.org/10.1002/cphy.c150027

Pfaffl MW (2001) A new mathematical model for relative quantification in real-time RT-PCR. Nucleic Acids Res 29:e45

Podgorski I (2009) Future of anticathepsin K drugs: dual therapy for skeletal disease and atherosclerosis? Future Med Chem 1:21–34

Qatato M, Szumska J, Skripnik V, Rijntjes E, Kohrle J, Brix K (2018) Canonical TSH regulation of cathepsin-mediated thyroglobulin processing in the thyroid gland of male mice requires Taar1 expression. Front Pharmacol 9:221. https://doi.org/10.3389/fphar.2018.00221

Richard S, Flamant F (2018) Regulation of T3 availability in the developing brain: the mouse genetics contribution. Front Endocrinol (Lausanne). 9:265. https://doi.org/10.3389/fendo.2018.00265

Rodriguez-Rodriguez A, Lazcano I, Sanchez-Jaramillo E, Uribe RM, Jaimes-Hoy L, Joseph-Bravo P, Charli JL (2019) Tanycytes and the control of thyrotropin-releasing hormone flux into portal capillaries. Front Endocrinol (Lausanne) 10:401. https://doi.org/10.3389/fendo.2019.00401

Saftig P et al (1998) Impaired osteoclastic bone resorption leads to osteopetrosis in cathepsin-K-deficient mice. Proc Natl Acad Sci USA 95:13453–13458

Schilling S et al (2011) Glutaminyl cyclase knock-out mice exhibit slight hypothyroidism but no hypogonadism: implications for enzyme function and drug development. J Biol Chem 286:14199–14208. https://doi.org/10.1074/jbc.M111.229385

Schmutzler C et al (2004) Endocrine active compounds affect thyrotropin and thyroid hormone levels in serum as well as endpoints of thyroid hormone action in liver, heart and kidney. Toxicology 205:95–102

Streckfuss F et al (2005) Hepatic deiodinase activity is dispensable for the maintenance of normal circulating thyroid hormone levels in mice. Biochem Biophys Res Commun 337:739–745

Tepel C, Bromme D, Herzog V, Brix K (2000) Cathepsin K in thyroid epithelial cells: sequence, localization and possible function in extracellular proteolysis of thyroglobulin. J Cell Sci 113(Pt 24):4487–4498

Turk B, Turk V (2009) Lysosomes as "suicide bags" in cell death: myth or reality? J Biol Chem 284:21783–21787. https://doi.org/10.1074/jbc.R109.023820

Waniek A, Hartlage-Rubsamen M, Hofling C, Kehlen A, Schilling S, Demuth HU, Rossner S (2015) Identification of thyrotropin-releasing hormone as hippocampal glutaminyl cyclase substrate in neurons and reactive astrocytes. Biochim Biophys Acta 1852:146–155. https://doi.org/10.1016/j.bbadis.2014.11.011

Weber J et al (2015) Functional analysis of the angio-follicular unit of the mouse thyroid gland. Exp Clin Endocrinol Diabetes 123:12–13

Weber J et al (2017) Interdependence of thyroglobulin processing and thyroid hormone export in the mouse thyroid gland. Eur J Cell Biol. https://doi.org/10.1016/j.ejcb.2017.02.002

Weiss-Sadan T, Gotsman I, Blum G (2017) Cysteine proteases in atherosclerosis FEBS J 284:1455–1472. https://doi.org/10.1111/febs.14043

Wirth EK et al (2009) Neuronal 3',3,5-triiodothyronine (T3) uptake and behavioral phenotype of mice deficient in Mct8, the neuronal T3 transporter mutated in Allan–Herndon–Dudley syndrome. J Neurosci 29:9439–9449
Funding
This study was supported by Jacobs University Bremen, Germany, Projects 2140/90402 and 6113/90140 to KB, and by the Research Centers AgeAct and MOLIFE; SD and RS received a stipend from the Department of Life Sciences and Chemistry, then, School of Engineering and Science, Jacobs University Bremen, Germany. The study was further supported by Deutsche Forschungsgemeinschaft, Bonn, Germany, in the framework of the SPP1629, BR 1308/11-1 and 11-2 to KB, FU 356/7-1 and 7-2 to DF, Schw 914/4-1 to US, WI 3768/2-1 to EW and US, and EW was further supported by WI 3768/1-1.
Ethics declarations
Conflict of interest
The authors declare that they have no competing interests.
Ethical Approval
All procedures performed in studies involving animals were conducted in accordance with institutional guidelines in S1-laboratories of Jacobs University Bremen (Senator für Arbeit, Frauen, Gesundheit, Jugend und Soziales der Hansestadt Bremen Az. 513-30-00/2-15-32 including KB as project leader, and Az. 0515_2040_15 to KB allowing breeding, housing and sacrifice of genetically engineered mice).
Informed Consent
This article does not contain any studies with human participants performed by any of the authors.
Additional information
Publisher's Note
Springer Nature remains neutral with regard to jurisdictional claims in published maps and institutional affiliations.
Electronic supplementary material
Below is the link to the electronic supplementary material.
About this article
Cite this article
Dauth, S., Rakov, H., Sîrbulescu, R.F. et al. Function of Cathepsin K in the Central Nervous System of Male Mice is Independent of Its Role in the Thyroid Gland. Cell Mol Neurobiol 40, 695–710 (2020). https://doi.org/10.1007/s10571-019-00765-6
Received:

Accepted:

Published:

Issue Date:
Keywords
Cathepsin K

Thyroid gland function

Thyroid hormone transporters

Thyroid hormone target genes

Brain function