Abstract
Since the discovery in 2001, the G protein-coupled trace amine-associated receptor 1 (TAAR1) has become an important focus of research targeted on evaluation of its role in the central nervous system (CNS). Meanwhile, impact of TAAR1 in the peripheral organs is less investigated. Expression of TAAR1 was demonstrated in different peripheral tissues: pancreatic β-cells, stomach, intestines, white blood cells (WBC), and thyroid. However, the role of TAAR1 in regulation of hematological parameters has not been investigated yet. In this study, we performed analysis of anxiety-related behaviors, a complete blood count (CBC), erythrocyte fragility, as well as FT3/FT4 thyroid hormones levels in adult and middle-aged TAAR1 knockout mice. Complete blood count analysis was performed on a Siemens Advia 2120i hematology analyzer and included more than 35 measured and calculated parameters. Erythrocyte fragility test evaluated spherocytosis pathologies of red blood cells (RBC). No significant alterations in essentially all these parameters were found in mice without TAAR1. However, comparative aging analysis has revealed a decreased neutrophils level in the middle-aged TAAR1 knockout mouse group. Minimal alterations in these parameters observed in TAAR1 knockout mice suggest that future TAAR1-based therapies should exert little hematological effect and thus will likely have a good safety profile.
This is a preview of subscription content, log in to check access.
Access options
Buy single article
Instant access to the full article PDF.
US$ 39.95
Tax calculation will be finalised during checkout.
Subscribe to journal
Immediate online access to all issues from 2019. Subscription will auto renew annually.
US$ 199
Tax calculation will be finalised during checkout.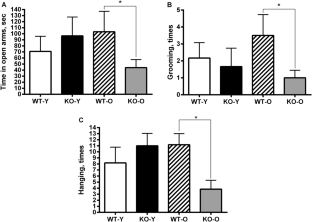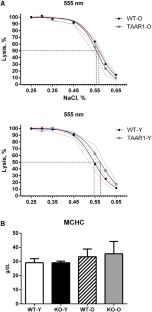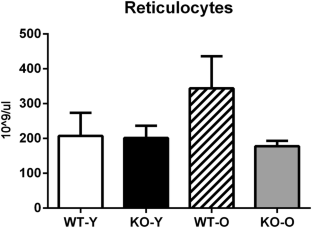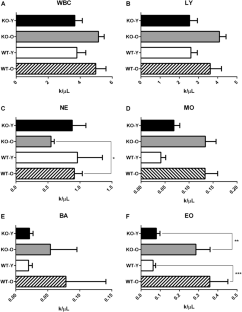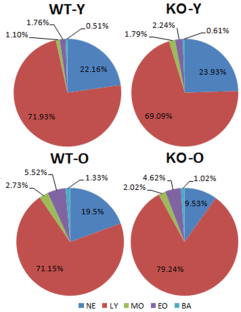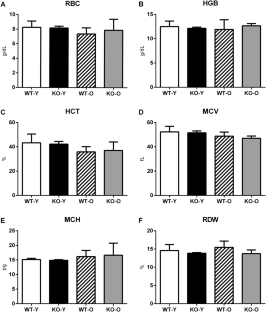 References
Babusyte A, Kotthoff M, Fiedler J, Krautwurst D (2013) Biogenic amines activate blood leukocytes via trace amine-associated receptors TAAR1 and TAAR2. J Leukoc Biol 93:387–394. https://doi.org/10.1189/jlb.0912433

Berry MD, Gainetdinov RR, Hoener MC, Shahid M (2017) Pharmacology of human trace amine-associated receptors: therapeutic opportunities and challenges. Pharmacol Ther 180:161–180. https://doi.org/10.1016/j.pharmthera.2017.07.002

Boulton AA (1974) Letter: amines and theories in psychiatry. Lancet (Lond, Engl) 2:52–53

Dewey MJ, Brown JL, Nallaseth FS (1982) Genetic differences in red cell osmotic fragility: analysis in allophenic mice. Blood 59:986–989

Espinoza S, Lignani G, Caffino L et al (2015) TAAR1 modulates cortical glutamate NMDA receptor function. Neuropsychopharmacology. https://doi.org/10.1038/npp.2015.65

Gainetdinov RR, Hoener MC, Berry MD (2018) Trace amines and their receptors. Pharmacol Rev 70:549–620. https://doi.org/10.1124/pr.117.015305

Hattangadi SM, Wong P, Zhang L et al (2011) From stem cell to red cell: regulation of erythropoiesis at multiple levels by multiple proteins, RNAs, and chromatin modifications. Blood 118:6258–6268. https://doi.org/10.1182/blood-2011-07-356006

Kahn SE, Watkins BF, Bermes EW (1981) An evaluation of a spectrophotometric scanning technique for measurement of plasma hemoglobin. Ann Clin Lab Sci 11:126–131

Nelson DA, Tolbert MD, Singh SJ, Bost KL (2007) Expression of neuronal trace amine-associated receptor (Taar) mRNAs in leukocytes. J Neuroimmunol 192:21–30. https://doi.org/10.1016/j.jneuroim.2007.08.006

Panas MW, Xie Z, Panas HN et al (2012) Trace amine associated receptor 1 signaling in activated lymphocytes. J Neuroimmune Pharmacol 7:866–876. https://doi.org/10.1007/s11481-011-9321-4

Qatato M, Szumska J, Skripnik V et al (2018) Canonical TSH regulation of cathepsin-mediated thyroglobulin processing in the thyroid gland of male mice requires taar1 expression. Front Pharmacol 9:221. https://doi.org/10.3389/fphar.2018.00221

Raab S, Wang H, Uhles S et al (2016) Incretin-like effects of small molecule trace amine-associated receptor 1 agonists. Mol Metab 5:47–56. https://doi.org/10.1016/j.molmet.2015.09.015

Regard JB, Kataoka H, Cano DA et al (2007) Probing cell type-specific functions of Gi in vivo identifies GPCR regulators of insulin secretion. J Clin Invest 117:4034–4043. https://doi.org/10.1172/JCI32994

Revel FG, Moreau J-L, Gainetdinov RR et al (2011) TAAR1 activation modulates monoaminergic neurotransmission, preventing hyperdopaminergic and hypoglutamatergic activity. Proc Natl Acad Sci USA. https://doi.org/10.1073/pnas.1103029108

Revel FG, Moreau J-L, Gainetdinov RR et al (2012) Trace amine-associated receptor 1 partial agonism reveals novel paradigm for neuropsychiatric therapeutics. Biol Psychiatry 72:934–942. https://doi.org/10.1016/j.biopsych.2012.05.014

Sukhanov I, Caffino L, Efimova EV et al (2016) Increased context-dependent conditioning to amphetamine in mice lacking TAAR1. Pharmacol Res 103:206–214. https://doi.org/10.1016/j.phrs.2015.11.002

Sukhanov I, Espinoza S, Yakovlev DS et al (2014) TAAR1-dependent effects of apomorphine in mice. Int J Neuropsychopharmacol 17:1683–1693. https://doi.org/10.1017/S1461145714000509

Szumska J, Qatato M, Rehders M et al (2015) Trace amine-associated receptor 1 localization at the apical plasma membrane domain of fisher rat thyroid epithelial cells is confined to cilia. Eur Thyroid J 4:30–41. https://doi.org/10.1159/000434717

Vettore L, Zanella A, Molaro L et al (1984) A new test for the laboratory diagnosis of spherocytosis. Acta Haematol 72:258–263. https://doi.org/10.1159/000206398

Wolinsky TD, Swanson CJ, Smith KE et al (2007) The Trace Amine 1 receptor knockout mouse: an animal model with relevance to schizophrenia. Genes Brain Behav 6:628–639. https://doi.org/10.1111/j.1601-183X.2006.00292.x

Zucchi R, Ghelardoni S, Chiellini G (2010) Cardiac effects of thyronamines. Heart Fail Rev 15:171–176. https://doi.org/10.1007/s10741-008-9120-z
Acknowledgements
This study was supported by the Russian Science Foundation Grant No. 19-75-30008. We are grateful to Lundbeck A/G and Lundbeck USA for generously providing TAAR1 knockout mice.
Ethics declarations
Conflict of interest
The authors declare that they have no conflict of interest.
Ethical Approval
The experiments were carried out in full compliance with ethical standards approved by the FELASA and RusLASA organizations of welfare of laboratory animal use and were approved by the Saint Petersburg State University Ethical Committee for Animal Research.
Additional information
Publisher's Note
Springer Nature remains neutral with regard to jurisdictional claims in published maps and institutional affiliations.
Electronic supplementary material
Below is the link to the electronic supplementary material.
About this article
Cite this article
Zhukov, I.S., Kubarskaya, L.G., Tissen, I.Y. et al. Minimal Age-Related Alterations in Behavioral and Hematological Parameters in Trace Amine-Associated Receptor 1 (TAAR1) Knockout Mice. Cell Mol Neurobiol 40, 273–282 (2020). https://doi.org/10.1007/s10571-019-00721-4
Received:

Accepted:

Published:

Issue Date:
Keywords
Trace amines

Anxiety

Aging

Hematology

Thyroid

TAAR1

Leukocytes

Neutrophils