Abstract
Alzheimer disease is a complex neurodegenerative disorder. It is the common form of dementia in elderly people. The etiology of this disease is multifactorial, pathologically it is accompanied with accumulation of amyloid beta and neurofibrillary tangles. Accumulation of amyloid beta and mitochondrial dysfunction leads to oxidative stress. In this study, neuroprotective effect of Artemisiaamygdalina against H2O2-induced death was studied in differentiated N2a and SH-SY5Ycells. Cells were treated with H2O2 to induce toxicity which was attenuated by Artemisia amygdalina. The nuclear factor erythroid 2-related factor 2 (Nrf2) is an emerging regulator of cellular resistance to oxidants. It controls the basal and induced expression of antioxidant response element-dependent genes. Further, we demonstrated that Artemisia amygdalina protects neurons through upregulation of Nrf2 pathway. Moreover, reactive oxygen species and mitochondrial membrane potential loss formed by H2O2 was attenuated by Artemisia amygdalina. Thus, Artemisia amygdalina may have the possibility to be a therapeutic agent for Alzheimer disease.
This is a preview of subscription content, log in to check access.
Access options
Buy single article
Instant access to the full article PDF.
US$ 39.95
Price includes VAT for USA
Subscribe to journal
Immediate online access to all issues from 2019. Subscription will auto renew annually.
US$ 199
This is the net price. Taxes to be calculated in checkout.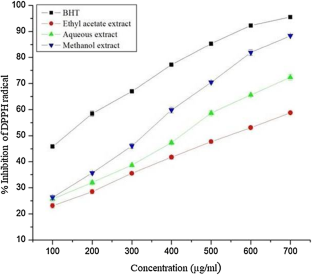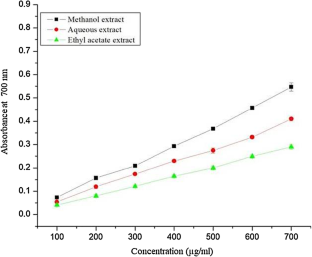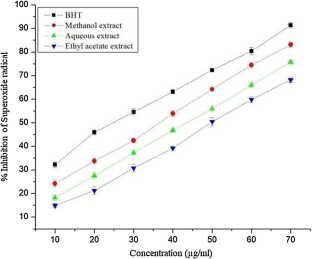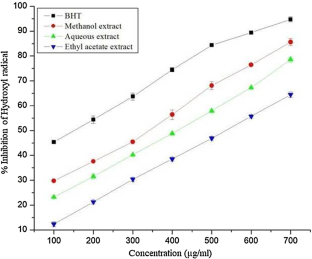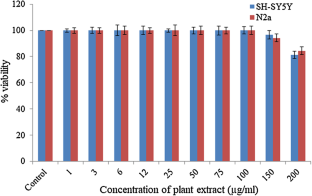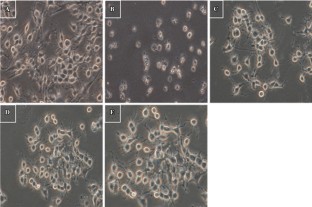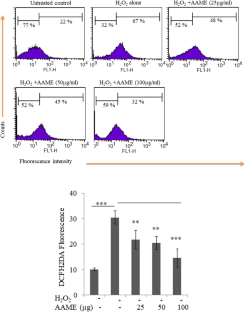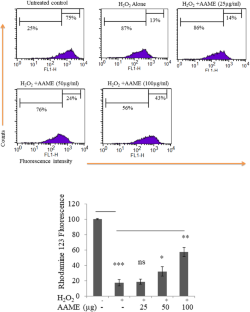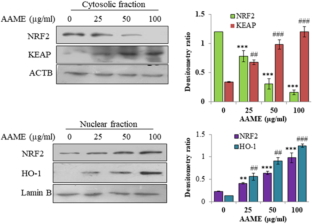 References
Ahlemeyer B, Krieglstein J (2003) Neuroprotective effects of Ginkgo biloba extract. Cell Mol Life Sci 60(9):1779–1792

Aliev G, Palacios HH, Gasimov E, Obrenovich ME, Morales L, Leszek J, Bragin V, Herrera AS, Gokhman D (2010) Oxidative stress induced mitochondrial failure and vascular hypoperfusion as a key initiator for the development of Alzheimer disease. Pharmaceuticals 3(1):158–187

Anand R, Gill KD, Mahdi AA (2014) Therapeutics of Alzheimer's disease: past, present and future. Neuropharmacology 76:27–50

Ayala A, Muñoz MF, Argüelles S (2014) Lipid peroxidation: production, metabolism, and signaling mechanisms of malondialdehyde and 4-hydroxy-2-nonenal. Oxid Med Cell Longev. 2014: 360438

Benjamin BD, Anderson WG, Riedel G, Kim DH, Ryu JH, Choi DY, Platt B (2008) The seed extract of cassia obtusifolia offers neuroprotection to mouse hippocampal cultures. J Pharmacol Sci 107(4):380–392

Bihaqi SW, Singh AP, Tiwari M (2011) In vivo investigation of the neuroprotective property of Convolvulus pluricaulis in scopolamine induced cognitive impairments in Wistar rats. Indian J Pharmacol 43(5):520–525

Brewer MS (2011) Natural antioxidants: sources, compounds, mechanisms of action, and potential applications. Compr Rev Food Sci Food Saf 10(4):2011

Carrillo-Mora P, Luna R, Colín-Barenque L (2014) Amyloid beta: multiple mechanisms of toxicity and only some protective effects?. Oxid Med Cell Longev. 2014:795375

Casey DA, Antimisiaris D, O'Brien J (2010) Drugs for Alzheimer's disease: are they effective? Pharm Ther 35(4):208–211

Cheignon C, Tomas M, Bonnefont-Rousselot D, Faller P, Hureau C, Collin F (2018) Oxidative stress and the amyloid beta peptide in Alzheimer's disease. Redox Biol 14:450–464

Chen X, Guo C, Kong J (2012) Oxidative stress in neurodegenerative diseases. Neural Regen Res 7(5):376–385

Chow JM, Shen SC, Huan SK, Lin HY, Chen YC (2005) Quercetin, but not rutin and quercitrin, prevention of H2O2-induced apoptosis via anti-oxidant activity and heme oxygenase 1 gene expression in macrophages. Biochem Pharmacol 69(12):1839–1851

Gazaryan IG, Thomas B (2016) The status of Nrf2-based therapeutics: current perspectives and future prospects. Neural Regen Res 11(11):1708–1711

Gella A, Durany N (2009) Oxidative stress in Alzheimer disease. Cell Adhes Migr 3(1):88–93

Ghaffari H, Ghassam BJ, Nayaka SC, Kini KR, Prakash HS (2014) Antioxidant and neuroprotective activities of Hyptis suaveolens (L.) Poit. against oxidative stress-induced neurotoxicity. Cell Mol Neurobiol 34(3):323–331

Ghayur MN, Gilani AH, Ahmed T, Khalid A, Nawaz SA, Agbedahunsi JM, Choudhary MI, Houghton PJ (2008) Muscarinic, Ca(++) antagonist and specific butyrylcholinesterase inhibitory activity of dried ginger extract might explain its use in dementia. J Pharm Pharmacol 60(10):1375–1383

Ghazanfar K, Ganai BA, Akbar S, Mubashir K, Dar SA, Dar MY, Tantry MA (2014) Antidiabetic activity of Artemisia amygdalina Decne in Streptozotocin induced diabetic rats, BioMed Res Int. 2014: 185676

Irshad M, Zafaryab M, Singh M, Rizvi MMA (2012) Comparative analysis of the antioxidant activity of Cassia fistula extracts. Int J Med Chem 2012: 157125

Johnson DA, Johnson JA (2015) Nrf2-a therapeutic target for the treatment of neurodegenerative diseases. Free Radic Biol Med 88(Pt B):253–267

Joshi DC, Bakowska JC (2011) SPG20 protein spartin associates with cardiolipin via its plant related senescence domain and regulates mitochondrial Ca2+ homeostasis. PLoS ONE 6:e19290

Joshi RK, Setzer WN, Da Silva JK (2017) Phytoconstituents, traditional medicinal uses and bioactivities of Tulsi (Ocimum sanctum Linn.): a review. Am J Essent Oils Nat Prod 5:18–21

Kalam S, Zahoor MG, Singh R, Ankati S (2015) Free radicals: implications in etiology of chronic diseases and their amelioration through. Nutraceuticals. Pharmacologia 6(1):11–20

Kanninen K, Malm TM, Jyrkkanen HK, Goldsteins G, Keksa-Goldsteine V, Tanila H et al (2008) Nuclear factor erythroid 2-related factor 2 protects against beta amyloid. Mol Cell Neurosci 39(3):302–313

Kim DO, Lee LW, Lee HJ, Lee CY (2002) Vitamin C equivalent antioxidant capacity (VCEAC) of phenolics phytochemicals. J Agric Food Chem 50(13):3713–3717

Kim GH, Kim JE, Rhie SJ, Yoon S (2015) The role of oxidative stress in neurodegenerative diseases. Exp Neurobiol 24(4):325–340

Lobo V, Patil A, Phatak A, Chandra N (2010) Free radicals, antioxidants and functional foods: impact on human health. Pharmacogn Rev 4:118–126

Lone SH, Bhat KA, Naseer S, Rather RA, Khuroo MA, Tasduq SA (2013) Isolation, cytotoxicity evaluation and HPLC quantification of the chemical constituents from Artemisia amygdalina Decne. J Chromatogr B 940:135–141

Luca M, Luca A. Calandra C (2015) The role of oxidative damage in the pathogenesis and progression of Alzheimer's disease and vascular dementia. Oxid Med Cell Longev 2015: 504678

Manoharan S, Guillemin GJ, Abiramasundari RS, Essa MM, Akbar M, Akbar MD (2016) The role of reactive oxygen species in the pathogenesis of Alzheimer's disease, Parkinson's disease, and Huntington's disease: a mini review. Oxid Med Cell Longev 2016: 8590578

Meena H, Pandey HK, Pandey P, Arya MC, Ahmed Z (2012) Evaluation of antioxidant activity of two important memory enhancing medicinal plants Baccopa monnieri and Centella asiatica. Indian J Pharmacol 44(1):114–117

Meo Di S, Reed TT, Venditti P, Victor VM (2016) Role of ROS and RNS sources in physiological and pathological conditions. Oxid Med Cell Longev 2016: 1245049

Mohandas E, Rajmohan V, Raghunath B (2009) Neurobiology of Alzheimer's disease. Indian J Psychiatry 51(1):55–61

Mubashir K, Ganai BA, Ghazanfar K, Akbar S, Malik AH, Masood A (2013) Evaluation of Artemisia amygdalina D. for anti-Inflammatory and immunomodulatory potential, ISRN Inflamm. 2013:483646

Nguyen T, Nioi P, Pickett CB (2009) The Nrf2-antioxidant response element signaling pathway and its activation by oxidative stress. J Biol Chem 284(20):13291–13295

Nirmaladevi D, Venkataramana M, Chandranayaka S, Ramesha A, Jameel NM, Srinivas C (2014) Neuroprotective effects of bikaverin on H2O2-induced oxidative stress mediated neuronal damage in SH-SY5Y cell line. Cell Mol Neurobiol 34:973–985

Niture SK, Khatri R, Jaiswal AK (2014) Regulation of Nrf2–an update. Free Radic Biol Med 66:36–44

Obulesu M, Rao DM (2011) Effect of plant extracts on Alzheimer's disease: an insight into therapeutic avenues. J Neurosci Rural Pract 2(1):56–61

Ott S, Dziadulewicz N, Crowther DC (2015) Iron is a specific cofactor for distinct oxidation- and aggregation-dependent Aβ toxicity mechanisms in a Drosophila model. Dis Models Mech 8(7):657–667

Pan SY, Zhou SF, Gao SH, Yu ZL, Zhang SF, Tang MK, Sun JN, Ma DL, Han YF, Fong WF, Ko KM (2013) New perspectives on how to discover drugs from herbal medicines: CAM's outstanding contribution to modern therapeutics. Evid-based Complement Altern Med 2013: 627375

Perry G, Cash AD, Smith MA (2002) Alzheimer disease and oxidative stress. J Biomed Biotechnol 2(3):120–123

Proto CD, Calligaris S, Cellotti E, Nicoli MC (2000) Antiradical properties of commercial cognacs assessed by the DPPH test. J Agric Food Chem 48(9):4241–4245

Rasool R, Ganai BA, Kamili AN, Akbar S (2012) Antioxidant potential in callus culture of Artemisia amygdalina D. Nat Prod Res 26:2103–2106

Rayees S, Sharma R, Singh G, Najar IA, Singh A, Ahamad DB, Sharma SC, Tikoo MK, Gupta VJ, Sangwan PL, Singh S, koul S, Johri RK (2013) Acute, sub-acute and general pharmacological evaluation of 5-(3,4-methylenedioxyphenyl)-4-ethyl-2E,4E-pentadienoic acid piperidide (SK-20): a novel drug bioavailability enhancer. Environ Toxicol Pharmacol 35:347–359

Rayees S, Mabalirajan U, Bhat WW, Rasool S, Rather RA, Panda L, Satti NK, Lattoo SK, Ghosh B, Singh G (2015) Therapeutic effects of R8, a semi-synthetic analogue of Vasicine, on murine model of allergic airway inflammation via STAT6 inhibition. Int Immunopharmacol 26(1):246–256

Scapagnini G, Sonya V, Nader AG, Calogero C, Zella D, Fabio G (2011) Modulation of Nrf2/ARE pathway by food polyphenols: a nutritional neuroprotective strategy for cognitive and neurodegenerative disorders. Mol Neurobiol 44(2):192–201

Simpson T, Pase M, Stough C (2015) Bacopa monnieri as an antioxidant therapy to reduce oxidative stress in the aging brain, Evid-Based Complement Altern Med. 2015: 615384

Singh M, Ramassamy C (2017) In vitro screening of neuroprotective activity of Indian medicinal plant Withania somnifera. J Nutr Sci 6:e54

Singh SK, Srivastav S, Yadav AK, Srikrishna S, Perry G (2015) Overview of Alzheimer's disease and some therapeutic approaches targeting Aβ by using several synthetic and herbal compounds. Oxid Med Cell Longev 2016:7361613

Skowyra M, Gallego MG, Segovia F, Almajano MP (2014) Antioxidant properties of Artemisia annua extracts in model food emulsions. Antioxidants 3(1):116–128

Su B, Wang X, Nunomura A, Moreira PI, Lee H, Perry G et al (2008) Oxidative stress signaling in Alzheimer's disease. Curr Alzheimer Res 5(6):525–532

Szeto JY, Lewis SJ (2016) Current treatment options for Alzheimer's disease and Parkinson's disease dementia. Curr Neuropharmacol 14(4):326–338

Szymanska R, Pospisil P, Kruk J (2016) Plant-derived antioxidants in disease prevention. Oxid Med Cell Longev. 2017: 5092754

Tian J, Shi J, Zhang X, Wang Y (2010) Herbal therapy: a new pathway for the treatment of Alzheimer's disease. Alzheimer's Res Ther 2(5):30

Trimmer PA, Keeney PM, Borland MK, Simon FA et al (2004) Mitochondrial abnormalities in cybrid cell models of sporadic Alzheimer's disease worsen with passage in culture. Neurobiol Dis 15(1):29–39

Velagapudi R, El-Bakoush A, Olajide OA (2018) Activation of Nrf2 pathway contributes to neuroprotection by the dietary Flavonoid. tiliroside. Mol Neurobiol 55(10):8103–8123

Wang X, Wang W, Li L, Perry G, Lee H, Zhu X (2014) Oxidative stress and mitochondrial dysfunction in Alzheimer's disease. Biochem Biophys Acta 1842(8):1240–1247

Wang Z, Guo S, Wang J, Shen Y, Zhang J, Wu Q (2017) Nrf2/HO-1 mediates the neuroprotective effect of mangiferin on early brain injury after subarachnoid hemorrhage by attenuating mitochondria-related apoptosis and neuroinflammation. Sci Rep 7:11883

Wickens AP (2001) Aging and the free radical theory. Respir Physiol 128(3):379

Yuan H, Ma Q, Ye L, Piao G (2016) The traditional medicine and modern medicine from natural products. Molecules 21(5):E559
Acknowledgements
The authors acknowledge the support from University Grants Commission.
Ethics declarations
Conflict of interest
The authors declare that they have no conflict of interest.
Ethical Approval
This article does not contain any studies with human participants or animals performed by any of the authors.
Additional information
Publisher's Note
Springer Nature remains neutral with regard to jurisdictional claims in published maps and institutional affiliations.
About this article
Cite this article
Sajjad, N., Wani, A., Sharma, A. et al. Artemisia amygdalina Upregulates Nrf2 and Protects Neurons Against Oxidative Stress in Alzheimer Disease. Cell Mol Neurobiol 39, 387–399 (2019). https://doi.org/10.1007/s10571-019-00656-w
Received:

Accepted:

Published:

Issue Date:
Keywords
Artemisia amygdalina

Antioxidant

Oxidative stress

Neuroprotection

Nrf2