Abstract
The G protein-coupled cholecystokinin 1 receptor (CCK1R) is activated permanently by type II photodynamic action (i.e., by singlet oxygen) in the freshly isolated rat pancreatic acini, in contrast to reversible activation by CCK. But how CCK1R is photodynamically activated is not known. Therefore, in the present work, we subjected membrane proteins extracted from isolated rat pancreatic acini to photodynamic action with photosensitiser sulphonated aluminium phthalocyanine (SALPC), and used reducing gel electrophoresis and Western blot to detect possible changes in CCK1R oligomerization status. Photodynamic action (SALPC 1 µM, light 36.7 mW cm− 2 × 10 min) was found to convert dimeric CCK1R nearly quantitatively to monomers. Such conversion was dependent on both irradiance (8.51–36.7 mW cm− 2) and irradiation time (1–20 min). Minimum effective irradiance was found to be 11.1 mW cm− 2 (× 10 min, with SALPC 1 µM), and brief photodynamic action (SALPC 1 µM, 36.7 mW cm− 2 × 1 min) was effective. Whilst CCK stimulation of purified membrane proteins alone had no effect on CCK1R dimer/monomer balance, sub-threshold photodynamic action (SALPC 100 nM, 36.7 mW cm− 2 × 10 min) plus CCK revealed a bell-shaped CCK dose response curve for CCK1R monomerization, which was remarkably similar to the dose response curve for CCK-stimulated amylase secretion in isolated rat pancreatic acini. These two lines of evidence together suggest that during photodynamic CCK1R activation, CCK1R is permanently monomerized, thus providing a unique approach for permanent G protein-coupled receptor (GPCR) activation which has not been achieved before.
Access options
Buy single article
Instant access to the full article PDF.
USD 39.95
Price excludes VAT (USA)
Tax calculation will be finalised during checkout.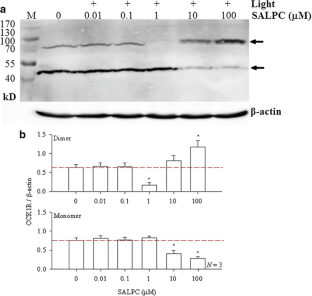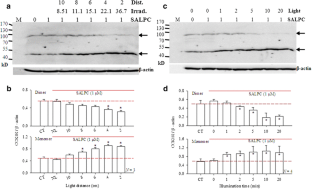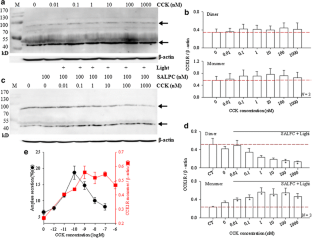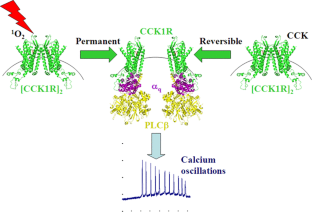 References
An YP, Xiao R, Cui H, Cui ZJ ZJ (2003) Selective activation by photodynamic action of cholecystokinin receptor in the freshly isolated rat pancreatic acini. Br J Pharmacol 139:872–880

Archer-Lahlou E, Escrieut C, Clerc P, Martinez J, Moroder L, Logsdon C, Kopin C, Seva C, Dufresne M, Pradayrol L, Maigret B, Fourmy D (2005) Molecular mechanism underlying partial and full agonism mediated by the human cholecystokinin-1 receptor. J Biol Chem 280:10664–10674

Bai M (2004) Dimerization of G-protein-coupled receptors: roles in signal transduction. Cell Signal 16:175–186

Ballaz S (2017) The unappreciated roles of the cholecystokinin receptor CCK1 in brain functioning. Rev Neurosci 28:573–585

Broberger C, Holmberg K, Shi TJ, Dockray G, Hokfelt T (2001) Expression and regulation of cholecystokinin and cholecystokinin receptors in rat nodose and dorsal root ganglia. Brain Res 903:128–140

Cheng ZJ, Miller LJ (2001) Agonist-dependent dissociation of oligomeric complexes of G protein-coupled cholecystokinin receptors demonstrated in living cells using bioluminescence resonance energy transfer. J Biol Chem 276:48040–48047

Cheng ZJ, Harikumar KG, Holicky EL, Miller LJ (2003) Heterodimerization of type A and B cholecystokinin receptors enhance signaling and promote cell growth. J Biol Chem 278:52972–52979

Cui ZJ, Kanno T (1997) Photodynamic triggering of calcium oscillation in the isolated rat pancreatic acini. J Physiol 504:47–55

Cui ZJ, Matthews EK (1998) Photodynamic modulation of cellular function. Acta Pharmacol Sin/Zhongguo Yao Li Xue Bao 19:297–303

Cui ZJ, Habara Y, Wang DY, Kanno T (1997) A novel aspect of photodynamic action: induction of recurrent spikes in cytosolic calcium concentration. Photochem Photobiol 65:382–386

Desai AJ, Harikumar KG, Miller LJ (2014) A type 1 cholecystokinin receptor mutant that mimics the dysfunction observed for wild type receptor in a high cholesterol environment. J Biol Chem 289:18314–18326

Dong M, Vattelana AM, Lam PC, Orry AJ, Abagyan R, Christopoulos A, Sexton PM, Haines DR, Miller LJ (2015) Development of a highly selective allosteric antagonist radioligand for the type 1 cholecystokinin receptor and elucidation of its molecular basis of binding. Mol Pharmacol 87:130–140

Escrieut C, Gigoux V, Archer E, Verrier S, Maigret B, Behrendt R, Moroder L, Bignon E, Silvente-Poirot S, Pradayrol L, Fourmy D (2002) The biologically crucial C terminus of cholecystokinin and the nonpeptide agonist SR-146, 131 share a common binding site in the human CCK1 receptor. Evidence for a crucial role of Met-121 in the activation process. J Biol Chem 277:7546–7555

Gigoux V, Escrieut C, Silvente-Poirot S, Maigret B, Gouilleux L, Fehrentz JA, Gully D, Moroder L, Vaysse N, Fourmy D (1998) Met-195 of the cholecystokinin-A receptor interacts with the sulfated tyrosine of cholecystokinin and is crucial for receptor transition to high affinity state. J Biol Chem 273:14380–14386

Gong Z, Liu Z, Dong X, Ding YH, Dong MQ, Tang C (2017) Protocol for analyzing protein ensemble structures from chemical cross-links using DynaXL. Biophys Rep 3(4–6):100–108

Gurevich VV, Gurevich EV (2008) Rich tapestry of G protein-coupled receptor signaling and regulatory mechanisms. Mol Pharmacol 74:312–316

Harikumar KG, Dong M, Cheng Z, Pinon DI, Lybrand TP, Miller LJ (2006) Transmembrane segment peptides can disrupt cholecystokinin receptor oligomerization without affecting receptor function. Biochemistry 45:14706–14716

Henderson BW, Daroqui C, Tracy E, Vaughan LA, Loewen GM, Cooper MT, Baumann H (2007) Cross-linking of signal transducer and activator of transcription 3-a molecular marker for the photodynamic reaction in cells and tumors. Clin Cancer Res 13:3156–3163

Hsieh YJ, Chien KY, Yang IF, Lee IN, Wu CC, Huang TY, Yu JS (2017) Oxidation of protein-bound methionine in Photofrin-photodynamic therapy-treated human tumor cells explored by methionine-containing peptide enrichment and quantitative proteomics approach. Sci Rep 7:1370

Hu J, Hu K, Liu T, Stern MK, Mistry R, Challiss RA, Costanzi S, Wess J (2013) Novel structural and functional insights into M3 muscarinic receptor dimer/oligomer formation. J Biol Chem 288:34777–34790

Jiang HN, Li Y, Cui ZJ (2017) Photodynamic physiology—photonanomanipulations in cellular physiology with protein photosensitisers. Front Physiol 8:191

Jiang HN, Li Y, Jiang WY, Cui ZJ (2018) Cholecystokinin 1 receptor—a unique G protein-coupled receptor activated by singlet oxygen (GPCR-ABSO). Front Physiol 9:497

Kaczynska K, Szereda-Przestaszewska M (2015) Contribution of CCK1 receptors to cardiovascular and respiratory effects of cholecystokinin in anesthetized rats. Neuropeptides 54:29–34

Kazmi HR, Chandra A, Nigam J, Baghel K, Srivastava M, Maurya SS, Parmar D (2016) Polymorphism and expression profile of cholecystokinin type A receptor in relation to gallstone disease susceptibility. Biochem Genet 54:665–675

Kuszak AJ, Pitchiaya S, Anand JP, Mosberg HI, Walter NG, Sunahara RK (2009) Purification and functional reconstitution of monomeric µ-opioid receptors: allosteric modulation of agonist binding by Gi2. J Biol Chem 284:26732–26741

Li JH, Han SJ, Hamdan FF, Kim SK, Jacobson KA, Bloodworth LM, Zhang X, Wess J (2007) Distinct structural changes in a G protein-coupled receptor caused by different classes of agonist ligands. J Biol Chem 282:26284–26293

Li Y, Wu X, Zhou S, Owyang C (2011) Low-affinity CCK-A receptors are coexpressed with leptin receptors in rat nodose ganglia: implications for leptin as a regulator of short-term satiety. Am J Physiol Gastrointest Liver Physiol 300:G217-G227

Liang HY, Song ZM, Cui ZJ (2013) Lasting inhibition of receptor-mediated calcium oscillations in pancreatic acini by neutrophil respiratory burst-A novel mechanism for secretory blockade in acute pancreatitis? Biochem Biophys Res Commun 437:361–367

Liu W, Oseroff AR, Baumann H (2004) Photodynamic therapy causes cross-linking of signal transducer and activator of transcription proteins and attenuation of interleukin-6 cytokine responsiveness in epithelial cells. Cancer Res 64:6579–6587

Manglik A, Kruse AC, Kobilka TS, Thian FS, Mathiesen JM, Sunahara RK, Pardo L, Weis WI, Kobilka BK, Granier S (2012) Crystal structure of the µ-opioid receptor bound to a morphinan antagonist. Nature 485:321–326

Mathiasen S, Christensen SM, Fung JJ, Rasmussen SG, Fay JF, Jorgensen SK, Veshaguri S, Farrens DL, Kiskowski M, Kobilka B, Stamou D (2014) Nanoscale high-content analysis using compositional heterogeneities of single proteoliposomes. Nat Methods 11:931–934

Matthews EK, Cui ZJ (1989) Photodynamic action of rose bengal on isolated rat pancreatic acini: stimulation of amylase release. FEBS Lett 256:29–32

Matthews EK, Cui ZJ (1990a) Photodynamic action of sulphonated aluminium phthalocyanine (SALPC) on isolated rat pancreatic acini. Biochem Pharmacol 39:1445–1457

Matthews EK, Cui ZJ (1990b) Photodynamic action of sulphonated aluminium phthalocyanine (SALPC) on AR4-2J cells, a carcinoma cell line of rat exocrine pancreas. Br J Cancer 61:695–701

Matthews JM, Sunde M (2012) Dimers, oligomers, everywhere. Adv Exp Med Biol 747:1–18

Milligan G (2004) G protein-coupled receptor dimerization: function and ligand pharmacology. Mol Pharmacol 66:1–7

Mishra AK, Gragg M, Stoneman MR, Biener G, Oliver JA, Miszta P, Filipek S, Raicu V, Park PS (2016) Quaternary structures of opsin in live cells revealed by FRET spectrometry. Biochem J 473:3819–3836

Møller TC, Moreno-Delgado D, Pin JP, Kniazeff J (2017) Class C G protein-coupled receptors: reviving old couples with new partners. Biophys Rep 3(4–6):57–63

Nishimura S, Bilgüvar K, Ishigame K, Sestan N, Günel M, Louvi A (2015) Functional synergy between cholecystokinin receptors CCKAR and CCKBR in mammalian brain development. PLoS ONE 10:e0124295

Ozaki T, Mohammad S, Morioka E, Takiguchi S, Ikeda M (2013) Infant satiety depends on transient expression of cholecystokinin-1 receptors on ependymal cells lining the third ventricle in mice. J Physiol 591:1295–1312

Pétrin D, Hébert TE (2012) The functional size of GPCR-monomers, dimers or tetramers? Subcell Biochem 63:67–81

Rogers J, Hughes RG, Matthews EK (1988) Cyclic GMP inhibits protein kinase C-mediated secretion in rat pancreatic acini. J Biol Chem 263:3713–3719

Shen HR, Spikes JD, Kopeceková P, Kopecek J (1996a) Photodynamic crosslinking of proteins. I. Model studies using histidine- and lysine-containing N-(2-hydroxypropyl)methacrylamide copolymers. J Photochem Photobiol B Biol 34:203–210

Shen HR, Spikes JD, Kopecková P, Kopecek J (1996b) Photodynamic crosslinking of proteins. II. Photocrosslinking of a model protein-ribonuclease A. J Photochem Photobiol B Biol 35:213–219

Song Y, Ge B, Lao J, Wang Z, Yang B, Wang X, He H, Li J, Huang F (2018) Regulation of the oligomeric status of CCR3 with binding ligands revealed by single-molecule fluorescence imaging. Biochemistry 57:852–860

Subbarayal P, Karunakaran K, Winkler AC, Rother M, Gonzalez E, Meyer TF, Rudel T (2015) EphrinA2 receptor (EphA2) is an invasion and intracellular signaling receptor for Chlamydia trachomatis. PLoS Pathog 11:e1004846

Terrillon S, Bouvier M (2004) Roles of G-protein-coupled receptor dimerization. EMBO Rep 5:30–34

Wang BJ, Liang HY, Cui ZJ (2009) Duck pancreatic acinar cell as a unique model for independent cholinergic stimulation-secretion coupling. Cell Mol Neurobiol 29:747–756

Xiao R, Cui ZJ (2004) Mutual dependence of VIP/PACAP and CCK receptor signaling for a physiological role in duck exocrine pancreatic secretion. Am J Physiol Regul Integr Comp Physiol 286:R189-R198

Zheng X, Morgan J, Pandey SK, Chen Y, Tracy E, Baumann H, Missert JR, Batt C, Jackson J, Bellnier DA (2009) Conjugation of 2-(1′-hexyloxyethyl)-2-devinylpyropheophorbide-a (HPPH) to carbohydrates changes its subcellular distribution and enhances photodynamic activity in vivo. J Med Chem 52:4306–4318
Acknowledgements
This work was supported by The Natural Science Foundation of China (Grant Nos. 31670856, 31270892) and by The Ministry of Science and Technology of China (Grant No. 2011CB809101). We would like to thank the anonymous Referee for very insightful comments which have helped to improve our MS.
Ethics declarations
Conflict of interest
The authors (WYJ, YL, ZYL, ZJC) declare that there are no conflicts of interest.
About this article
Cite this article
Jiang, W.Y., Li, Y., Li, Z.Y. et al. Permanent Photodynamic Cholecystokinin 1 Receptor Activation: Dimer-to-Monomer Conversion. Cell Mol Neurobiol 38, 1283–1292 (2018). https://doi.org/10.1007/s10571-018-0596-3
Received:

Accepted:

Published:

Issue Date:

DOI: https://doi.org/10.1007/s10571-018-0596-3
Keywords