Abstract
Folate deficiency and hyperhomocysteinemia have long been associated with developmental anomalies, particularly neural tube defects and neurocristopathies—a group of diverse disorders that result from defective growth, differentiation, and migration of neural crest (NC) cells. However, the exact mechanisms by which homocysteine (Hcys) and/or folate deficiencies disrupt NC development are still poorly understood in mammals. In this work, we employed a well-defined culture system to investigate the effects of Hcys and folic acid (FA) supplementation on the morphogenetic processes of murine NC cells in vitro. We demonstrated that Hcys increases outgrowth and proliferation of cephalic NC cells and impairs their differentiation into smooth muscle cells. In addition, we showed that FA alone does not directly affect the developmental dynamics of the cephalic NC cells but is able to prevent the Hcys-induced effects. Our results, therefore, suggest that elevated Hcys levels per se cause dysmorphogenesis of the cephalic NC and might contribute to neurocristopathies in mammalian embryos.
Access options
Buy single article
Instant access to the full article PDF.
USD 39.95
Price excludes VAT (USA)
Tax calculation will be finalised during checkout.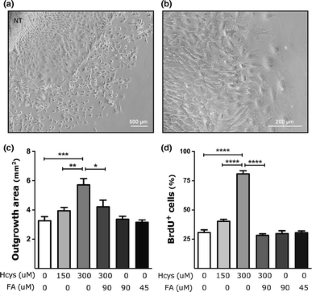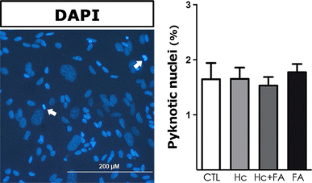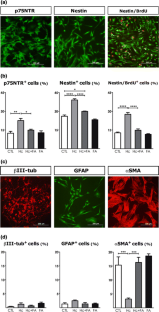 References
Antony AC, Hansen DK (2000) Hypothesis: folate-responsive neural tube defects and neurocristopathies. Teratology 62(1):42–50

Beaudin AE, Stover PJ (2007) Folate-mediated one-carbon metabolism and neural tube defects: balancing genome synthesis and gene expression. Birth Defects Res C 81(3):183–203

Bennett GD, Moser K, Chaudoin T, Rosenquist TH (2006) The expression of the NR1-subunit of the NMDA receptor during mouse and early chicken development. Reprod Toxicol 22(3):536–541

Bolande RP (1997) Neurocristopathy: its growth and development in 20 years. Pediatr Pathol Lab Med 17(1):1–25

Boot MJ, Steegers-Theunissen RP, Poelmann RE, Iperen L, Lindemans J, Gittenberger-de Groot AC (2003) Folic acid and homocysteine affect neural crest and neuroepithelial cell outgrowth and differentiation in vitro. Dev Dyn 227(2):301–308

Boot MJ, Steegers-Theunissen RP, Poelmann RE, Iperen L (2004) Homocysteine induces endothelial cell detachment and vessel wall thickening during chick embryonic development. Circ Res 94(4):542–549

Brauer PR, Rosenquist TH (2002) Effect of elevated homocysteine on cardiac neural crest migration in vitro. Dev Dyn 224(2):222–230

Brauer PR, Tierney BJ (2004) Consequences of elevated homocysteine during embryonic development and possible modes of action. Curr Pharm Des 10(22):2719–2732

Bressan RB, Melo FR, Almeida PA, Bittencourt DA, Visoni S, Jeremias TS, Costa AP, Leal RB, Trentin AG (2014) EGF-FGF2 stimulates the proliferation and improves the neuronal commitment of mouse epidermal neural crest stem cells (EPI-NCSCs). Exp Cell Res 327(1):37–47

Chiang JK, Sung ML, Yu HR, Chang HI, Kuo HC, Tsai TC, Yen CK, Chen CN (2011) Homocysteine induces smooth muscle cell proliferation through differential regulation of cyclins A and D1 expression. J Cell Physiol 226(4):1017–1026

Costa-Silva B, da Costa MC, Melo FR, Neves CM, Alvarez-Silva M, Calloni GW, Trentin AG (2009) Fibronectin promotes differentiation of neural crest progenitors endowed with smooth muscle cell potential. Exp Cell Res 315(6):955–967

Crider KS, Yang TP, Berry RJ, Bailey LB (2012) Folate and DNA methylation: a review of molecular mechanisms and the evidence for folate's role. Adv Nutr 3(1):21–38

Dupin E, Coelho-Aguiar JM (2013) Isolation and differentiation properties of neural crest stem cells. Cytometry Part A 83(1):38–47

Dupin E, Sommer L (2012) Neural crest progenitors and stem cells: from early development to adulthood. Dev Biol 366:83–95

Epeldegui M, Pena-Melian A, Varela-Moreiras G, Perez-Miguelsanz J (2002) Homocysteine modifies development of neurulation and dorsal root ganglia in chick embryos. Teratology 65(4):171–179

Etchevers HC, Vincent C, Le Douarin NM, Couly GF (2001) The cephalic neural crest provies pericytes and smooth muscle cells to all blood vessels of the face and forebrain. Development 128(7):1059–1068

Imbard A, Benoist JF, Blom HT (2013) Neural tube defects, folic acid and methylation. Int. J Environ Res Public Health 10(9):4352–4389

Ito JK, Morita T (1995) Role of retinoic acid in mouse neural crest development in vitro. Dev Dyn 204:211–218

Jessen KR, Mirsky R (2005) The origin and development of glial cells in peripheral nerves. Nat Rev 6:671–682

Kalter H (2003) Teratology in the 20th century: environmental causes of congenital malformations in humans and how they were established. Neurotoxicol Teratol 25:131–282

Kartal Ozer N, Taha S, Azzi A (2005) Homocysteine induces DNA synthesis and proliferation of vascular smooth muscle cells by interfering with MAPK kinase pathway. BioFactors 24(1–4):193–199

Katoh H, Shibata S, Fukuda K, Sato M, Satoh E, Nagoshi N, Minematsu T, Matsuzaki Y, Akazawa C, Toyama Y, Nakamura M, Okano H (2011) The dual origin of the peripheral olfactory system: placode and neural crest. Mol Brain 4:34

Kobus K, Nazari EM, Muller YM (2009) Effects of folic acid and homocysteine on spinal cord morphology of the chicken embryo. Histochem Cell Biol 132(5):525–532

Le Douarin N, Kalcheim C (1999) The neural crest. Cambridge University Press, Cambridge

Liu X, Shen J, Zhan R, Wang X, Wang X, Zhang Z, Leng X, Yang Z, Qian L (2009) Proteomic analysis of homocysteine induced proliferation of cultured neonatal rat vascular smooth muscle cells biochim biophys acta. Proteins Proteomics 1794(2):177–184

Mattson MP, Shea TB (2003) Folate and homocysteine metabolism in neural plasticity and neurodegenerative disorders. Trends Neurosci 26(3):137–146

Obican SG, Finnel RH, Mills JL, Shaw GM, Scialli AR (2010) Folic acid in early pregnancy: a public health success story. FASEB J 24(11):4167–4174

Rosenquist TH (2013) Folate, homocysteine and the cardiac neural crest. Dev Dyn 242(3):201–218

Rosenquist TH, Ratashak SA, Selhub J (1996) Homocysteine induces congenital defects of the heart and neural tube: effect of folic acid. Proc Natl Acad Sci USA 93(26):15227–15232

Shaw GM, O'Malley CD, Wasserman CR, Tolarova MM, Lammer EJ (1995) Maternal periconceptional use of multivitamins and reduced risk for conotruncal heart defects and limb deficiencies among offspring. Am J Med Genet 59(4):536–545

Stover PJ (2009) One-carbon metabolism-genome interactions in folate-associated pathologies. J Nutr 139(12):2402–2405

Tierney BJ, Ho T, Reedy MV, Brauer PR (2004) Homocysteine inhibits cardiac neural crest cell formation and morphogenesis in vivo. Dev Dyn 229(1):63–73

Tsai JC, Perrella MA, Yoshizumi M, Hsieh CM, Haber E, Schlegel R, Lee ME (1994) Promotion of vascular smooth muscle cell growth by homocysteine: a link to atherosclerosis. Proc Natl Acad Sci USA 91(14):6369–6373

Van Mil NH, Oosterbaan AM, Steegers-Theunissen RP (2010) Teratogenicity and underlying mechanisms of homocysteine in animal models: a review. Reprod Toxicol 30(4):520–531

Zhang D, Chen Y, Xie X, Liu J, Wang Q, Kong W, Zhu Y (2012) Homocysteine activates vascular smooth muscle cells by DNA demethylation of platelet-derived growth factor in endothelial cells. J Mol Cell Cardiol 53(4):487–496
Acknowledgments
This work was supported by Ministério da Ciência, Tecnologia e Inovação/Conselho Nacional de Desenvolvimento Científico e Tecnológico (MCTI/CNPq/Brazil), Coordenação de Aperfeiçoamento de Pessoal de Nível Superior (CAPES, Brazil), Instituto Nacional de Neurociência Translacional (MCTI/INNT), and Fundação de Amparo à Pesquisa do Estado de Santa Catarina (FAPESC, Brazil). RBB is supported by a fellowship from the Science Without Borders Program (CAPES, Brazil).
Ethics declarations
Conflict of Interest
The authors declare no conflict of interest.
Additional information
Fernanda Rosene Melo and Raul Bardini Bressan have contributed equally to this work and are both first authors.
About this article
Cite this article
Melo, F.R., Bressan, R.B., Costa-Silva, B. et al. Effects of Folic Acid and Homocysteine on the Morphogenesis of Mouse Cephalic Neural Crest Cells In Vitro. Cell Mol Neurobiol 37, 371–376 (2017). https://doi.org/10.1007/s10571-016-0383-y
Received:

Accepted:

Published:

Issue Date:

DOI: https://doi.org/10.1007/s10571-016-0383-y
Keywords