Abstract
Traumatic brain injury (TBI), which can lead to disability, dysfunction, and even death, is a prominent health problem worldwide. Effective therapy for this serious and debilitating condition is needed. Human umbilical cord matrix, known as Wharton's jelly (WJ), provides a natural, interface scaffold that is enriched in mesenchymal stem cells. In this study, we tested the efficacy of WJ tissue transplantation in a weight-drop model of TBI in rats. WJ tissue was cultured and transplanted into the injury site 24 h after TBI. The modified neurologic severity score, body weight, brain edema, and lesion volume were evaluated at various time points after TBI. Cognitive behavior was assessed by the novel object recognition test and the Morris water maze test. Expression of brain-derived neurotrophic factor (BDNF) in the perilesional brain area was measured at day 14 after TBI. We found that WJ tissue transplantation lessened TBI-induced brain edema (day 3), reduced lesion volume (day 28), improved neurologic function (days 21–28), and promoted memory and cognitive recovery. Additionally, expression of BDNF mRNA and protein was higher in WJ tissue-treated rats than in sham-operated or vehicle-treated rats. These data suggest that WJ tissue transplantation can reduce TBI-induced brain injury and may have therapeutic potential for the treatment of TBI.
Access options
Buy single article
Instant access to the full article PDF.
USD 39.95
Price includes VAT (USA)
Tax calculation will be finalised during checkout.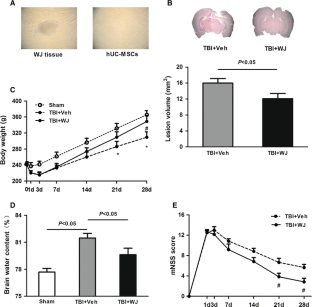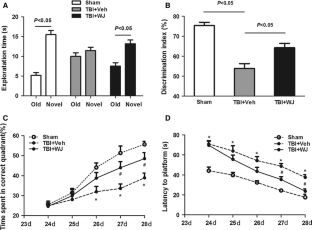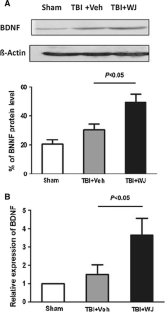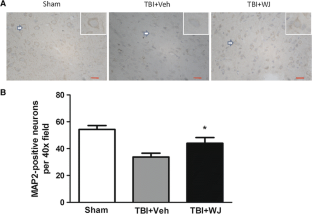 References
Arien-Zakay H, Shohami E, Nagler A, Lazarovici P (2012) Human umbilical cord blood stem cells for treatment of traumatic brain injury. J Mol Neurosci 48:S66–S66

Bakhtiary M, Marzban M, Mehdizadeh M, Joghataei MT, Khoei S, Tondar M, Mahabadi VP, Laribi B, Ebrahimi A, Hashemian SJ, Modiry N, Mehrabi S (2011) Combination of stem cell mobilized by granulocyte-colony stimulating factor and human umbilical cord matrix stem cell: therapy of traumatic brain injury in rats. Iran J Basic Med Sci 14(4):327–339

Bennett MH, Trytko B, Jonker B (2012) Hyperbaric oxygen therapy for the adjunctive treatment of traumatic brain injury. Cochrane Database Syst Rev 12:CD004609. doi:10.1002/14651858

Camussi G, Deregibus MC, Tetta C (2010) Paracrine/endocrine mechanism of stem cells on kidney repair: role of microvesicle-mediated transfer of genetic information. Curr Opin Nephrol Hypertens 19(1):7–12. doi:10.1097/MNH.0b013e328332fb6f

Chang CF, Cho S, Wang J (2014) (−)-Epicatechin protects hemorrhagic brain via synergistic Nrf2 pathways. Ann Clin Transl Neurol 1(4):258–271. doi:10.1002/acn3.54

Fang B, Liang M, Yang G, Ye Y, Xu H, He X, Huang JH (2014) Expression of S100A6 in rat hippocampus after traumatic brain injury due to lateral head acceleration. Int J Mol Sci 15(4):6378–6390. doi:10.3390/ijms15046378

Guan J, Zhu Z, Zhao RC, Xiao Z, Wu C, Han Q, Chen L, Tong W, Zhang J, Gao J, Feng M, Bao X, Dai J, Wang R (2013) Transplantation of human mesenchymal stem cells loaded on collagen scaffolds for the treatment of traumatic brain injury in rats. Biomaterials 34(24):5937–5946. doi:10.1016/j.biomaterials.2013.04.047

Jiang C, Wang J, Yu L, Ou C, Liu X, Zhao X, Wang J (2013) Comparison of the therapeutic effects of bone marrow mononuclear cells and microglia for permanent cerebral ischemia. Behav Brain Res 250:222–229. doi:10.1016/j.bbr.2013.05.011

Joyce N, Annett G, Wirthlin L, Olson S, Bauer G, Nolta JA (2010) Mesenchymal stem cells for the treatment of neurodegenerative disease. Regen Med 5(6):933–946. doi:10.2217/rme.10.72

Karahuseyinoglu S, Cinar O, Kilic E, Kara F, Akay GG, Demiralp DO, Tukun A, Uckan D, Can A (2007) Biology of stem cells in human umbilical cord stroma: in situ and in vitro surveys. Stem Cells 25(2):319–331. doi:10.1634/stemcells.2006-0286

Kim HJ, Lee JH, Kim SH (2010) Therapeutic effects of human mesenchymal stem cells on traumatic brain injury in rats: secretion of neurotrophic factors and inhibition of apoptosis. J Neurotrauma 27(1):131–138. doi:10.1089/neu.2008-0818

Liu SJ, Zou Y, Belegu V, Lv LY, Lin N, Wang TY, McDonald JW, Zhou X, Xia QJ, Wang TH (2014) Co-grafting of neural stem cells with olfactory sheathing cells promotes neuronal restoration in traumatic brain injury with an anti-inflammatory mechanism. J Neuroinflamm 11:66. doi:10.1186/1742-2094-11-66

Lu B, Nagappan G, Lu Y (2014) BDNF and synaptic plasticity, cognitive function, and dysfunction. Handb Exp Pharmacol 220:223–250. doi:10.1007/978-3-642-45106-5_9

Ma H, Yu B, Kong L, Zhang Y, Shi Y (2012) Neural stem cells over-expressing brain-derived neurotrophic factor (BDNF) stimulate synaptic protein expression and promote functional recovery following transplantation in rat model of traumatic brain injury. Neurochem Res 37(1):69–83. doi:10.1007/s11064-011-0584-1

Malkowski A, Sobolewski K, Jaworski S, Bankowski E (2007) FGF binding by extracellular matrix components of Wharton's jelly. Acta Biochim Pol 54(2):357–363

Riess P, Zhang C, Saatman KE, Laurer HL, Longhi LG, Raghupathi R, Lenzlinger PM, Lifshitz J, Boockvar J, Neugebauer E, Snyder EY, McIntosh TK, McIntosh TK (2002) Transplanted neural stem cells survive, differentiate, and improve neurological motor function after experimental traumatic brain injury. Neurosurgery 51(4):1043–1052 discussion 1052–1044

Shen X, Li A, Zhang Y, Dong X, Shan T, Wu Y, Jia J, Hu Y (2013) The effect of different intensities of treadmill exercise on cognitive function deficit following a severe controlled cortical impact in rats. Int J Mol Sci 14(11):21598–21612. doi:10.3390/ijms141121598

Sobolewski K, Malkowski A, Bankowski E, Jaworski S (2005) Wharton's jelly as a reservoir of peptide growth factors. Placenta 26(10):747–752. doi:10.1016/j.placenta.2004.10.008

Vatansever F, Xuan W, Huang YY, Hamblin MR (2013) Transcranial low-level light therapy produces neuroprotection, neurogenesis and BDNF after TBI in mice. Proc SPIE 8569:85690E (85611 pp)–85690E (85611 pp). doi:10.1117/12.2001900

Wang S, Cheng H, Dai G, Wang X, Hua R, Liu X, Wang P, Chen G, Yue W, An Y (2013) Umbilical cord mesenchymal stem cell transplantation significantly improves neurological function in patients with sequelae of traumatic brain injury. Brain Res 1532:76–84. doi:10.1016/j.brainres.2013.08.001

Wu H, Zhang Z, Li Y, Zhao R, Li H, Song Y, Qi J, Wang J (2010) Time course of upregulation of inflammatory mediators in the hemorrhagic brain in rats: correlation with brain edema. Neurochem Int 57(3):248–253. doi:10.1016/j.neuint.2010.06.002

Wu H, Wu T, Li M, Wang J (2012) Efficacy of the lipid-soluble iron chelator 2,2′-dipyridyl against hemorrhagic brain injury. Neurobiol Dis 45(1):388–394. doi:10.1016/j.nbd.2011.08.028

Yang CC, Shih YH, Ko MH, Hsu SY, Cheng H, Fu YS (2008) Transplantation of human umbilical mesenchymal stem cells from Wharton's jelly after complete transection of the rat spinal cord. Plos One 3(10):e3336. doi:10.1371/journal.pone.0003336

Zan L, Zhang X, Xi Y, Wu H, Song Y, Teng G, Li H, Qi J, Wang J (2014) Src regulates angiogenic factors and vascular permeability after focal cerebral ischemia-reperfusion. Neuroscience 262:118–128. doi:10.1016/j.neuroscience.2013.12.060

Zhang Y, Xiong Y, Mahmood A, Meng Y, Qu C, Schallert T, Chopp M (2009) Therapeutic effects of erythropoietin on histological and functional outcomes following traumatic brain injury in rats are independent of hematocrit. Brain Res 1294:153–164. doi:10.1016/j.brainres.2009.07.077

Zhou C, Yang B, Tian Y, Jiao H, Zheng W, Wang J, Guan F (2011) Immunomodulatory effect of human umbilical cord Wharton's jelly-derived mesenchymal stem cells on lymphocytes. Cell Immunol 272(1):33–38. doi:10.1016/j.cellimm.2011.09.010

Zhu W, Gao Y, Chang CF, Wan JR, Zhu SS, Wang J (2014) Mouse models of intracerebral hemorrhage in ventricle, cortex, and hippocampus by injections of autologous blood or collagenase. Plos One 9(5):e97423. doi:10.1371/journal.pone.0097423
Acknowledgments
This study was supported by Natural Science Foundation of China  (81471306, U1404313), Innovative Research Team (in Science and Technology) and NIH K01AG031926, R01NS078026, and R01AT007317. T.C. is the recipient of the China Scholarship Council Joint PhD Training award. We thank Jiarui Wang and Claire Levine for assistance with this manuscript.
Conflict of interest
The authors declare that they have no competing financial interests.
Electronic supplementary material
Below is the link to the electronic supplementary material.
Supplementary Fig.1. Human umbilical cord mesenchymal stem cell (hUC-MSC) phenotype analyzed by flow cytometry. hUC-MSCs expressed high levels of matrix marker CD44 and integrin marker CD29 (A). The cells did not express hematopoietic lineage markers (CD34, CD133, or CD45) or HLA-DR (MHCII), which are closely related to graft-versus-host disease (B, C). (TIFF 956 kb)
About this article
Cite this article
Cheng, T., Yang, B., Li, D. et al. Wharton's Jelly Transplantation Improves Neurologic Function in a Rat Model of Traumatic Brain Injury. Cell Mol Neurobiol 35, 641–649 (2015). https://doi.org/10.1007/s10571-015-0159-9
Received:

Accepted:

Published:

Issue Date:
Keywords
Cognition

Traumatic brain injury

Wharton's jelly

Transplantation

BDNF