Abstract
Multiple sclerosis is a chronic disease of the central nervous system characterized by an autoimmune inflammatory reaction that leads to axonal demyelination and tissue damage. Glucocorticoids, such as prednisolone, are effective in the treatment of multiple sclerosis in large part due to their ability to inhibit pro-inflammatory pathways (e.g., NFκB). However, despite their effectiveness, long-term treatment is limited by adverse side effects. VBP15 is a recently described compound synthesized based on the lazeroid steroidal backbone that shows activity in acute and chronic inflammatory conditions, yet displays a much-reduced side effect profile compared to traditional glucocorticoids. The purpose of this study was to determine the effectiveness of VBP15 in inhibiting inflammation and disease progression in experimental autoimmune encephalomyelitis (EAE), a widely used mouse model of multiple sclerosis. Our data show that VBP15 is effective at reducing both disease onset and severity. In parallel studies, we observed that VBP15 was able to inhibit the production of NFκB-regulated pro-inflammatory transcripts in human macrophages. Furthermore, treatment with prednisolone—but not VBP15—increased expression of genes associated with bone loss and muscle atrophy, suggesting lack of side effects of VBP15. These findings suggest that VBP15 may represent a potentially safer alternative to traditional glucocorticoids in the treatment of multiple sclerosis and other inflammatory diseases.
This is a preview of subscription content, log in to check access.
Access options
Buy single article
Instant access to the full article PDF.
US$ 39.95
Tax calculation will be finalised during checkout.
Subscribe to journal
Immediate online access to all issues from 2019. Subscription will auto renew annually.
US$ 199
Tax calculation will be finalised during checkout.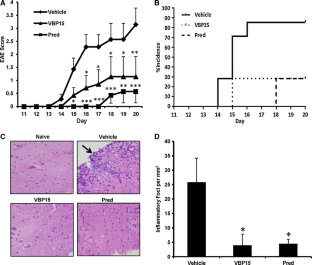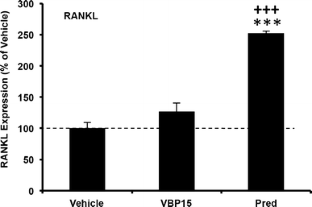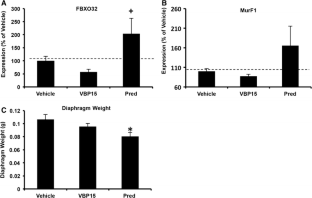 Abbreviations
EAE:

Experimental autoimmune encephalomyelitis

MS:

Multiple sclerosis
References
Alt C, Laschinger M, Engelhardt B (2002) Functional expression of the lymphoid chemokines CCL19 (ELC) and CCL 21 (SLC) at the blood-brain barrier suggests their involvement in G-protein-dependent lymphocyte recruitment into the central nervous system during experimental autoimmune encephalomyelitis. Eur J Immunol 32(8):2133–2144. doi:10.1002/1521-4141(200208)32:8<2133

Arima Y, Harada M, Kamimura D, Park JH, Kawano F, Yull FE, Kawamoto T, Iwakura Y, Betz UA, Marquez G, Blackwell TS, Ohira Y, Hirano T, Murakami M (2012) Regional neural activation defines a gateway for autoreactive T cells to cross the blood-brain barrier. Cell 148(3):447–457. doi:10.1016/j.cell.2012.01.022

Baron JL, Madri JA, Ruddle NH, Hashim G, Janeway CA Jr (1993) Surface expression of alpha 4 integrin by CD4 T cells is required for their entry into brain parenchyma. J Exp Med 177(1):57–68

Baudy AR, Saxena N, Gordish H, Hoffman EP, Nagaraju K (2009) A robust in vitro screening assay to identify NF-kappaB inhibitors for inflammatory muscle diseases. Int Immunopharmacol 9(10):1209–1214. doi:10.1016/j.intimp.2009.07.001

Becher B, Durell BG, Miga AV, Hickey WF, Noelle RJ (2001) The clinical course of experimental autoimmune encephalomyelitis and inflammation is controlled by the expression of CD40 within the central nervous system. J Exp Med 193(8):967–974

Bettelli E, Das MP, Howard ED, Weiner HL, Sobel RA, Kuchroo VK (1998) IL-10 is critical in the regulation of autoimmune encephalomyelitis as demonstrated by studies of IL-10- and IL-4-deficient and transgenic mice. J Immunol 161(7):3299–3306

Bodine SC, Latres E, Baumhueter S, Lai VK, Nunez L, Clarke BA, Poueymirou WT, Panaro FJ, Na E, Dharmarajan K, Pan ZQ, Valenzuela DM, DeChiara TM, Stitt TN, Yancopoulos GD, Glass DJ (2001) Identification of ubiquitin ligases required for skeletal muscle atrophy. Science 294(5547):1704–1708. doi:10.1126/science.1065874

Bruck W, Porada P, Poser S, Rieckmann P, Hanefeld F, Kretzschmar HA, Lassmann H (1995) Monocyte/macrophage differentiation in early multiple sclerosis lesions. Annals neurol 38(5):788–796. doi:10.1002/ana.410380514

Bruck W, Sommermeier N, Bergmann M, Zettl U, Goebel HH, Kretzschmar HA, Lassmann H (1996) Macrophages in multiple sclerosis. Immunobiology 195(4–5):588–600. doi:10.1016/S0171-2985(96)80024-6

Bullard DC, Hu X, Schoeb TR, Collins RG, Beaudet AL, Barnum SR (2007) Intercellular adhesion molecule-1 expression is required on multiple cell types for the development of experimental autoimmune encephalomyelitis. J Immunol 178(2):851–857

Cannella B, Raine CS (1995) The adhesion molecule and cytokine profile of multiple sclerosis lesions. Annals neurol 37(4):424–435. doi:10.1002/ana.410370404

Coghlan MJ, Elmore SW, Kym PR, Kort ME (2003) The pursuit of differentiated ligands for the glucocorticoid receptor. Curr Top Med Chem 3(14):1617–1635

Cogswell JP, Godlevski MM, Wisely GB, Clay WC, Leesnitzer LM, Ways JP, Gray JG (1994) NF-kappa B regulates IL-1 beta transcription through a consensus NF-kappa B binding site and a nonconsensus CRE-like site. J Immunol 153(2):712–723

Cua DJ, Groux H, Hinton DR, Stohlman SA, Coffman RL (1999) Transgenic interleukin 10 prevents induction of experimental autoimmune encephalomyelitis. J Exp Med 189(6):1005–1010

Damsker JM, Dillingham BC, Rose MC, Balsley MA, Heier CR, Watson AM, Stemmy EJ, Jurjus RA, Huynh T, Tatem K, Uaesoontrachoon K, Berry DM, Benton AS, Freishtat RJ, Hoffman EP, McCall JM, Gordish-Dressman H, Constant SL, Reeves EK, Nagaraju K (2013) VBP15, a glucocorticoid analogue, is effective at reducing allergic lung inflammation in mice. PLoS ONE 8(5):e63871. doi:10.1371/journal.pone.0063871

Desplat-Jego S, Varriale S, Creidy R, Terra R, Bernard D, Khrestchatisky M, Izui S, Chicheportiche Y, Boucraut J (2002) TWEAK is expressed by glial cells, induces astrocyte proliferation and increases EAE severity. J Neuroimmunol 133(1–2):116–123

Devonshire AS, Elaswarapu R, Foy CA (2010) Evaluation of external RNA controls for the standardisation of gene expression biomarker measurements. BMC Genom 11:662. doi:10.1186/1471-2164-11-662

Dovio A, Perazzolo L, Osella G, Ventura M, Termine A, Milano E, Bertolotto A, Angeli A (2004) Immediate fall of bone formation and transient increase of bone resorption in the course of high-dose, short-term glucocorticoid therapy in young patients with multiple sclerosis. J Clin Endocrinol Metab 89(10):4923–4928. doi:10.1210/jc.2004-0164

Duda PW, Schmied MC, Cook SL, Krieger JI, Hafler DA (2000) Glatiramer acetate (copaxone) induces degenerate, Th2-polarized immune responses in patients with multiple sclerosis. J Clin Investig 105(7):967–976. doi:10.1172/JCI8970

Engelhardt B, Kappos L (2008) Natalizumab: targeting alpha4-integrins in multiple sclerosis. Neuro-degenerative diseases 5(1):16–22. doi:10.1159/000109933

Fife BT, Huffnagle GB, Kuziel WA, Karpus WJ (2000) CC chemokine receptor 2 is critical for induction of experimental autoimmune encephalomyelitis. J Exp Med 192(6):899–905

Garbe E, LeLorier J, Boivin JF, Suissa S (1997) Risk of ocular hypertension or open-angle glaucoma in elderly patients on oral glucocorticoids. Lancet 350(9083):979–982. doi:10.1016/S0140-6736(97)03392-8

Goodin DS, Frohman EM, Garmany GP Jr, Halper J, Likosky WH, Lublin FD, Silberberg DH, Stuart WH, van den Noort S (2002) Disease modifying therapies in multiple sclerosis: report of the therapeutics and technology assessment subcommittee of the american academy of neurology and the MS council for clinical practice guidelines. Neurology 58(2):169–178

Heier CR, Damsker JM, Yu Q, Dillingham BC, Huynh T, Van der Meulen JH, Sali A, Miller BK, Phadke A, Scheffer L, Quinn J, Tatem K, Jordan S, Dadgar S, Rodriguez OC, Albanese C, Calhoun M, Gordish-Dressman H, Jaiswal JK, Connor EM, McCall JM, Hoffman EP, Reeves EK, Nagaraju K (2013) VBP15, a novel anti-inflammatory and membrane-stabilizer, improves muscular dystrophy without side effects. EMBO molecular medicine 5(10):1569–1585. doi:10.1002/emmm.201302621

Hemmer B, Archelos JJ, Hartung HP (2002) New concepts in the immunopathogenesis of multiple sclerosis. Nat Rev Neurosci 3(4):291–301. doi:10.1038/nrn784

Herrlich P (2001) Cross-talk between glucocorticoid receptor and AP-1. Oncogene 20(19):2465–2475. doi:10.1038/sj.onc.1204388

Hillier SG (2007) Diamonds are forever: the cortisone legacy. J Endocrinol 195(1):1–6. doi:10.1677/JOE-07-0309

Iademarco MF, McQuillan JJ, Rosen GD, Dean DC (1992) Characterization of the promoter for vascular cell adhesion molecule-1 (VCAM-1). J Biol Chem 267(23):16323–16329

Ito T, Murata M, Kamiyama A (1979) Experimental study of cardiomyopathy induced by glucocorticoids. Jpn Circ J 43(11):1043–1047

Jiang HR, Al Rasebi Z, Mensah-Brown E, Shahin A, Xu D, Goodyear CS, Fukada SY, Liu FT, Liew FY, Lukic ML (2009) Galectin-3 deficiency reduces the severity of experimental autoimmune encephalomyelitis. J Immunol 182(2):1167–1173

Kappos L, Radue EW, O'Connor P, Polman C, Hohlfeld R, Calabresi P, Selmaj K, Agoropoulou C, Leyk M, Zhang-Auberson L, Burtin P (2010) A placebo-controlled trial of oral fingolimod in relapsing multiple sclerosis. N Engl J Med 362(5):387–401. doi:10.1056/NEJMoa0909494

Karpus WJ, Kennedy KJ (1997) MIP-1alpha and MCP-1 differentially regulate acute and relapsing autoimmune encephalomyelitis as well as Th1/Th2 lymphocyte differentiation. J Leukoc Biol 62(5):681–687

Kelly HW, Sternberg AL, Lescher R, Fuhlbrigge AL, Williams P, Zeiger RS, Raissy HH, Van Natta ML, Tonascia J, Strunk RC (2012) Effect of inhaled glucocorticoids in childhood on adult height. N Engl J Med 367(10):904–912. doi:10.1056/NEJMoa1203229

Kleinschmidt-DeMasters BK, Miravalle A, Schowinsky J, Corboy J, Vollmer T (2012) Update on PML and PML-IRIS occurring in multiple sclerosis patients treated with natalizumab. J Neuropathol Exp Neurol 71(7):604–617. doi:10.1097/NEN.0b013e31825caf2c

Kohler RE, Comerford I, Townley S, Haylock-Jacobs S, Clark-Lewis I, McColl SR (2008) Antagonism of the chemokine receptors CXCR3 and CXCR4 reduces the pathology of experimental autoimmune encephalomyelitis. Brain Pathol 18(4):504–516. doi:10.1111/j.1750-3639.2008.00154.x

Lamkanfi M, Walle LV, Kanneganti TD (2011) Deregulated inflammasome signaling in disease. Immunol Rev 243(1):163–173. doi:10.1111/j.1600-065X.2011.01042.x

Larj MJ, Bleecker ER (2004) Therapeutic responses in asthma and COPD. Corticosteroids. Chest 126 (2 Suppl):138S-149S; discussion 159S-161S. doi:10.1378/chest.126.2_suppl_1.138S

Lee LF, Axtell R, Tu GH, Logronio K, Dilley J, Yu J, Rickert M, Han B, Evering W, Walker MG, Shi J, de Jong BA, Killestein J, Polman CH, Steinman L, Lin JC (2011) IL-7 promotes T(H)1 development and serum IL-7 predicts clinical response to interferon-beta in multiple sclerosis. Sci Transl Med 3 93:68–93. doi:10.1126/scitranslmed.3002400

Li B, Baylink DJ, Deb C, Zannetti C, Rajaallah F, Xing W, Walter MH, Lau KH, Qin X (2013) 1,25-Dihydroxyvitamin D3 suppresses TLR8 expression and TLR8-mediated inflammatory responses in monocytes in vitro and experimental autoimmune encephalomyelitis in vivo. PLoS ONE 8(3):e58808. doi:10.1371/journal.pone.0058808

Lindsey JW, Haden-Pinneri K, Memon NB, Buja LM (2012) Sudden unexpected death on fingolimod. Mult Scler 18(10):1507–1508. doi:10.1177/1352458512438456

Liu R, Zhao X, Gurney TA, Landau NR (1998) Functional analysis of the proximal CCR5 promoter. AIDS Res Hum Retrovir 14(17):1509–1519

Lyons PR, Newman PK, Saunders M (1988) Methylprednisolone therapy in multiple sclerosis: a profile of adverse effects. J Neurol Neurosurg Psychiatry 51(2):285–287

Manzur AY, Kuntzer T, Pike M, Swan A (2008) Glucocorticoid corticosteroids for duchenne muscular dystrophy. Cochrane Database Syst Rev (1):CD003725. doi:10.1002/14651858.CD003725.pub3

Matsuki T, Nakae S, Sudo K, Horai R, Iwakura Y (2006) Abnormal T cell activation caused by the imbalance of the IL-1/IL-1R antagonist system is responsible for the development of experimental autoimmune encephalomyelitis. Int Immunol 18(2):399–407. doi:10.1093/intimm/dxh379

McFarland HF, Martin R (2007) Multiple sclerosis: a complicated picture of autoimmunity. Nat Immunol 8(9):913–919. doi:10.1038/ni1507

Melotti P, Nicolis E, Tamanini A, Rolfini R, Pavirani A, Cabrini G (2001) Activation of NF-kB mediates ICAM-1 induction in respiratory cells exposed to an adenovirus-derived vector. Gene Ther 8(18):1436–1442. doi:10.1038/sj.gt.3301533

Moon EY, Park H (2007) B cell activating factor (BAFF) gene promoter activity depends upon co-activator, p300. Immunobiology 212(8):637–645. doi:10.1016/j.imbio.2007.06.002

Mori N, Prager D (1996) Transactivation of the interleukin-1alpha promoter by human T-cell leukemia virus type I and type II Tax proteins. Blood 87(8):3410–3417

Navikas V, Link H (1996) Review: cytokines and the pathogenesis of multiple sclerosis. J Neurosci Res 45(4):322–333. doi:10.1002/(SICI)1097-4547(19960815)45

Newton R, Holden NS (2007) Separating transrepression and transactivation: a distressing divorce for the glucocorticoid receptor? Mol Pharmacol 72(4):799–809. doi:10.1124/mol.107.038794

Nohara C, Akiba H, Nakajima A, Inoue A, Koh CS, Ohshima H, Yagita H, Mizuno Y, Okumura K (2001) Amelioration of experimental autoimmune encephalomyelitis with anti-OX40 ligand monoclonal antibody: a critical role for OX40 ligand in migration, but not development, of pathogenic T cells. J Immunol 166(3):2108–2115

Ontaneda D, Rae-Grant AD (2009) Management of acute exacerbations in multiple sclerosis. Annals of Indian Acad Neurol 12(4):264–272. doi:10.4103/0972-2327.58283

Pietila TE, Veckman V, Lehtonen A, Lin R, Hiscott J, Julkunen I (2007) Multiple NF-kappaB and IFN regulatory factor family transcription factors regulate CCL19 gene expression in human monocyte-derived dendritic cells. J Immunol 178(1):253–261

Prinz M, Garbe F, Schmidt H, Mildner A, Gutcher I, Wolter K, Piesche M, Schroers R, Weiss E, Kirschning CJ, Rochford CD, Bruck W, Becher B (2006) Innate immunity mediated by TLR9 modulates pathogenicity in an animal model of multiple sclerosis. J Clin Investig 116(2):456–464. doi:10.1172/JCI26078

Reboldi A, Coisne C, Baumjohann D, Benvenuto F, Bottinelli D, Lira S, Uccelli A, Lanzavecchia A, Engelhardt B, Sallusto F (2009) C-C chemokine receptor 6-regulated entry of TH-17 cells into the CNS through the choroid plexus is required for the initiation of EAE. Nat Immunol 10(5):514–523. doi:10.1038/ni.1716

Reeves EK, Hoffman EP, Nagaraju K, Damsker JM, McCall JM (2013) VBP15: preclinical characterization of a novel anti-inflammatory delta 9,11 steroid. Bioorganic Med Chem 21(8):2241–2249. doi:10.1016/j.bmc.2013.02.009

Rehman Q, Lane NE (2003) Effect of glucocorticoids on bone density. Med Pediatr Oncol 41(3):212–216. doi:10.1002/mpo.10339

Reichardt HM, Kaestner KH, Tuckermann J, Kretz O, Wessely O, Bock R, Gass P, Schmid W, Herrlich P, Angel P, Schutz G (1998) DNA binding of the glucocorticoid receptor is not essential for survival. Cell 93(4):531–541

Reichardt HM, Tuckermann JP, Gottlicher M, Vujic M, Weih F, Angel P, Herrlich P, Schutz G (2001) Repression of inflammatory responses in the absence of DNA binding by the glucocorticoid receptor. EMBO J 20(24):7168–7173. doi:10.1093/emboj/20.24.7168

Ren Z, Wang Y, Liebenson D, Liggett T, Goswami R, Stefoski D, Balabanov R (2011) IRF-1 signaling in central nervous system glial cells regulates inflammatory demyelination. J Neuroimmunol 233(1–2):147–159. doi:10.1016/j.jneuroim.2011.01.001

Reynolds JM, Pappu BP, Peng J, Martinez GJ, Zhang Y, Chung Y, Ma L, Yang XO, Nurieva RI, Tian Q, Dong C (2010) Toll-like receptor 2 signaling in CD4(+) T lymphocytes promotes T helper 17 responses and regulates the pathogenesis of autoimmune disease. Immunity 32(5):692–702. doi:10.1016/j.immuni.2010.04.010

Ricklin ME, Lorscheider J, Waschbisch A, Paroz C, Mehta SK, Pierson DL, Kuhle J, Fischer-Barnicol B, Sprenger T, Lindberg RL, Kappos L, Derfuss T (2013) T-cell response against varicella-zoster virus in fingolimod-treated MS patients. Neurology 81(2):174–181. doi:10.1212/WNL.0b013e31829a3311

Robinson CM, Hale PT, Carlin JM (2006) NF-kappa B activation contributes to indoleamine dioxygenase transcriptional synergy induced by IFN-gamma and tumor necrosis factor-alpha. Cytokine 35(1–2):53–61. doi:10.1016/j.cyto.2006.07.007

Runia TF, van Pelt-Gravesteijn ED, Hintzen RQ (2012) Recent gains in clinical multiple sclerosis research. CNS Neurol Disord Drug Targ 11(5):497–505

Skundric DS, Dai R, Zakarian VL, Bessert D, Skoff RP, Cruikshank WW, Kurjakovic Z (2005) Anti-IL-16 therapy reduces CD4 + T-cell infiltration and improves paralysis and histopathology of relapsing EAE. J Neurosci Res 79(5):680–693. doi:10.1002/jnr.20377

Steinman L (1996) Multiple sclerosis: a coordinated immunological attack against myelin in the central nervous system. Cell 85(3):299–302

Szczucinski A, Losy J (2011) CCL5, CXCL10 and CXCL11 chemokines in patients with active and stable relapsing-remitting multiple sclerosis. Neuro Immuno Modulation 18(1):67–72. doi:10.1159/000317394

Takeshita F, Suzuki K, Sasaki S, Ishii N, Klinman DM, Ishii KJ (2004) Transcriptional regulation of the human TLR9 gene. J Immunol 173(4):2552–2561

Tian B, Nowak DE, Jamaluddin M, Wang S, Brasier AR (2005) Identification of direct genomic targets downstream of the nuclear factor-kappaB transcription factor mediating tumor necrosis factor signaling. J Biol Chem 280(17):17435–17448. doi:10.1074/jbc.M500437200

Tone Y, Kojima Y, Furuuchi K, Brady M, Yashiro-Ohtani Y, Tykocinski ML, Tone M (2007) OX40 gene expression is up-regulated by chromatin remodeling in its promoter region containing Sp1/Sp3, YY1, and NF-kappa B binding sites. J Immunol 179(3):1760–1767

Truss M, Beato M (1993) Steroid hormone receptors: interaction with deoxyribonucleic acid and transcription factors. Endocr Rev 14(4):459–479

Tuckermann J, Bourguet W, Mandrup S (2010) Meeting report: nuclear receptors: transcription factors and drug targets connecting basic research with translational medicine. Mol Endocrinol 24(7):1311–1321. doi:10.1210/me.2010-0083

van der Burg B, Liden J, Okret S, Delaunay F, Wissink S, van der Saag PT, Gustafsson JA (1997) Nuclear factor-kappa B repression in antiinflammation and immunosuppression by glucocorticoids. Trends Endocrinol Metab: TEM 8(4):152–157

Veldhoen M, Hocking RJ, Atkins CJ, Locksley RM, Stockinger B (2006) TGFbeta in the context of an inflammatory cytokine milieu supports de novo differentiation of IL-17-producing T cells. Immunity 24(2):179–189. doi:10.1016/j.immuni.2006.01.001

Wang T, Lafuse WP, Zwilling BS (2001) NFkappaB and Sp1 elements are necessary for maximal transcription of toll-like receptor 2 induced by mycobacterium avium. J Immunol 167(12):6924–6932

Weinstock-Guttman B, Ramanathan M, Zivadinov R (2008) Interferon-beta treatment for relapsing multiple sclerosis. Expert Opin Biol Ther 8(9):1435–1447. doi:10.1517/14712598.8.9.1435

Werts C, le Bourhis L, Liu J, Magalhaes JG, Carneiro LA, Fritz JH, Stockinger S, Balloy V, Chignard M, Decker T, Philpott DJ, Ma X, Girardin SE (2007) Nod1 and Nod2 induce CCL5/RANTES through the NF-kappaB pathway. Eur J Immunol 37(9):2499–2508. doi:10.1002/eji.200737069

Wordinger RJ, Clark AF (1999) Effects of glucocorticoids on the trabecular meshwork: towards a better understanding of glaucoma. Prog Retin Eye Res 18(5):629–667

Yasuda H, Shima N, Nakagawa N, Yamaguchi K, Kinosaki M, Goto M, Mochizuki SI, Tsuda E, Morinaga T, Udagawa N, Takahashi N, Suda T, Higashio K (1999) A novel molecular mechanism modulating osteoclast differentiation and function. Bone 25(1):109–113

Zhou X, Xia Z, Lan Q, Wang J, Su W, Han YP, Fan H, Liu Z, Stohl W, Zheng SG (2011) BAFF promotes Th17 cells and aggravates experimental autoimmune encephalomyelitis. PLoS ONE 6(8):e23629. doi:10.1371/journal.pone.0023629

Zhu YN, Zhong XG, Feng JQ, Yang YF, Fu YF, Ni J, Liu QF, Tang W, Zhao WM, Zuo JP (2006) Periplocoside E inhibits experimental allergic encephalomyelitis by suppressing interleukin 12-dependent CCR5 expression and interferon-gamma-dependent CXCR3 expression in T lymphocytes. J Pharmacol Exp Ther 318(3):1153–1162. doi:10.1124/jpet.106.105445
Acknowledgments
This work was partially supported by the National Centers for Medical Rehabilitation Research, Molecular and Functional Outcome Measures in Rehabilitation Medicine Core, NIH NCMRR/NINDS 2R24HD050846-06.
Conflict of interest
Jesse M. Damsker is an employee of ReveraGen BioPharma and has stock options. Erica K. M. Reeves is an employee of ReveraGen BioPharma and has stock options. John M. McCall is an employee of PharMac LLC and has founder shares and a board membership with ReveraGen BioPharma. Eric P. Hoffman has founder shares and a board membership with ReveraGen BioPharma. Edward M. Connor has stock options and a board membership with ReveraGen BioPharma. Finally, Kanneboyina Nagaraju has founder shares and a board membership with ReveraGen BioPharma.
About this article
Cite this article
Dillingham, B.C., Knoblach, S.M., Many, G.M. et al. VBP15, a Novel Anti-Inflammatory, is Effective at Reducing the Severity of Murine Experimental Autoimmune Encephalomyelitis. Cell Mol Neurobiol 35, 377–387 (2015). https://doi.org/10.1007/s10571-014-0133-y
Received:

Accepted:

Published:

Issue Date:
Keywords
Multiple sclerosis

Glucocorticoids

Inflammation

Autoimmunity