Abstract
Current models of stem cell biology assume that glioma stem cells reside at the apices of hierarchies and differentiate into non-stem progeny in a unidirectional manner. However, here we found an opposite phenomenon that glioma stem spheres could induce adjacent non-stem glioma cells to spontaneously dedifferentiate into stem-like cells in low temperature condition. In low temperature condition, it has been reported that mild hypothermia could induce pluripotent stem cells in hESC and iPSC. However, till now, its effects on glioma stem cells were still unknown. In this study, tracking the non-stem cells, we found that they could be attracted by stem spheres, and finally enter the stem spheres to become a member of stem spheres in vitro. However, these induced stem-like cells positive of CD133 and Nestin markers could not form an obvious sphere. To better understand the genetic differences of the stem spheres and stem-like cells underlying the change of microenvironment, we carried out Cytokine antibody array, Cancer PathwayFinder PCR array, and miRNA chip array, which demonstrated that lots of cytokines, mRNAs, and miRNAs involved in this microenvironmental change. In this study, the most important discovery by us was that we found GSCs sphere cores, which has been found to have strong proliferative capacity, and be able to 100 % form a big GSCs sphere. We hope these findings can change our past concepts, and be help to the further research on gliomas stem cells, and GSCs sphere cores can be defined as the primitive stem cells for further research.
Access options
Buy single article
Instant access to the full article PDF.
USD 39.95
Price includes VAT (USA)
Tax calculation will be finalised during checkout.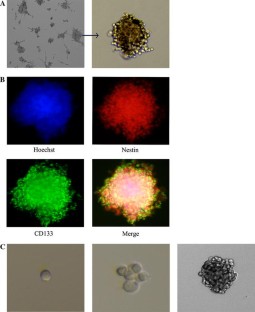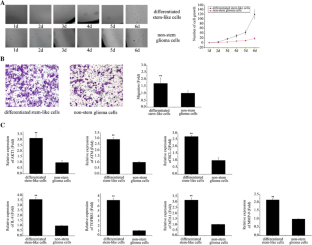 References
Barroca V, Lassalle B, Coureuil M, Louis JP, Le Page F, Testart J, Allemand I, Riou L, Fouchet P (2009) Mouse differentiating spermatogonia can generate germinal stem cells in vivo. Nat Cell Biol 11(2):190–196

Belinsky GS, Antic SD (2013) Mild hypothermia inhibits differentiation of human embryonic and induce pluripotent stem cells. Biotechniques 55(2):79–82

Cao Y, Lathia JD, Eyler CE, Wu Q, Li Z, Wang H, McLendon RE, Hjelmeland AB, Rich JN (2010) Erythropoietin receptor signaling through stat3 is required for glioma stem cell maintenance. Genes & Cancer 1:50–61

Chaffer CL, Brueckmann I, Scheel C, Kaestli AJ, Wiggins PA, Rodrigues LO, Brooks M, Reinhardt F, Su Y, Polyak K, Arendt LM, Kuperwasser C, Bierie B, Weinberg RA (2011) Normal and neoplastic nonstem cells can spontaneously convert to a stem-like state. PNAS 108:7950–7955

Golding SE, Rosenberg E, Khalil A, McEwen A, Holmes M, Neill S, Povirk LF, Valerie K (2004) Double Strand Break Repair by Homologous Recombination Is Regulated by Cell Cycle-independent Signaling via ATM in Human Glioma Cells. J Biol Chem 279:15402–15410

Iliopoulos D, Hirsch HA, Wang G, Struhl K (2011) Inducible formation of breast cancer stem cells and their dynamic equilibrium with non-stem cancer cells via IL6 secretion. PNAS 108:1397–1402

Jung IH, Leem GL, Jung DE, Kim MH, Kim EY, Kim SH, Park HC, Park SW (2013) Glioma is formed by active Akt1 alone and promoted by active Rac1 in transgenic zebrafish. Neuro Oncology 15:290–304

Kang SK, Park JB, Cha SH (2006) Multipotent, dedifferentiated cancer stem-like cells from brain gliomas. Stem Cells Dev 15(3):423–425

Kefas B, Comeau L, Erdle N, Montgomery E, Amos S, Purow B (2010) Pyruvate kinase M2 is a target of the tumor-suppressive microRNA-326 and regulates the survival of glioma cells. Neuro Oncology 12:1102–1112

Kelly PN, Dakic A, Adams JM, Nutt SL, Strasser A (2007) Tumor Growth Need Not Be Driven by Rare Cancer Stem Cells. Science 317:337

Li A, Dubey S, Varney ML, Dave BJ, Singh RK (2003) IL-8 Directly Enhanced Endothelial Cell Survival, Proliferation, and Matrix Metalloproteinases Production and Regulated Angiogenesis. J Immunol 170:3369–3376

Livak KJ, Schmittgen TD (2001) Analysis of relative gene expression data using real-time quantitative PCR and the 2 (-Delta Delta C(T)) Method. Methods 25:402–408

Lottaz C, Beier D, Meyer K, Kumar P, Hermann A, Schwarz J, Junker M, Oefner PJ, Bogdahn U, Wischhusen J, Spang R, Storch A, Beier CP (2010) Transcriptional Profiles of CD133 + and CD133- Glioblastoma-Derived Cancer Stem Cell Lines Suggest Different Cells of Origin. Cancer Res 70:2030–2040

Malla RR, Gopinath S, Gondi CS, Alapati K, Dinh DH, Tsung AJ, Rao JS (2012) uPAR and cathepsin B downregulation induces apoptosis by targeting calcineurin A to BAD via Bcl-2 in glioma. J Neurooncol 107(1):69–80

Marzook H, Li DQ, Nair VS, Mudvari P, Reddy SD, Pakala SB, Santhoshkumar TR, Pillai MR, Kumar R (2012) Metastasis-associated Protein 1 Drives Tumor Cell Migration and Invasion through Transcriptional Repression of RING Finger Protein 144A. J Biol Chem 287:5615–5626

Nakano I, Saya H (2010) Cancer stem cells in malignant glioma-the mechanism of cancer initiation and the therapeutic development. No Shinkei Geka 38(10):879–889

Pek JW, Lim AK, Kai T (2009) Drosophila maelstrom ensures proper germline stem cell lineage differentiation by repressing microRNA-7. Dev Cell 17:417–424

Prince ME, Sivanandan R, Kaczorowski A, Wolf GT, Kaplan MJ, Dalerba P, Weissman IL, Clarke MF, Ailles LE (2007) Identification of a subpopulation of cells with cancer stem cell properties in head and neck squamous cell carcinoma. Proc Natl Acad Sci USA 104:973–978

Singh SK, Clarke ID, Terasaki M, Bonn VE, Hawkins C, Squire J, Dirks PB (2003) Identification of a Cancer Stem Cell in Human Brain Tumors. Cancer Res 63:5821–5828

Singh SK, Hawkins C, Clarke ID, Squire JA, Bayani J, Hide T, Henkelman RM, Cusimano MD, Dirks PB (2004) Identification of human brain tumour initiating cells. Nature 432:396–401

Soeda A, Inagaki A, Oka N, Ikegame Y, Aoki H, Yoshimura S, Nakashima S, Kunisada T, Iwama T (2008) Epidermal Growth Factor Plays a Crucial Role in Mitogenic Regulation of Human Brain Tumor Stem Cells. J Biol Chem 283:10958–10966

Stupp R, Hegi ME (2007) Targeting brain-tumor stem cells. Nat Biotechnol 25:193–194

Stupp R, Tonn JC, Brada M, and On behalf of the ESMO Guidelines Working Group (2010) High-grade malignant glioma: eSMO clinical practice guidelines for diagnosis, treatment and follow-up. Ann Onc 21:v190–v193

Tsuji-Takayama K, Inoue T, Ijiri Y, Otani T, Motoda R, Nakamura S, Orita K (2004) Demethylating agent, 5-azacytidine, reverses differentiation of embryonic stem cells. Biochem Biophys Res Commun 323(1):86–90

Uhl M, Aulwurm S, Wischhusen J, Weiler M, Ma JY, Almirez R, Mangadu R, Liu YW, Platten M, Herrlinger U, Murphy A, Wong DH, Wick W, Higgins LS, Weller M (2004) SD-208, a Novel Transforming Growth Factor ß Receptor I Kinase Inhibitor, Inhibits Growth and Invasiveness and Enhances Immunogenicity of Murine and Human Glioma Cells In vitro and In vivo. Cancer Res 64:7954–7961

Veeravalli KK, Rao JS (2012) MMP-9 and uPAR regulated glioma cell migration. Cell Adh Migr 6(6):509–512

Vlashi E, Lagadec C, Vergnes L, Matsutani T, Masui K, Poulou M, Popescu R, Della Donna L, Evers P, Dekmezian C, Reue K, Christofk H, Mischel PS, Pajonk F (2011) Metabolic state of glioma stem cells and nontumorigenic cells. PNAS 108:16062–16067

Xu ZY, Wang K, Li XQ, Chen S, Deng JM, Cheng Y, Wang ZG (2013) The ABCG2 transporter is a key molecular determinant of the efficacy of sonodynamic therapy with Photofrin in glioma stem-like cells. Ultrasonics 53(1):232–238

Yin M, Zhang L, Sun XM, Mao LF, Pan J (2010) Lack of apoE causes alteration of cytokines expression in young mice liver. Mol Biol Rep 37(4):2049–2054

Ying Z, Li Y, Wu J, Zhu X, Yang Y, Tian H, Li W, Hu B, Cheng SY, Li M (2013) Loss of miR-204 Expression Enhances Glioma Migration and Stem Cell-like Phenotype. Cancer Res 73:990–999

Zhang D, Jing Z, Qiu B, Wu A, Wang Y (2011) Temozolomide decreases invasion of glioma stem cells by down-regulating TGF-β2. Oncol Rep 26:901–908
Acknowledgments
This work was supported by the China Natural Science Foundation (81000963, 81370062, and 81302196), Jiangsu Province's 333 Talent Program (BRA2011046), Jiangsu Province "six personnel peak" funded projects (2013-WSN-146/028), Jiangsu Province's Natural Science Foundation (BK2012670), Medical Research Foundation by Jiangsu Province Health Department(YG201301 and Z201318), the Clinical Technology Development of Jiangsu University (JLY20120053), the Kunshan Social Development Foundation (KS1006, KS1009), Yancheng Medical Science Development Foundation (YK2013003, YK2013019), and the Suzhou Social Development Foundation (SYS201063). The funders had no role in study design, data collection and analysis, decision to publish, or preparation of the manuscript.
Conflict of interest
All authors have declared the sources of research funding for this manuscript and have no financial or other contractual agreements that might cause (or be perceived as causes of) conflicts of interest.
Additional information
Lei Shi, Xifeng Fei, Guan Sun and Zhimin Wang contributed equally to this work.
About this article
Cite this article
Shi, L., Fei, X., Sun, G. et al. Hypothermia Stimulates Glioma Stem Spheres to Spontaneously Dedifferentiate Adjacent Non-stem Glioma Cells. Cell Mol Neurobiol 35, 217–230 (2015). https://doi.org/10.1007/s10571-014-0114-1
Received:

Accepted:

Published:

Issue Date:
Keywords
Hypothermia

Glioma

Stem cells