Abstract
The present study analyzed the possible memory-enhancing and antioxidant proprieties of the methanolic extract of Piper nigrum L. fruits (50 and 100 mg/kg, orally, for 21 days) in amyloid beta(1–42) rat model of Alzheimer's disease. The memory-enhancing effects of the plant extract were studied by means of in vivo (Y-maze and radial arm-maze tasks) approaches. Also, the antioxidant activity in the hippocampus was assessed using superoxide dismutase-, catalase-, glutathione peroxidase-specific activities and the total content of reduced glutathione, malondialdehyde, and protein carbonyl levels. The amyloid beta(1–42)-treated rats exhibited the following: decrease of spontaneous alternations percentage within Y-maze task and increase of working memory and reference memory errors within radial arm-maze task. Administration of the plant extract significantly improved memory performance and exhibited antioxidant potential. Our results suggest that the plant extract ameliorates amyloid beta(1–42)-induced spatial memory impairment by attenuation of the oxidative stress in the rat hippocampus.
Access options
Buy single article
Instant access to the full article PDF.
USD 39.95
Price excludes VAT (USA)
Tax calculation will be finalised during checkout.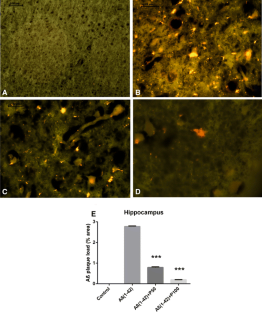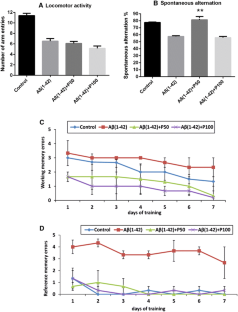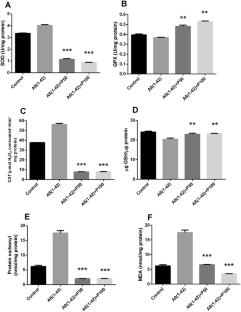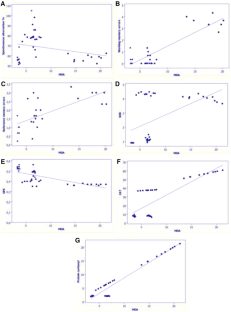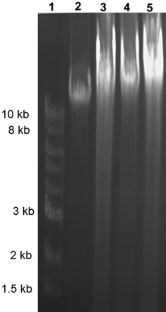 References
Ausubel FM, Brent R, Kingston RE, Moore DD, Seidman JG, Smith JA, Struhl K (2002) Current protocol in molecular biology. Wiley-Interscience, Hoboken

Bagheri M, Joghataei M-T, Mohseni S, Roghani M (2011) Genistein ameliorates learning and memory deficits in amyloid β(1–40) rat model of Alzheimer's disease. Neurobiol Learn Mem 95(3):270–276. doi:10.1016/j.nlm.2010.12.001

Behl C, Davis J, Lesley R, Schubert D (1994) Hydrogen peroxide mediates amyloid beta protein toxicity. Cell 77:817–827

Butterfield D, Lauderback C (2002) Lipid peroxidation and protein oxidation in Alzheimer's disease brain: potential causes and consequences involving amyloid β-peptide associated free radical oxidative stress. Free Radic Biol Med 32:1050–1060

Cetin F, Dincer S (2007) The effect of intrahippocampal beta amyloid (1–42) peptide injection on oxidant and antioxidant status in rat brain. Ann N Y Acad Sci 1100(1):510–517. doi:10.1196/annals.1395.056

Chonpathompikunlert P, Wattanathorn J, Muchimapura S (2010) Piperine, the main alkaloid of Thai black pepper, protects against neurodegeneration and cognitive impairment in animal model of cognitive deficit like condition of Alzheimer's disease. Food Chem Toxicol 48:798–802

Cioanca O, Hritcu L, Mihasan M, Hancianu M (2013) Cognitive-enhancing and antioxidant activities of inhaled coriander volatile oil in amyloid β(1–42) rat model of Alzheimer's disease. Physiol Behav 120:193–202. doi:10.1016/j.physbeh.2013.08.006

Eftekharzadeh B, Ramin M, Khodagholi F, Moradi S, Tabrizian K, Sharif R, Azami K, Beyer C, Sharifzadeh M (2012) Inhibition of PKA attenuates memory deficits induced by β-amyloid (1–42), and decreases oxidative stress and NF-κB transcription factors. Behav Brain Res 226(1):301–308. doi:10.1016/j.bbr.2011.08.015

Fukuzawa K, Tokumura A (1976) Glutathione peroxidase activity in tissues of vitamin E-deficient mice. J Nutr Sci Vitaminol 22:405–407

Heo H, Kim D, Choi S, Shin D, Lee C (2004) Potent inhibitory effect of flavonoids in Scutellaria baicalensis on amyloid β protein-induced neurotoxicity. J Agric Food Chem 52:4128–4132

Ho Y-S, Yu M-S, Lai CS-W, So K-F, Yuen W-H, Chang RC-C (2007) Characterizing the neuroprotective effects of alkaline extract of Lycium barbarum on β-amyloid peptide neurotoxicity. Brain Res 1158:123–134. doi:10.1016/j.brainres.2007.04.075

Hritcu L, Cioanca O, Hancianu M (2012) Effects of lavender oil inhalation on improving scopolamine-induced spatial memory impairment in laboratory rats. Phytomedicine 19(6):529–534. doi:10.1016/j.phymed.2012.02.002

Jackson LL (1943) V.T.E. on an elevated maze. J Comp Psychol 36:99–107

Jhoo JH, Kim HC, Nabeshima T, Yamada K, Shin EJ, Jhoo WK, Kim W, Kang KS, Jo SA, Woo JI (2004) Beta-amyloid (1–42)-induced learning and memory deficits in mice: involvement of oxidative burdens in the hippocampus and cerebral cortex. Behav Brain Res 155:185–196

Jung BS, Shin MK (1998) In: Kwon SB (ed) Encyclopedia of illustrated Korean natural drugs, Araliaceae. Young Lim Sa, Seoul, pp 439–443

Laursen SE, Belknap JK (1986) Intracerebroventricular injections in mice. Some methodological refinements. J Pharmacol Methods 16:355–357

Li S, Wang C, Wang M, Li W, Matsumoto K, Tang Y (2007) Antidepressant like effects of piperine in chronic mild stress treated mice and its possible mechanisms. Life Sci 15:1373–1381

Luo S, Wehr NB (2009) Protein carbonylation: avoiding pitfalls in the 2,4-dinitrophenylhydrazine assay. Redox Rep 14(4):159–166. doi:10.1179/135100009X392601

Lyras L, Cairns N, Jenner A, Jenner P, Halliwell B (1997) An assessment of oxidative damage to proteins, lipids, and DNA in brain from patients with Alzheimer's disease. J Neurochem 68:2061–2069

Mao Q-Q, Xian Y-F, Ip S-P, Che C-T (2011) Involvement of serotonergic system in the antidepressant-like effect of piperine. Prog Neuropsychopharmacol Biol Psychiatry 35(4):1144–1147. doi:10.1016/j.pnpbp.2011.03.017

Nalivaeva NN, Turner AJ (2013) The amyloid precursor protein: A biochemical enigma in brain development, function and disease. FEBS Lett 587(13):2046–2054. doi:10.1016/j.febslet.2013.05.010

Oddo S, Caccamo A, Shepherd JD, Murphy MP, Golde TE, Kayed R, Metherate R, Mattson MP, Akbari Y, LaFerla FM (2003) Triple-transgenic model of Alzheimer's disease with plaques and tangles: intracellular Aβ and synaptic dysfunction. Neuron 39(3):409–421

Ohkawa H, Ohishi N, Yagi K (1979) Assay for lipid peroxides in animal tissues by thiobarbituric acid reaction. Anal Biochem 95:351–358

Olariu A, Tran MH, Yamada K, Mizuno M, Hefco V, Nabeshima T (2001) Memory deficits and increased emotionality induced by beta-amyloid (25–35) are correlated with the reduced acetylcholine release and altered phorbol dibutyrate binding in the hippocampus. J Neural Transm 108(8–9):1065–1079

Oliver CN, Ahn BW, Moerman EJ, Goldstein S, Stadtman ER (1987) Age-related changes in oxidized proteins. J Biol Chem 262(12):5488–5491

Olton DS, Samuelson RJ (1976) Remembrance of places passed: spatial memory in rats. J Exp Psychol Anim B 2:97–116

Paxinos G, Watson C (2005) The rat brain in stereotaxic coordinates. Academic Press Elsevier, San Diego

Praticò D, Uryu K, Leight S, Trojanoswki JQ, Lee VM-Y (2001) Increased lipid peroxidation precedes amyloid plaque formation in an animal model of Alzheimer amyloidosis. J Neurosci 21(12):4183–4187

Ruan C-J, Zhang L, Chen D-H, Li Z, Du G-H, Sun L (2010) Effects of trans-2,4-dimethoxystibene against the neurotoxicity induced by Aβ25–35 both in vitro and in vivo. Neurosci Res 67:209–214

Scott IM, Puniani E, Jensen H, Livesey JF, Poveda L, Sanchez-Vindas P, Durst T, Arnason JT (2005) Analysis of Piperaceae Germplasm by HPLC and LCMS: a method for isolating and identifying unsaturated amides from Piper spp extracts. J Agric Food Chem 53(6):1907–1913. doi:10.1021/jf048305a

Sharma M, Gupta YK (2002) Chronic treatment with trans resveratrol prevents intracerebroventricular streptozotocin induced cognitive impairment and oxidative stress in rats. Life Sci 7:2489–2498

Sinha AK (1972) Colorimetric assay of catalase. Anal Biochem 47:389–394

Smith PK, Krohn RI, Hermanson GT, Mallia AK, Gartner FH, Provenzano MD, Fujimoto EK, Goeke NM, Olson BJ, Klenk DC (1985) Measurement of protein using bicinchoninic acid. Anal Biochem 150:76–85

Srivareerat M, Tran TT, Salim S, Aleisa AM, Alkadhi KA (2011) Chronic nicotine restores normal Aβ levels and prevents short-term memory and E-LTP impairment in Aβ rat model of Alzheimer's disease. Neurobiol Aging 32(5):834–844

Stadtman E (1992) Protein oxidation and aging. Science 257:1220–1224

Titus ADJ, Shankaranarayana BS, Harsha HN, Ramkumar K, Srikumar BN, Singh SB, Chattarji S, Raju TR (2007) Hypobaric hypoxia-induced dendritic atrophy of hippocampal neurons is associated with cognitive impairment in adult rats. Neuroscience 145:265–278

Wang C, Yang X-M, Zhuo Y-Y, Zhou H, Lin H-B, Cheng Y-F, Xu J-P, Zhang H-T (2012) The phosphodiesterase-4 inhibitor rolipram reverses Aβ-induced cognitive impairment and neuroinflammatory and apoptotic responses in rats. Int J Neuropsychopharmacol 15(06):749–766. doi:10.1017/S1461145711000836

Wattanathorn J, Chonpathompikunlert P, Muchimapura S, Priprem A, Tankamnerdthai O (2008) Piperine, the potential functional food for mood and cognitive disorders. Food Chem Toxicol 46(9):3106–3110. doi:10.1016/j.fct.2008.06.014

Winterbourn C, Hawkins R, Brian M, Carrell R (1975) The estimation of red cell superoxide dismutase activity. J Lab Clin Med 85:337

Yatin S, Varadarajan S, Link C, Butterfield D (1999) In vitro and in vivo oxidative stress associated with Alzheimer's amyloid β peptide (1–42). Neurobiol Aging 20:325–330
Acknowledgments
Jaurès AK Noumedem was supported by Doctoral scholarships Eugen Ionescu (2011/2012), Alexandru Ioan Cuza University, Iasi, Romania.
Conflict of Interest
The authors declare that they have no conflict of interest.
About this article
Cite this article
Hritcu, L., Noumedem, J.A., Cioanca, O. et al. Methanolic Extract of Piper nigrum Fruits Improves Memory Impairment by Decreasing Brain Oxidative Stress in Amyloid Beta(1–42) Rat Model of Alzheimer's Disease. Cell Mol Neurobiol 34, 437–449 (2014). https://doi.org/10.1007/s10571-014-0028-y
Received:

Accepted:

Published:

Issue Date:

DOI: https://doi.org/10.1007/s10571-014-0028-y
Keywords