Abstract
We investigated whether there is any relationship between biochemical and clinical parameters of migraine and methylenetetrahydrofolate reductase (MTHFR) gene C677T polymorphism, associated with the migraine subtypes, symptoms, and gender. A total of 150 migraine patients with and without aura (MA and MO) and 107 non-sufferers were included in the study. Biochemical and clinical parameters were measured and genetic analysis was performed. The MTFHR C677T genotype was significantly higher in the migraine group (p = 0.000). The CT genotype frequency of individuals with a family history of migraine was significantly higher (p = 0.025). This genotype frequency was higher in patients who suffer from compression, allodynia, fatigue, and sleeplessness (p = 0.027, 0.023, 0.006, and 0.05, respectively). Homocysteine and total cholesterol levels were significantly higher in the migraine group than the control group (p = 0.007 and 0.010, respectively). However, the other biochemical and clinical parameters did not differ from each other (p > 0.05), with only attack frequency being significantly higher in the MO group (p = 0.005). While the folate and HDL levels were significantly higher in females (p = 0.001 and 0.000, respectively), the homocysteine and triglyceride levels were significantly higher in males (p = 0.000 for each one). BMIs were significantly lower in the control than the migraine group (p = 0.021); however, an association between the C677T variant and BMI was not found (p = 0.787) in the migraine group. An association between the MTHFR C667T polymorphism and migraine susceptibility was found. Additional studies including genetic, clinic, and biochemical parameters should be conducted to better understand the disease.
Access options
Buy single article
Instant access to the full article PDF.
USD 39.95
Price includes VAT (USA)
Tax calculation will be finalised during checkout.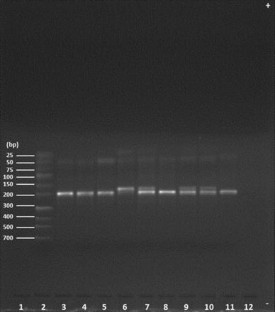 References
Bigal ME, Liberman JN, Lipton RB (2006) Obesity and migraine: a population study. Neurology 66:545–550

Colson NJ, Lea RA, Sharon Q, Griffiths LR (2006) The role of vascular and hormonal genes in migraine susceptibility. Mol Genet Metab 88:107–113

Das UN (2003) Folic acid says NO to vascular diseases. Nutrition 19:686–692

Ducros A, Tournier-Lasserve E, Bousser MG (2002) The genetics of migraine. Lancet Neurol 1:285–293

Edvinsson L, Uddman R (2005) Neurobiology in primary headaches. Brain Res Brain Res Rev 48:438–456

Evers S, Koch HG, Hustedt IW (1997) Plasma homocysteine levels in primary headache. In: Olesen J, Edvinsson L (eds) Headache pathogenesis monoamines, neuropeptides, purines, and nitrix oxide. Lippincott-Raven, Philadelphia, pp 215–218

Ferraris E, Marzocchi N, Brovia D, Castellana CN, Pini LA (2003) Homocysteine levels and cardiovascular disease in migraine with aura. J Headache Pain 4:62–66

Ferro A, Castro MJ, Lemos C, Santos M, Sousa A, Pereira-Monteiro J, Sequeiros J, Maciel P (2008) The C677T polymorphism in MTHFR is not associated with migraine in Portugal. Dis Markers 25:107–113

Ford ES, Li C, Pearson WS, Zhao G, Strine TW, Mokdad AH (2008) Body mass index and headaches: findings from a national sample of US adults. Cephalalgia 28:1270–1276

Frosst P, Blom HJ, Milos R, Goyette P, Sheppard CA, Matthews RG, Boers GJ, den Heijer M, Kluijtmans LA, van den Heuvel LP (1995) A candidate genetic risk factor for vascular disease: a common mutation in methylenetetrahydrofolate reductase. Nat Genet 10:111–113

Gavgani SC, Hoseinian MM (2012) Comparative study on homocysteine levels in migraine patients and normal peoples. Ann Bio Res 3:1804–1807

Headache classification committee of the International Headache Society (1988) Classification and diagnostic criteria for headache disorders, cranial neuralgias and facial pain. Cephalalgia 8(Suppl.7):1–96

Hering-Hanit R, Gadoth N, Yavetz A, Gavendo S, Sela B (2001) Is blood homocysteine elevated in migraine? Headache 41:779–781

Joshi G, Pradhan S, Mittal B (2009) Role of the ACE ID and MTHFR C677T polymorphisms in genetic susceptibility of migraine in a north Indian population. J Neurol Sci 277:133–137

Kara I, Sazci A, Ergul E, Kaya G, Kilic G (2003) Association of the C677T and A1298C polymorphisms in the 5,10 methylenetetrahydrofolate reductase gene in patients with migraine risk. Brain Res Mol Brain Res 111:84–90

Kaunisto MA, Kallela M, Hamalainen E, Kilpikari R, Havanka H, Harno H, Nissila M, Sakö E, Ilmavirta M, Liukkonen J, Teirmaa H, Törnwall O, Jussila M, Terwilliger J, Farkkila M, Kaprio J, Palotie A, Wessman M (2006) Testing of variants of the MTHFR and ESR1 genes in 1798 Finnish individuals fails to confirm the association with migraine with aura. Cephalalgia 26:1462–1472

Kowa H, Yasui K, Takeshima T, Urakami K, Sakai F, Nakashima K (2000) The homozygous C677T mutation in the methylenetetrahydrofolate reductase gene is a genetic risk factor for migraine. Am J Med Genet 96:762–764

Lea RA, Ovcaric M, Sundholm J, MacMillan J, Griffiths LR (2004) The methylenetetrahydrofolate reductase gene variant C677T influences susceptibility to migraine with aura. BMC Med 2:3

Lentz SR, Sobey CG, Piegors DJ, Bhopatkar MY, Faraci FM, Malinow MR, Heistad DD (1996) Vascular dysfunction in monkeys with diet-induced hyperhomocyst(e)inemia. J Clin Invest 98:24–29

Lipton RB, Bigal ME (2005) The epidemiology of migraine. Am J Med 118:3S–10S

Liu A, Menon S, Colson NJ, Quinlan S, Cox H, Peterson M, Tiang T, Haupt LM, Lea RA, Griffiths LR (2010) Analysis of the MTHFR C677T variant with migraine phenotypes. BMC Res Notes 3:21

Lovati C, D'Amico D, Rosa S, Suardelli M, Mailland E, Bertora P, Pomati S, Mariani C, Bussone G (2007) Allodynia in different forms of migraine. Neurol Sci 28:S220–S221

Moschiano F, D'Amico D, Usai S, Grazzi L, Di Stefano M, Ciusani E, Erba N, Bussone G (2008) Homocysteine plasma levels in patients with migraine with aura. Neurol Sci 29:S173–S175

Mulder EJ, Van Baal C, Gaist D, Kallela M, Kaprio J, Svensson DA, Nyholt DR, Martin NG, MacGregor AJ, Cherkas LF, Boomsma DI, Palotie A (2003) Genetic and environmental influences on migraine: a twin study across six countries. Twin Res 6:422–431

Oterino A, Valle N, Bravo Y, Muñoz P, Sánchez-Velasco P, Ruiz-Alegría C, Castillo J, Leyva-Cobián F, Vadillo A, Pascual J (2004) MTHFR T677 homozygosis influences the presence of aura in migraineurs. Cephalalgia 24:491–494

Oterino A, Valle N, Pascual J, Bravo Y, Muñoz P, Castillo J, Ruiz-Alegría C, Sánchez-Velasco P, Leyva-Cobián F, Cid C (2005) Thymidylate synthase promoter tandem repeat and MTHFD1 R653Q polymorphisms modulate the risk for migraine conferred by the MTHFR T677 allele. Brain Res Mol Brain Res 139:163–168

Oterino A, Pascual J, Ruiz de Alegria C, Valle N, Castillo J, Bravo Y, González F, Sánchez-Velasco P, Cayón A, Leyva-Cobián F, Alonso-Arranz A, Muñoz P (2006) Association of migraine and ESR1 G325C polymorphism. Neuroreport 17:61–64

Oterino A, Toriello M, Valle N, Castillo J, Alonso-Aranz A, Bravo Y, Ruiz-Alegria C, Quintela E, Pascual J (2010) The relationship between homocysteine and genes of folate-related enzymes in migraine patients. Headache 50:99–108

Parsons AA, Strijbos PJ (2003) The neuronal versus vascular hypothesis of migraine and cortical spreading depression. Curr Opin Pharmacol 3:73–77

Peterlin BL, Rapoport AM, Kurth T (2010) Migraine and obesity: epidemiology, mechanisms, and ımplications. Headache 50:631–648

Rubino E, Ferrero M, Rainero I, Binello E, Vaula G, Pinessi L (2009) Association of the C677T polymorphism in the MTHFR gene with migraine: a meta-analysis. Cephalalgia 29:818–825

Russell MB, Olesen J (1993) The genetics of migraine without aura and migraine with aura. Cephalalgia 13:245–248

Sazci A, Ergul E, Kaya G, Kara I (2005) Genotype and allele frequencies of the polymorphic methylenetetrahydrofolate reductase gene in Turkey. Cell Biochem Funct 23:51–54

Scher AI, Terwindt GM, Verschuren WM, Kruit MC, Blom HJ, Kowa H, Frants RR, van den Maagdenberg AM, van Buchem M, Ferrari MD, Launer LJ (2006) Migraine and MTHFR C677T genotype in a population based sample. Ann Neurol 59:372–375

Schürks M, Zee RY, Buring JE, Kurth T (2008) Interrelationships among the MTHFR 677C > T polymorphism, migraine, and cardiovascular disease. Neurology 71:505–513

Schürks M, Zee RYL, Buring JE, Kurth T (2010) MTHFR 677C– > T and ACE D/I polymorphisms and migraine attack frequency in women. Cephalalgia 30:447–456

Seidel S, Hartl T, Weber M, Matterey S, Paul A, Riederer F, Gharabaghi M, Wöber-Bingöl C, Wöber C, PAMINA study group (2009) Quality of sleep, fatigue and daytime sleepiness in migraine - a controlled study. Cephalalgia 29:662–669

Selhub J (1999) Homocysteine metabolism. Annu Rev Nutr 19:217–246

Shyti R, de Vries B, van den Maagdenberg A (2011) Migraine genes and the relation to gender. Headache 51:880–890

Stewart WF, StaVa J, Lipton RB, Ottman R (1997) Familial risk of migraine: a population-based study. Ann Neurol 41:166–172

Stuart S, Cox HC, Lea RA, Griffiths LR (2012) The role of the MTHFR gene in migraine. Headache 52:515–519

Tietjen GE, Herial NA, Utley C, White L, Yerga-Woolwine S, Joe B (2009) Association of von Willebrand factor activity with ACE I/D and MTHFR C677T polymorphisms in migraine. Cephalalgia 29:960–968

Todt U, Freudenberg J, Goebel I, Netzer C, Heinze A, Heinze-Kuhn K, Göbel H, Kubisch C (2006) MTHFR C677T polymorphism and migraine with aura. Ann Neurol 60:621–623

Wald DS, Law M, Morris JK (2002) Homocysteine and cardiovascular disease: evidence on causality from a meta-analysis. BMJ 325:1202

Wewers ME, Lowe NK (1990) A critical review of visual analogue scales in the measurement of clinical phenomena. Res Nurs Health 13:227–236

Winter AC, Berger K, Buring JE, Kurth T (2009) Body mass index, migraine, migraine frequency and migraine features in women. Cephalalgia 29:269–278
Acknowledgments
We especially wish to thank the migraine patients and healthy individuals from Duzce province of Turkey for their devoted participation in this study. This study was supported by a research project from the University of Duzce, Scientific Research Projects Department (Project Number: 2012.04.01.083 to Dr A. Bahadir), Duzce, Turkey. We also thank Dr. Handan Ankarali for providing statistical consultation, and Dr. M. Samil Kok and Mrs Sara Ann Wigglesworth for useful comments and suggestions on the language of this article.
Conflict of interest
Authors declare that there is no conflict of interest.
About this article
Cite this article
Bahadir, A., Eroz, R. & Dikici, S. Investigation of MTHFR C677T Gene Polymorphism, Biochemical and Clinical Parameters in Turkish Migraine Patients: Association with Allodynia and Fatigue. Cell Mol Neurobiol 33, 1055–1063 (2013). https://doi.org/10.1007/s10571-013-9972-1
Received:

Accepted:

Published:

Issue Date:
Keywords
Migraine

MTHFR C677T polymorphism

Biochemical and clinical parameters