Abstract
Methyl-3-O-methyl gallate (M3OMG) is a rare natural product that showed promising in vitro antioxidant activities. In this study, the protective role of synthetic M3OMG against sodium fluoride (NaF)-induced oxidative stress in rat brain was evaluated. Animals were treated with either M3OMG (10 and 20 mg/kg i.p.), vitamin C (10 mg/kg i.p.) as the standard antioxidant or the vehicle (5 % dimethyl sulfoxide; 1 ml/kg) for 1 week. Oxidative stress was induced in the brain by adding 600 ppm NaF in the drinking water for 7 days. At the end of the treatment period, the levels of thiobarbituric acid reactive substances (TBARS), reduced glutathione and the activities of antioxidant enzymes (superoxide dismutase and catalase) were evaluated in brain homogenates. M3OMG treatment mitigated the NaF-induced oxidative stress through normalization of the level of TBARS, reduced levels of glutathione and by the restoration of the diminished antioxidant enzyme activities. In conclusion, M3OMG could have a potential for treating neurotoxicity induced by fluoride or related environmental pollutants.
This is a preview of subscription content, log in to check access.
Access options
Buy single article
Instant access to the full article PDF.
US$ 39.95
Price includes VAT for USA
Subscribe to journal
Immediate online access to all issues from 2019. Subscription will auto renew annually.
US$ 199
This is the net price. Taxes to be calculated in checkout.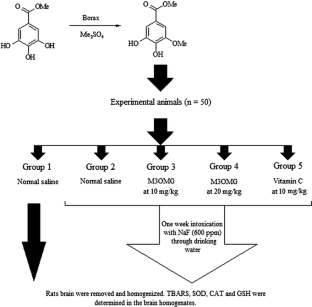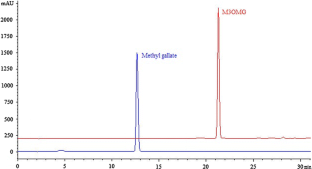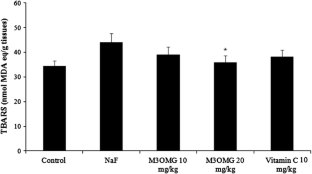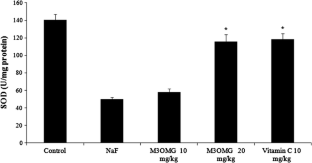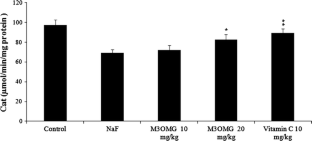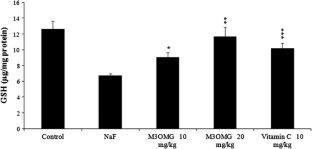 References
Aebi H (1984) Catalase in vitro. Methods Enzymol 105:121–126

Bradford MM (1976) A rapid and sensitive method for the quantitation of microgram quantities of protein utilizing the principle of protein-dye binding. Anal Biochem 72:248–254

Chlubek D (2003) Fluoride and oxidative stress. Fluoride 36:217–228

Chouhan S, Yadav A, Kushwah P, Kaul RK, Flora SJS (2011) Silymarin and quercetin abrogates fluoride induced oxidative stress and toxic effects in rats. Mol Cell Toxicol 7:25–32

Ellman GL (1959) Tissue sulfhydryl group. Arch Biochem Biophys 82:70–77

Flohe L, Ötting F (1984) Superoxide dismutase assays. Methods Enzymol 105:93–104

Golden TR, Patel M (2009) Catalytic antioxidants and neurodegeneration. Antioxid Redox Signal 11:555–569

Habtemariam S (2011) Methyl-3-O-methyl gallate and gallic acid from the leaves of Peltiphyllum peltatum: isolation and comparative antioxidant, prooxidant, and cytotoxic effects in neuronal cells. J Med Food 14:1412–1418

Inkielewicz-Stepniak I, Radomski MW, Wozniak M (2012) Fisetin prevents fluoride- and dexamethasone-induced oxidative damage in osteoblast and hippocampal cells. Food Chem Toxicol 50:583–589

Nabavi SF, Habtemariam S, Jafari M, Sureda A, Nabavi SM (2012a) Protective role of gallic acid on sodium fluoride induced oxidative stress in rat brain. Bull Environ Contam Toxicol 89:73–77

Nabavi SF, Moghaddam AH, Eslami S, Nabavi SM (2012b) Protective effects of curcumin against sodium fluoride-induced toxicity in rat kidneys. Biol Trace Elem Res 145:369–374

Nabavi SF, Nabavi SM, Abolhasani F, Moghaddam AH, Eslami S (2012c) Cytoprotective effects of curcumin on sodium fluoride-induced intoxication in rat erythrocytes. Bull Environ Contam Toxicol 88:486–490

Nabavi SM, Nabavi SF, Eslami S, Moghaddam AH (2012d) In vivo protective effects of quercetin against sodium fluoride-induced oxidative stress in the hepatic tissue. Food Chem 132:931–935

Nabavi SM, Sureda A, Nabavi SF, Latifi AM, Moghaddam AH, Hellio C (2012e) Neuroprotective effects of silymarin on sodium fluoride-induced oxidative stress. J Fluorine Chem 142:79–82

Nakamura T, Lipton SA (2010) Preventing Ca2+-mediated nitrosative stress in neurodegenerative diseases: possible pharmacological strategies. Cell Calcium 47:190–197

Ohkawa H, Ohishi N, Yagi K (1979) Assay for lipid peroxides in animal tissues by thiobarbituric acid reaction. Anal Biochem 95:351–358

Poureslami HR, Horri A, Garrusi B (2011) A comparative study of the IQ of children age 7–9 in a high and a low fluoride water city in Iran. Fluoride 44:163–167

Quevedo L, Concha J, Aguayo L, Silva M, Bittner M (1979) The effects of methyl-3-O-methyl gallate on isolated nerve activity. Arch Int Pharmacodyn Ther 240:90–93

Quevedo L, Aguayo L, Concha J, Cid H, Sáez JC (1981) Electrophysiological effects of methyl 3-O-methyl gallate on single muscle fibre. Pharmacology 23:293–296

Shanthakumari D, Srinivasalu S, Subramanian S (2006) Antioxidant defense systems in red blood cell lysates of men with dental fluorosis living in Tamil Nadu, India. Fluoride 39:231–239

Sharma JD, Sohu D, Jain P (2009) Prevalence of neurological manifestations in a human population exposed to fluoride in drinking water. Fluoride 42:127–132

Trivedi MH, Verma RJ, Sangai NP, Chinoy NJ (2011) Black tea extract mitigation of NaF-induced lipid peroxidation in different regions of mice brain. Fluoride 44:243–254

Trivedi MH, Verma RJ, Sangai NP, Chinoy NJ (2012) Mitigation by black tea extract of sodium fluoride induced histopathological changes in brain of mice. Fluoride 45:13–26

Zhang WG, Zhao R, Ren J, Ren LX, Lin JG, Liu DL, Wu YL, Yao X-S (2007) Synthesis and anti-proliferative in vitro activity of two natural dihydrostilbenes and their analogues. Arch Pharm Chem Life Sci 340:244–250
Acknowledgments
This study was partly supported by the research grant of University of Greenwich (UK) and the National Elite's Foundation of Iran (Iran) for this study. We also dedicate this paper to Mrs. Seyed Maryam Nabavi and in memory of Mr. Seyed Ali Asghar Nabavi.
About this article
Cite this article
Nabavi, S.F., Nabavi, S.M., Habtemariam, S. et al. Neuroprotective Effects of Methyl-3-O-methyl gallate Against Sodium Fluoride-Induced Oxidative Stress in the Brain of Rats. Cell Mol Neurobiol 33, 261–267 (2013). https://doi.org/10.1007/s10571-012-9893-4
Received:

Accepted:

Published:

Issue Date:
Keywords
Antioxidant enzymes

Brain

Oxidative stress

Sodium fluoride