Abstract
Beta-amyloid peptide (Aβ), a major protein component of senile plaques, has been considered as a critical cause in the pathogenesis of Alzheimer's disease (AD). Modulation of the Aβ-induced neurotoxicity has emerged as a possible therapeutic approach to ameliorate the onset and progression of AD. The present study aimed to evaluate the protective effect of isorhynchophylline, an oxindole alkaloid isolated from a Chinese herb Uncaria rhynchophylla, on Aβ-induced neurotoxicity in cultured rat pheochromocytoma (PC12) cells. The results showed that pretreatment with isorhynchophylline significantly elevated cell viability, decreased the levels of intracellular reactive oxygen species and malondialdehyde, increased the level of glutathione, and stabilized mitochondrial membrane potential in Aβ25-35-treated PC12 cells. In addition, isorhynchophylline significantly suppressed the formation of DNA fragmentation and the activity of caspase-3 and moderated the ratio of Bcl-2/Bax. These results indicate that isorhynchophylline exerts a neuroprotective effect against Aβ25-35-induced neurotoxicity in PC12 cells, at least in part, via inhibiting oxidative stress and suppressing the mitochondrial pathway of cellular apoptosis.
Access options
Buy single article
Instant access to the full article PDF.
US$ 39.95
Tax calculation will be finalised during checkout.
Subscribe to journal
Immediate online access to all issues from 2019. Subscription will auto renew annually.
US$ 119
Tax calculation will be finalised during checkout.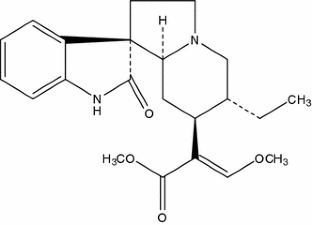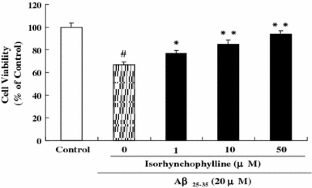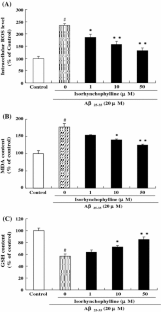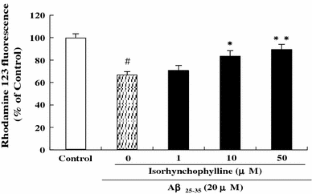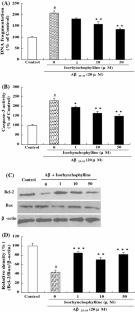 References
Bachurin SO (2003) Medicinal chemistry approaches for the treatment and prevention of Alzheimer's disease. Med Res Rev 23:48–88

Baum L, Lam CW, Cheung SK, Kwok T, Liu V, Tsoh J, Lam L, Leung v, Hui E, Ng C, Woo J, Chiu HF, Goggins WB, Zee BC, Cheng KF, Fong CY, Wong A, Mok H, Chow MS, Ho PC, Ip SP, Ho CS, Yu XW, Lai CY, Chan MH, Szeto S, Chan IH, Mok V (2008) Six-month randomized, placebo-controlled, double-blind, pilot clinical trial of curcumin in patients with Alzheimer's disease. J Clin Psychopharmacol 28:110–113

Beal MF (2005) Mitochondria take center stage in aging and neurodegeneration. Ann Neurol 58:495–505

Bradford MM (1976) A rapid and sensitive method for the quantitation of microgram quantities of protein utilizing the principle of protein-dye binding. Anal Biochem 72:248–254

Chauhan V, Chauhan A (2006) Oxidative stress in Alzheimer's disease. Pathophysiology 13:195–208

Chen JX, Yan SD (2007) Pathogenic role of mitochondrial [correction of mitochondrial] amyloid-beta peptide. Expert Rev Neurother 7:1517–1525

Cheung ZH, Leung MC, Yip HK, Wu W, Siu FK, So KF (2008) A neuroprotective herbal mixture inhibits caspase-3-independent apoptosis in retinal ganglion cells. Cell Mol Neurobiol 28:137–155

Devi L, Prabhu BM, Galati DF, Avadhani NG, Anandatheerthavarada HK (2006) Accumulation of amyloid precursor protein in the mitochondrial import channels of human Alzheimer's disease brain is associated with mitochondrial dysfunction. J Neurosci 26:9057–9068

Eckert A, Hauptmann S, Scherping I, Rhein V, Muller-Spahn F, Götz J, Muller WE (2008) Soluble beta-amyloid leads to mitochondrial defects in amyloid precursor protein and tau transgenic mice. Neurodegener Dis 5:157–159

Fiers W, Beyaert R, Declercq W, Vandenabeele P (1999) More than one way to die: apoptosis and necrosis and reactive oxygen damage. Oncogene 18:7719–7730

Fujiwara H, Iwasaki K, Furukawa K, Seki S, He M, Maruyama M, Tomita N, Kudo Y, Higuchi M, Saido TC, Maeda S, Takashima A, Hara M, Ohizumi Y, Arai H (2006) Uncaria rhynchophylla, a Chinese medicinal herb, has potent antiaggregation effects on Alzheimer's beta-amyloid proteins. J Neurosci Res 84:427–433

Gardner AM, Xu FH, Fady C, Jacoby FJ, Duffey DC, Tu Y, Lichtenstein A (1997) Apoptotic versus nonapoptotic cytotoxicity induced by hydrogen peroxide. Free Radic Biol Med 22:73–83

Gross A, McDonnell JM, Korsmeyer SJ (1999) Bcl-2 family members and the mitochondria in apoptosis. Genes Dev 13:1899–1911

Haginiwa J, Sakai S, Aimi N, Yamanaka E, Shinma N (1973) Studies of plants containing indole alkaloids. 2. On the alkaloids of Uncaria rhynchophylla Miq. Yakugaku Zasshi 93:448–452

Hardy H (1997) Amyloid, the presenilins and Alzheimer's disease. Trends Neurosci 20:154–159

Hardy J, Selkoe DJ (2002) The amyloid hypothesis of Alzheimer's disease: progress and problems on the road to therapeutics. Science 297:353–356

Heo H, Kim DO, Choi SJ, Shin DH, Lee CY (2004) Potent inhibitory effect of flavonoids in Scutellaria baicalensis on amyloid β protein-induced neurotoxicity. J Agric Food Chem 52:4128–4132

Hu JF, Chu SF, Ning N, Yuan YH, Xue W, Chen NH, Zhang JT (2010) Protective effect of (-) clausenamide against Aβ-induced neurotoxicity in differentiated PC12 cells. Neurosci Lett 483:78–82

Huang B, Wu Q, Wen G, Lu Y, Shi J (2001) The distribution of isorhynchophylline in the tissues of the rats and the determination of its plasma half-time. Acta Academiae Medicinae Zunyi 24:119–120

Huang SH, Lin CM, Chiang BH (2008) Protective effects of Angelica sinensis extract on amyloid β-peptide-induced neurotoxicity. Phytomedicine 15:710–721

Kanatani H, Kohda H, Yamasaki K, Hotta I, Nakata Y, Segawa T, Yamanaka E, Aimi N, Sakai S (1985) The active principle of the branchlets and hook of Uncaria sinensis Oliv. examined with a 5-hydroxytryptamine receptor-binding assay. J Pharm Pharmacol 37:401–404

Kang TH, Murakami Y, Takayama H, Kitajima M, Aimi N, Watanabe H, Matsumoto K (2004) Protective effect of rhynchophylline and isorhynchophylline on in vitro ischemia-induced neuronal damage in the hippocampus: putative neurotransmitter receptors involved in their action. Life Sci 76:331–343

Katzman R, Saitoh T (1991) Advances in Alzheimer's disease. FASEB J 5:278–286

Knopman DS (2006) Current treatment of mild cognitive impairment and Alzheimer's disease. Curr Neurol Neurosci Rep 6:365–371

Kosten TA, Galloway MP, Duman RS, Russell DS, D'Sa C (2008) Repeated unpredictable stress and antidepressants differentially regulate expression of the bcl-2 family of apoptotic genes in rat cortical, hippocampal, and limbic brain structures. Neuropsychopharmacology 33:1545–1558

Li G, Ma R, Huang C, Tang Q, Fu Q, Liu H, Hu B, Xiang J (2008) Protective effect of erythropoietin on β-amyloid-induced PC12 cell death through antioxidant mechanisms. Neurosci Lett 442:143–147

Mao QQ, Xian YF, Ip SP, Tsai SH, Che CT (2011) Protective effects of peony glycosides against corticosterone-induced cell death in PC12 cells through antioxidant action. J Ethnopharmacol 133:1121–1125

Matsumoto K, Morishige R, Murakami Y, Tohda M, Takayama H, Sakakibara I, Watanabe H (2005) Suppressive effects of isorhynchophylline on 5-HT2A receptor function in the brain: behavioural and electrophysiological studies. Eur J Pharmacol 517:191–199

May MJ, Madge LA (2007) Caspase inhibition sensitizes inhibitor of NF-kappaB kinase beta-deficient fibroblasts to caspase-independent cell death via the generation of reactive oxygen species. J Biol Chem 282:16105–16116

Parker WD Jr, Fillery CM, Parks JK (1990) Cytochrome oxidase deficiency in Alzheimer's disease. Neurology 40:1302–1303

Peng Y, Xing C, Xu S, Lemere CA, Chen G, Liu B, Wang L, Feng Y, Wang X (2009) L-3-n-butylphthalide improves cognitive impairment induced by intracerebroventricular infusion of amyloid-β peptide in rats. Eur J Pharmacol 621:38–45

Perez MJ, Cederbaum AI (2003) Adenovirus-mediated expression of Cu/Zn- or Mn- superoxide dismutase protects against CYP2E1-dependent toxicity. Hepatology 38:1146–1158

Selkoe DJ (2000) Toward a comprehensive theory for Alzheimer's disease. Hypothesis: Alzheimer's disease is caused by the cerebral accumulation and cytotoxicity of amyloid beta-protein. Ann N Y Acad Sci 924:17–25

Shimada Y, Goto H, Itoh T, Sakakibara I, Kubo M, Sasaki H, Terasawa K (1999) Evaluation of the protective effects of alkaloids isolated from the hooks and stems of Uncaria sinensis on glutamate-induced neuronal death in cultured cerebellar granule cells from rats. J Pharm Pharmacol 51:715–722

Tabuchi M, Yamaguchi T, Lizuka S, Imamura S, Ikarashi Y, Kase Y (2009) Ameliorative effects of yokukansan, a traditional Japanese medicine, on learning and non-cognitive disturbances in the Tg2576 mouse model of Alzheimer's disease. J Ethnopharmacol 122:157–162

Tamatani M, Ogawa S, Nunez G, Tohyama M (1998) Growth factors prevent changes in Bcl-2 and Bax expression and neuronal apoptosis induced by nitric oxide. Cell Death Differ 5:911–919

Wang W, Huang W, Li L, Ai H, Sun F, Liu C, An Y (2008) Morroniside prevents peroxide-induced apoptosis by induction of endogenous glutathione in human neuroblastoma cells. Cell Mol Neurobiol 28:293–305

Watanabe H, Zhao Q, Matsumoto K, Tohda M, Murakami Y, Zhang SH, Kang TH, Mahakunakorn P, Maruyama Y, Sakakibara I, Aimi N, Takayama H (2003) Pharmacological evidence for antidementia effect of Choto-san (Gouteng-san), a traditional Kampo medicine. Pharmacol Biochem Behav 75:635–643

Xian YF, Lin ZX, Zhao M, Mao QQ, Ip SP, Che CT (2011) Uncaria rhynchophylla ameliorates cognitive deficits induced by D-galactose in mice. Planta Med 77:1–7

Yamada K, Nabeshima T (2000) Animal models of Alzheimer's disease and evaluation of anti-dementia drugs. Pharmacol Ther 88:93–113

Yuan D, Ma B, Yang JY, Xie YY, Wang L, Zhang LJ (2009) Anti-inflammatory effects of rhynchophylline and isorhynchophylline in mouse N9 microglial cells and the molecular mechanism. Inter Immunopharmacol 9:1549–1554

Zhang HY, Liu YH, Wang HQ, Xu JH, Hu HT (2008) Puerarin protects PC12 cells against β-amyloid-induced cell injury. Cell Biol Int 32:1230–1237
Acknowledgment
This study was supported by a Direct Grant of The Chinese University of Hong Kong (Project no. 2030409).
About this article
Cite this article
Xian, YF., Lin, ZX., Mao, QQ. et al. Protective Effect of Isorhynchophylline Against β-Amyloid-Induced Neurotoxicity in PC12 Cells. Cell Mol Neurobiol 32, 353–360 (2012). https://doi.org/10.1007/s10571-011-9763-5
Received:

Accepted:

Published:

Issue Date:
Keywords
Isorhynchophylline

Alzheimer's disease

β-Amyloid

PC12 cells

Neuroprotection