Abstract
Two novel derivatives of carnosine—(S)-trolox-l-carnosine (STC) and (R)-trolox-l-carnosine (RTC) are characterized in terms of their antioxidant and membrane-stabilizing activities as well as their resistance to serum carnosinase. STC and RTC were synthesized by N-acylation of l-carnosine with (S)- and (R)-trolox, respectively. STC and RTC were found to react more efficiently with 2,2-diphenyl-1-picrylhydrazyl radical (DPPH) and protect serum lipoproteins from Fe2+-induced oxidation more successfully than carnosine and trolox. At the same time, STC, RTC and trolox suppressed oxidative hemolysis of red blood cells (RBC) less efficiently than carnosine taken in the same concentration. When oxidative stress was induced in suspension of cerebellum granule cells by their incubation with N-methyl-d-aspartate (NMDA), or hydrogen peroxide (H2O2), both STC and RTC more efficiently decreased accumulation of reactive oxygen species (ROS) than carnosine and trolox. Both STC and RTC were resistant toward hydrolytic degradation by human serum carnosinase. STC and RTC were concluded to demonstrate higher antioxidant capacity and better ability to prevent cerebellar neurons from ROS accumulation than their precursors, carnosine and trolox.
This is a preview of subscription content, log in to check access.
Access options
Buy single article
Instant access to the full article PDF.
US$ 39.95
Tax calculation will be finalised during checkout.
Subscribe to journal
Immediate online access to all issues from 2019. Subscription will auto renew annually.
US$ 119
Tax calculation will be finalised during checkout.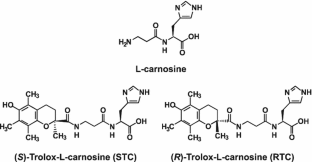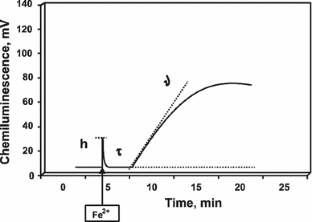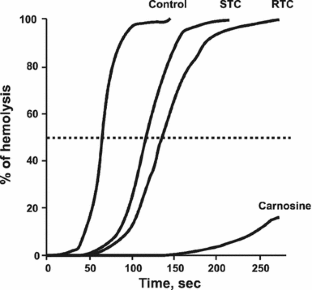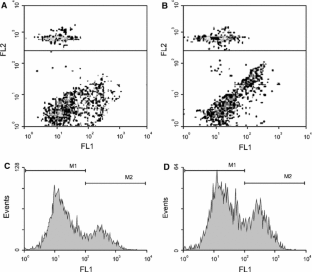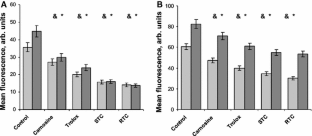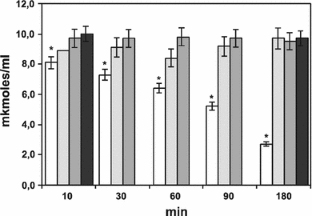 References
Babizhayev MA (2006) Biological activities of the natural imidazole-containing peptidomimetics N-acetylcarnosine, carcinine and L-carnosine in ophthalmic and skin care products. Life Sci 78:2343–2357

Boldyrev AA (2007) Carnosine and oxidative stress in cells and tissues. Nova Science Publishers, Inc, New York

Boldyrev A, Johnson P (2002) Carnosine and related compounds: antioxidant dipeptides. In: Boldyrev AA, Johnson P (eds) Oxidative stress at molecular, cellular and organ levels. Research Signpost, Trivandrum, India, pp 101–113

Boldyrev AA, Severin SE (1990) The histidine-containing dipeptides, carnosine and anserine: distribution, properties and biological significance. Adv Enz Regul 30:175–194

Boldyrev A, Song R, Dyatlov V, Lawrence D, Carpenter D (2000) Neuronal cell death and reactive oxygen species. Cel Molec Neurobiol 20:433–450

Boldyrev A, Bulygina E, Leinsoo T, Petrushanko I, Tsubone S, Abe H (2004) Protection of neuronal cells against reaction oxygen species by carnosine and related compounds. Comp Biochem Physiol B Biochem Mol Biol 137:81–88

Boldyrev A, Fedorova T, Stepanova M, Dobrotvorskaya I, Kozlova E, Boldanova N, Bagyeva G, Ivanova-Smolenskaya I, Illarioshkin S (2008) Carnosine increases efficiency of DOPA therapy of Parkinson's disease: a pilot study. Rejuv Res 11:821–827

Dobrota D, Fedorova T, Stvolinsky S, Babushikova E, Likavcanova K, Drgova A, Strapkova A, Boldyrev A (2005) Carnosine protects the brain of rats and mongolian gerbils against ischemic injury: after-stroke-effect. Neurochem Res 30:1283–1288

Farbiszewski R, Witek A, Skrzydlewska E (2000) N-acetylcysteine or Trolox derivative mitigate the toxic effects of methanol on the antioxidant system of rat brain. Toxicology 156:47–55

Fedorova TN, Boldyrev AA, Gannushkina IV (1999) Lipid peroxidation in experimental ischemia of the brain. Biochemistry (Moscow) 64:75–79

Fedorova TN, Belyaev MS, Trunova OA, Gnezditsky VV, Maximova MYu, Boldyrev AA (2009) Neuropeptide carnosine increases stability of lipoproteins and red blood cells as well as efficiency of immune competent system of patients with discirculatory encephalopathy. Biochemistry (Moscow) Suppl. A: Membrane and Cell Biol 3:62–65

Formazyuk VE, Gorshkova TYu, Boldyrev AA, Sergienko VI (1992) Characterization of chloramine complexes of carnosine with hypochlorite anion. Biokhimiia 57:1324–1329 Russian

Forrest VJ, Kang YH, McClain DE, Robinson DH, Ramakrishnan N (1994) Oxidative stress-induced apoptosis prevented by Trolox. Free Radic Biol Med 16:675–684

Friaa O, Brault D (2006) Kinetics of the reaction between the antioxidant Trolox® and the free radical DPPH in semi-aqueous solution. Org Biomol Chem 4:2417–2423

Grasborn-Frodl EM, Nakao N, Brundin P (1996) The lazaroid U-83836E improves the survival of rat embryonic mesencephalic tissue stored at 4°C and subsequently used for cultures or intracerebral transplantation. Brain Res Bull 39:341–347

Gupta S, Sharma SS (2006) Neuroprotective effects of trolox in global cerebral ischemia in gerbils. Biol Pharm Bull 29:957–961

Hipkiss AR, Worthington VC, Himsworth DT, Herwig W (1998) Protective effects of carnosine against protein modification mediated by malondialdehyde and hypochlorite. Biochim Biophys Acta 1380:46–54

Leinsoo T, Abe H, Boldyrev A (2006) Carnosine and related compounds protect double-helices DNA against oxidative injury. J Evol Biochem Physiol 42:453–456

Lenny JF, George RP, Weiss AM, Kucera CM, Chan PWH, Rinzler GS (1982) Human serum carnosinase: characterization, distinction from cellular carnosinase, and activation by cadmium. Clin Chim Acta 123:221–231

Mahmood A, Fitzgerald AJ, Marchbank T, Nyatsaki E, Murray D, Ghosh S, Playford RJ (2007) Zinc-carnosine, a health food supplement that stabilizes small bowel integrity and stimulates gut repair processes. Gut 56:168–175

Matsukura T, Tanaka H (2000) Applicability of zinc complex of L-carnosine for medical use. Biochemistry (Moscow) 65:817–823

O'Dowd JJ, Cairns MT, Trainor M, Robins DJ, Miller DJ (1990) Analysis of carnosine, homocarnosine, and other histidyl derivatives in rat brain. J Neurochem 55:446–452

Oyama Y, Carpenter DO, Chikahisa L, Okasaki E (1996) Flow-cytometric estimation on glutamate- and kainate-induced increases in intracellular Ca2+ of brain neurons: a technical aspects. Brain Res 728:121–124

Pegova A, Abe H, Boldyrev A (2000) Hydrolysis of carnosine and related compounds. Comp Biochem Physiol B Biochem Mol Biol 127:443–446

Prokopieva VD, Bohan NA, Johnson P, Abe H, Boldyrev AA (2000) Effects of carnosine and related compounds on the stability and morphology of erythrocytes from alcoholics. Alcohol Alcohol 35:44–48

Quintanilla RA, Muñoz FJ, Metcalfe MJ, Hitschfeld M, Olivares G, Godoy JA, Inestrosa NC (2005) Trolox and 17β-estradiol protect against amyloid β -peptide neurotoxicity by a mechanism that involves modulation of the Wnt signaling pathway. J Biol Chem 280:11615–11625

Rona C, Vailati F, Berardesca E (2004) The cosmetic treatment of winkles. J Cosmet Dermatol 3:26–34

Schlesier K, Harwat M, Bőhm V, Bitsch R (2002) Assessment of antioxidant activity by using different in vitro methods. Free Rad Res 36:177–187

Sharma SS, Kaundal RK (2007) Neuroprotective effects of 6-hydroxy-2, 5, 7, 8-tetramethylchroman-2-carboxylic acid (trolox), an antioxidant in middle cerebral artery occlusion induced focal cerebral ischemia in rats. Neurol Res 29:304–309

Sureda FX, Camins A, Pallas M, Trullas R, Escubedo E, Camarasa J (1998) Reactive oxygen production by glutamate agonists in dissociated cerebellar cells: a flow cytometric study. Gen Pharmacol 30:507–511

Zeng LH, Wu J, Carey D, Wu TW (1991) Trolox and ascorbate: are they synergistic in protecting liver cells in vitro and in vivo? Biochem Cell Biol 69:198–201
Acknowledgments
This work was supported by Hamari Chemicals Ltd and Russian Foundation for Basic Research (grants no. 07-04-00557 and 09-04-00507).
About this article
Cite this article
Stvolinsky, S.L., Bulygina, E.R., Fedorova, T.N. et al. Biological Activity of Novel Synthetic Derivatives of Carnosine. Cell Mol Neurobiol 30, 395–404 (2010). https://doi.org/10.1007/s10571-009-9462-7
Received:

Accepted:

Published:

Issue Date:
Keywords
Carnosine derivatives

Trolox

Oxidative stress

Brain neurons

Antioxidant defense