Abstract
Agmatine is an endogenous amine that is synthesized following the decarboxylation of l-arginine by arginine decarboxylase. Agmatine exists in mammalian brain and has been proposed as a neurotransmitter and/or neurotransmodulator. Agmatine binds to several targets and is considered as an endogenous ligand for imidazoline receptors. This review, mainly based on our research work in the past decade, focused on the modulations by agmatine action on imidazoline receptors to opioid analgesia, tolerance and dependence, and its possible neurochemical mechanisms. We went on to propose that agmatine and imidazoline receptors constitute a novel system of modulating opioid functions.
Access options
Buy single article
Instant access to the full article PDF.
USD 39.95
Price excludes VAT (USA)
Tax calculation will be finalised during checkout.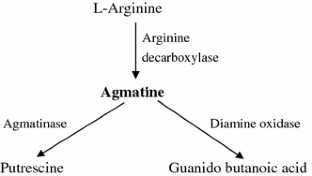 References
Aricioglu F, Ercil E, Dulger G (2003) Agmatine inhibits naloxone-induced contractions in morphine-dependent guinea pig ileum. Ann NY Acad Sci 1009:147–151

Aricioglu F, Paul IA, Regunathan S (2004) Agmatine reduces only peripheral-related behavioral signs, not the central signs, of morphine withdrawal in nNOS deficient transgenic mice. Neurosci Lett 354:153–157

Aricioglu-Kartal F, Regunathan S (2002) Effect of chronic morphine treatment on the biosynthesis of agmatine in rat brain and other tissues. Life Sci 71:1695–1701

Aricioglu-Kartal F, Uzbay IT (1997) Inhibitory effect of agmatine on naloxone-precipitated abstinence syndrome in morphine dependent rats. Life Sci 61:1775–1781

Boronat MA, Olmos G, Garcia-Sevilla JA (1998) Attenuation of tolerance to opioid-induced antinociception and protection against morphine-induced decrease of neurofilament proteins by idazoxan and other I2-imidazoline ligands. Br J Pharmacol 125:175–185

Bricca G, Greney H, Zhang J, Dontenwill M, Stutzmann J, Belcourt A, Bousquet P (1994) Human brain imidazoline receptors: further characterization with [3H]clonidine. Eur J Pharmacol 266:25–33

Dontenwill M, Pascal G, Piletz JE, Chen M, Baldwin J, Ronde P, Dupuy L, Urosevic D, Greney H, Takeda K, Bousquet P (2003a) IRAS, the human homologue of nischarin, prolongs survival of transfected PC12 cell. Cell Death Differ 10:933–935

Dontenwill M, Piletz JE, Chen M, Baldwin J, Pascal G, Ronde P, Dupuy L, Greney H, Takeda K, Bousquetd P (2003b) IRAS is an anti-apoptotic protein. Ann NY Acad Sci 1009:400–412

Dupuy L, Urosevic D, Greney H, Quaglia W, Pigini M, Brasili L, Dontenwill M, Bousquet P (2004) I1 imidazoline receptor-mediated effects on apoptotic processes in PC12 cells. Cell Death Differ 11:1049–1052

Edward L, Fishman D, Horowitz P, Nicole B, Kester M, Ernsberge P (2001) The imidazoline-1 receptor in PC12 pheochromocytoma cells activatives protein kinase C, extracelluar signal-regulated kinase (ERK) and c-jun N-terminal kinase (JUK). J Neurochem 79:931–940

Eglen RM, Hudson AL, Kendall DA, Nutt DJ, Morgan NG, Wilson VG, Dillon MP (1998) Seeing through a glass darkly: casting light on imidazoline 'I'sites. Trends Pharmacol Sci 19:381–390

Ernsberger P, Graves ME, Graff LM, Zakieh N, Nguyen P, Collins LA, Westbrooks KL, Johnson GG (1995) Imidazoline receptors. Definition, characterization, distribution, and transmembrane signaling. Ann NY Acad Sci 763:22–42

Ernsberger P, Shen IH (1997) Membrane localization and guanine nucleotide sensitivity of medullary I1-imidazoline binding sites. Neurochem Int 30:17–28

Fairbanks CA, Schreiber KL, Brewer KL, Yu CG, Stone LS, Kitto KF, Nguyen HO, Grocholski BM, Shoeman DW, Kehl LJ, Regunathan S, Reis DJ, Yezierski RP, Wilcox GL (2000) Agmatine reverses pain induced by inflammation, neuropathy, and spinal cord injury. Proc Natl Acad Sci USA 97:10584–10589

Heidbreder CA, Hagan JJ (2005) Novel pharmacotherapeutic approaches for the treatment of drug addiction and craving. Curr Opin Pharmacol 5:107–118

Hernandez S, Schwarcz de Tarlovsky S (1999) Arginine decarboxylase in Trypanosoma cruzi, characteristics and kinetic properties. Cell Mol Biol (Noisy-le-grand) 45:383–391

Holt A, Baker GB (1995) Metabolism of agmatine (clonidine-displacing substance) by diamine oxidase and the possible implications for studies of imidazoline receptors. Prog Brain Res 106:187–197

Horvath G, Kekesi G, Dobos I, Szikszay M, Klimscha W, Benedek G (1999) Effect of intrathecal agmatine on inflammation-induced thermal hyperalgesia in rats. Eur J Pharmacol 368:197–204

Ivanov TR, Jones JC, Dontenwill M, Bousquet P, Piletz JE (1998) Charactetization of a partial cDNA clone detected by imidazoline receptor-selective antisera. J Auton Nerv Syst 72:98–110

Kolesnikov Y, Jain S, Pasternak GW (1996) Modulation of opioid analgesia by agmatine. Eur J Pharmacol 296:17–22

Kornetsky C (2004) Brain-stimulation reward, morphine-induced oral stereotypy, and sensitization: implications for abuse. Neurosci Biobehav Rev 27:777–786

Li J, Li X, Pei G, Qin BY (1998a) Agmatine inhibited tolerance to and dependence on morphine in guinea pig ileum in vitro. Acta Pharmacol Sin 19:564–568

Li J, Li X, Pei G, Qin BY (1998b) Coupling relationship between imidazoline receptors and G protein. Chin Pharmacol Co 15:27–28

Li J, Li X, Pei G, Qin BY (1999a) Analgesic effect of agmatine and its enhancement on morphine analgesia in mice and rats. Acta Pharmacol Sin 20:81–85

Li J, Li X, Pei G, Qin BY (1999b) Effects of agmatine on tolerance to and substance dependence on morphine in mice. Acta Pharmacol Sin 20:232–238

Li J, Li X, Pei G, Qin BY (1999c) Influence of agmatine in adaptation of cAMP message transduction system of opiate receptors. Acta Pharmacol Sin 20:592–596

Li J, Li X, Pei G, Qin BY (1999d) Correlation between agmatines inhibition of morphine withdrawaland its inhibition of nitric oxide synthase. Acta Pharmacol Sin 20:375–380

Li J, Li X, Pei G, Qin BY (1999e) Inhibition of agmatine on releasing monoamine in different brain areas of rats. Pharm J Chin PLA 15:2–7

Li G, Regunathan S, Barrow CJ, Eshraghi J, Cooper R, Reis DJ (1994) Agmatine: an endogenous clonidine-displacing substance in the brain. Science 263:966–969

Li F, Wu N, Su RB, Zheng JQ, Xu B, Lu XQ, Cong B, Li J (2006) Involvement of phosphatidylcholine-selective phospholipase C in activation of mitogen-activated protein kinase pathways in imidazoline receptor antisera-selected protein. J Cell Biochem 98:1615–1628

Liedtke CM, Ernsberger P (1995) Regulation of electrolyte transport in rabbit tracheal epithelial cells by the I1-imidazoline agonist moxonidine. Ann NY Acad Sci 763:401–404

Lu G, Su RB, Li J, Qin BY (2003) Modulation by α-Difluoromethyl-ornithine and aminoguanidine of pain threshold, morphine analgesia and tolerance. Eur J Pharmacol 478:139–144

Lu XQ, Su RB, Liu Y, Hu G, Li J (2003) Influence of intracerebroventricular and intrathecal injection of agmatine on morphine pharmacological effects. Pharm J Chin PLA 19:324–327

Moldering GJ, Moura D, Fink K, Boisch H, Gothert M (1993) Binding of [3H]clonidine to I1-imidazoline sites in bovine adrenal medullary membranes. Naunyn Schmiedebergs Arch Pharmacol 348:70–76

Morgan AD, Campbell UC, Fons RD, Carroll ME (2002) Effects of agmatine on the escalation of intravenous cocaine and fentanyl selfadministration in rats. Pharmacol Biochem Be 72:873–880

Piletz JE, Sletten K (1993) Nonadrenergic imidazoline binding sites on human platelets. J Pharmacol Exp Ther 267:1493–1502

Piletz JE, Jones JC, Zhu H, Bishara O, Ernsberger P (1999) Imidazoline receptor antisera-selected cDNA and mRNA distribution. Ann NY Acad Sci 881:1–7

Piletz JE, Ivanov TR, Sharp JD, Ernsberger P, Chang CH, Pickard RT, Gold G, Roth B, Zhu H, Jones JC, Baldwin J, Reis DJ (2000) Imidazoline receptor antisera-selected (IRAS) cDNA: cloning and characterization. DNA Cell Boil 19:319–329

Piletz JE, Wang G, Zhu H (2003) Cell signaling by imidazoline-1 receptor candidate, IRAS, and the nischarin homologue. Ann NY Acad Sci 1009:392–399

Qin XH, Su RB, Wu N, Wei XL, Zhang H, Li J (2005) The analgesic effect of agmatine on inflammatory pain and its influence on the analgesia effect of morphine. Chin Pharmacol Bull 22:1070–1074

Regunathan S (2006) Agmatine: biological role and therapeutic potentials in morphine analgesia and dependence. AAPS J 8:E479–E484

Reis DJ, Regunathan S (2000) Is agmatine a novel neurotransmitter in brain? Trends Pharmacol Sci 21:187–193

Roerig SC (2003) Spinal and supraspinal agmatine activate different receptors to enhance spinal morphine antinociception. Ann NY Acad Sci 1009:116–126

Ruggiero DA, Regunathan S, Wang H, Milner T, Reis DJ (1998) Immunocytochemical localization of an imidazoline receptor protein in the central nervous system. Brain Res 780:270–293

Sano H, Liu SCH, Lane WS, Pileta JE, Lienhard G (2002) Insulin receptor substrate 4 associates with the protein IRAS. J Biol Chem 277:19439–19447

Selamnia M, Mayeur C, Robert V, Blachicr F (1998) Alpha-difluoromethylornithine (DFMO) as a potent arginase activity inhibitor in human colon carcinoma cells. Biochem Pharmacol 55:1241–1245

Separovic D, Kester M, Ernsberger P (1996) Coupling of I1-imidazoline receptors to diacylglyceride accumulation in PC12 rat pheochromocytoma cells. Mol Pharmacol 49:668–675

Separovic D, Kester M, Haxhiu MA, Piletz JE (1997) Activation of phosphatidylcholine selective phospholipase C by I1-imidazoline receptors in PC12 cells and rostral ventrolateral medulla. Brain Res 749:335–339

Su RB, Li J, Gao K, Pei G, Qin BY (2000) Influence of idazoxan on analgesia, tolerance, and physical dependence of morphine in mice and rats in vivo. Acta Pharmacol Sin 21:1011–1015

Su RB, Li J, Qin BY (2003a) A biphasic opioid function modulator: agmatine. Acta Pharmacol Sin 24:631–636

Su RB, Li J, Qin BY (2003b) Effects of l-arginine and anti-l-arginine decarboxylase antibody on morphine analgesia and tolerance. Chin J Drug Depend 12:97–101

Su RB, Wei XL, Liu Y, Lu XQ, Li J (2005) Effect of l-arginine and l-arginine decarboxylase antibodies on pain threshold and analgesic of morphine. Chin J Pharmacol Toxicol 19:241–247

Takada K, Hayashi Y, Kamibayashi T, Mammoto T, Yamatodani A, Kitamura S, Yoshiya I (1997) The involvement of pertussis toxin-sensitive G proteins in the post receptor mechanism of central imidazoline-1 receptors. Br J Pharmacol 120:1575–1581

Vanderschuren LJ, Kalivas PW (2000) Alterations in dopaminergic and glutamatergic transmission in the induction and expression of locomotion sensitization: a critical review of preclinical studies. Psychopharmacology (Berl) 151:99–120

Wang XL, Su RB, Yang HJ, Wu N, Mi WD, Li J (2005) Effect of agmatine on morphine analgesia, and tolerance in a rat model of neuropathic pain. Chin J Anesthesiol 25:584–588

Wang XF, Wu N, Su RB, Li J (2006) Regulation of agmatine on NMDA receptors expression in morphine dependent rats. Chin J Drug Depend 15:267–271

Wei XL, Su RB, Yuan BL, Yu SZ, Lu XQ, Liu Y, Li J (2005) Inhibition by agmatine on morphine-induced conditioned place preference in rats. Eur J Pharmacol 515:99–106

Weng XC, Gai XD, Zheng JQ, Li J (2003) Agmatine block voltage-gated calcium channel in cultured rat hippocampal neurons. Acta Pharmacol Sin 24:746–750

Wu N, Su RB, Li J, Qin BY (2004) Stable co-expression of rat μ opioid receptor and human imidazoline-1 receptor in Chinese hamster ovary cells. Bull Acad Mil Med Sci 28:329–332

Wu N, Su RB, Liu Y, Lu XQ, Zheng JQ, Cong B, Li J (2006) Modulation of agmatine on calcium signal in morphine-dependent CHO cells by activation of IRAS, a candidate for imidazoline I1 receptor. Eur J Pharmacol 548:21–28

Wu N, Su RB, Zhao Y, Xu B, Liu Y, Lu XQ, Li J (2005) Role of I1-imidazoline receptor on Naloxone-induced cAMP overshooting in chronic morphine treated CHO-μ/I1 cells. Biochemical Pharmcol 70:1079–1087

Zhang J, El-Ms MM, Abdel-Rahman AA (2001) Imidazoline I1 receptor-induced activation of phosphatidylcholinespecific phospholipase C elicits mitogen-activated protein kinase phosphorylation in PC12 cells. Eur J Pharmacol 415:117–125

Zhao Y, Su RB, Wu N, Xu B, Liu Y, Lu XQ, Li J (2004) Stable expression of imidazoline-1 receptor in mammalian cells. Bull Acad Mil Med Sci 28:333–336

Zheng JQ, Weng XC, Gai XD, Li J, Xiao WB (2004) Mechanisms underlining blockage of voltage-gated calcium channels by agmatine in cultured rat hippocampal neurons. Acta Pharmacol Sin 25:281–285
Acknowledgement
This work was supported by National Basic Research Program of China (2003CB515400). We thank Prof. Xian-Sheng Lu for correcting the writing of the manuscript.
About this article
Cite this article
Wu, N., Su, RB. & Li, J. Agmatine and Imidazoline Receptors: Their Role in Opioid Analgesia, Tolerance and Dependence. Cell Mol Neurobiol 28, 629–641 (2008). https://doi.org/10.1007/s10571-007-9164-y
Received:

Accepted:

Published:

Issue Date:

DOI: https://doi.org/10.1007/s10571-007-9164-y
Keywords
Agmatine

Imidazoline receptors

Opioid

Analgesia

Tolerance and dependence