Abstract
Development of nanofilters with the ability to remove toxic metal ions from effluent wastewater will be of immense help to the leather industry. In this study, fibrous nanofilter (FNF) was prepared using microfibrillated cellulose and tea leaf microparticles blended in poly (vinyl) alcohol. FNF was analysed for its efficacy to remove hazardous metals from tannery effluent wastewater. The FNF had promising traits of tensile strength (19.24 + 0.05 Mpa), elongation at break (22.31 + 0.12%), flexibility (10.88 + 0.05%), water absorption (37.86 + 0.14%) and desorption (32.54 + 0.33%). The metal adsorption studies clearly reflected the removal of toxic Cr (VI) ions from the effluent water by FNF. The study establishes an economically feasible and highly efficient way to remove hazardous metal ions from effluent wastewater.
Access options
Buy single article
Instant access to the full article PDF.
USD 39.95
Price excludes VAT (USA)
Tax calculation will be finalised during checkout.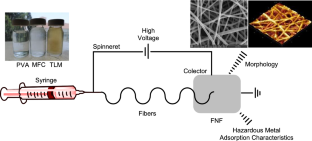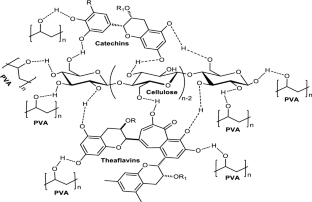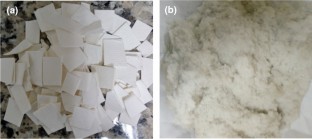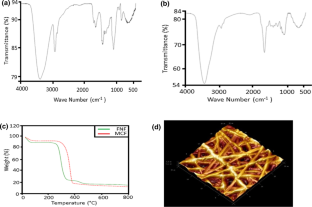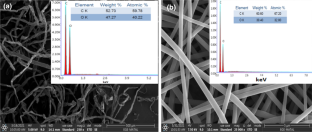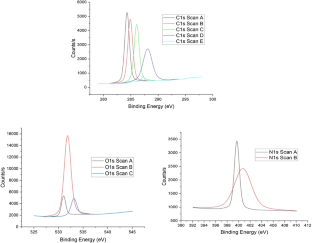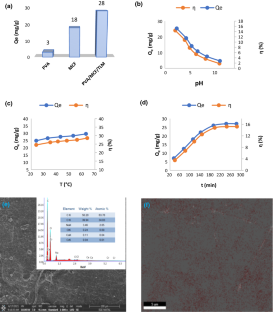 References
APHA (American Public Health Association), Standard Methods for the Examination of Water and Wastewater, 20th Ed., APHA, Washington, DC, USA, 1998.

APHA(American Public Health Association), Standard Methods for the Examination of Water and Wastewater, 21st Ed., American Water Works Association, and Water Environment Federation, Washington, DC, 2005

Beck RJ, Zhao Y, Fong H, Menkhaus TJ (2017) Electrospun liginin carbon nanofibe membrane with large pores for highly efficient adsorptive water treatment applications. J Water Process Eng 16:240–248

Bhateria R, Singh R (2019) A review on nanotechnological application of magnetic iron oxides for heavy metal removal. J Water Process Eng 31:100845

Chafik D (2014) The removal of zinc in an aqueous solution by the phosphogypsum modeling and optimizing. Aust J Basic Appl Sci 8:331–335

Cho YW, Han SS, Ko SW (2000) PVA containing chito-oligosaccharide side chain. Polymers 41:2033–2039

El Miri N, Abdelouahdi K, Zahouily M, Fihri A, Barakat A, Solhy B (2015) Bio379 nanocomposite films based on cellulose nanocrystals filled polyvinyl alcohol/chitosan polymer blend. J Appl Polym Sci 132:1–13

Fang J, Wang X, Lin T (2011) In Nanofibers-Production, Properties and Functional Applications; T. Lin, (Eds); InTech, Chapter 14, pp 287– 326.

French AD (2017) Glucose, not cellobiose, is the repeating unit of cellulose and why that is important. Cellulose 24:4605–4609

Hashem MA, Islam A, Mohsin S, Md. Shahruk NAT, (2015) Green environment suffers by discharging of high-chromium-containing wastewater from the tanneries at Hazaribagh, Bangladesh. Sustain Water Resour Manag 1:343–347

Huda MS, Drzal LT, Mohanty AK, Misra M (2008) Effect 385 of fiber surface-treatments on the properties of laminated biocomposites from poly(lactic acid) (PLA) and kenaf fibers. Compos Sci Technol 68:424–432

Huo Q, Wang X, Ragauskas AJ (2019) Preparation and characterization of nanocellulose–polyvinyl alcohol multilayer film by layer-by-layer method. Cellulose 26:4787–4798

Kolomaznik K, Kolomaznik M, Adamek L, Andel Uhlirova M (2008) Leather waste—potential threat to human health, and a new technology of its treatment. J Hazard Mater 160:514–520

Li W, Aiqin W (2007) Adsorption characteristics of congo red onto the chitosan/montmorillonite nanocomposite. J Hazard Mater 147:979–985

Liu Y, Ma H, Liu B, Hsiao BS, Chu B (2015) High-performance nanofibrous membrane for removal of Cr(VI) from contaminated water. J Plast Film Sheet 31(4):379–400

Maneal LR, Bertea1 A, Popa A, Bertea AP (2018) Electrospun Membranes for Environmental Protection IOP Conf. Ser: Materials Science and Engineering 374: 012081.

Mascheroni E, Rampazzo R, Ortenzi MA, Piva G, Bonetti S, Piergiovanni L (2016) Comparison of cellulose nanocrystals obtained by sulfuric acid hydrolysis and ammonium persulfate, to be used as coating on flexible food-packaging materials. Cellulose 23:779–793

Mohammad M, Shirazi A, Bazgir S, Meshkani F (2020) Electrospun nanofibrous membranes for water treatment. Intech book

Nandal M, Hooda R, Dhania G (2014) Tea Wastes as a Sorbent for Removal of Heavy Metals from wastewater. Int J Current Eng Technol 4106:2347–5161

Nelson ML, O'Connor RT (1964) Relation of certain infrared bands to cellulose crystallinity and crystal lattice type. Part II. A new infrared ratio for estimation of crystallinity in celluloses I and II. Jappl Polym Sci 8:1311–1324

Nur-E-Alam M, Mohammed Abu SM, Chowdhury MJ (2017) BOD reduction using spent tea waste from Tannery wastewater. J Sci Innovat Res 6:58–62

Nuri A, Lik A, Hari RH (2015) Adsorption 410 of heavy metal ion from aqueous solution by using cellulose based hydrogel composites. Macromol Symp 353:191–197

Orukoa RO, Selvarajanb R, Ogolab HJO, Edokpayic JN, Odiyo JO (2020) Contemporary and future direction of chromium tanning and management in sub Saharan Africa tanneries. Process Saf Environ Prot 133:369–386

Peng H, Wang S, Xu HY, Hao X (2017) Preparations and properties and the composite mechanism of cellulose/ polyvinyl alcohol bio-composite hydrogel membranes. New J Chem 41:6564–6565

Peresin MS, Habibi Y, Zoppe JO, Pawlak JJ, Rojas OJ (2010) Nanofiber composites of polyvinyl alcohol and cellulose nanocrystals: manufacture and characterization. Biomacromol 11:674–681

Peresin MS, Vesterinen AH, Habibi Y, Johansson LS, Pawlak JJ, Nevzorov AA, Rojas OJ (2014) Crosslinked PVA nanofibers reinforced with cellulose nanocrystals: Water interactions and thermomechanical properties. J Appl Polym Sci 131:40334

Rajaphasha DSW, Shimizu N (2020) Valorization of spent black tea by recovery of antioxidant polyphenolic compounds: subcritical solvent extraction and microencapsulation. Food Sci Nutri. https://doi.org/10.1002/fsn3.1726

Riley A (2012) Paper and paperboard packaging. In: Anne E, Henry E (eds) Packaging technology. Woodhead Publishing, Cambridge, pp 178–239

SaitoT KS, NishiyamaY IA (2007) cellulose nanofibers prepared by TEMPO429 mediated oxidation of native cellulose. Biomacromol 8:2485

Sathish M, Madhan B, Sreeram KJ, Rao JR, Nair BU (2016) Alternative carrier medium for sustainable leather manufacturing - a review and perspective. J Clean Prod 112:49–58

Senthil R, Hemalatha T, Kumar BS, Uma TS, Das BN, Sastry TP (2015) Recycling of finished leather wastes: a novel approach. Clean Techn Environ Policy 17:187–197

Senthil R, Basaran B, Vijayan S, Mert A, Bayraktar O, Wilson Aruni A (2020) Electrospun nano-bio membrane for bone tissue engineering application- a new approach. Mater Chem Phys 249:123010

Shunya I, Naruki K, Atsushi H (2018) Annealing and saponification of electrospun cellulose acetate nanofibers used as reinforcement materials for composites. Compos Part A Appl Sci Manuf 113:158–165

Singh S, Kapoor D, Khasnabis S (2021) Mechanism and kinetics of adsorption and removal of heavy metals from wastewater using nanomaterials. Environ Chem Lett 19:2351–2381

Spurlin TA, Bhadriraju K, Chung KH, Tona A, Plant AL (2009) The treatment of collagen fibrils by tissue transglutaminase to promote vascular smooth muscle cell contractile signaling. Biomaterials 30:5486–5496

Stanisław F (2020) Chromium concentrate recovery from solid tannery waste in a thermal process. Materials (basel) 13:1533

Subbiah T, Bhat GS, Tock RW, Parameswaran S, Ramkumar S (2005) Electrospinning of nanofibers. J Appl Polym Sci 96:557–569

Swarnalatha S, Srinivasulu T, Srimurali M, Sekaran G (2008) Safe disposal of toxic chrome buffing dust generated from leather industries. J Hazard Mater 150:290–299

Wadhawan S, Jain A, Nayyar J, Mehta SK (2020) Role of nanomaterials as adsorbents in heavy metal ion removal from waste water: a review. J Water Process Eng 33:101038

Wang F, Ge M (2013) Organic-inorganic hybrid of chitosan/poly (vinyl alcohol) containing yttrium (III) membrane for the removal of Cr (VI). Fiber Polym 14:28–35

Yingngam B, Tantiraksaroj K, Taweetao T, Rungseevijitprapa W, Supaka N, Brantner AH (2018) Modeling and stability study of the anthocyanin-rich maoberry fruit extract in the fast-dissolving spray-dried microparticles. Powder Technol 325:261–270
Acknowledgments
Dr. Senthil Rethinam acknowledges the funding support granted by the 2232-International Fellowship for Outstanding Researcher Program of TUBITAK (Project No: 118C350).
Additional information
Publisher's Note
Springer Nature remains neutral with regard to jurisdictional claims in published maps and institutional affiliations.
About this article
Cite this article
Rethinam, S., Kavukcu, S.B., Hemalatha, T. et al. Cellulose based electrospun nanofilters: perspectives on tannery effluent waste water treatment. Cellulose 29, 1969–1980 (2022). https://doi.org/10.1007/s10570-022-04420-0
Received:

Accepted:

Published:

Issue Date:

DOI: https://doi.org/10.1007/s10570-022-04420-0
Keywords
Nanofilter

Electrospun

Nanofiber

Microfibrillated cellulose

Metal adsorption