Abstract
Properties of cellulose aerogels indicate their great potential in oil pollutant treatment, a domain that has received tremendous attention recently; however, there are only a small theoretical studies into their absorption mechanisms. Herein, we developed a dual-scale oil absorption model based on the Washburn capillary theory to investigate the oil absorption kinetics of aerogels. It was found that kapok/microfibrillated cellulose aerogels (KCAs) exhibit high oil absorption performance via a capillary wicking method that simulates oil removal by aerogels in polluted oceans. This theoretical model demonstrates that the oil absorption capacity is mainly derived from the continuous primary pores within the aerogel skeleton, while secondary pores introduced by chopped kapok could collect and conduct oil, leading to improved oil absorption rates of KCAs. The experimental results of the oil absorption coefficients confirm the accuracy of the developed dual-scale model. The study of this dual-scale model is significant in investigating the relationship between the pore structure and oil absorption of aerogels, which will provide valuable insights for the practical application of aerogels for oil removal in polluted oceans.
Graphic abstract

Access options
Buy single article
Instant access to the full article PDF.
USD 39.95
Price excludes VAT (USA)
Tax calculation will be finalised during checkout.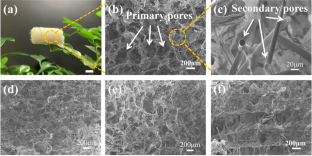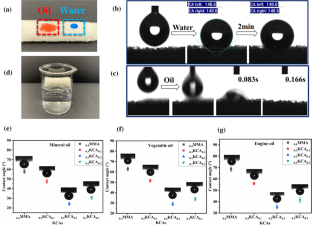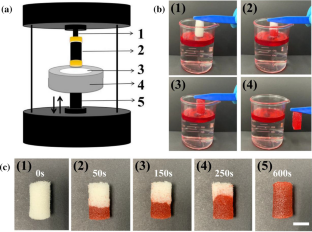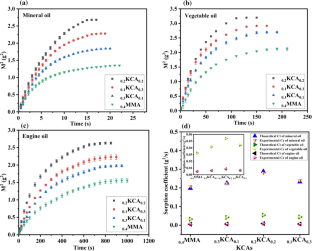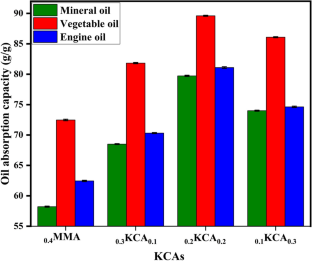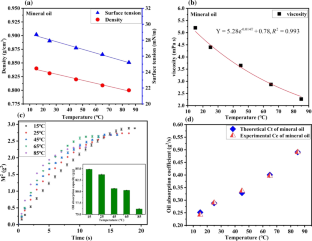 References
Abdullah MA, Rahmah AU, Man Z (2010) Physicochemical and sorption characteristics of Malaysian Ceiba pentandra (L.) Gaertn. as a natural oil sorbent. J Hazard Mater 177(1–3):683–691. https://doi.org/10.1016/j.jhazmat.2009.12.085

Bidgoli H, Mortazavi Y, Khodadadi AA (2019) A functionalized nano-structured cellulosic sorbent aerogel for oil spill cleanup: synthesis and characterization. J Hazard Mater 366:229–239. https://doi.org/10.1016/j.jhazmat.2018.11.084

Chen JF, Shen XC, Pan YB, Liu C, Hwang SY, Xu Q, Peng ZM (2018) Synthesis of freestanding amorphous giant carbon tubes with outstanding oil sorption and water oxidation properties. J Mater Chem A 6(9):3996–4002. https://doi.org/10.1039/c7ta09822g

Chen DJ, Zhu GH, Lin JC, Liu JF, Huang SK (2015) Renewable reduced graphene oxide-based oil-absorbent aerosols: preparation and essential oils absorption ability. Acs Sustain Chem Eng 3(7):1428–1433. https://doi.org/10.1021/acssuschemeng.5b00162

De Oliveira PB, Godinho M, Zattera AJ (2018) Oils sorption on hydrophobic nanocellulose aerogel obtained from the wood furniture industry waste. Cellulose 25(5):3105–3119. https://doi.org/10.1007/s10570-018-1781-8

Dilamian M, Noroozi B (2021) Rice straw agri-waste for water pollutant adsorption: relevant mesoporous super hydrophobic cellulose aerogel. Carbohydr Polym 251:117016. https://doi.org/10.1016/j.carbpol.2020.117016

Dong T, Wang FM, Xu GB (2014) Theoretical and experimental study on the oil sorption behavior of kapok assemblies. Ind Crop Prod 61:325–330. https://doi.org/10.1016/j.indcrop.2014.07.020

Dong T, Wang FM, Xu GB (2015b) Sorption kinetics and mechanism of various oils into kapok assembly. Mar Pollut Bull 91(1):230–237. https://doi.org/10.1016/j.marpolbul.2014.11.044

Dong T, Xu GB, Wang FM (2015a) Adsorption and adhesiveness of kapok fiber to different oils. J Hazard Mater 296:101–111. https://doi.org/10.1016/j.jhazmat.2015.03.040

Feng JD, Nguyen ST, Fan Z, Duong HM (2015) Advanced fabrication and oil absorption properties of super-hydrophobic recycled cellulose aerogels. Chem Eng J 270:168–175. https://doi.org/10.1016/j.cej.2015.02.034

Ge J, Shi LA, Wang YC, Zhao HY, Yao HB, Zhu YB, Yu SH (2017) Joule-heated graphene-wrapped sponge enables fast clean-up of viscous crude-oil spill. Nat Nanotechnol 12(5):434–440. https://doi.org/10.1038/Nnano.2017.33

Gong X, Wang Y, Zeng H, Betti M, Chen L (2019) Highly porous, hydrophobic, and compressible cellulose nanocrystals/PVA aerogels as recyclable absorbents for oil-water separation. Acs Sustain Chem Eng 7(13):11118–11128. https://doi.org/10.1021/acssuschemeng.9b00066

Gui XC, Li HB, Wang KL, Wei JQ, Jia Y, Li Z, Wu DH (2011) Recyclable carbon nanotube sponges for oil absorption. Acta Mater 59(12):4798–4804. https://doi.org/10.1016/j.actamat.2011.04.022

Hori K, Flavier ME, Kuga S, Lam TBT, Iiyama K (2000) Excellent oil absorbent kapok [Ceiba pentandra (L.) Gaertn.] fiber: fiber structure, chemical characteristics, and application. J Wood Sci 46(5):401–404. https://doi.org/10.1007/BF00776404

Li ZD, Zhong L, Zhang T, Qiu FX, Yue XJ, Yang DY (2019) Sustainable, flexible, and superhydrophobic functionalized cellulose aerogel for selective and versatile oil/water separation. Acs Sustain Chem Eng 7(11):9984–9994. https://doi.org/10.1021/acssuschemeng.9b01122

Lim TT, Huang X (2007a) Evaluation of hydrophobicity/oleophilicity of kapok andits performance in oily water filtration: comparison of raw and solvent-treatedfibers. Ind Crops Prod 26:125–134. https://doi.org/10.1016/j.indcrop.2007.02.007

Lim TT, Huang XF (2007) Evaluation of kapok (Ceiba pentandra (L.) Gaertn.) as a natural hollow hydrophobic-oleophilic fibrous sorbent for oil spill cleanup. Chemosphere 66(5):955–963. https://doi.org/10.1016/j.chemosphere.2006.05.062

Mao N, Russell SJ (2008) Capillary pressure and liquid wicking in three-dimensional nonwoven materials. J Appl Phys 104(3):034911

Meng YJ, Young TM, Liu PZ, Contescu CI, Huang B, Wang SQ (2015) Ultralight carbon aerogel from nanocellulose as a highly selective oil absorption material. Cellulose 22(1):435–447. https://doi.org/10.1007/s10570-014-0519-5

Mi HY, Jing X, Politowicz AL, Chen E, Huang HX, Turng LS (2018) Highly compressible ultra-light anisotropic cellulose/graphene aerogel fabricated by bidirectional freeze drying for selective oil absorption. Carbon 132:199–209. https://doi.org/10.1016/j.carbon.2018.02.033

Mullins BJ, Braddock RD, Kasper G (2007) Capillarity in fibrous filter media: relationship to filter properties. Chem Eng Sci 62(22):6191–6198. https://doi.org/10.1016/j.ces.2007.07.001

Nguyen DD, Vu CM, Vu HT, Choi HJ (2019) Micron-size white bamboo fibril-based silane cellulose aerogel: fabrication and oil absorbent characteristics. Materials. https://doi.org/10.3390/ma12091407

Nishi Y, Iwashita N, Sawada Y, Inagaki M (2002) Sorption kinetics of heavy oil into porous carbons. Water Res 36(20):5029–5036. https://doi.org/10.1016/S0043-1354(02)00225-7

Rengasamy RS, Das D, Karan CP (2011) Study of oil sorption behavior of filled and structured fiber assemblies made from polypropylene, kapok and milkweed fibers. J Hazard Mater 186(1):526–532. https://doi.org/10.1016/j.jhazmat.2010.11.031

Sai HZ, Xing L, Xiang JH, Cui LJ, Li F (2013) Flexible aerogels based on an interpenetrating network of bacterial cellulose and silica by a non-supercritical drying process. J Mater Chem A 1(27):7963–7970. https://doi.org/10.1039/c3ta11198a

Shi LR, Chen K, Du R, Bachmatiuk A, Rummeli MH, Xie KW, Liu ZF (2016) Scalable seashell-based chemical vapor deposition growth of three-dimensional graphene foams for oil-water separation. J Am Chem Soc 138(20):6360–6363. https://doi.org/10.1021/jacs.6b02262

Wang C, Okubayashi S (2019) Polyethyleneimine-crosslinked cellulose aerogel for combustion CO2 capture. Carbohydr Polym. https://doi.org/10.1016/j.carbpol.2019.115248

Wang C, Biswas SK, Okubayashi S (2020) Polyethylenimine-impregnated mesoporous delignified wood with high mechanical strength for CO2/N2 selective adsorption. ACS Appl Nano Mater 3(6):5499–5508. https://doi.org/10.1021/acsanm.0c00799

Wang S, Peng XW, Zhong LX, Tan JW, Jing SS, Cao XF, Sun RC (2015) An ultralight, elastic, cost-effective, and highly recyclable superabsorbent from microfibrillated cellulose fibers for oil spillage cleanup. J Mater Chem A 3(16):8772–8781. https://doi.org/10.1039/c4ta07057g

Wang ZG, Yu J, Zhang LL, Zhou YD, Yang YQ, Jin YC (2017) Cellulose laurate ester aerogel as a novel absorbing material for removing pollutants from organic wastewater. Cellulose 24(11):5069–5078. https://doi.org/10.1007/s10570-017-1489-1

Wang JT, Zheng Y, Wang AQ (2012a) Effect of kapok fiber treated with various solvents on oil absorbency. Ind Crop Prod 40:178–184. https://doi.org/10.1016/j.indcrop.2012.03.002

Wang JT, Zheng YA, Wang AQ (2012b) Superhydrophobic kapok fiber oil-absorbent: preparation and high oil absorbency. Chem Eng J 213:1–7. https://doi.org/10.1016/j.cej.2012.09.116

Washburn EW (1921) The dynamics of capillary flow. Phys Rev 17(3):273–283. https://doi.org/10.1103/physrev.17.273

Xu YF, Shen H, Cao LY, Xu GB (2020) Oil release behavior and kinetics of oil-impregnated kapok fiber powder. Cellulose 27(10):5845–5853. https://doi.org/10.1007/s10570-020-03169-8

Zhang H, Wang J, Xu G, Xu Y, Wang F, Shen H (2021a) Ultralight, hydrophobic, sustainable, cost-effective and floating kapok/microfibrillated cellulose aerogels as speedy and recyclable oil superabsorbents. J Hazard Mater 406:124758. https://doi.org/10.1016/j.jhazmat.2020.124758

Zhang H, Zhang G, Zhu H, Wang F, Xu G, Shen H, Wang J (2021b) Multiscale kapok/cellulose aerogels for oil absorption: the study on structure and oil absorption properties. Ind Crops Prod. https://doi.org/10.1016/j.indcrop.2021.113902

Zhou SK, Liu PP, Wang M, Zhao H, Yang J, Xu F (2016) Sustainable, reusable, and superhydrophobic aerogels from microfibrillated cellulose for highly effective oil/water separation. Acs Sustain Chem Eng 4(12):6409–6416. https://doi.org/10.1021/acssuschemeng.6b01075
Acknowledgments
The authors wish to acknowledge the National Natural Science Foundation of China [No. 51903034] and the Fundamental Research Funds for the Central Universities of China [Grant Numbers 2232019D3-12 and 2232019D3-15].
Ethics declarations
Conflict of interest
The authors declare that they have no known competing financial interest or personal relationships that could have influenced the work reported in this paper.
Human and animal rights
This article does not contain any studies with human participants or animals performed by any of the authors.
Informed consent
Informed consent was obtained from all individual participants included in the study.
Additional information
Publisher's Note
Springer Nature remains neutral with regard to jurisdictional claims in published maps and institutional affiliations.
Supplementary Information
Below is the link to the electronic supplementary material.
Supplementary file2 (MP4 9215 KB)
About this article
Cite this article
Zhang, H., Xu, G., Wang, F. et al. A theoretical and experimental study of oil wicking behavior via "green" superabsorbent. Cellulose 28, 10517–10529 (2021). https://doi.org/10.1007/s10570-021-04218-6
Received:

Accepted:

Published:

Issue Date:

DOI: https://doi.org/10.1007/s10570-021-04218-6
Keywords
Cellulose

Kapok fiber

Absorption coefficient

Oil absorption model

Dual-scale pores