Abstract
Uniformly-sized porous cellulose beads functionalized with amidoxime groups were prepared for the first time using a microfluidic method with N-methylmorpholine N-oxide (NMMO) monohydrate as a cellulose solvent. The molten state cellulose dope in NMMO monohydrate (cell/NMMO dope) as a disperse phase and hot mineral oil as a continuous phase were used in a T-junction microfluidic chip to produce uniformly-sized cell/NMMO droplets. Coagulation of the molten state cell/NMMO droplet at high temperature and amidoxime functionalization could prepare the highly-porous spherical amidoxime-functionalized cellulose beads with a uniform fibrous open internal structure. The prepared amidoxime-functionalized cellulose beads showed excellent metal adsorption properties with a maximum adsorption capacity of ~ 80 mg g−1 in the case of Cu2+/phthalate ions. The newly developed highly-porous cellulose beads can open many new applications with other proper functionalization at the reactive hydroxyl groups of the cellulose.
Graphic abstract

Access options
Buy single article
Instant access to the full article PDF.
US$ 39.95
Tax calculation will be finalised during checkout.
Subscribe to journal
Immediate online access to all issues from 2019. Subscription will auto renew annually.
US$ 119
Tax calculation will be finalised during checkout.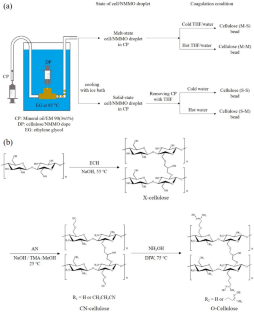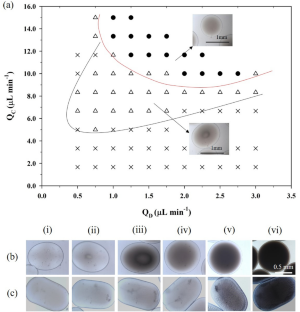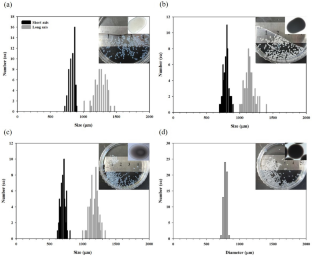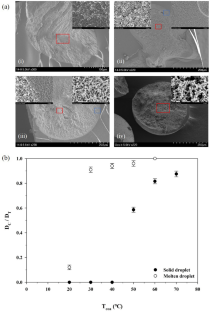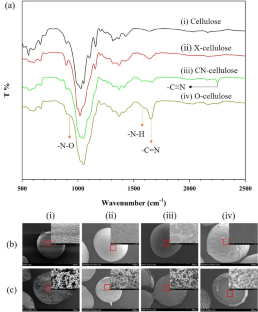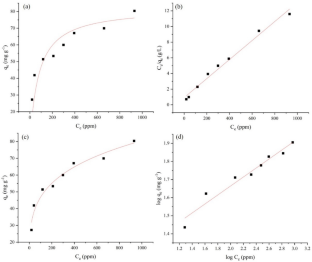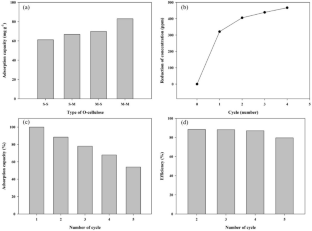 References
Alam MN, Islam MS, Christopher LP (2019) Sustainable production of cellulose-based hydrogels with superb absorbing potential in physiological saline. ACS Omega 4:9419–9426. https://doi.org/10.1021/acsomega.9b00651

Biganska O, Navard P (2008) Morphology of cellulose objects regenerated from cellulose-N-methylmorpholine N-oxide–water solutions. Cellulose 16:179. https://doi.org/10.1007/s10570-008-9256-y

Biganska O, Navard P, Bédué O (2002) Crystallisation of cellulose/N-methylmorpholine-N-oxide hydrate solutions. Polymer 43:6139–6145

Boeden HF et al (1991) Bead cellulose derivatives as supports for immobilization and chromatographic purification of proteins. J Chromatogr A 552:389–414

Bolto BA, Pawlowski L (1987) Wastewater treatment by ion-exchange

Dawson T (2012) Progress towards a greener textile industry. Color Technol 128:1–8

Diviš P, Szkandera R, BrulíK L, Docekalova H, Matúš P, BujdoŠ M (2009) Application of new resin gels for measuring mercury by diffusive gradients in a thin-films technique. Anal Sci 25:575–578

Fink HP, Weigel P, Purz HJ, Ganster J (2001) Structure formation of regenerated cellulose materials from NMMO-solutions. Prog Polym Sci 26:1473–1524

Geckeler KE, Shkinev VM, Spivakov BY (1988) Liquid-phase polymer-based retention (LPR)-a new method for selective ion separation. Sep Purif Methods 17:105–140

Gericke M, Trygg J, Fardim P (2013) Functional cellulose beads: preparation, characterization, and applications. Chem Rev 113:4812–4836

Gough BM (1967) Interaction of wheat starch and epichlorohydrin. Starch-Stärke 19:240–243

He YB, Meng LZ, Wu CT, Qian T (1999) Preparation and coordination behavior of cellulose beads derivative modified by 1, 5-diaminoethyl-3-hydroxy-1, 5-diazacycloheptane. J Appl Polym Sci 74:1278–1285

Hirota M, Tamura N, Saito T, Isogai A (2009) Surface carboxylation of porous regenerated cellulose beads by 4-acetamide-TEMPO/NaClO/NaClO 2 system. Cellulose 16:841–851

Hua J et al (2019) Highly porous cellulose microbeads and their adsorption for methylene blue. Fibers Polym 20:794–803

Kahovec J, Matějka Z, Štamberg J (1980) EDTA ester of bead cellulose a fast-kinetics chelating sorbent. Polym Bull 3:13–17

Klemm D, Kramer F, Moritz S, Lindström T, Ankerfors M, Gray D, Dorris A (2011) Nanocelluloses: a new family of nature-based materials. Angew Chem Int Ed 50:5438–5466

Li W, Liu R, Kang H, Sun Y, Dong F, Huang Y (2013) Synthesis of amidoxime functionalized cellulose derivatives as a reducing agent and stabilizer for preparing gold nanoparticles. Polym Chem 4:2556–2563. https://doi.org/10.1039/C3PY00052D

Lidhure A, Jadhav S, Ganvir V, Thakre S (2019) Modified lyocell process for producing biopolymer fiber. In: AIP conference proceedings, vol 1. AIP Publishing LLC, p 030062

Matúš P, Kubová J (2005) Complexation of labile aluminium species by chelating resins Iontosorb—a new method for Al environmental risk assessment. J Inorg Biochem 99:1769–1778

Pawlowski L (2015) Physicochemical methods for water and wastewater treatment: proceedings of the second international conference, Lublin, June 1979. Elsevier

Pinnow M, Fink HP, Fanter C, Kunze J (2008) Characterization of highly porous materials from cellulose carbamate. In: Macromolecular symposia, vol 1. Wiley Online Library, pp 129–139

Rahman ML, Sarkar SM, Farid EM, Arshad SE, Sarjadi MS, Wid N (2018) Synthesis of tapioca cellulose-based poly (amidoxime) ligand for removal of heavy metal ions. J Macromol Sci Part B 57:83–99

Rahman ML, Sarkar SM, Yusoff MM, Abdullah MH (2016) Efficient removal of transition metal ions using poly (amidoxime) ligand from polymer grafted kenaf cellulose. RSC Adv 6:745–757

Rosenau T, Potthast A, Adorjan I, Hofinger A, Sixta H, Firgo H, Kosma P (2002) Cellulose solutions in N-methylmorpholine-N-oxide (NMMO)-degradation processes and stabilizers. Cellulose 9:283–291

Rosenau T, Potthast A, Kosma P, Chen GJS (1999) Autocatalytic decomposition of N-methylmorpholine N-oxide induced by mannich intermediates. J Org Chem 64:2166–2167. https://doi.org/10.1021/jo982350y

Rosenau T, Potthast A, Sixta H, Kosma P (2001) The chemistry of side reactions and byproduct formation in the system NMMO/cellulose (Lyocell process). Prog Polym Sci 26:1763–1837

Rosenau T, Schmid P, Potthast A, Kosma P (2005) Stabilization of cellulose solutions in N-methylmorpholine-N-oxide (Lyocell dopes) by addition of an N-oxide as sacrificial substrate. Holzforschung 59:503–506. https://doi.org/10.1515/hf.2005.083

Rosenberg P, Suominen I, Rom M, Janicki J, Fardim P (2007) Tailored cellulose beads for novel applications. Cellul Chem Technol 41:243–254

Saeed K, Haider S, Oh T-J, Park S-Y (2008) Preparation of amidoxime-modified polyacrylonitrile (PAN-oxime) nanofibers and their applications to metal ions adsorption. J Membr Sci 322:400–405

Saliba R, Gauthier H, Gauthier R, Petit-Ramel M (2000) Adsorption of copper(II) and chromium(III) ions onto amidoximated cellulose. J Appl Polym Sci 75:1624–1631

Seemann R, Brinkmann M, Pfohl T, Herminghaus S (2011) Droplet based microfluidics. Rep Progress Phys 75:016601

Sharma RK, Agrawal M, Marshall F (2007) Heavy metal contamination of soil and vegetables in suburban areas of Varanasi, India. Ecotoxicol Environ Saf 66:258–266

Trygg J, Fardim P, Gericke M, Mäkilä E, Salonen J (2013) Physicochemical design of the morphology and ultrastructure of cellulose beads. Carbohydr Polym 93:291–299

Twu Y-K, Huang H-I, Chang S-Y, Wang S-L (2003) Preparation and sorption activity of chitosan/cellulose blend beads. Carbohydr Polym 54:425–430

Udoetok IA, Dimmick RM, Wilson LD, Headley JV (2016) Adsorption properties of cross-linked cellulose-epichlorohydrin polymers in aqueous solution. Carbohydr Polym 136:329–340

Wang P, Du M, Zhu H, Bao S, Yang T, Zou M (2015) Structure regulation of silica nanotubes and their adsorption behaviors for heavy metal ions: pH effect, kinetics, isotherms and mechanism. J Hazard Mater 286:533–544

Yeomans-Reina H, Ruiz-Manriquez A, Wong BR, Mansir AT (2001) Selectivity of IMAC columns in trypsin inhibitor purification. Biotechnol Prog 17:729–733

Zhang L, Cai J, Zhou J, Tang Y (2005) Adsorption of Cd2+ and Cu2+ on ion-exchange beads from cellulose/alginic acid blend. Sep Sci Technol 39:1203–1219

Zhu P, Wang L (2017) Passive and active droplet generation with microfluidics: a review. Lab Chip 17:34–75. https://doi.org/10.1039/C6LC01018K

Zulfiqar S et al (2011) Amidoximes: promising candidates for CO2 capture energy and environmental. Science 4:4528–4531
Acknowledgments
This work was supported by the National Research Foundation of Korea (2020R1A2B5B02001556).
Ethics declarations
Conflict of interest
The authors declare no conflict of interest.
Additional information
Publisher's Note
Springer Nature remains neutral with regard to jurisdictional claims in published maps and institutional affiliations.
Supplementary Information
Below is the link to the electronic supplementary material.
About this article
Cite this article
Baek, SY., Park, SY. Highly-porous uniformly-sized amidoxime-functionalized cellulose beads prepared by microfluidics with N-methylmorpholine N-oxide. Cellulose 28, 5401–5419 (2021). https://doi.org/10.1007/s10570-021-03872-0
Received:

Accepted:

Published:

Issue Date:
Keywords
Cellulose

Microfluidics

N-methylmorpholine N-oxide

Amidoxime

Metal adsorption

Filter