Abstract
Waste textiles generally have various colours. The largely discarded textiles not only result in huge loss of the limited natural materials, but also waste the colour in it which had cost substantial energy consumption and risked water pollution during dyeing. This work aimed to recycle both the waste textiles and the colours in them. In this research, magenta waste cotton fabric was firstly milled into powders with different particle sizes, and then printed as "pigments" onto cotton fabric to achieve new magenta coloured fabrics. Properties of the powders and corresponding printed fabrics were tested, including powder morphology, colour and fabric colour fastness. Powders with different particle sizes showed different colour depth from the K/S and L*a*b* value results. The K/S value of printed fabrics indicated that particle size did not have an apparent influence on the fabric colour. Furthermore, fabrics printed with 2, 5, 10 and 30 µm magenta cotton powders presented good fastness, among which the fabric printed with 5 µm powders possessed the best colour and rub fastness. This study demonstrated a potential new application for coloured textile waste.
Access options
Buy single article
Instant access to the full article PDF.
US$ 39.95
Tax calculation will be finalised during checkout.
Subscribe to journal
Immediate online access to all issues from 2019. Subscription will auto renew annually.
US$ 119
Tax calculation will be finalised during checkout.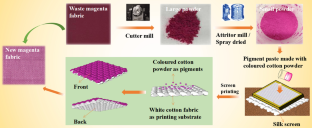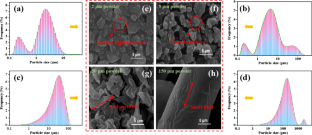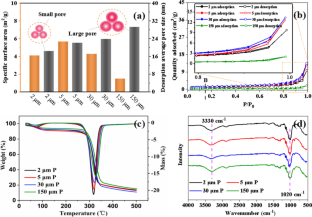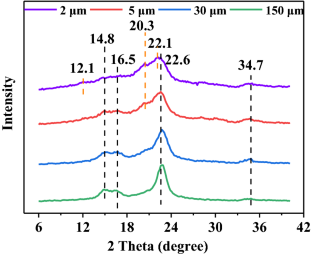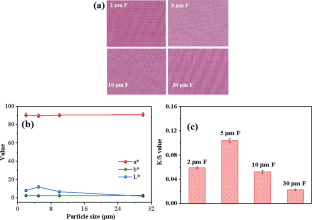 References
Abbaspour M, Aflaki E, Nejad FM (2019) Reuse of waste tire textile fibres as soil reinforcement. J Clean Prod 207:1059–1071

Ajouguim S, Abdelouahdi K, Waqif M, Stefanidou M, Saâdi L (2018) Modifications of Alfa fibers by alkali and hydrothermal treatment. Cellulose 26(3):1503–1516

Blum J, Schräpler R (2004) Structure and mechanical properties of high-porosity macroscopic agglomerates formed by random ballistic deposition. Phys Rev Lett 93:115503

Baydar G, Ciliz N, Mammadov A (2015) Life cycle assessment of cotton textile products in Turkey. Resour Conserv Recycle 104:213–223

Bouzon M, Govindan K (2015) Reverse logistics as a sustainable supply chain practice for the fashion industry: an analysis of drivers and the Brazilian case. In: Choi TM, Cheng T (eds) Sustainable fashion supply chain management. Springer, Cham

Brilliantov NV, Spahn F, Albers N, Pöschel T (2007) Collision dynamics of granular particles with adhesion. Phys Rev E 76(5):051302

Burkinshaw SM, Kabambe O (2011) Attempts to reduce water and chemical usage in the removal of bifunctional reactive dyes from cotton: Part 2 bis(vinyl sulfone), aminochlorotriazine/vinyl sulfone and bis(aminochlorotriazine/vinyl sulfone) dyes. Dyes Pigm 88:220–229

Burton AW, Ong K, Rea T, Chan IY (2009) On the estimation of average crystallite size of zeolites from the Scherrer equation: a critical evaluation of its application to zeolites with one-dimensional pore systems. Micropor Mesopor Mater 117:75–90

Chen Y (2009) Dyeing and Finishing Technology. China Textile Press, Beijing

Desmond KW, Weeks ER (2014) Influence of particle size distribution on random close packing of spheres. Phys Rev E 90(2):022204

Dominik C, Tielens A (1997) The physics of dust coagulation and the structure of dust aggregates in space. Astrophys J 480(2):647–673

Echeverria CA, Handoko W, Pahlevani F, Sahajwalla V (2019) Cascading use of textile waste for the advancement of fibre reinforced composites for building applications. J Clean Prod 208:1524–1536

Ferraz CHA, Marques SA (2018) Dynamic simulation of random packing of polydispersive fine particles. Braz J Phys 48:92–101

Gan L, Guo H, Xiao Z, Jia Z, Yang H, Sheng D, Pan H, Xu W, Wang Y (2019) Dyeing and characterization of cellulose powder developed from waste cotton. Polymers 11(12):1982

Georg M, Edmund H, Walter M (2002) Ernst schmachtenberg: plastics materials science. Hanser Verlag, Munich

Gūrses A, Açıkyıldız M, Gūneş K, Gūrses MS (2016) Dyes and pigments: their structure and properties: dyes and pigments. Springer, Berlin, pp 13–29

Haslinger S, Wang Y, Rissanen M, Lossa MB, Tanttu M, Ilen E, Määttänen M, Harlin A, Hummel M, Sixta H (2019) Recycling of vat and reactive dyed textile waste to new colored man-made cellulose fibres. Green Chem 21:5598–5610

Hunter RS, Harold RW (1987) The measurement of appearance. Wiley, New York

Hassabo AG, Salama M, Mohamed AL, Popescu C (2015) Ultrafine wool and cotton powder and their characteristics. J Nat Fibers 12(2):141

Kibasomba PM, Dhlamini S, Maaza M, Liu CP, Rashad MM, Rayan DA, Mwakikunga BW (2018) Strain and grain size of TiO2 nanoparticles from TEM, Raman spectroscopy and XRD: the revisiting of the Williamson-Hall plot method. Results Phys 9:628–635

Kim CS, Kim KR (2016) A case study comparing textile recycling systems of Korea and the UK to promote sustainability. J Textile Apparel Technol Manage 10:1–11

Landa ER, Fairchild MD (2005) Charting color from the eye of the beholder: a century ago, artist Albert Henry Munsell quantified colors based on how they appear to people; specializations of his system are still in wide scientific use. Am Sci 93(5):436–443

Lenzing (2016) http://www.lenzing.com/en/fibres/the-global-fibre-market.html/. Accessed July 2016

Li XX, Zhang P, Yang JF, Guo TW (2011) Influence of particle size distribution of dental opacifier on the color of titanium opaque porcelain. J Dent 39:45–50

Li Z, Liu D, Cai Y, Wang Y, Teng J (2019) Adsorption pore structure and its fractal characteristics of coals by N-2 adsorption/desorption and FESEM image analyses. Fuel 257:116031

Ling Z, Wang T, Makarem M, Santiago Cintrón M, Cheng HN, Kang X, Bacher M, Potthast A, Rosenau T, King H, Delhom CD, Nam S, Vincent Edwards J, Kim SH, Xu F, French AD (2019) Effects of ball milling on the structure of cotton cellulose. Cellulose 26:305–328

Liu Y, Xia LJ, Guo H, Wang AM, Hu JB, Zhang W, Xu WL, Wang YL (2020) Kinetics and thermodynamics studies of cationic dye adsorption onto carboxymethyl cotton fabric. J Nat Fibers 2020:1–12

Nada AMA, Hassan ML (2000) Thermal behavior of cellulose and some cellulose derivatives. Polym Degrad Stabil 67(1):111–115

Nam S, Hillyer MB, Condon BD (2020) Method for identifying the triple transition (glass transition-dehydration-crystallization) of amorphous cellulose in cotton. Carbohyd Polym 228:115374

O'Connell JH, Lee ME, Yagoub MYA, Swart HC, Coetsee E (2016) Characterization of crystallite morphology for doped strontium fluoride nanophosphors by TEM and XRD. Physica B 480:169–173

Pensupa N, Leu SY, Hu Y, Du C, Liu H, Jing H, Wang H, Lin CSK (2017) Recent trends in sustainable textile waste recycling methods: current situation and future prospects. Top Curr Chem 375:189–228

Prochzkova L, Vanecek V, Cuba V, Pjatkan R, Martinez-Turtos R, Jakubec I, Buryi M, Omelkov S, Auffray E, Lecoq P, Mihokova E, Nikl M (2019) Core-shell ZnO:Ga-SiO2 nanocrystals: limiting particle agglomeration and increasing luminescence via surface defect passivation. Rsc Adv 9:28946–28952

Rajkhowa R, Wang L, Kanwar J, Wang X (2009) Fabrication of ultrafine powder from eri silk through attritor and jet milling. Powder Technol 191:155–163

Rajkhowa R, Wang L, Wang X (2008) Ultra-fine silk powder preparation through rotary and ball milling. Powder Technol 185:87–95

Sandin G, Peters GM (2018) Environmental impact of textile reuse and recycling: a review. J Clean Prod 184:353–365

Shevell SK (ed) (2003) The science of color. Elsevier, Amsterdam

Statista (2016) https://www.statista.com/statistics/263154/worldwide-production-volume-oftextilefibres-since-1975/. Accessed May 2016

Segal L, Creely JJ, Martin AE, Conrad CM (1959) An empirical method for estimating the degree of crystallinity of native cellulose using the X-ray diffractometer. Text Res J 29(10):786–794

Tang Y, Cai W, Xu B (2015) Profiles of phenolics, carotenoids and antioxidative capacities of thermal processed white, yellow, orange and purple sweet potatoes grown in Guilin, China. Food Sci Hum Well 4(3):123–132

To MH, Uisan K, Ok YS, Pleissner D, Lin CSK (2019) Recent trends in green and sustainable chemistry: rethinking textile waste in a circular economy. Curr Opin Green Sust 20:1–10

Tonejc A (2002) Crystallographic features of mechanically milled and alloyed nanosized crystalline and amorphous materials. Acta Chim Slov 49:1–28

Vodyanitskii YN, Savichev AT (2017) The influence of organic matter on soil color using the regression equations of optical parameters in the system CIE-L*a*b*. Ann Agrar Sci 15:380–385

Wang H, Shadman F (2013) Effect of particle size on the adsorption and desorption properties of oxide nanoparticles. AIChE J 59:1502–1510

Xia L, Wang A, Zhang C, Liu Y, Guo H, Ding C, Wang Y, Xu W (2018) Environmentally friendly dyeing of cotton in an ethanol-water mixture with excellent exhaustion. Green Chem 20:4473–4483

Xia LJ, Zhang CH, Wang AM, Wang YL, Xu WL (2020) Morphologies and properties of Juncus effusus fiber after alkali treatment. Cellulose 27(4):1909–1920

Xu W, Cui W, Li W, Guo W (2004) Development and characterizations of super-fine wool powder. Powder Technol 140:136–140

Yu C (2009) Dyeing and finishing technology. China Textile Press, Beijing

Zamani B, Sandin G, Peters GM (2017) Life cycle assessment of clothing libraries: can collaborative consumption reduce the environmental impact of fast fashion? J Clean Prod 162:1368–1375

Zeng B, Wang X, Byrne N (2019) Development of cellulose based aerogel utilizing waste denim—a morphology study. Carbohyd Polym 205:1–7
Acknowledgments
This work was supported by Deakin University and Wuhan Textile University (WTU) through the Deakin-WTU Joint PhD Program. We also acknowledge support from the H&M Foundation through the Global Change Award and the Australian Research Council (ARC) Research Hub for Future Fibres (IH140100018).
Additional information
Publisher's Note
Springer Nature remains neutral with regard to jurisdictional claims in published maps and institutional affiliations.
About this article
Cite this article
Gan, L., Xiao, Z., Zhang, J. et al. Coloured powder from coloured textile waste for fabric printing application. Cellulose 28, 1179–1189 (2021). https://doi.org/10.1007/s10570-020-03573-0
Received:

Accepted:

Published:

Issue Date:
Keywords
Coloured textile waste

Recycling

Cotton powder

Pigments

Printing

K/S value