Abstract
A new and simple method based on natural dyeing was developed for producing antibacterial and biodegradable cotton fabrics. Using the aqueous extraction procedure, a natural dye was extracted from boiled pomegranate rinds and prepared into a fine powder. The whey protein isolate was used as an ecofriendly mordant to increase the affinity of cotton fabrics to the pomegranate rind extract. The different dyeing parameters, including dye concentration, temperature, time, and dyeing bath pH, were optimized via reflectance spectrophotometry using the three different pre-mordanting, simultaneous mordanting, and post-mordanting dyeing methods. The pre-mordanting method performed at a temperature of 80 °C yielded the best overall efficiency in terms of dye color strength and depth of shade under the optimized dyeing conditions of a concentration of 70%, pH = 4.5, time = 80 min, a material to liquid ratio of 1:20, and a temperature of 90 °C. The bio-fabrics thus produced exhibited excellent wash and light fastness. The results of FTIR spectroscopy confirmed the chemical interaction between cotton fabrics and the combination of WPI/dye agents. Moreover, SEM micrographs revealed the homogeneous surface morphology of the bio-fabrics without any microscopic cracks or discontinuities in the sample surface. Results also revealed that, with 18 h of contact time, the proposed ecofriendly method was able to produce bio-fabrics that maintained desirable antibacterial properties against pathogenic and spoilage bacteria, even after 10 washing cycles and also exhibited excellent protection against ultraviolet radiation. The results confirmed that this procedure is promising for producing dyed fabrics for biomedical applications without adverse environmental effects and that the natural mordant used is a good replacement for the commonly used metallic ones.
Graphic abstract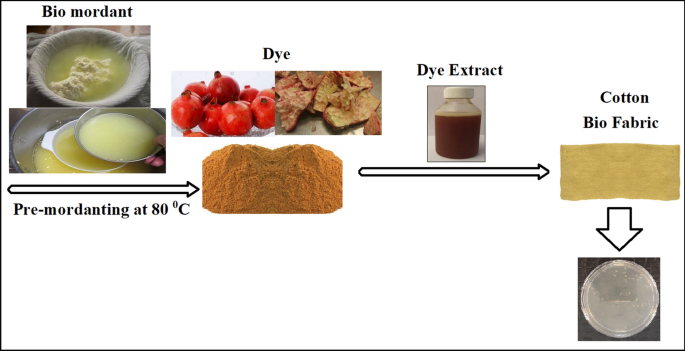 Access options
Buy single article
Instant access to the full article PDF.
USD 39.95
Price excludes VAT (USA)
Tax calculation will be finalised during checkout.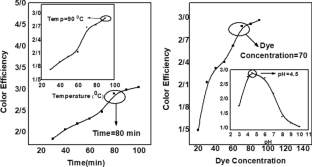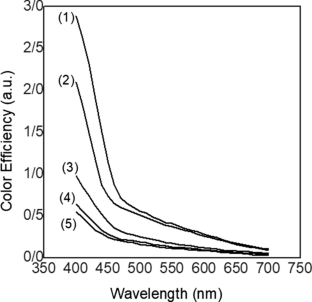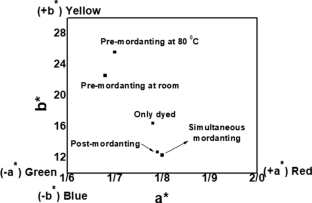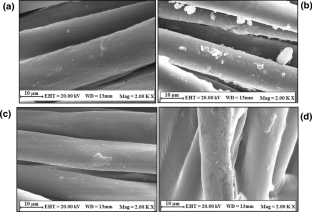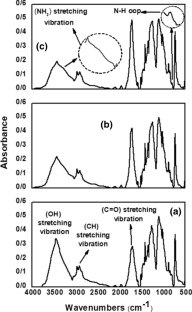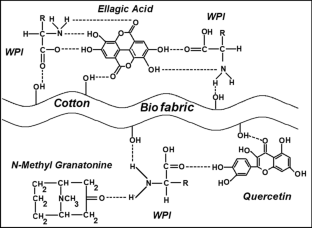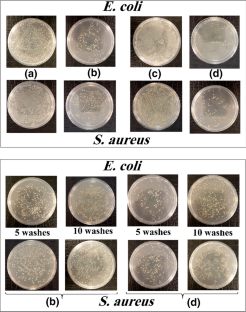 References
Adeel S, Ali S, Bhatti IA, Zsila F (2009) Dyeing of cotton fabric using pomegranate (Punicagranatum) aqueous extract. Asian J Chem 21(5):3493–3499

Alizadeh-sani M, Khezerlou A, Ehsani A (2018) Fabrication and characterization of the bionanocomposite film based on whey protein biopolymer loaded with TiO2 nanoparticles, cellulose nanofibers and rosemary essential oil. Ind Crops Products 124:300–315

Al-Zoreky NS (2009) Antimicrobial activity of pomegranate (Punica granatum L.) fruit peels. Int J Food Microbiol 134:244–248

Allen A, Foulk J, Gamble G (2007) Textile technology preliminary fourier-transform infrared spectroscopy analysis of cotton trash. J Cotton Sci 11(1):68–74

Banga AK (2015) Therapeutic peptides and proteins: formulation, processing, and delivery systems. CRC Press, Boca Raton

Baseri S (2018) Improvement of dyeing, electro resistivity, and anti-microbial properties of acrylic fibers. Indian J Fiber Textile Res 43:143–152

Baseri S (2016) Preparation and characterization of conductive and antibacterial polyacrylonitrile terpolymer yarns produced by one-step organic coating. J Textile Institute 108(1):1–11

Baseri S (2015) Effect of drawing temperature on the structure and free volume of semicrystalline polyester yarns. Polymer Eng Sci 55(9):2030–2041

Batool I, Shah GB (2018) Chemical bonding of organic dye onto cotton fibers using silane as coupling agent (I). Fibers Polymers 19(4):790–796

Benli H, Bahtiyari Mİ (2015) Use of ultrasound in biopreparation and natural dyeing of cotton fabric in a single bath. Cellulose 22:867–877

Cintron MS, Hinchliffe DJ (2015) FTIR examination of the development of secondary cell wall in cotton fibers. Fibers 3:30–40

Cui L, Hu J, Wang W, Yan C, Guo Y, Tu C (2020) Smart pH response flexible sensor based on calcium alginate fibers incorporated with natural dye for wound healing monitoring. Cellulose 27:6367–6381

Davulcu A, Benli H, Sen Y, Bahtiyari MI (2014) Dyeing of cotton with thyme and pomegranate peel. Cellulose 21:4671–4680

Deaville ER, Green RJ, Mueller-Harvey I, Willoughby I, Frazier RA (2007) Hydrolyzable tannin structures influence relative globular and random coil protein binding strengths. J Agric Food Chem 55:4554–4561

El-Zaher NA, El-Bassyouni GT, Esawy MA, Guirguis OW (2019) Amendments of the structural and physical properties of cotton fabrics dyed with natural dye and treated with different mordants. J Natural Fibers. https://doi.org/10.1080/15440478.2019.1689884

Forteir C, Cintrón MS, Rodgers J, Fontenot K, Peralta D (2017) Fourier-transform imaging of cotton and botanical and field trash mixtures. Fibers 5(20):1–11

Fawole OA, Makunga NP, Opara UL (2012) Antibacterial, antioxidant and tyrosinase-inhibition activities of pomegranate fruit peel methanolic extract. BMC Complement Altern Med 12:200. https://doi.org/10.1186/1472-6882-12-200

Gao D, Li Y, Lyu B, Jin D, Ma G (2020) Silicone quaternary ammonium salt based nanocomposite: a long-acting antibacterial cotton fabric finishing agent with good softness and air permeability. Cellulose 27:1055–1069

Garside P, Wyeth P (2003) Identification of cellulosic fibres by FTIR spectroscopy I: thread and single fiber analysis by attenuated total reflectance. Stud Conservation 48(4):269–275

Gawish SM, Mashaly HM, Helmy HM, Ramadan AM, Farouk R (2017) Effect of mordant on UV protection and antimicrobial activity of cotton, wool, silk, and nylon fabrics dyed with some natural dyes. J Nanomed Nanotechnol 8:1–9

Goel G, Puniya AK, Aguilar CN, Singh K (2005) Interaction of gut microflora with tannins in feeds. Naturwissenschaften 92:497–503

Gotoh T, Matsushima K, Kikuchi KI (2004) Adsorption of Cu and Mn on covalently cross-linked alginate gel beads. Chemosphere 55:57–64

Gupta D, Jain A, Panwar S (2005) Anti-UV and anti-microbial properties of some natural dyes on cotton. Indian J Fiber Textile Res 30:190–195

Haque MA, Akhtar M, Halilu A, Yun HD (2017) Validation and extended application of cellulose microfibril swelling enzyme assay method to alkali induced swelling of cellulose. J Chem Eng Bioanal Chem 2(1):62–69

Harane RS, Mehra NR, Tayade PB, Adivarekar RV (2014) A facile energy and water-conserving process for cotton dyeing. Int J Energy Environ Eng 5(96):1–10

Horincar G, Aprodu I, Barbu V, Rapeanu G, Bahrim GE, Stanciuc N (2019) Interactions of flavonoids from yellow onion skins with whey proteins: mechanisms of binding and microencapsulation with different combinations of polymers. Spectrochimica Acta A Molecular Biomolecular Spectroscopy 215:158–167

Ibrahim NA, Eid BM, Kafafy H (2020) Sustainable colorants for protective textiles (chapter 21). Advances in functional and protective textiles. Woodhead Publishing, Cambridge, pp 569–629

Kadam SS, Salunkhe DK, Chavan JK (1990) Dietary tannins: consequences and remedies. CRC Press, Florida

Kondo T, Sawateri C, Manley RSJ, Gray DG (1994) Characterization of hydrogen bonding in cellulose-synthetic polymer blend systems with regioselectively substituted methylcellulose. Macromolecules 27:210–215

Kulkarni SS, Gokhale AV, Bodake UM, Pathade GR (2011) Cotton Dyeing with Natural Dye Extracted from Pomegranate (Punica granatum) Peel. Universal J Environ Res Technol 1(2):135–139

Langerdorff V, Cuvelier G, Launay B, Michin C, Parker A, Kruif CG (1999) Casein micelle/iota carrageenan interactions in milk: Influence of temperature. Food Hydrocolloids 13(1):211–218

Liu G, Xiang J, Xia Q, Li K, Lan T, Yu L (2018) Superhydrophobic cotton gauze with durably antibacterial activity as skin wound dressing. Cellulose 26:1383–1397

Lu Z, Liu J, Dong C, Zhang Z, Wei D (2019) Durable multifunctional antibacterial and hydrophobic cotton fabrics modified with linear fluorinated pyridinium polysiloxane. Cellulose 26:7483–7494

Mohamed FA, Ibrahim HM, El-Kharadly EA, El-Alfy EA (2016) Improving dye ability and antimicrobial properties of cotton fabric. J Appl Pharmaceutical Sci 6(02):119–123

Mohammed GJ, Al-Jassani MJ, Hameed IH (2016) Anti-bacterial, antifungal activity and chemical analysis of Punica grantanum using GC-MS and FTIR spectroscopy. Int J Pharmacognosy Phytochem Res 8(3):480–494

Monier M, Ayad DM, Sarhan AA (2010) Adsorption of Cu (II), Hg (II), and Ni (II) ions by modified natural wool chelating fibers. J Hazardous Mater 176:348–355

Murugesh Babu K, Ravindra KB (2014) Bioactive antimicrobial agents for finishing of textiles for health care products. J Textile Institute 106(7):1–12

Nambela L, Venant Haule L, Mgani Q (2020) A review on source, chemistry, green synthesis and application of textile colorants. J Cleaner Production 246. Article 119036.

Naveed R, Bhatti I A, Adeel S, Ashar A, Sohail I, Ul Haq Khan M, Masood N, Iqbal M, Nazir A. (2020) Microwave-assisted extraction and dyeing of cotton fabric with mixed natural dye from pomegranate rind (Punica Granatum L.) and turmeric rhizome (Curcuma Longa L.). J Natural Fibers. https://doi.org/10.1080/15440478.2020.1738309

Negi PS, Jayaprakasha GK (2003) Antioxidant and antibacterial activities of Punica Granatum peel extracts. J Food Sci 68(4):1473–1477

Noda Y, Kaneyuka T, Mori A, Packer L (2002) Antioxidant activities of pomegranate fruit extract and its anthocyanidins: delphinidin, cyaniding, and pelargonidin. J Agri Food Chem 50(1):166–171

Pavia D, Lampman G M, Kriz G S (1996) Introduction to spectroscopy, 2nd edn, Washington.

Pelegrine DHG, Gasparetto CA (2005) Whey proteins solubility as function of temperature and pH. Lebensm-Wiss u Technol 38:77–80

Petrovic M et al (2017) Mechanism of adsorption of Cu+2 and Zn+2 on the corn silk (Zea mays L.). Ecol Eng 99:83–90

Pisitak P, Hutakamol J, Thongcharoen R, Phokeaw P, Kanjanawan K, Saksaeng N (2016) Improving the dyeability of cotton with tannin-rich natural dye through pretreatment with whey protein isolate. Industrial Crops Products 79:47–56

Popescu CM, Singurel G, Popescu MC, Vasile C, Argyropoulos DS, Willfor S (2009) Vibrational spectroscopy and X-ray diffraction methods to establish the differences between hardwood and softwood. Carbohyd Polym 77:851–857

Rehman F, Sanbhal N, Naveed T, Farooq A, Wang Y, Wei W (2018) Antibacterial performance of Tencel fabric dyed with pomegranate peel extracted via ultrasonic method. Cellulose 25:4251–4260

Rosas-Burgos EC, Burgos-Hernández A, Noguera-Artiaga L, Kaˇcániová M, Hernández-García F, Cárdenas-López JL, Carbonell-Barrachina AA (2016) Antimicrobial activity of pomegranate peel extracts as affected by cultivar. J Sci Food Agri 97(3):802–810

Ru J, Qian X, Wang Y (2018) Low-salt or salt-free dyeing of cotton fibers with reactive dyes using liposomes as dyeing/level-dyeing promotors. Sci Reports 8(13045):1–9

Sarkar AK, Seal CM (2003) Color strength and colorfastness of flax fabrics dyed with natural colorants. Clothing Textiles Res J 21(4):162–166

Satyanarayana DNV, Chandra KR (2013) Dyeing of cotton cloth with natural dye extracted from pomegranate peel and its fastness. Int J Eng Sci Res Technol 2(10):2664–2669

Seeram NP, Adams LS, Henning SM, Niu Y, Zhang Y, Nair MG, Heber D (2005) In vitro antiproliferative, apoptotic and antioxidant activities of punicalagin, ellagic acid and a total pomegranate tannin extract are enhanced in combination with other polyphenols as found in pomegranate juice. J Nutritional Biochem 16(6):360–367

Shaukat A, Sobia J, Tanveer H, Sadia N, Umme H (2016) Optimization of extraction condition of natural dye from pomegranate peels using response surface methodology. Int J Eng Sci Res Technol 5(7):542–548

Singleton VL, Rossi JA (1965) Colorimetry of total phenolics with phosphomolybdic-phosphotungstic acid reagents. Am J Enol Viticulture 16:144–158

Sinnur HD, Samanta AK, Verma DK, Kaware R (2017) Studies on coloration and UV protective action of Anar Peel (Pomegranate Rind) as an effective natural colorant for cotton khadi fabric. J Inst Eng India Ser E. https://doi.org/10.1007/s40034-017-0106-z

Sorrenti V, Randazzo CL, Caggia C, Ballistreri G, Romeo FV, Fabroni S, Timpanaro N, Raffaele M, Vanella L (2018) Beneficial effects of pomegranate peel extract and probiotics on pre-adipocyte differentiation. Front Microbiol 10:660

Soobrattee MA, Neergheen VS, Luximon-Ramma A, Aruoma OI, Bahorun T (2005) Phenolics as potential antioxidant therapeutic agents: mechanism and actions. Mutat Res 579:200–213

Souissi M, Guesmi A, Moussa A (2018) Valorization of natural dye extracted from date palm pits (Phoenix dactylifera) for dyeing of cotton fabric. Part 1: Optimization of extraction process using Taguchi design. J Cleaner Production 202:1045–1055

Su X, Howell AB, D'Souza DH (2012) Antibacterial effects of plant-derived extracts on methicillin-resistant Staphylococcus aureus. Foodborne Pathog Dis 9(6):573–578

Van Elswijk DA, Schobel UP, Lansky EP, Irth H, van der Greef J (2004) Rapid dereplication of estrogenic compounds in pomegranate (Punica granatum) using on-line biochemical detection coupled to mass spectrometry. Phytochemistry 65(2):233–241

Viuda-Martos M, Fernandez-Lopez J, Perez-Alvarez JA (2010) Pomegranate and its many functional components as related to human health: a review. Comprehensive Rev Food Sci Food Safety 9:635–654

Wen W, Zhang Z, Jing L, Zhang T (2020) Synthesis of a Hein-Schiff base compound and its antibacterial activity on cotton fabrics. Cellulose 27:7243–7254

Wijayanti HB, Bansal N, Sharma R, Deeth HC (2014) Effect of sulphydryl reagents on the heat stability of whey protein isolate. Food Chem 163:129–135

Xie Y, Yang W, Tang F, Chen X, Ren L (2015) Antibacterial activities of flavonoids: structure-activity relationship and mechanism. Curr Med Chem 22(1):132–149

Yang G, Zhang L, Liu Y (2000) Structure and microporous formation of cellulose/silk fibroin blend membranes I. effect of coagulants. J Membrane Sci 177:153–161

Yehia HM, Elkhadragy MF, Abdel Moneim AE (2011) Antimicrobial activity of pomegranate rind peel extracts. Af J Microbiol Res 4(22):3664–3668

Yu Z, He H, Liu J, Li Y, Lin X, Zhang C, Li M (2020) Simultaneous dyeing and deposition of silver nanoparticles on cotton fabric through in situ green synthesis with black rice extract. Cellulose 27:1829–1843

Zhang S, Li F, Yu JY (2011) Novel cellulose/SPI blend bio-fibers prepared via direct dissolving approach. J Eng Fibers Fabrics 6:31–37
Additional information
Publisher's Note
Springer Nature remains neutral with regard to jurisdictional claims in published maps and institutional affiliations.
About this article
Cite this article
Baseri, S. Eco-friendly production of anti-UV and antibacterial cotton fabrics via waste products. Cellulose 27, 10407–10423 (2020). https://doi.org/10.1007/s10570-020-03471-5
Received:

Accepted:

Published:

Issue Date:

DOI: https://doi.org/10.1007/s10570-020-03471-5
Keywords
Bio-cotton fabric

Whey protein isolate

Pomegranate rind

Antibacterial activity

Color strength