Abstract
In this study, four types of ecofriendly non-woven materials were developed from different parts of bark and leaf of banana plant i.e. outer bark, middle bark, inner bark (IB) and mid rib (MR) by wet laid web formation. Fibers were extracted chemically by treating with NaOH from all the parts. Due to the very high absorbency of banana fiber, the prepared non-wovens were treated with water repellent (WR) chemical for improving their hydrophobicity. The effects of WR on the physical, mechanical and morphological properties of the non-wovens were also investigated. The hydrophobicities of all the nonwovens were improved remarkably with the concentration of WR. It took 1.25, 2.69, 4.20 and 4.67 h to absorb a drop of water for OB nonwovens at a concentration of 1%, 5%, 10% and 20% WR respectively where, all the untreated nonwovens took almost zero seconds. Just like OB, all other nonwovens followed exactly the same trend. OB nonwoven exhibited the highest tensile strength (TS), Elongation-at-break (EB) and young's modulus (YM) of 8.56 Mpa, 12.56% and 215 Mpa respectively where, IB showed the lowest TS and YM of 1.23 and 67 Mpa respectively and MR showed the lowest EB of 1.77%. Although there were no remarkable effects of WR on tensile properties nevertheless, TS and YM were increased but EB was decreased to a small extent with the concentration of WR. The chemical bonding, morphology of the fiber and nonwovens were also investigated by FTIR and SEM analysis.
Access options
Buy single article
Instant access to the full article PDF.
USD 39.95
Price includes VAT (USA)
Tax calculation will be finalised during checkout.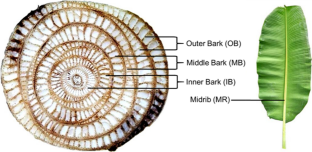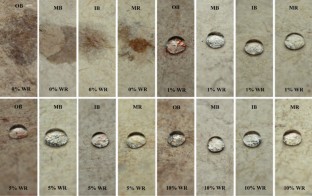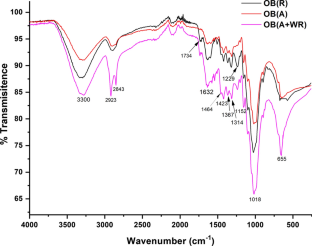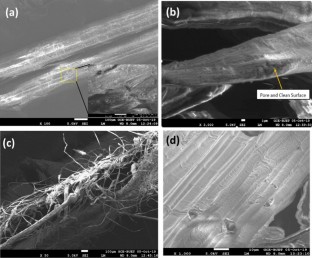 Availability of data material
Not applicable.
Code availability
Not applicable.
Permission for collecting samples
The authors clarify that the plant samples were collected with appropriate permissions from the authorities of the farm.
References
Abdullah-Al-Kafi Abedin M, Beg M et al (2006) Study on the mechanical properties of jute/glass fiber-reinforced unsaturated polyester hybrid composites: effect of surface modification by ultraviolet radiation. J Reinf Plast Comp 25:575–588

Abral H, Basri A, Muhammad F et al (2019) A simple method for improving the properties of the sago starch films prepared by using ultrasonication treatment. Food Hydrocolloid 93:276–283

Aslam S, Hussain T, Ashraf M et al (2018) Multifunctional finishing of cotton fabric. Autex Res J 19(2):191–200

Bae GY, Min BG, Jeong YG et al (2009) Superhydrophobicity of cotton fabrics treated with silica nanoparticles and water-repellent agent. J Colloid Interf Sci 337:170–175

Bhoopathi R, Ramesh M, Deepa C (2014) Fabrication and property evaluation of banana-hemp-glass fiber reinforced composites. Procedia Eng 97:2032–2041

Bhuvaneshwari M, Sangeetha K (2018) Development of natural fiber nonwovens for thermal insulation. Int J Appl Eng Res 13:14903–14907

Boopalan M, Niranjanaa M, Umapathy M (2013) Study on the mechanical properties and thermal properties of jute and banana fiber reinforced epoxy hybrid composites. Compos B 51:54–57

Chowdhury KP (2018) Impact of different water repellent finishes on cotton double jersey fabrics. J Text Sci Technol 4:85–99

Das P, Nag D, Debnath S et al (2010) Machinery for extraction and traditional spinning of plant fibres. Indian J Trad Know 9(2):386–393

Deng C, Liu W, Zhang Y et al (2018) Environmentally friendly and breathable wet-laid hydroentangled nonwovens for personal hygiene care with excellent water absorbency and flushability. R Soc Open Sci 5:171486

Devi LU, Bhagawan S, Thomas S (1997) Mechanical properties of pineapple leaf fiber-reinforced polyester composites. J Appl Polym Sci 64:1739–1748

Ilyas R, Sapuan S, Ishak M et al (2018) Development and characterization of sugar palm nanocrystalline cellulose reinforced sugar palm starch bionanocomposites. Carbohydr Polym 202:186–202

Ilyas R, Sapuan S, Ishak M et al (2019) Sugar palm nanofibrillated cellulose (Arenga pinnata (Wurmb.) Merr): effect of cycles on their yield, physic-chemical, morphological and thermal behavior. Int J Biol Macromol 123:379–388

John MJ, Thomas S (2008) Biofibres and biocomposites. Carbohydr Polym 71:343–364

John MJ, Francis B, Varughese K et al (2008) Effect of chemical modification on properties of hybrid fiber biocomposites. Compos A 39:352–363

Joseph JS, Sreekala M, Oommen Z et al (2002) A comparison of the mechanical properties of phenol formaldehyde composites reinforced with banana fibres and glass fibres. Compos Sci Technol 62:1857–1868

Kargarzadeh H, Mariano M, Gopakumar D et al (2018) Advances in cellulose nanomaterials. Cellulose 25:2151–2189

Kenned JJ, Sankaranarayanasamy K, Binoj J et al (2020a) Thermo-mechanical and morphological characterization of needle punched non-woven banana fiber reinforced polymer composites. Compos Sci Technol 185:107890

Kenned JJ, Sankaranarayanasamy K, Kalyanavalli V et al (2020b) Characterization of indentation damage resistance and thermal diffusivity of needle-punched Musa sapientum cellulosic fiber/unsaturated polyester composite laminates using IR thermography. Polym Compos. https://doi.org/10.1002/pc.25588

Khalfallah M, Abbès B, Abbès F et al (2014) Innovative flax tapes reinforced Acrodur biocomposites: a new alternative for automotive applications. Mater Des 64:116–126

Lee B-H, Kim H-J, Yu W-R (2009) Fabrication of long and discontinuous natural fiber reinforced polypropylene biocomposites and their mechanical properties. Fibers Polym 10:83–90

Mao N, Russell S (2015) Fibre to fabric: nonwoven fabrics. In: Sinclair R (ed) Textiles and fashion, Leeds. Elsevier, Amsterdam, pp 307–335

Mao N, Russell S, Pourdeyhimi B (2007) Characterisation, testing and modelling of nonwoven fabrics. In: Russell S (ed) Handbook of nonwovens. Woodhead, Cambridge, pp 401–514

Mohammed L, Ansari MN, Pua G et al (2015) A review on natural fiber reinforced polymer composite and its applications. Int J Polym Sci. https://doi.org/10.1155/2015/243947

Mohanty A, Misra M, Drzal LT (2001) Surface modifications of natural fibers and performance of the resulting biocomposites: an overview. Compos Interfaces 8:313–343

Mohapatra D, Mishra S, Sutar N (2010) Banana and its by-product utilisation: an overview. J Sci Ind Res 69:323–329

Pothan LA, Thomas S, Neelakantan N (1997) Short banana fiber reinforced polyester composites: mechanical, failure and aging characteristics. J Reinf Plast Comp 16:744–765

Rao KMM, Rao KM, Prasad AR (2010) Fabrication and testing of natural fibre composites: Vakka, sisal, bamboo and banana. Mater Des 31:508–513

Saliba CC, Oréfice RL, Carneiro JRG et al (2005) Effect of the incorporation of a novel natural inorganic short fiber on the properties of polyurethane composites. Polym Test 24:819–824

Sanyang ML, Ilyas R, Sapuan S et al (2018) Sugar palm starch-based composites for packaging applications. In: Jawaid M, Swain S (eds) Bionanocomposites for packaging applications. Springer, Berlin, pp 125–147

Schindler WD, Hauser PJ (2004) Chemical finishing of textiles. Woodhead, Cambridge

Sengupta S, Debnath S, Ghosh P et al (2019) Development of unconventional fabric from banana (Musa Acuminata) fibre for industrial uses. J Nat Fibers. https://doi.org/10.1080/15440478.2018.1558153

Surekha K, Rao K, Shobha Rani N et al (2013) Evaluation of organic and conventional rice production systems for their productivity, profitability, grain quality and soil health. Agrotechnol. https://doi.org/10.4172/2168-9881.1000S11-006

Thakur VK, Thakur MK (2014) Processing and characterization of natural cellulose fibers/thermoset polymer composites. Carbohydr Polym 109:102–117

Thilagavathi G, Pradeep E, Kannaian T et al (2010) Development of natural fiber nonwovens for application as car interiors for noise control. J Ind Text 39:267–278

Thwe MM, Liao K (2003) Environmental effects on bamboo glass/polypropylene hybrid composites. J Mater Sci 38:363–376

Tse B, Yu X, Gong H et al (2018) Flexural properties of wet-laid hybrid nonwoven recycled carbon and flax fibre composites in poly-lactic acid matrix. Aerospace. https://doi.org/10.3390/aerospace5040120

Uma S, Kalpana S, Sathiamoorthy S et al (2005) Evaluation of commercial cultivars of banana for their suitability to fibre industry. Plant Genet Resour Newsl 142:1–8

Wang C, Li M, Wu M et al (2008) Cotton fabric properties with water-repellent finishing via sol–gel process. Surf Rev Lett 15:833–839
Ethics declarations
Conflict of interest
The authors declare that they have no conflicts of interest.
Consent to participate
Not applicable.
Consent for publication
Not applicable.
Ethics approval
Not applicable.
Additional information
Publisher's Note
Springer Nature remains neutral with regard to jurisdictional claims in published maps and institutional affiliations.
About this article
Cite this article
Motaleb, K.Z.M.A., Mizan, R.A. & Milašius, R. Development and characterization of eco-sustainable banana fiber nonwoven material: surface treatment, water absorbency and mechanical properties. Cellulose 27, 7889–7900 (2020). https://doi.org/10.1007/s10570-020-03343-y
Received:

Accepted:

Published:

Issue Date:
Keywords
Banana fiber

Wet-laid nonwoven

Surface treatment

Water absorbency

Mechanical properties